Gem Breakfast is 3! In honor of our third bday, we sat down with Gem Breakfast Founder, Catherine to chat about transparency in gem sourcing, her personal fave ring designs, and the highs & lows of the craziest year yet.
And because no birthday is complete without diamonds, we're gifting you 15% off sitewide!Use code BIRTHDAYSALE from June 30th to July 6th.
What are some highlights of your 3rd year in business?
I went into this year thinking I needed a bigger showroom, maybe a store, all the fixings. But in the last few months working exclusively online, the business is doing better than ever. It's really opened my eyes to see that I don't need to follow the prescribed path; success will come wherever I focus my attention and effort.
That's a beautiful thing to realize – that your potential is infinite and it can be achieved outside the conventional methods. And that's basically Gem Breakfast as a brand – we're independent, unique, one-of-a-kind, and here to expand perceptions around jewelry.
Challenges in 2020?
Of course COVID-19 has been a challenge as a business – especially figuring out jewelry production on our custom projects during those first shelter-in-place days. A bunch of client projects got delayed in the beginning, but we've learned to adapt and business is slowly returning to something near normal.
There's also been some real blessings from this time - COVID has given me the chance to interact with more people online; to really get to know the fabulous people who follow Gem Breakfast. There are so many kindred jewelry lovers and amazing human beings in our space.
Is the showroom open for business again?
The San Francisco showroom is closed for the foreseeable future but we're always open for virtual consultations online!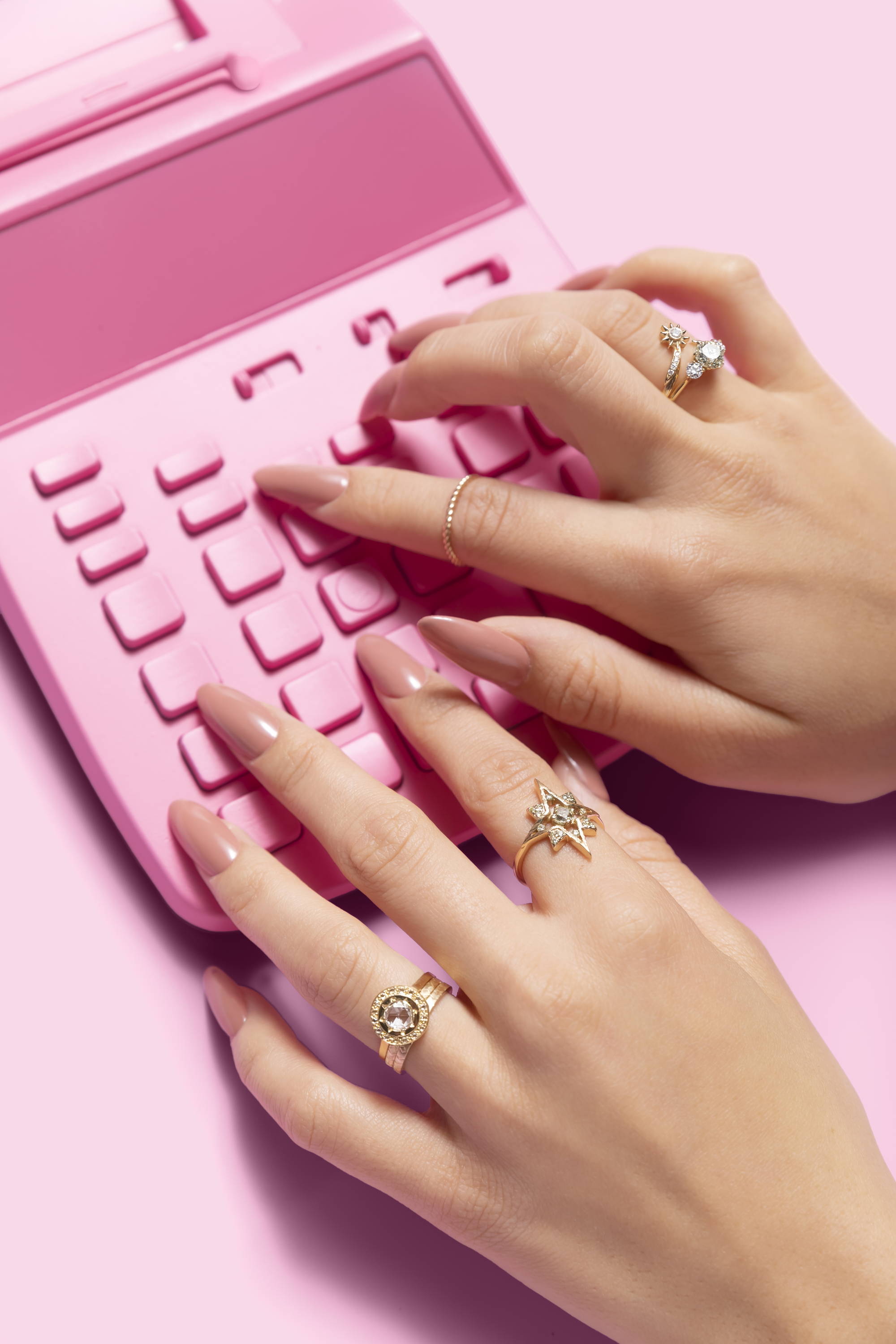 How has Gem Breakfast changed/evolved since the beginning?
So much! When we started, there were no investors and no plan – it all just evolved one piece at a time. I started with a 10 designer pop-up event and when that was so successful, I launched the store, and every stage flowed naturally from there. I see a lot of beauty in that – that it's evolved as it was meant to.
Also in the beginning, we didn't do custom, and that's a significant part of our business now. I truly love the custom side; the whole creative process is so much fun for me.
And overall, the whole brand has just gotten better and better – the quality of the product, our website, customer service, growing enough to hire consultants. It's been very exciting seeing the growth and evolution.
Speaking of custom - what do you love about it?What's the most interesting ring you've designed this year?
I love the whole custom process - working with couples and individuals, coming up with the design, watching it come to life both through the CAD design and the actual creation of the ring, and finally seeing the client's reaction when they open that little box! It's the best feeling. We make everything here locally in San Francisco so I get to be involved at every stage.
The most interesting ring we've made this year – a super unique, celestial-esque ring with two white star diamonds and a gorgeous pear-shaped salt & pepper diamond. It has shooting star vibes and feels seriously magical.
How has the independent/indie jewelry world changed since you started?
Indie jewelry has become a movement in the last couple years – people are waking up to the design opportunities and the unique aesthetic that an indie jeweler can offer vs the big box stores. I no longer feel so niche, we're now part of a bigger awakening and that's kind of a dream realized.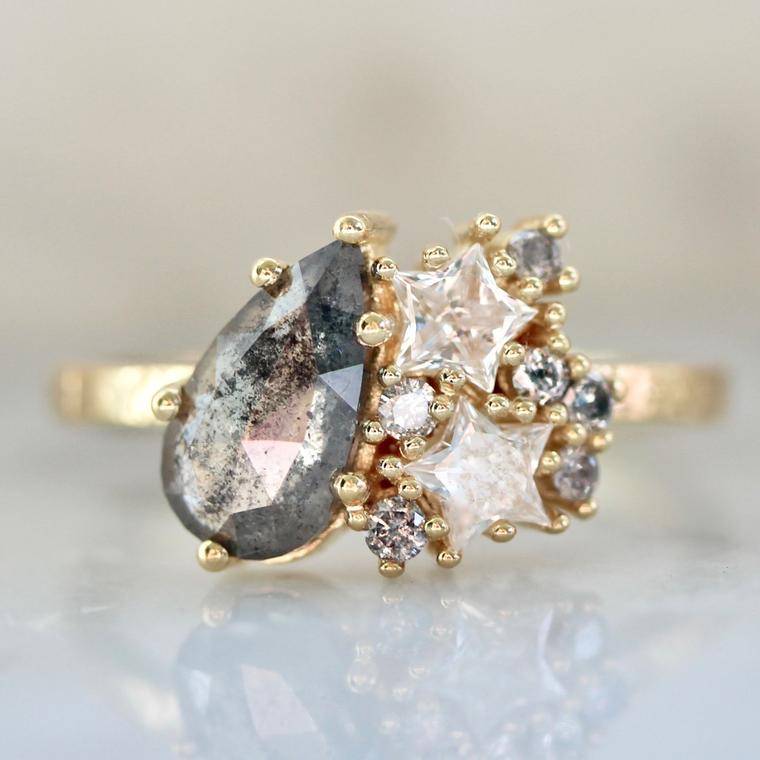 What new designers have joined GB this year? How would you describe their styles?
Hidden Space Jewelry and Mason Grace Jewelry are two fabulous designers that joined Gem Breakfast recently – they have completely different aesthetics yet are equally beloved by our clients.  
Mason Grace, designed by Cybil Pucan is modern, ethereal, and at the same time, intricate and antique-inspired. We actually have a whole blog on Cybil and her designs if you're interested! All her designs are made locally in Los Angeles.
Hidden Space Jewelry is architectural, symmetrical, and endlessly interesting from every angle. The pieces are made locally in Los Angeles and designed by Jay Kim, a former Architect, and Eunmi Han, a super talented CAD designer and all-around artist.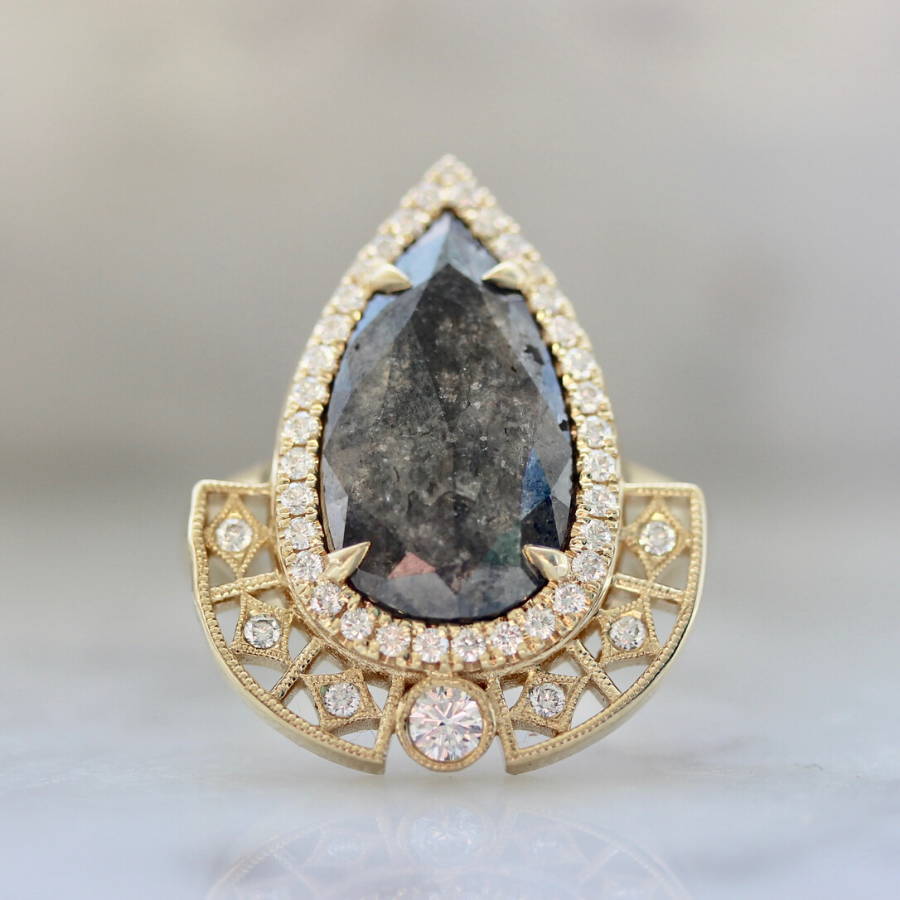 What was your favorite piece on the site this year and your favorite right now?
Emily Gill's 'Ariel' ring is my favorite ring of the year – that deep blue sapphire was unreal and the design was truly one-of-a-kind. Princess Ariel in ring form!
My favorite ring right now is the Samira ring by Maggi Simpkins – it's an enormous 2.7 carat dark salt & pepper diamond with accents that truly take it over the top: a diamond encrusted headdress and a hidden hand-carved hummingbird on the booty.
Are you tempted to keep lots of rings for yourself?
Oh yes, I think about some of the ones I let get away for sure! But my big for-me project I'm doing this year: I'm redoing my engagement ring! I'm not sure of the design yet but I'm taking the stones out this week to motivate myself. I've been procrastinating for awhile but I know once they're all out, I'll feel compelled to start designing!  
What was it like launching the Solitaire Squad Pop-Up in the middle of a pandemic?
The planning and designing started many months beforehand but our planned launch landed right in the middle of the pandemic. We were definitely hesitant to launch while the world was in crisis, but we decided to go ahead with it and showcase the designers' hard work and intensely imaginative spins on a solitaire. Despite the timing, it's gone really well – people love the rings and half have sold even with the higher price points (and much bigger stones!)  
The collaboration is what made it a success – the designers, Ashkan (our amazing Gem Dealer who supplied all the stones), and the jewelry lovers out there who were so supportive. The collective support and excitement brought it all together despite the challenging times.
Do you believe in trends for jewelry? What are they for this year?
Trends are fun but definitely not something anyone has to follow – wear what you love! This year though, people are loving sapphires, salt & pepper diamonds, and the more simplistic, minimalistic ring designs. A couple years ago, big halo rings were must-haves, but people seem less in love with oversized and ultra-ornate designs at the moment.
What's your favorite stacking band on the site?
All our engraved bands – I can never get enough. More is more when it comes to stacking!
What are your dreams for the brand in the next few years?
We want to keep growing in an aligned way – continuing to find unique designers, elevating our online experience, leveling up our custom design process, and building more relationships with jewelry lovers around the world.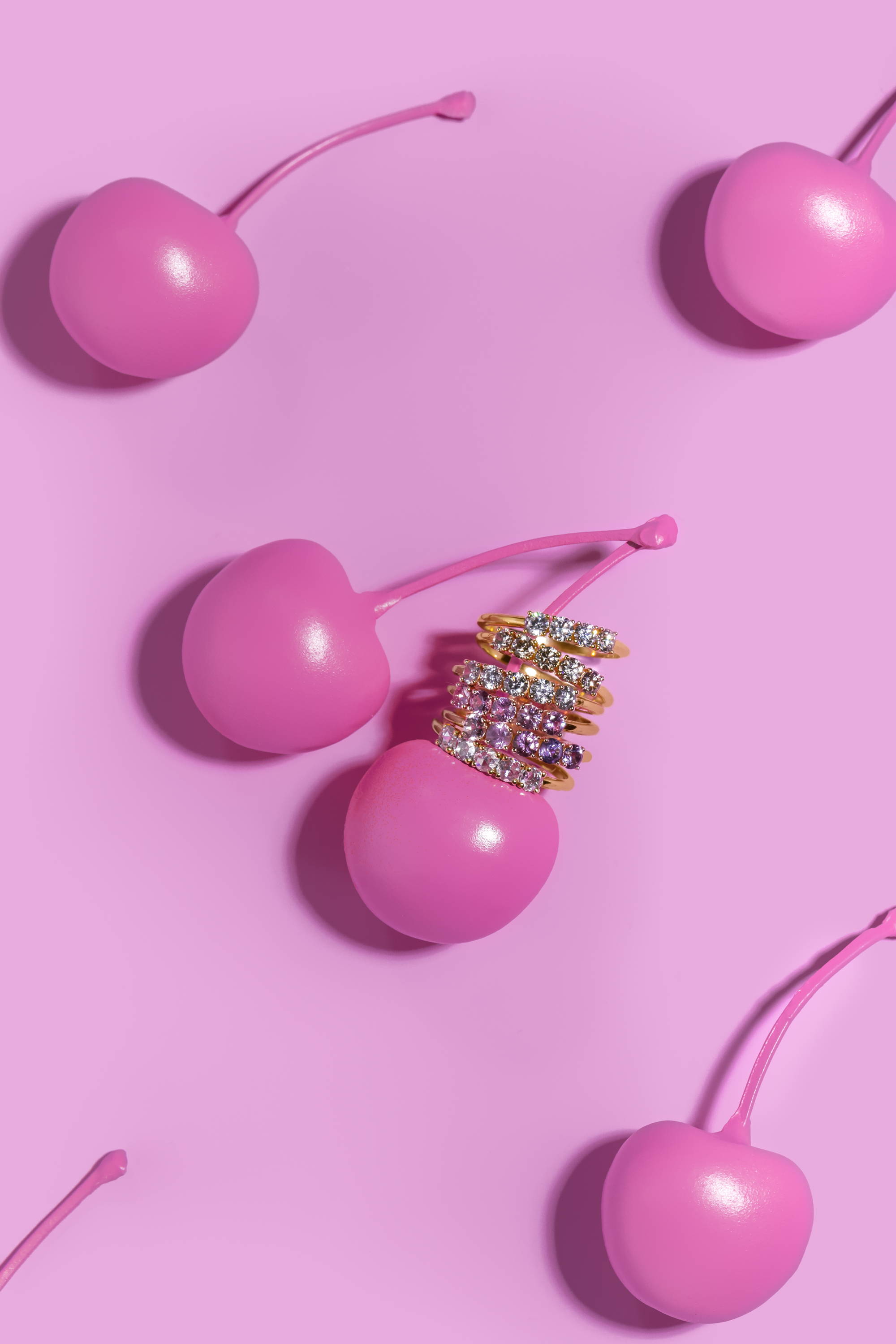 What sets GB apart from other jewelry retailers?
Most retailers choose designs off a Designer's line sheet, picking from about 20 designs to sell en masse to their customers. At Gem Breakfast, most of our rings are designed exclusively for us and are truly one-of-a-kind.
Also many of the designers we work with design exclusively for us and no other retailers – like Maggi Simpkins, Emily Gill, and Attic Gold. I'm very grateful for and proud of the special relationships we have with our incredibly talented designers.
For gemstones, we source exclusively from our network of trusted, ethical gemstone dealers who we have close personal relationships with. To ensure an ethical chain of custody, our vendors either source directly from the mines, work with post-consumer recycled stones, or use stones vetted through the Kimberly Process.
And overall, I feel we keep it a lot fresher than other independent jewelers!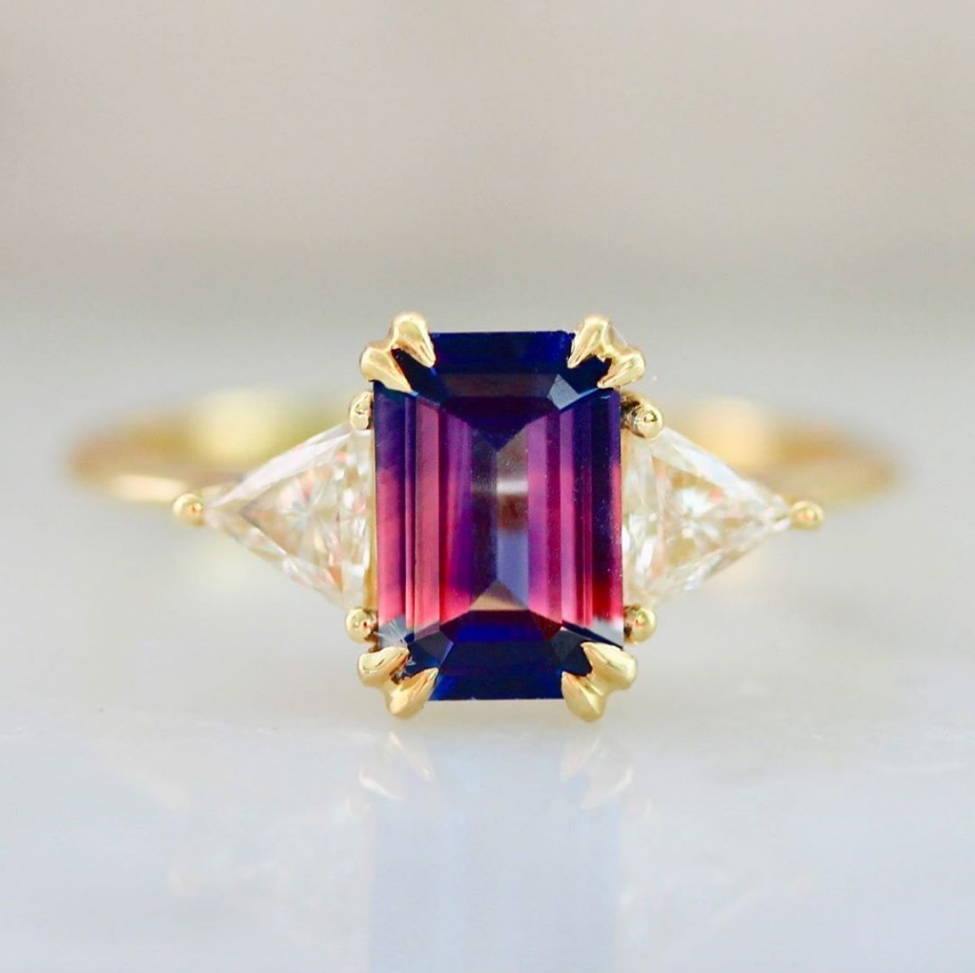 What do you love most about what you do?
The people – I love connecting with fellow jewelry lovers, gem dealers, designers, and artisans. Also, I genuinely love jewelry – I could look at it endlessly. It truly never gets old.
What's your favorite type of colored gemstone?
Spinel is super fun – I love the massive range of colors and their prismatic color-change effect. I also love tourmaline, and of course Sapphires. We made a ring this year with the dopest ombré sunset blue-pink sapphire I've ever seen. I kind of regret letting that one go, not gonna lie!
You've featured a few of your Gem Dealer partners on the blog this year – why is it important to you to showcase your vendors?
I'm so grateful and proud of the relationships I've built with our vendors – I know these gemstone dealers personally and I trust them completely. They're people of high integrity that believe in doing the right thing, are completely open, and do not take shortcuts.
I'm so happy to be able to highlight them in our blog – for our customers get to know them, their sourcing practices, their philosophies, and their backgrounds. We'll always be completely transparent (which I know is rare in jewelry). So many brands and retailers make claims like 'ethically sourced' or 'sustainably sourced' but when you really dig in, you learn those labels are usually just claims.  
I want our customers to have all the information so they can make informed decisions that feel aligned for them. I want them to know what's available to them and truly understand all their options – post-consumer diamonds, recycled gold, mine-to-market colored gemstones, salt & pepper diamonds, antique diamonds, plus all the conventional options out there.
Visit our blog for more on our Gem Dealers: Jared Holstein who supplies our post-consumer recycled diamonds, Johannes Orstadius, our spinel and colored gemstone supplier, and Ashkan Asgari, our favorite alternative diamond dealer.
What are you most grateful for as brand owner in the past year?
I'm grateful for all our customers. I've connected so much with people online during this pandemic – it's been really cool. And I'm thankful that I've still been able to be a part of people's big life moments and exciting self-splurges even without a physical showroom.
It's been a tumultuous year but it's great to see people still getting engaged, still treating themselves, and continuing on with their lives. These moments are a real light in the dark.
---
Don't forget to redeem your 15% off birthday gift! Use code BIRTHDAYSALE from June 30th to July 6th. Now's the time to splurge on that ring you've been bookmarking on IG ;)
For more about Catherine and how Gem Breakfast came to be, read our Q & A blog!
---