What rings are the ladies of Gem Breakfast lusting after? The ones we ourselves stalk day and night on IG? We sat down with Gem Breakfast Employees and Contributors to chat ring favorites, how their love for jewels began, and their everyday jewelry go-to's. Learn this and more about the 4 fabulous ladies that help make Gem Breakfast tick!
Ashley
What's your role at GB?
My title is Operations Associate and I work mostly in Customer Service. I'm the person on the other end of our website chat, I help package up all your jewelry orders, and I help Cat with events.
How did you meet Catherine and find GB?
We met because she made a custom ring for me! It was an east-west set marquis ring with a slim bezel - much like this one except with a white diamond and set in rose gold. I wanted a very particular diamond with a strong blue fluorescence (that looks almost pink in some light) and Cat somehow found exactly what I wanted - it came out perfectly! It's amazing and dainty and my all-time favorite ring.
I'm also the owner of the Sweet Thing Pink Sapphire Ring (Cat's all-time favorite). I bring the ring back to visit her very often. It has the most amazing bright pink color and natural inclusions that are super rare. Usually gems are heat treated and cut to remove any inclusions like these. But they're what make this ring special.
Tell us a bit about you!
I was Born in San Francisco and raised in the Bay Area. I'm a triplet and I have a dog named Nora who's a senior rescue dog – she's a beautiful pure bred mutt.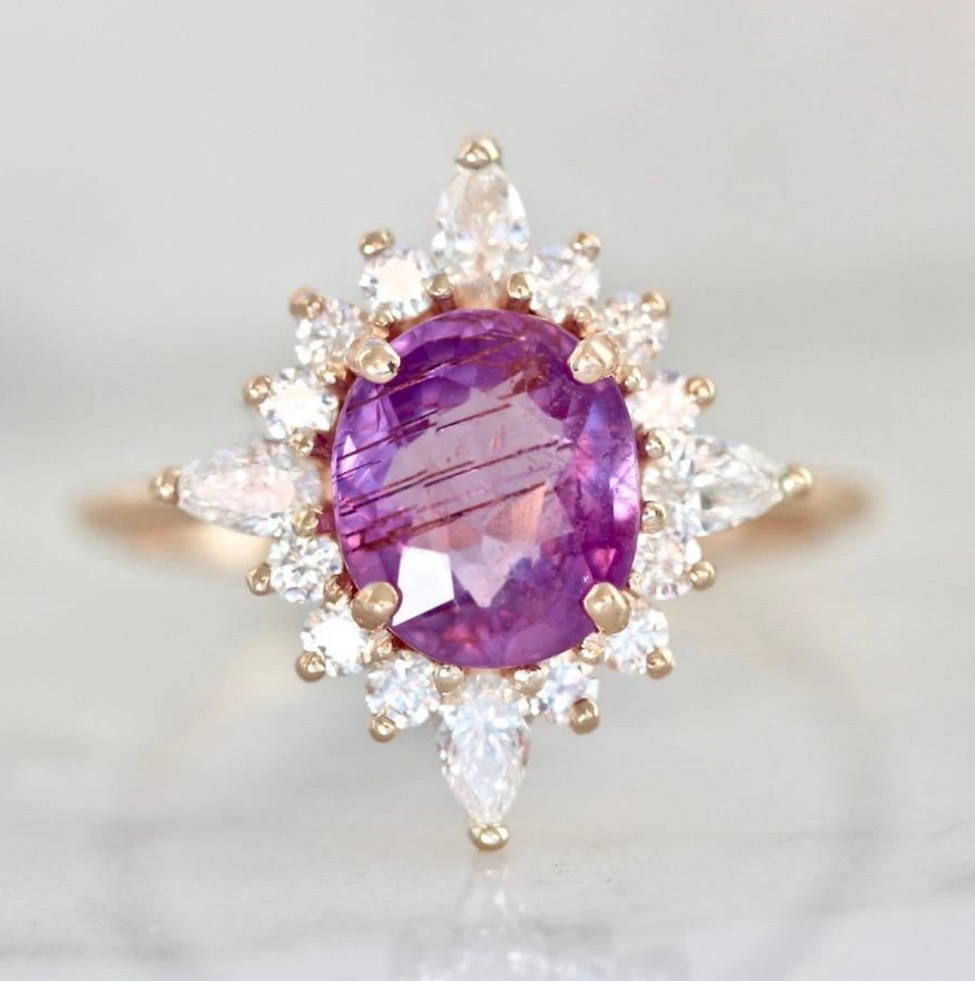 Right now, I'm studying for my Graduate Gemologist Degree through the GIA. So much of jewelry is intuition but the other side is the in-depth knowledge you get from a program like this one.
How did your love for jewelry begin?
I've always loved jewellery - I was that little girl covered in accessories – headband, a purse, and all sorts of sparkly objects. It came from my mom and grandma who let me play in their filled-to-the-brim jewelry boxes.
I love how jewelry makes people feel, and how pieces can be passed down forever. Jewelry solidifies important events and memories into a physical piece. That sentimental side is so important to me.
I considered becoming a gemologist after taking lots of Earth Science and Geology courses in school. I find jewelry is the perfect combination of art, fashion, and science – all my interests rolled into one.
Fun fact: my mom loved jewelry so much that she purposely made my sister and I's initials AU because that's the elemental symbol for gold!  
What's your jewelry style? What pieces do you wear every day?
My style's very eclectic and always evolving – sometimes I'm only drawn to yellow gold, or only rose gold, or only antique pieces.
My style is very feelings-based. It's fun to switch it up based on my moods. That's what so awesome about Gem Breakfast! There's something for every kind of person, style, and mood – whether it's edgy, glam, girly, boho, classic, or masculine.  
ASHLEY'S FAVORITES
---
Alyssa
What's your role at GB?
I'm a Marketing Associate - I do a lot of the content creation for Pinterest, IG stories, YouTube, and I get to name many of the rings. I create a lot of the product pages for the website, and just general website content maintenance. I've been working at GB for a year this October.
I actually stalked Cat for like 2 years – replying to her IG stories and commenting on all the rings I loved. I had it in my mind that I wanted to work for her and I think I manifested this job! I just knew eventually the brand would grow enough to hire me. So, when she posted the job, I swear I was the first person to message her. Cat is such a great person to work for, I can honestly say I found my dream job.  
How did you meet Catherine?  
A couple years ago, Cat held an in-person pop-up event in San Francisco, and one of my favorite designers was going to be there. I was dying for a ring made by her so I road-tripped there with my dad. It was pretty funny having my dad there with all these posh, jewelry-loving women!
Tell us a little bit about you!
I love anything antique and vintage – I collect vintage Pyrex from the 50s to 70s. I travel all around to complete the sets, and have pieces from all over the world. I grew up in Waynesvile, Ohio (the antique capital of the Midwest) – maybe that explains my love for antique shows and markets.
I really like True Crime, I listen to a lot of podcast, and I love to read – my mom and I are major bookworms together. I have a huge collection of books but Harry Potter is my favorite hands down. Some of the ring names on the site are actually inspired by Harry Potter, like Lumos and Nagini.  
How did your love for jewelry begin?
My interest in antiques led me to jewelry. I found this amazing antique Mourning ring at an antiques fair and that's where it all began. I took the ring home, started doing research on it, and fell down the jewelry rabbit hole.
I started following a lot of jewelry accounts, and learned so much about all the gem options and styles out there. The first piece I fell in love with from Gem Breakfast was a champagne ring called Hera – it was so different from anything I've ever been drawn to, but I loved it.  
What's your jewelry style? What do you wear everyday?
Anything vintage looking – I love the Edwardian and Victorian eras for jewelry. My style ranges from seriously big and gaudy to simple solitaires. I don't like much in-between those two extremes.
Most days, I wear a men's wedding band that I got it in an antique store in Ohio - it has this inscription from a couple in the 50s which is so special. I love personal touches and engraving. I also wear an old European cut diamond ring with pink diamond sides. It's only a half carat; very dainty and low-profile – the perfect everyday ring.
I'm also currently having a ring made by Cat that I plan to wear often! It's kind of like Arden – except it's a cut corner teal sapphire with trapezoid side stones. It's peach gold, because you can't go with Gem Breakfast and not pick their signature peach gold! It has the simplicity I love with all Cat's signatures; it's a very Cat-centric ring.
alyssa's FAVORITES
---
Courtney
What's your role at GB?
I write the Gem Breakfast blogs. I've always loved jewelry, and after many hours of research and interviewing Designers, Gem Dealers, and Catherine herself, I feel like I'm getting an honorary gem education of my own! It's been amazing writing about a subject I love so much and learning from the best in the business.
Tell us a little bit about you!
I live in Canada right near Banff, and usually spend half the year travelling. In the winters, I coach alpine ski racing and in the summers, I'm usually on the water wakeboarding, waterskiing, and airchairing. 
How did you find GB/Catherine?
I met Catherine through another one of my fabulous San Francisco based clients. I took one browse through her site and my GB addiction began.
How did your love for jewelry begin?
My mom had a next-level love for jewelry that she passed on to me almost from birth. She had a giant 4-foot tall jewelry box filled with treasures from everywhere – antique stores, garage sales, family heirlooms, gifts from others, and pieces she bought herself while working at jewelry stores. We'd spend hours on end looking through her jewelry and she was always very generous in gifting my sister and I whatever we loved from her collection. She always wanted to be a Gemologist, but settled on Pro Jewelry Lover instead.
What's your jewelry style? What pieces do you wear every day?
I love statement pieces and I've always loved the unique and distinctive – I've never been interested in the mass-produced designs from mall jewelers. Heirloom pieces are so special, and I treasure the pieces that have been passed down to me.
On the daily, I wear two diamond wedding bands – one that was my grandma's and one that I bought my mom for Mother's Day. On my thumb, I wear one yellow gold and one white gold band – they were my mom and I's friendship rings. I alternate bigger statement rings on my right ring finger depending on my mood.
---
Ana
What's your role at Gem Breakfast?
I help Catherine with her newsletter design, and my partner and I help with website development - improving the design and functionality of the website. I just started working with GB about a month ago and I'm loving it.
How did you find GB?
I found her through another client of mine. I immediately loved the company which is so important to me - I need to connect with the brand to do my best work. I'm head over heels for everything Catherine makes.
Tell us a little bit about you!
I live in Lisbon, Portugal in the countryside near the beach with my husband. We like to go for long walks and enjoy the summertime outdoors. We do lots of cooking and love decorating and beautifying the house with DIY projects – we actually made our own chandelier recently and it turned out great!
I'm a girly girl, I love everything that shines, and I'm really fortunate to spend my time working with brands I really relate to.
How did you begin to love jewelry?
My grandfather used to fix watches and rings so I was always playing with jewelry as a child. Because I was surrounded by jewelry, it became sort of commonplace for me and I didn't go crazy for gold or gemstones until later in life.
Eventually, as I became more interested in fashion, my interest in jewelry came to life. And when I found Gem Breakfast and saw the super unique, non-cookie cutter designs, I fell in love. I love how you can see that every piece was made by hand – as a maker myself, I really appreciate that one-of-a-kind craftsmanship.
What's your jewelry style? What do you wear every day?
I like boho things – almost beachy vibes. On my wedding day, I was barefoot with simple foot jewelry. My style is very natural and casual, things that can be worn on the beach, with linen – pieces that are light and dainty. I love stacking rings for that reason.
Most days, I wear my wedding band, my engagement ring (it's silver and looks handmade with a turquoise stone), and simple hoop earrings. For earrings, I wear simple hoops. When I go out, I add more bracelets – but I keep everything really simple and easy.
ANA'S FAVORITES
---