One of our favorite topics of all: custom engagement ring design!
We live for jewels and find joy in the unique, the distinctive, and the bespoke, and most of all working on YOUR custom engagement rings. And while all Gem Breakfast rings are one-of-a-kind, there's something extra magical about transforming a simple vision or inspiration into stunning real-life jewels or a beautiful custom engagement ring.
Keep reading for the in's and out's of custom engagement ring design including:
Why go the custom ring route?

Custom engagement ring design myths

What Gem Breakfast customers say about the custom engagement ring process

The custom process from consult to completion
Consultation Chat with a Gem Breakfast Chef (Jewelry Designer)
Project Deposit
Stone Sourcing & Selection
Design
Creation of your Custom Engagement Ring
Appraisal, Insurance, and Warranty

Delivery of your Custom Engagement Ring
Why go custom?
I mean, besides the fact that you're creating an haute couture, tailor-made heirloom piece designed specifically and distinctively for you, this process truly is fun!
Much like building a custom home, it means not settling or compromising on absolutely any aspect of your dream ring. It's a piece that symbolizes your spirit, embodies your aesthetic, and cultivates your creativity. Besides ALL THAT, here's a few signs that custom might be the route for you:
You know exactly what you want but haven't seen it out there
You have a clear vision of your dream ring and just need us to bring it to life. Truthfully, this one's a bit rare – most people have a fuzzy idea of their dream ring but need some help creating a final design. So, don't feel like you have to be at this level at all! But if you are – girl, we love that! We'll do your imagination justice all the way.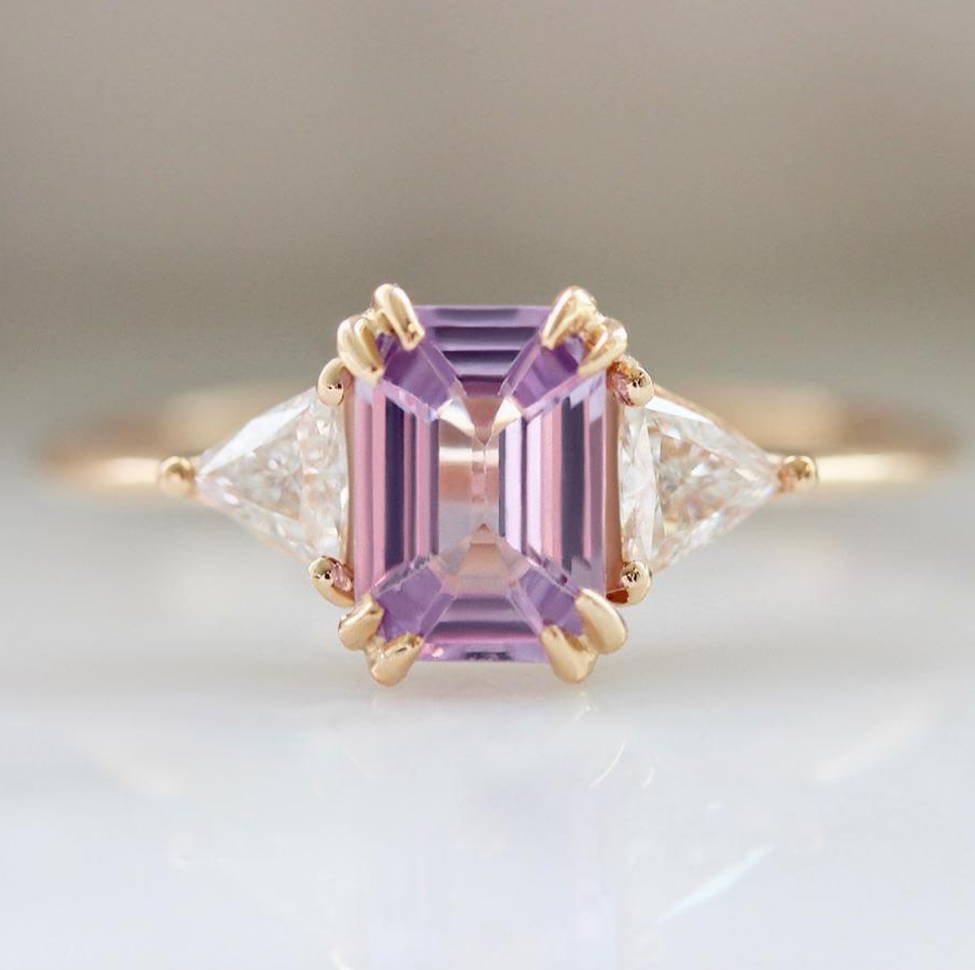 You like SOME aspectS from this ring and some parts of that ring
Maybe you love the oval stone on this ring, and the prong shape on that ring, and the distinctive band on another ring – but you haven't seen all your fave elements come together in one ring. That's where we come in - we'll find a way to combine all those aspects into one cohesive, striking design.
You can't find a ring that captures your (or someone else's) essence and style
Whether you're shopping for yourself or someone else, sometimes you're looking for a vibe, an energy, a manifestation of a person wrapped up in a ring. That kind of uniqueness can be tough to find off-the-rack! That's why we specialize in translating an energy, a style, or a feeling into a design that speaks to your soul, and captures that inimitable energy.
You love the idea of co-creating something totally new and one-of-a-kind
You're over the same 5 designs you've seen a thousand times. You want to open yourself to all possibilities and create a truly one-of-a-kind ring that's new and exciting.
Custom Jewelry myths to say bye to
Before we start chatting about the custom design process, let's clear up a few common myths around custom jewelry design:
MYTH #1 I need an outrageously big budget to go custom
Big or small, we'll create the dream ring to suit your budget. Our most basic solitaire setting Stella starts at $900, and we'd recommend budgeting at least $2,500 for a custom project.
MYTH #2: I have to be super knowledgeable about jewelry
While it's great to have a starting inspiration, you don't need gemologist-level knowledge of specific cuts, shapes, settings, or any other aspect of ring design.
That's what we're here for! We'll guide you through every step and cover all the bases so you get exactly what makes your heart sing (even if you didn't know it existed before walking through our doors).
MYTH #3: I need to do custom design in-person
While we love meeting you in-person, so many of our custom design projects take place solely over the phone, on Google Hangouts, FaceTime and Skype! We send you pictures, videos, and live chat with you every step of the way to ensure your ring is all you hoped for and more!
MYTH #4: Custom design is only for super complex, out-there designs
'Custom' just means it's created specifically for you! So, while custom can mean an ultra-innovative, cosmic, complex design, it can also mean designing a streamlined solitaire setting that lets your favorite stone take center stage.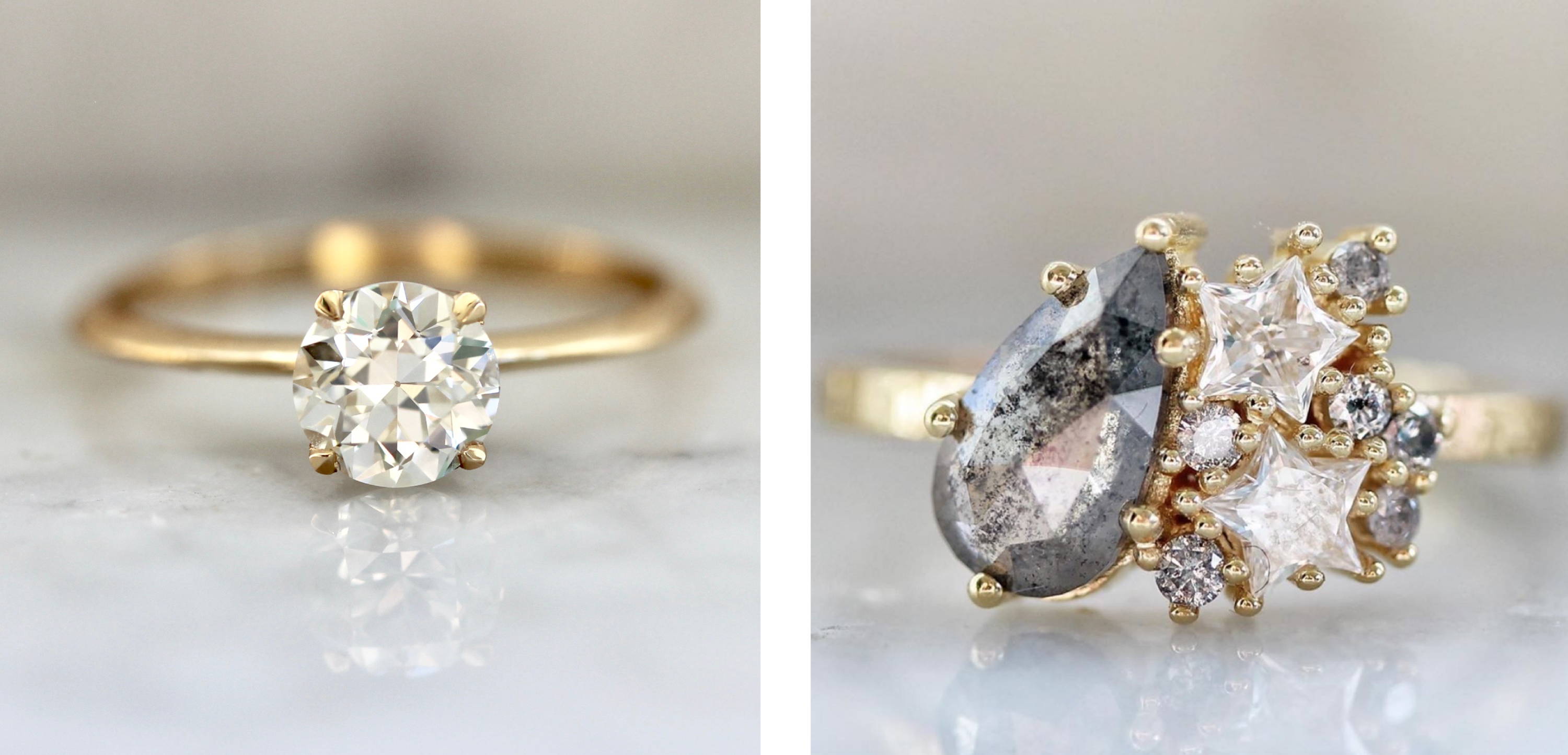 The Custom Design Process: Step-by-Step
Step 1: Consultation Chat With a Jewelry Designer
Let's grab a cup of chai and chat gems! Whether in-person, on the phone, or via skype, these chats are truly the best part of our day. We spend about 30-45 minutes getting to know you, hearing about the jewels that make your soul sing, and ironing out those nitty gritty details that take your dream from concept to creation.
You can set up your appointment to chat about your project right here.
What you can expect to cover in one of these chats (+ tips to get the most of it!):
Inspiration & Ideas
You share with us your vision or inspiration for your ring. Whether you have a hodgepodge of ideas or are laser focused on one design, we suggest putting together a Pinterest Board, an IG collection, or a folder of screenshots to capture all your ideas.
Pro-tip: It can also help to highlight aspects of rings that you definitely don't want (ie: a certain thickness of band, a stone setting, etc.).
Budget
Whether small or almost unlimited, we'll create a magical, memorable dream ring within your budget. Knowing the budget early on helps us make choices right away to maximize the gorgeousness of your ring while staying within your chosen range. There's nothing worse than falling in love with a 3-carat excellent cut diamond and realizing its triple your budget! Kind of like 'Say Yes to The Dress' – don't try on the $15,000 ballgown when you know its double your budget, am I right?!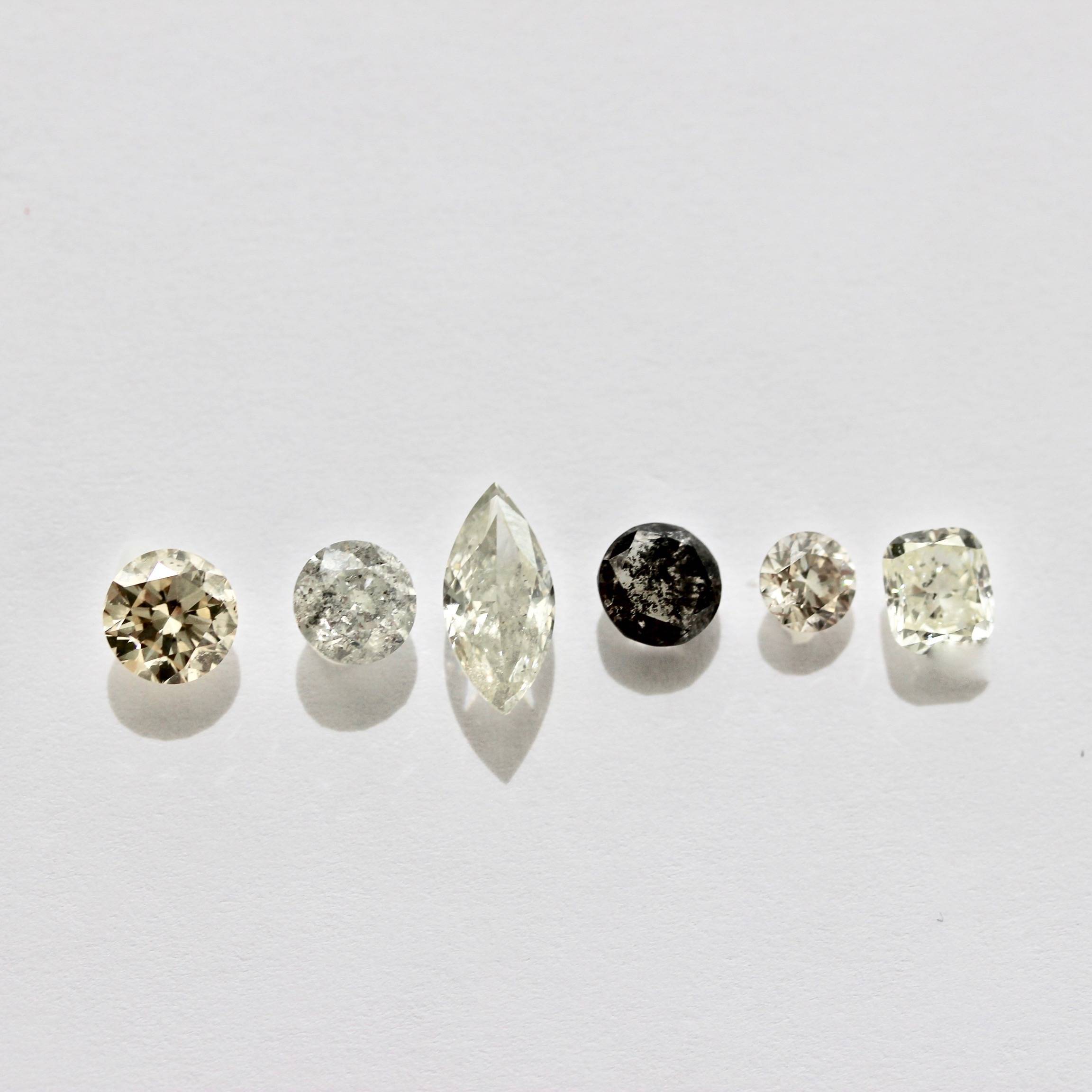 Gold & Gemstones
Once we've perused your #inspo collections, we explore gemstones and gold selections. While we don't pick specific stones at this stage (unless we have them in-house), we start thinking about our general direction: clear white diamonds, salt and pepper diamonds, sapphires, spinel, ruby, etc.
Once you've thought about the stone, we chat glistening, glittering gold! Are you a classic yellow gold gal or do you love white gold, rose gold, or even Peach Gold (a GB exclusive)!
We'll advise you on which color pairs well with your fave stone type or skin tone and decide on 14 vs 18kt gold (18 kt is our default, but we can always do 14kt as well).
Read our blog 'The Ultimate Gold & Precious Metal Guide'for more on choosing 14kt vs 18kt gold vs platinum or palladium.
We can be creative with stretching your budget, and when working with alternative diamonds and colored gemstones, you'll be surprised what your money can buy. We'll tell you which aspects to compromise on to get the most sparkling, beautiful, sizeable stone that fits in your budget.  
Timeline
If you have a specific deadline in mind, let us know as soon as you can. While one of our jewelry designers can give an approximate timeline for your project, it's better to leave some extra room. Making fine jewelry is a careful process that typically involves multiple craftspeople. In other words, it's best never rushed. To ensure that flawless end finish, we take our time to make sure every step is perfect!
Having said all that, most custom pieces take 6-8 weeks to produce. See more on timelines in 'Step 5: Production' down below!
Ring Size
For phone or virtual consults, we'll mail you a ring sizer at no charge if you're not sure of your size.
If you'd rather be sized in person, stop by your local jeweler - most are happy to size you whether you're buying from them or not.
If it's a surprise, send us a photo of your giftee's hands and we can usually get very close on sizing or offer some other tips to figure it out.
What happens if we get the ring size wrong? Don't worry, it happens! Resizing is easy and can be done inexpensively at your local jeweler.
Read our Guide to Ring Size for more on the topic!
Communication Process
We're good at keeping secrets if your custom project is a surprise. We're also happy to involve your significant other in all or select parts of the process. Just let us know up front and we'll take care of the rest!
If you're designing for yourself (and we are all about treating yourself any day of the year), just let us know via phone, text, email, or carrier pigeon ;) and your wish is our command!
Step 2: Project Deposit
Once we've settled on a plan, we can get started on design and stone sourcing – the most fun part!
But before we get started, we require a $200 custom design deposit to cover the cost of stone sourcing and any early design work. This non-refundable deposit will be credited towards the stone you select, or will transfer to store credit if you decide to push pause on custom design.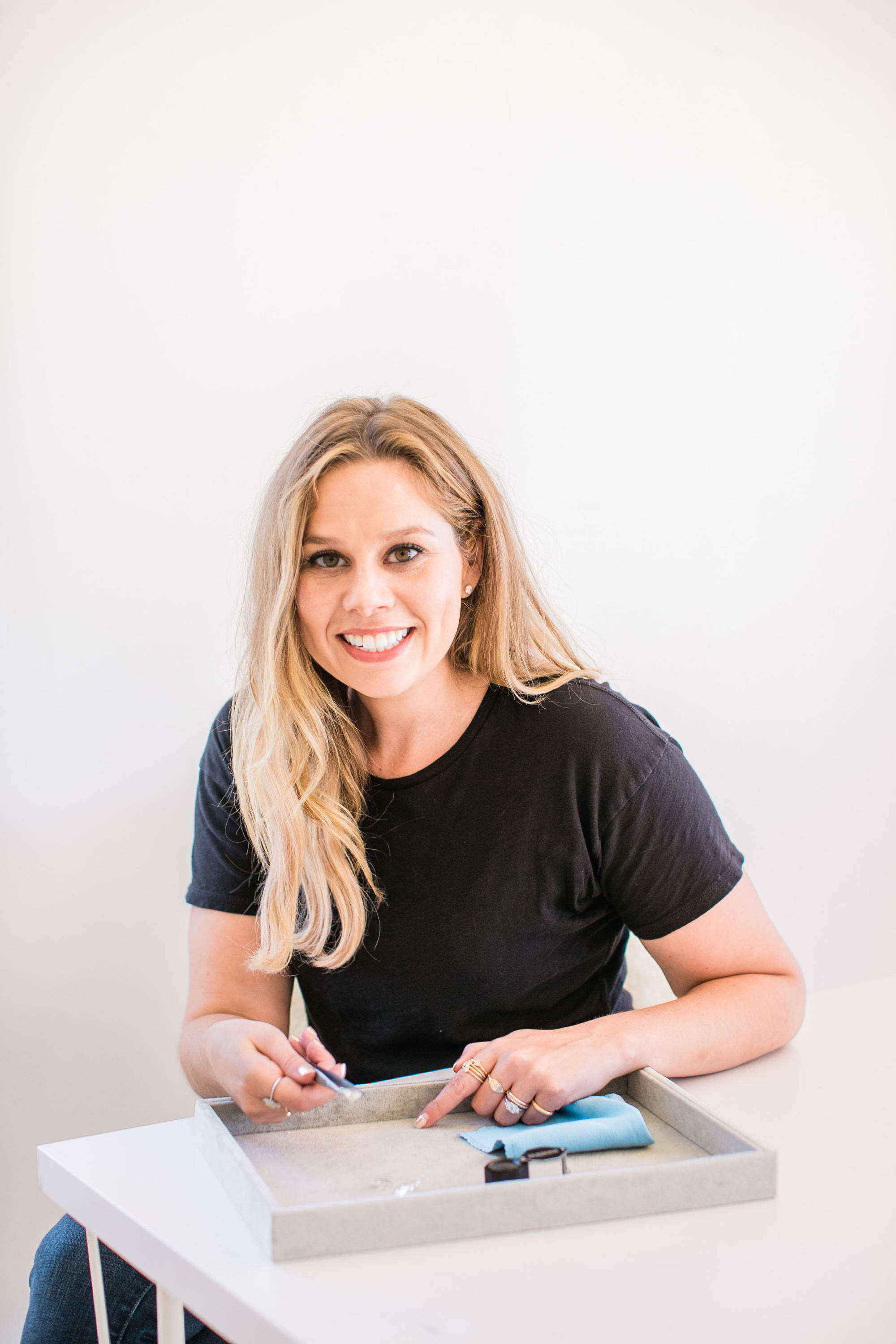 How this payment works: we'll email you an invoice that you can pay with all major credit cards or Paypal. We don't offer payment plans on custom work, however if you're interested in an in-stock item, we offer monthly payment plans through Affirm.
Step 3: Stone Sourcing & Design
Once we're clear on what your dream gem looks like, we work with our vendors locally and internationally (if necessary) to source that stone(s) that is uniquely you. This sourcing process takes on average between 5-7 days.
Once the stones arrive to us, we work you either in-person or over the phone to choose the stone you can't live without. And while the long-distance relationship might make you nervous, don't worry - we're very comfortable with distance! We regularly work with custom design clients in Australia, Denmark, Canada, Singapore, and the UK. We'll send you high-resolution photos and videos to exactly capture every facet of your stone. And of course, we're always here with professional guidance to help you make your selection.
All stone sales are non-refundable – we source and purchase specifically for your project, with trust to execute your final vision.
Are your stones ethically sourced?
Always. All our diamonds are vetted through the Kimberly process, and all our colored gemstones are certified conflict-free. We try to work with mine-direct vendors whenever possible to ensure an ethical chain of custody.
Can you use my heirloom stone(s)?
At this time, we do not work with customer provided stones.
Step 4: Design
Once we've settled on your stones, we'll regroup and work on designing your setting. While there may be no changes to your original vision, sometimes a different stone can dictate changes to your initial design. How the design process works:
Deposit
We ask for a 75% deposit at this stage to design and create your setting. The remaining 25% is due just before shipping or delivery.
CAD Rendering & Review
Here comes the magical part! We use a digital design program called CAD (Computer Aided Design) to design your setting. You'll see true-to-life 3D renderings of your ring that show every angle of your precious ring-to-be. It feels almost like you're holding it in your hands!
This stage includes 3 rounds of design edits (each round takes about 3 days or more depending on the complexity of changes) until we reach your perception of perfection. Additional edits become excessive additional charges may apply, don't worry, most people are elated after 1 or 2 small edits.
Once your design is finalized and we move forward with production, no further design changes can be made.
Wax
Once we've approved a CAD design, a wax rendering of the final design is made.
This wax review stage is not recommended for most clients. Why? Waxes are extremely fragile (they're the mold used to make your ring), so any damage to them would reflect in the final product.
There's a $150 fee to re-make a wax if the design requires changes or if it's damaged in the review process. This will extend the production timeline by a week or more.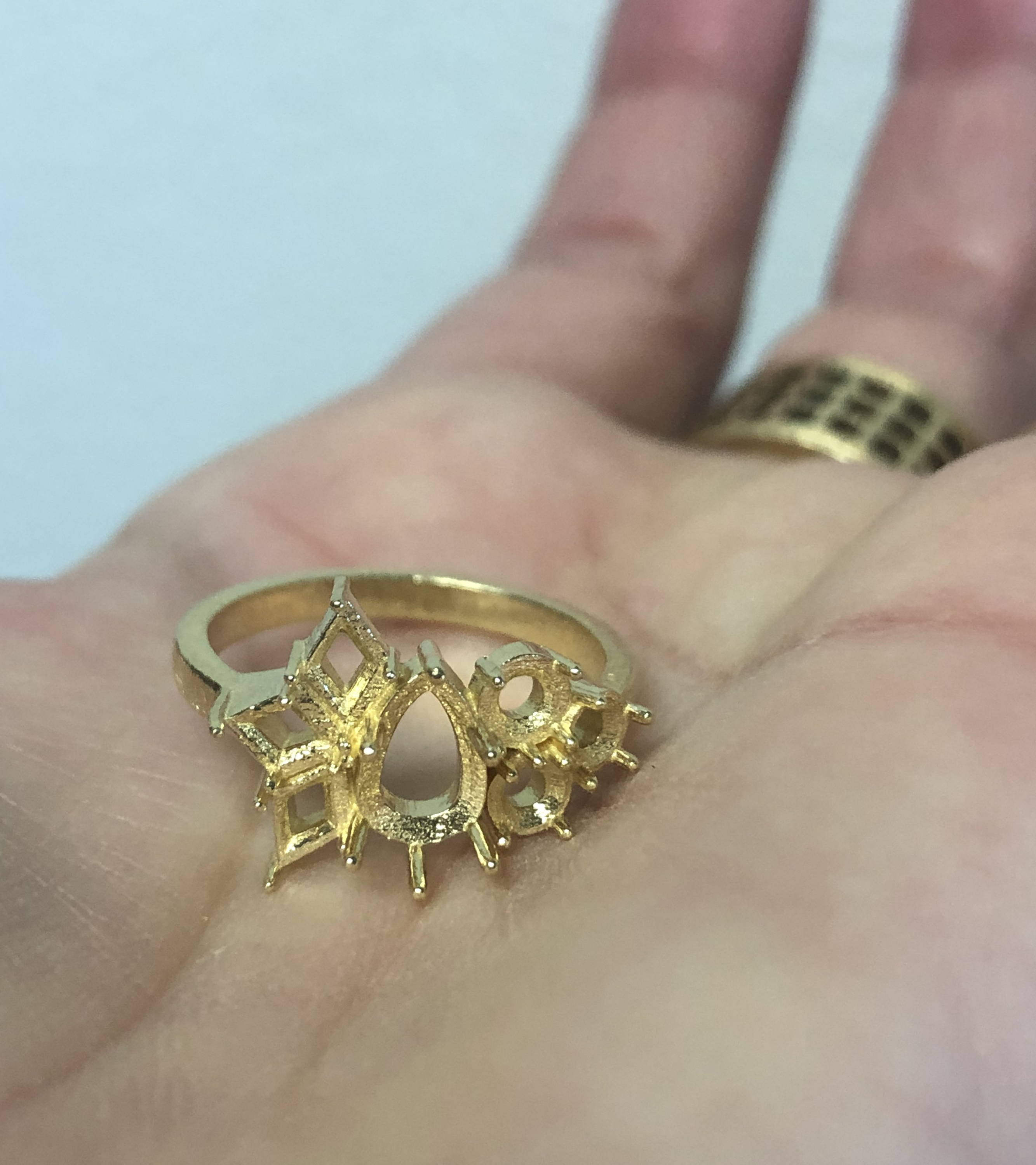 Step 5: Production
Here's where concept becomes reality! Your ring is crafted from precious metals and sparkling gems, and manipulated to become the light-catching bauble you've been waiting for. A multitude of skilled artisans collaborate to create your setting, set your stone in place, and finish your piece into its gleaming final manifestation.
While many jewelry companies use stock settings, we're not about that life. We are entirely custom and tailor-make every setting to fit your chosen stone to within 1/10 of a millimetre! We insist on this level of quality and craftsmanship for every ring we create.
If you're curious about your ring's progress at any stage, let us know and we'll send over photos and videos so you can see its status. And once your ring is completely finished, expect even more photos and videos! You'll also receive your final invoice.
Timing
One-of-a-kind takes time! Since we create every setting from scratch, and demand a meticulous level of detail and finishing, we usually provide an approximate timeline rather than a fixed deadline. This way, we can avoid rushing and can ensure perfection at every stage of your ring's journey!
If you are on a set deadline, let us know as soon as possible so we can get started on the process. We can often accommodate a tighter deadline, but may have to charge additional fees if extra artisans or resources are needed.
Typical Timelines
Step 6: Appraisals, Insurance, & Warranty
When you splurge on a stunning one-of-a-kind ring, you may want to spend that little bit extra to protect your new treasured piece of glitz. And the best way to do that: insurance.
This is where appraisals come in - some insurance companies require an official appraisal to insure your jewelry. Or, depending on the value of your piece, some might just require documentation of your invoice.
But even if they don't explicitly require it, an appraisal usually ensures you'll receive the full replacement value of your jewelry in case of loss, damage, or theft (or whatever is included in your insurance policy).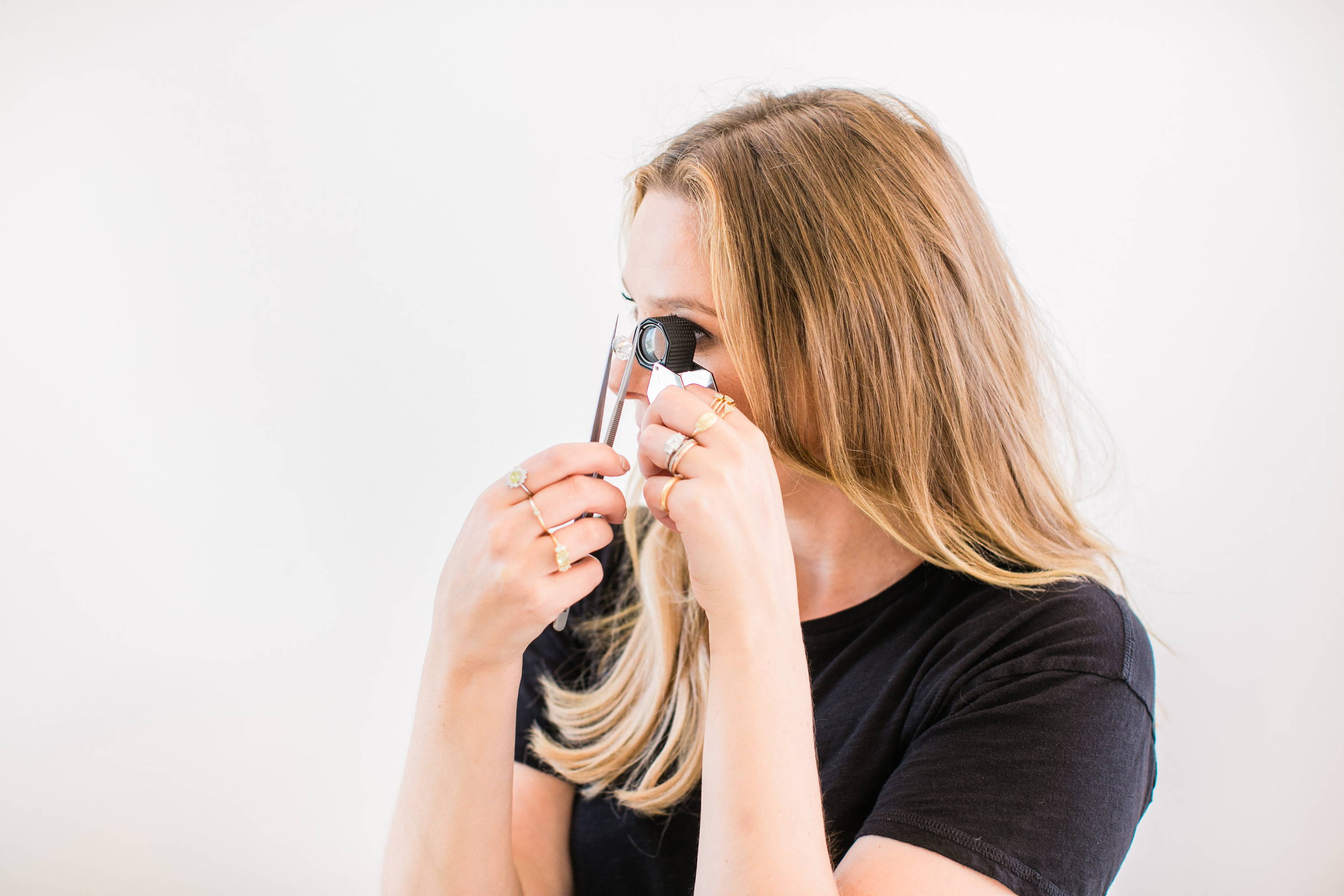 When do I decide on an appraisal?
If your item is over $5000, we'll actively check if you'd like an appraisal done. For items under $5000, please let us know if you'd like one done.
Does Gem Breakfast do appraisals?
We do! We work with an extremely knowledgeable and experienced third-party Gemologist who can complete an appraisal on any piece you like. Appraisals take about a week to execute and cost $165. If you have your own appraiser in mind, or if your insurance company requires a specific appraiser, feel free to use anyone you like!
What do you recommend for ring insurance?
For insurance, we recommend starting by asking if you can include your ring under homeowners or renters insurance. You can also get specialty jewelry insurance from companies like Jeweler's Mutual, Lemonade, and Lavalier.
Read our blog 'Appraisals: Everything You Need to Know' for more on appraisals and insurance!
Step 7: Delivery
For all our other lovely US clients: your ring will ship fully insured, using UPS or FedEx overnight/2-Day shipping. A signature will be required for delivery. We don't recommend having a doorperson or other third party receive the piece - you should be home to sign for the package or have it shipped to work.
If you can't receive packages at home or work or want to keep the purchase a secret: we also offer shipping straight to a FedEx or UPS location for pick-up. Please keep in mind that the package must be picked up within 48 hours or they will send it back to us and we'll have to reship at an additional fee.
For International Clients:
Clients are responsible for all international taxes, tariffs, and import duties.
Please note, the shipper (typically FedEx) will contact you about duties that need to be paid. Many countries require payment prior to delivery. If you an International client expecting a package from us, please be on the lookout for a message from FedEx.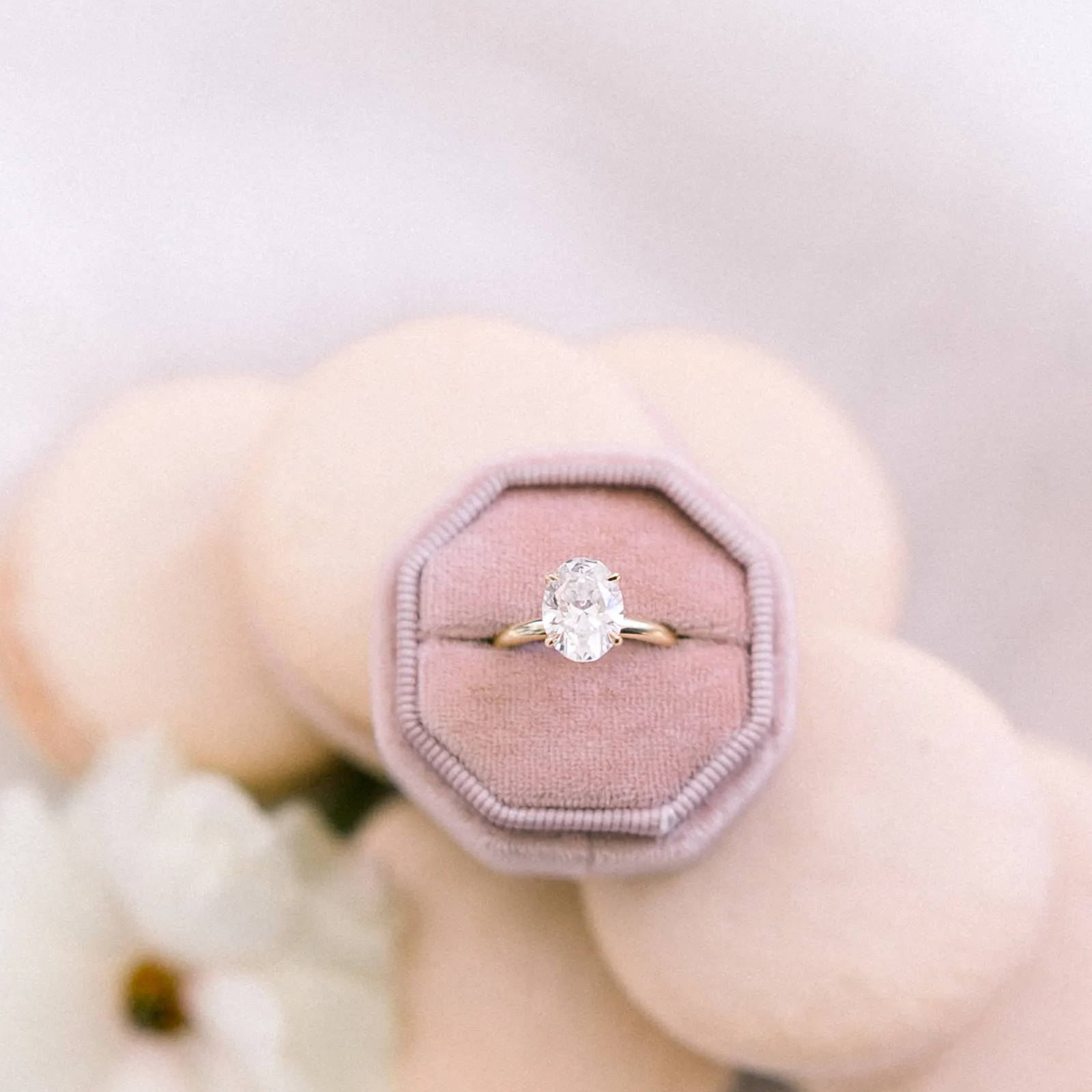 To ensure sufficient insurance coverage, the full value of your piece will be displayed on duty paperwork.
Gem Breakfast cannot determine what customs charges will be. Please check your local duties prior to ordering and take these fees into account when setting your budget.
Step 8: Engraving
To make your piece just that touch more special, you may want to consider engraving! We work with a fabulously talented local artisan that engraves by hand. The fee is $10 per character, and we recommend no more than 10-15 characters, especially if you'll be sizing the ring in the future.
Our engraving cost may be slightly higher than other jewelers. Most conventional engraving is done with lasers, which is cheaper and requires less skilled labor. We prefer the timeless look and quality of hand engraving and it's important to us to work with a local craftsperson.
For local clients, we recommend engraving your pieces after it's been sized or received. We recommend sizing first if possible, as a change in size may require us to damage or remove the engraving.
What GB Customers say about the custom process
"Cat helped bring my ring dreams to reality. From the moment I contacted her, to the delivery (and beyond) of my ring she has been awesome with communication, very genuine and sweet. She's so talented and brings lots of good information and ideas to the table to create a one of a kind piece for you! Hands down the best jewelry experience ever."
"Catherine went above and beyond with our special ring. She was extremely generous with customizations and the expedited delivery. She coached me through the process and I feel so lucky to have had her care and thoughtfulness. Everything went perfectly."
"The process was open, easy, transparent, and we had fun!"
"Love, love, LOVE my new Gem Breakfast ring! Catherine perfectly realized my vision and delivered in record time."
Click here to see the full Gallery of Made by Gem Breakfast rings we've created!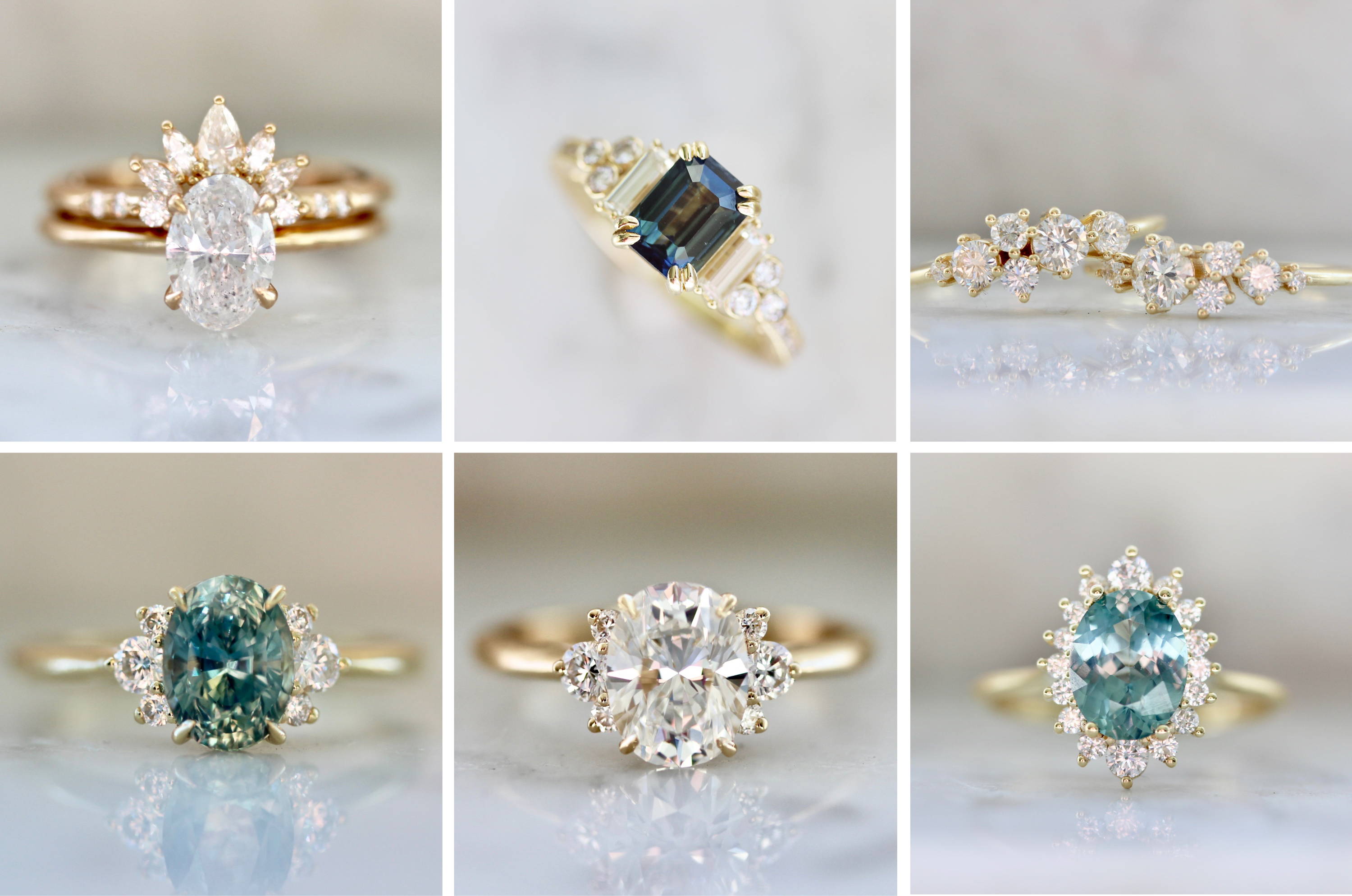 Custom rings by @madebygembreakfast
---