Welcome to your Ultimate Gold and Precious Metal Guide! Keep reading for everything you need to know about choosing gold vs platinum or palladium, 14kt vs 18kt gold, and yellow gold vs rose, Peach Gold ®, and white gold.
GOLD
The most popular precious metal for fine jewelry, gold comes in many different karat weights, colors, and compositions. Let's chat about all the different options you can choose from (and how to make the perfect choice for you!)
Gold Karat Weight: What it Means
Pure gold (24 karat gold) is incredibly soft. To be made into wearable jewels, it must be alloyed with harder metals like copper, nickel, silver, zinc, and palladium to bolster its strength and durability. To find out the ratio of pure gold to metal alloys, look at the karat weight:  
14 Karat gold: 58.3% pure gold
18 Karat gold: 75% pure gold
22 Karat gold: 91.7% pure gold
24 Karat gold: 99.9% gold
Most fine jewelry is made from 14kt or 18kt gold. How to choose between the two:
18 Karat Gold
The highest practical karat weight for fine jewelry, 18 karat gold is 75% pure gold and has a gorgeously rich, saturated color. When yellow, 18kt gold has that incredibly vibrant sunny hue that screams glistening gold and it's personally what we prefer but everyone has a opinion on this!
18k gold will be very slightly more expensive than 14k gold because it does contain more pure gold. It likely won't make a huge difference in price unless you are do a big complicated piece with lots of gold in it.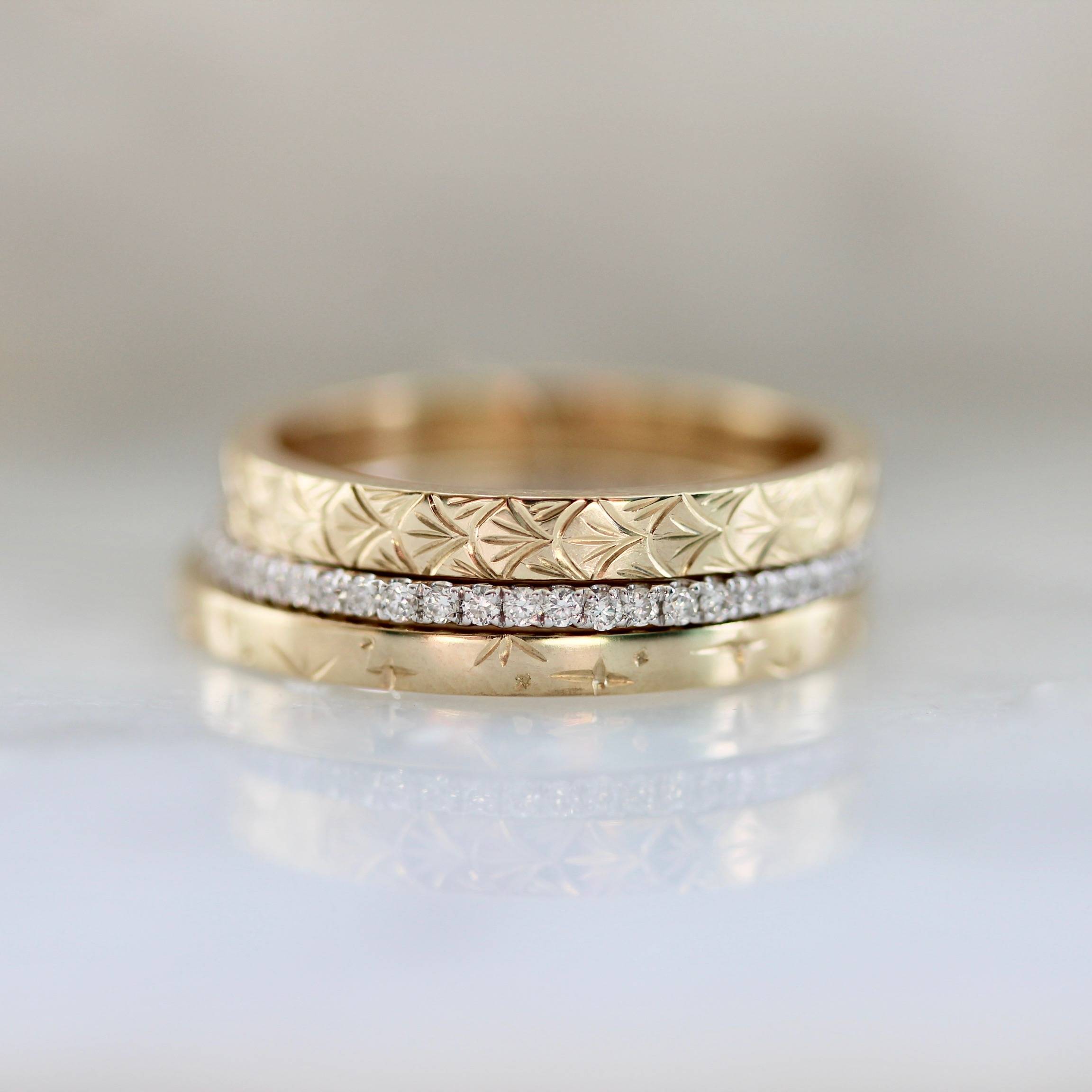 14 Karat Gold
A popular karat weight for fine jewelry, 14 karat gold is 58.3% pure gold. Its color is less saturated than 18kt gold, with a more neutral golden hue. Compared to 18kt gold, 14kt gold is very slightly less expensive and the most durable choice for everyday wear.
The downsides: the higher concentration of alloys like copper and nickel could mean a greater chance of allergies or skin irritation.  
WHITE GOLD
What decides the color of the gold? The metal alloys that are mixed with it! White gold gets its color by mixing pure gold with white metals like silver, nickel, and palladium.
Once mixed, it's often plated in rhodium, a white precious metal in the platinum family that gives it that bright shiny color.
As with every color of gold, the ratio of added metals vs pure gold determines its karat weight.
Things to keep in mind  
White gold should be replated every few years to maintain its lustrous bright white color and finish. It's not an expensive service, but something to keep in mind - it can require some upkeep.
It's often mixed with nickel, so those with nickel allergies should steer clear.
YELLOW GOLD
Yellow gold is a mixture of pure gold and warm-colored alloys like zinc and copper.
Why we love it
If you've browsed the Gem Breakfast site, you've probably noticed we are a tiiiny bit partial to yellow gold. Because we love the vintage and unique, the warmer hues really speak to our soul! Of course we love ourselves some icy, classic white gold too, but yellow gold really makes our hearts beat faster. And besides just the look of yellow gold:
Yellow gold is the easiest variety to maintain, only needed polishing and cleaning from time to time.
Nickel-free, yellow gold is the most hypoallergenic of all the hues.
It's the easiest color for jewelers to work with because of its malleable structure.
Brings out the warmth and glow of many kinds of stones.
Stunning on all skin tones, particularly deeper skin tones and yellow-tinted skin tones.
Things to keep in mind
Most scratches can be easily polished out however it should be cleaned and polished regularly.
ROSE GOLD
Rose gold is a mixture of pure gold and alloys of silver and copper. The higher the copper content, the redder/pinker the gold appears.
Why we love it
As major pink ladies, we la la love the rosé hue of rose gold. It looks stunning with antique cuts, salt & pepper diamonds, rosy hued stones, and black diamonds. Plus:
Very durable gold variety due to its copper content. If you're particularly hard on your jewelry, this may be a fabulous option for you.
Looks amazing on all skin tones.
Though gaining in popularity, it's still the least-used gold hue and so a more unique, distinctive choice.
Things to keep in mind
Should be avoided by those with a copper allergy.
Should be cleaned and polished regularly.
PEACH GOLD ®
A Gem Breakfast exclusive, Peach Gold ® is a mixture of rose gold and yellow gold that we created right in our GB showroom for our bespoke jewelry pieces. The actual alloy mix is a bit of a trade secret, but the result is gorgeous and truly unique!
Why we love it
It's the hue to flatter all skin tones! While rose gold can look a little too pink on some skin tones, and yellow gold a little too yellow, Peach Gold ® is the harmonic balance between the two! Plus:
It's stunning with pink-toned and golden-hued stones.
Things to keep in mind
As with all gold hues, Peach Gold ® should be cleaned and polished regularly. Also, let us know of any metal allergies so we can determine if Peach Gold ® will work for you!
PLATINUM
Platinum is a naturally white metal that's used in its mostly pure form (95-98% pure) for fine jewelry. It's a naturally harder metal than gold, so doesn't need to be mixed heavily with other alloys for added strength.
Why we love it  
With less additives like nickel or copper, platinum is the most hypoallergenic option.
Less commonly used and rarer than gold.
Looks great on all skin tones, especially very fair or rosy toned hues.
A classic, neutral canvas, platinum can be paired with a huge variety of stone colors.
Doesn't need to be plated (and re-plated) in rhodium like white gold to maintain its white hue.
It's slightly softer than 14kt and 18k gold which makes it easier to do complicated or vintage style engraving on.
Things to keep in mind
It's heavier per gram than fine gold (aka 14kt or 18kt gold). If you want your ring to feel really light on your finger this may not be the best choice for you
Platinum looks essentially identical to white gold; however, it is substantially more expensive alloy. Expect to pay between $100 to $400 more for the same setting in Platinum.
It can get dull-looking and scratched over time and will need to be polished to maintain it's finish. Some people like the patina that platinum attracts over time so this can be a personal preference.
Asscher Cut Stella Diamond Ring in Platinum (Sold - reach out to commission something similar)
PALLADIUM
A part of the platinum family, palladium has a naturally white-silver finish that looks nearly identical to platinum.
Why we love it
An incredibly hard metal, palladium is very durable (about twice as hard as gold).
Maintains its white color without any coating.
Lighter in weight than platinum – a pro or con depending on your preferences.
With minimal levels of added alloys, palladium is considered hypoallergenic.
A rarely found metal, palladium is a distinctive choice.
Things to keep in mind
While palladium used to be a less expensive alternative to platinum, recent increases in demand (and low supply) have raised the price significantly to be about par with platinum.
Palladium rings can be more difficult to resize and can require a specialized jeweler. Not every jeweler will work with Palladium because it can be a brittle metal and more difficult metal to work with.
---
If you have any other questions about precious metals and fine jewelry, send us a message anytime!
P.S. If you book a virtual consult during our showroom closure, you get a free $100 site credit for items over $1,000. You can use your credit until 9/1/2020 (not applicable to custom work).
---