So, you're not quite ready to take the engagement ring plunge, but you want to symbolize your commitment with a ring your amor can wear every day. Young or old, a promise ring is a super sweet (and more budget-friendly) symbol to say "I'm all in and p.s. you deserve jewels".  
Whether you're shopping for someone else, here to treat yourself, or ready to drop some hints, we're here to answer all your promise rings questions AND show you all the unique, hand-engraved, never-before-seen options so you never have to say yes to the mass-produced, basic mall designs that have plagued the promise ring world for way too long. We're here to give promise rings a much-needed upgrade into the now!
Your Promise Ring Questions Answered
WHAT IS A PROMISE RING? What's the meaning of a promise ring?
A promise ring is a symbol of commitment – it says, we're in this together. It means you know, but maybe you're not quite in marriage territory or maybe you're not the marrying kind but still want to seal your bond with a bauble.
Or maybeyou want to make a promise to yourself, to commemorate your love, loyalty, and commitment to the person who will always be by your side - you! You know we love this. Let's date ourselves, wine and dine ourselves, and shower ourselves in jewels to celebrate our unconditional love of self.
Whether it's for yourself or someone else, the meaning is what you make it. Fine jewelry can symbolize so much and since it lasts a lifetime (or more likely, several), it can act as a forever talisman to hold whatever intentions you put towards it.
Which finger do you wear a promise ring on?
Usually promise rings are worn on the ring finger – either left or right. If you plan on getting engaged in the future, it's starts on the left ring finger and is moved to another finger once you're engaged. Having said that, wear your promise ring wherever you like it best!
Do both people get promise rings?  
Why not?! We love promise rings for couples. While there's definitely no rules for dual promise rings, it's fun for both people to have a wearable reminder of the romance in their relationship! Consider foregoing the secrecy and browsing together so you can pick designs that capture each of your unique energies and aesthetics.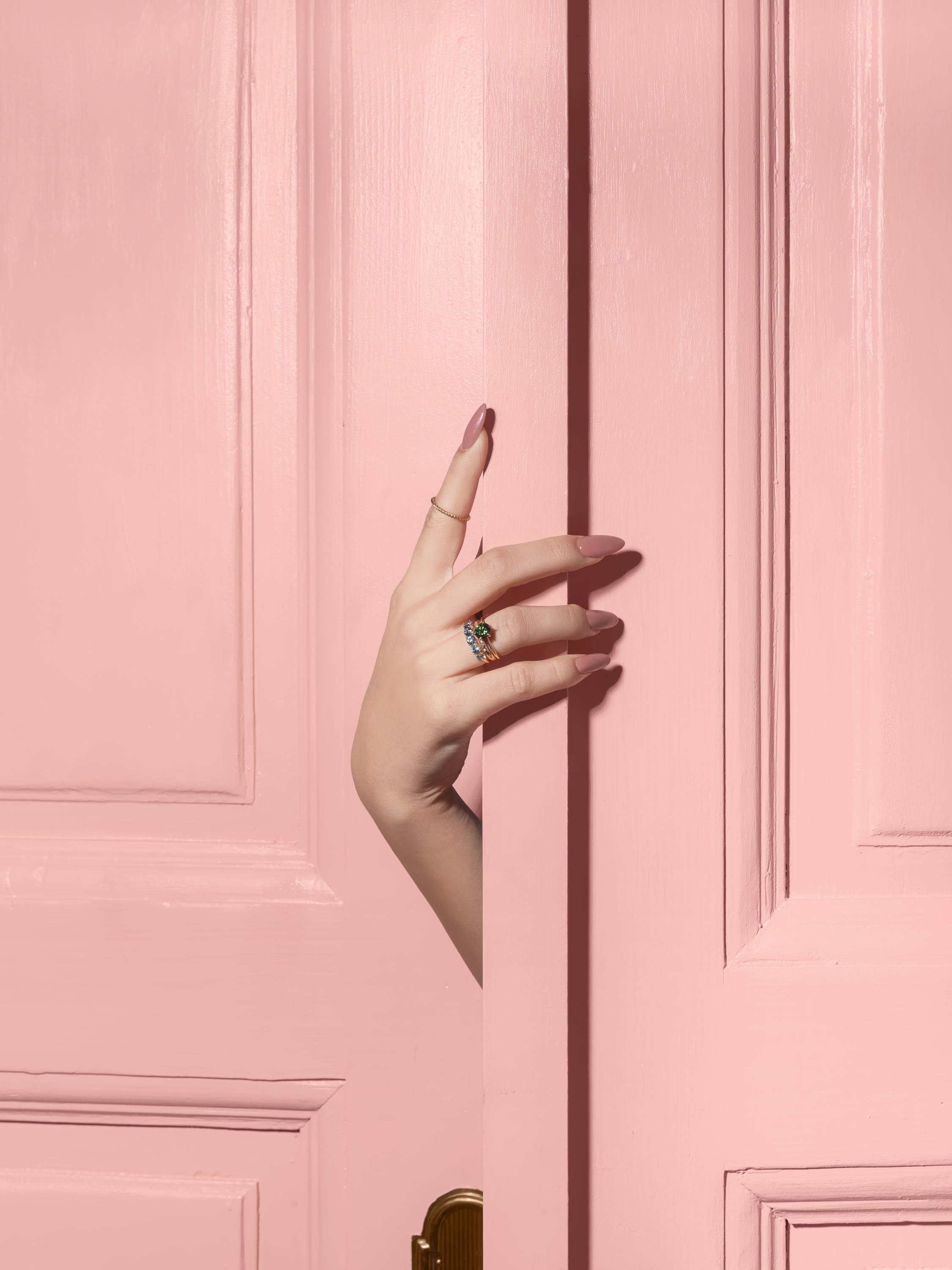 What color should promise rings be?
Our favorite part of promise rings – there are literally zero rules or conventions when it comes to gold color or gemstones. Say yes to a sleek engraved gold band, commit to an ombré sapphire band, or drench them in diamonds all the way – pick whatever speaks to you!   
Our one piece of advice – skip the basic, done-before designs and find something that's unique to your partner – whether that's a specific gemstone, unique engraving, an unexpected shape, or some other design element that feels like them. Take this opportunity to be different and #justsayno to the interlocking heart designs of yesteryear.
What is the average price of a promise ring?
This is completely up to you and your budget! You can buy an stunning promise ring for under $500 or you can splurge to the sky!Maybe you're promising with a chic gold band or maybe your promise is sealed with a 2-carat diamond bomb – you get to decide what's right for you!
Do older couples get promise rings?
Absolutely, grown-ups get to have fun too! Engagements do not have to be the only jewelry-worthy milestone in a relationship – we love the idea of presenting a promise ring at any age to symbolize your rightness for each other. It's an incredibly sweet and meaningful gesture that will mean a lot whether you're planning to get engaged at some point or not.
Gold Promise Rings For Her
bands like you've never seen
Forego all boring convention and promise with an incredibly chic diamond-eyed golden snake that will never stop being a conversation piece.
What better way to commemorate your commitment than a hand-engraved ring with your bae's name on it? Simple and stylish with so much significance.
Love them to the stars and back with the diamond-studded, cosmo-inspired shooting star ring of their dreams.
For the cool girl in your life, gift a sleek, golden statement band that feels both sweet and sinfully stylish.
Your bond shines bright through every phase of the waxing and waning moon with an always-shining diamond at the center.
Hand-Carved Gold Panther Ring
For a duo that's loud and proud and anything but ordinary, a hand-carved golden panther symbolizes unity and strength together.
An ethereal moonstone framed by mystical color-shifting tanzanites for a night garden ice princess vibe that's hard to resist.
Violet Three Stone Oval Cut Iolite Ring
A rich, regal statement ring that demands to be seen. Three oval cut blue-purple iolites shine so bright, day or night.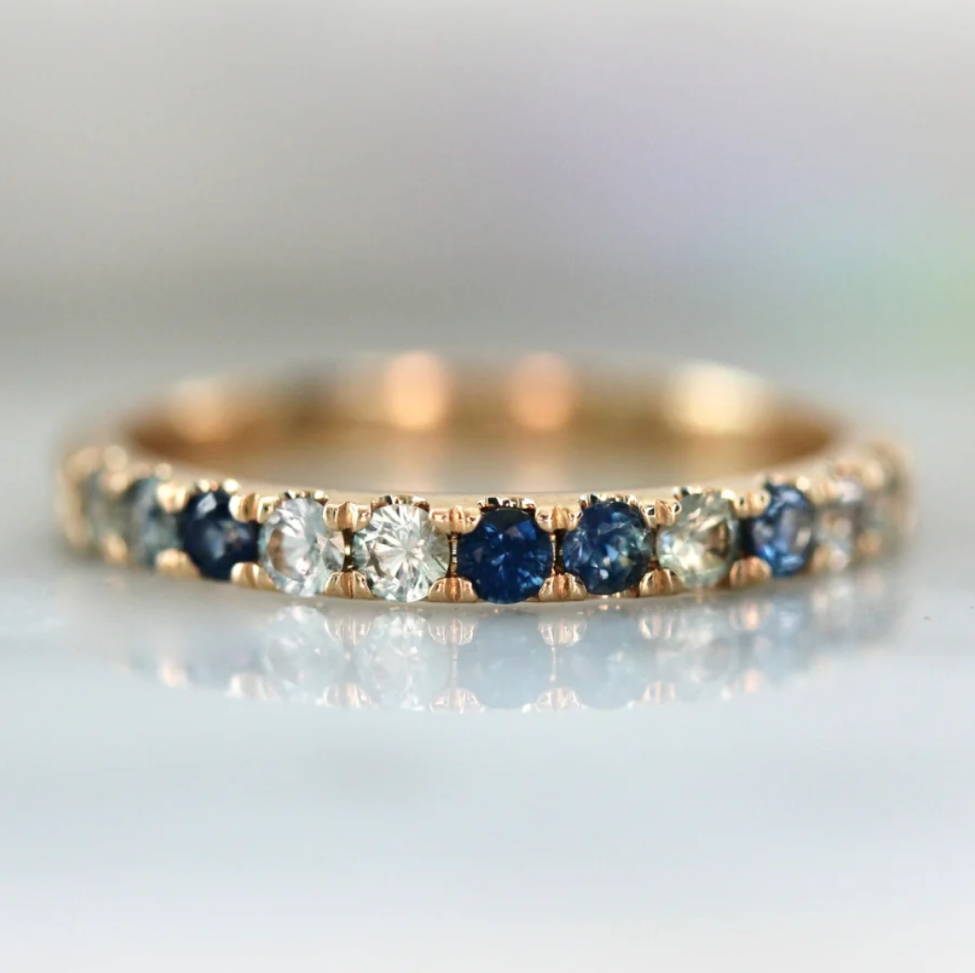 Blue Round Brilliant Cut Sapphire Band
Celebrate all shades of your union with an ocean-inspired multicolored ombréblue sapphire band that's as stunning as the sea.
Pink Oval Cut
Sapphire Band
An exceptionally original pink sapphire band with the most delicious golden waves for the pink-loving person in your life.
For a bond that's steady through all the peaks and valleys of life (or for a man whose love lies with the mountains).
Create Your Own Engravable Signet Ring
A hand-engraved golden picture says a thousand words to symbolize your unique union.