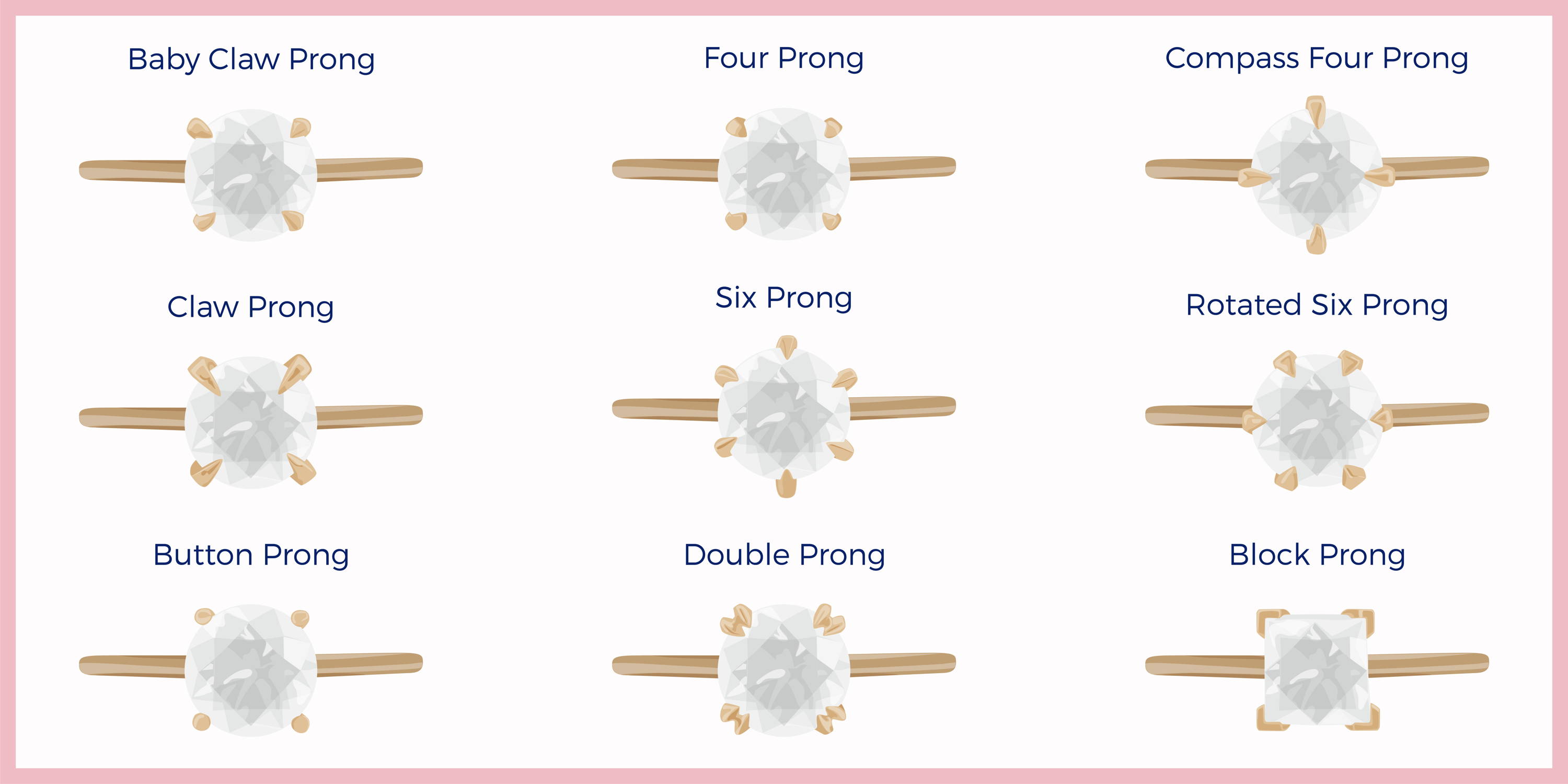 What are prongs And What are the options for your prongs?
Prongs are those small metal tips that hold your diamond or colored gemstone in place. Prong settings are just one of many different setting styles but are by far the most popular.
Why they're so beloved: the setting is minimal, sleek, and allows more light to interact with the stone, creating the illusion of a larger and more lustrous gemstone.
While prongs mostly exist to keep your stone secure, they can also add to the design and are completely customizable to suit your style and best showcase your stone. Keep reading for your crash course on everything 'prongs'.  
How are prong settings made?
Prong settings begin with the prongs sticking straight upwards. Once the gem is placed inside the setting, the prongs are bent towards the stone to secure it in place. The excess gold is trimmed and finished for a perfectly snug and safe fit. Although it sounds simple, it's a very precise process that takes a lot of skill to get exactly right.
Prong Shape
All Gem Breakfast Bespoke rings have hand-carved prongs so you can choose the look you love - dramatic and pointed, feminine and curvy, modern square, or even hexagonal. The most common prong shapes you'll find:
Baby claw prongs
Our most popular prong style, baby claw prongs make a statement without stealing the show. They're small enough to showcase your stone but prominent enough for total security and serious sleekness.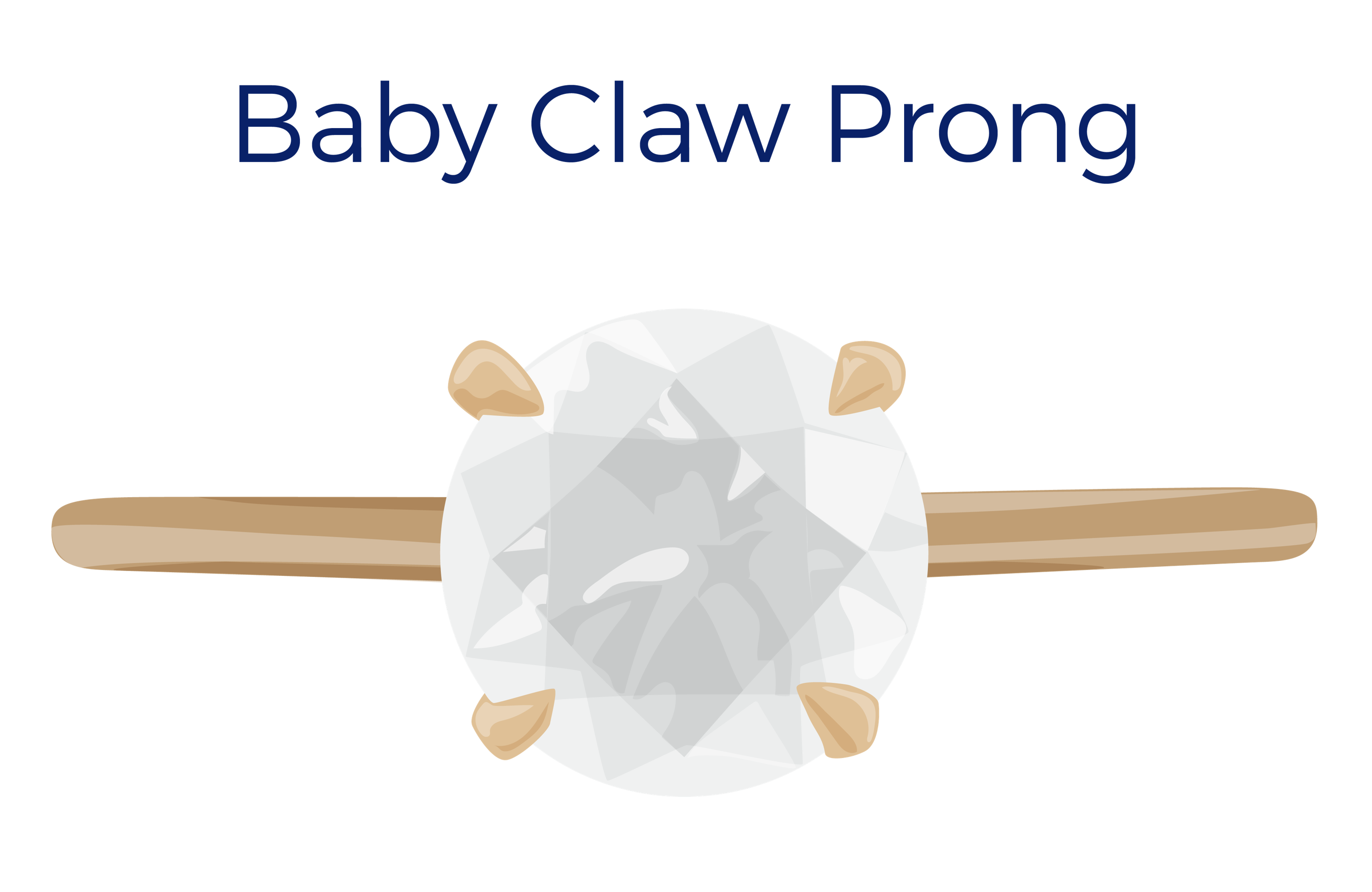 Claw prongs
Elongated and sharply pointed, this style feels architectural and dramatic with a touch of edge. The slim lines cover slightly more stone, but also add an element of minimalistic design to an otherwise clear canvas.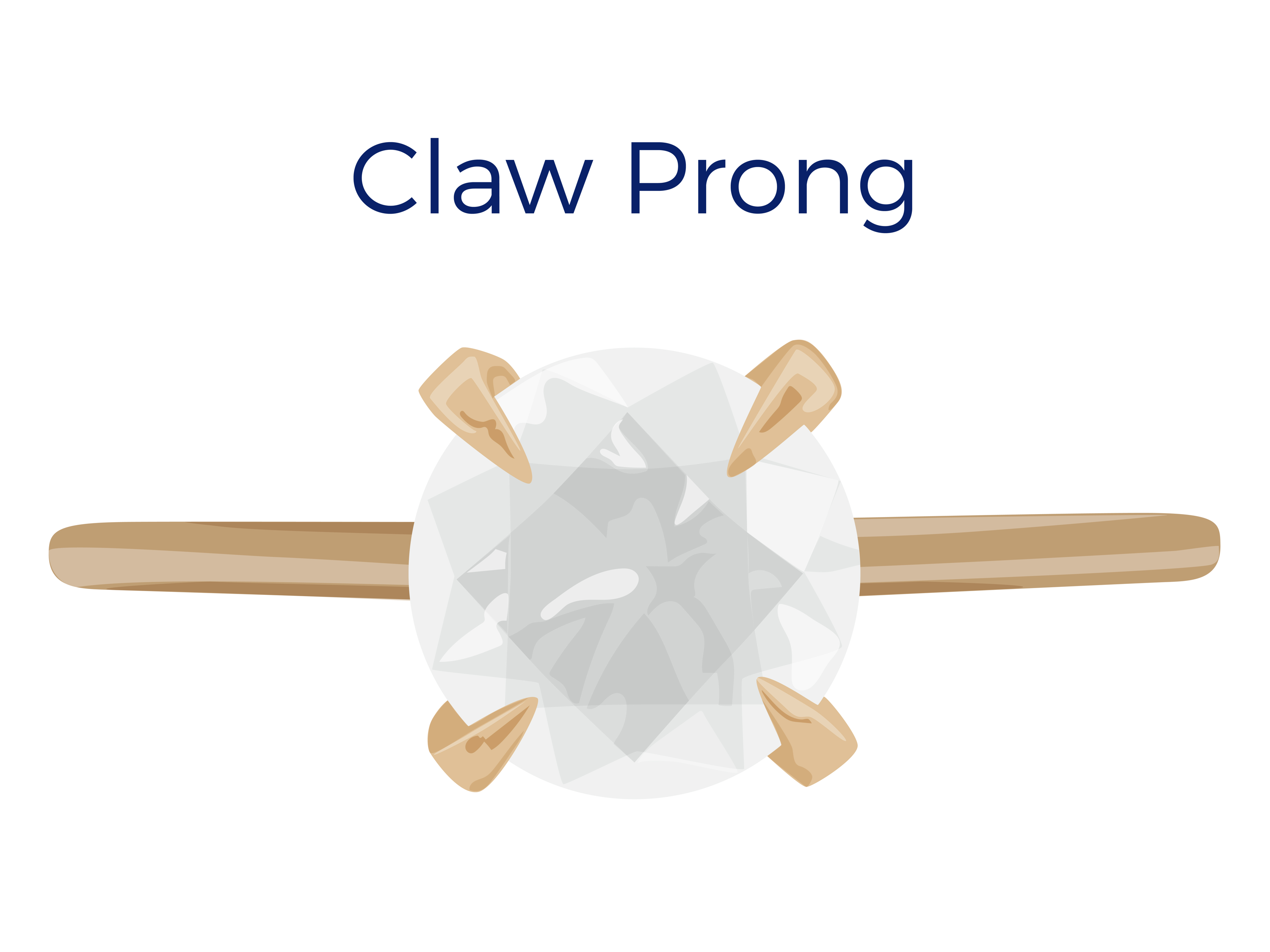 Button prongs
Tiny, rounded, and cute as a button. These prongs feel classic, feminine, and truly let the stone take center stage. From the top view, they look like tiny dots, and from the sides, you can see their apostrophe-esque shape. Button prongs are used most often with "fancy cuts" like hexagon, pear, and heart-shaped stones.
claw prongs vs round prongs
Two of the most popular prong styles available, both claw prongs and round prongs are minimalistic, classic, and let your stone shine bright. So, where does each style win? Claw prongs cover less of the diamond with their tapered ends and they're more secure as they reach farther onto the diamond. Round prongs have a more feminine vibe, work great with fancy shaped diamonds, and are less prone to snagging than claw prongs. If you have a smaller diamond, opt for claw prongs to show more of the stone.
Both are sleek and secure options - make your choice according to the look you prefer!
Block PRONGS OR V-SHAPED PRONGS
Also called corner prongs, v-shaped prongs are designed to protect the pointed corners on diamond shapes like pear, princess, and marquise. Though they're some of our favorite diamonds shapes, those sharp corners make them more susceptible to chipping and damage - this prong style brings that risk way down.
Why we love it:
Keeps stones with pointed corners safe from damage.
Sleek and minimalist, v-shaped prongs cover less of the stone's table and give an obstructed topview.
What to keep in mind:
Many v-prongs don't hold the stones at the top as well as traditional prongs do.

Block prongs cover the sides of a gemstone more than traditional prongs.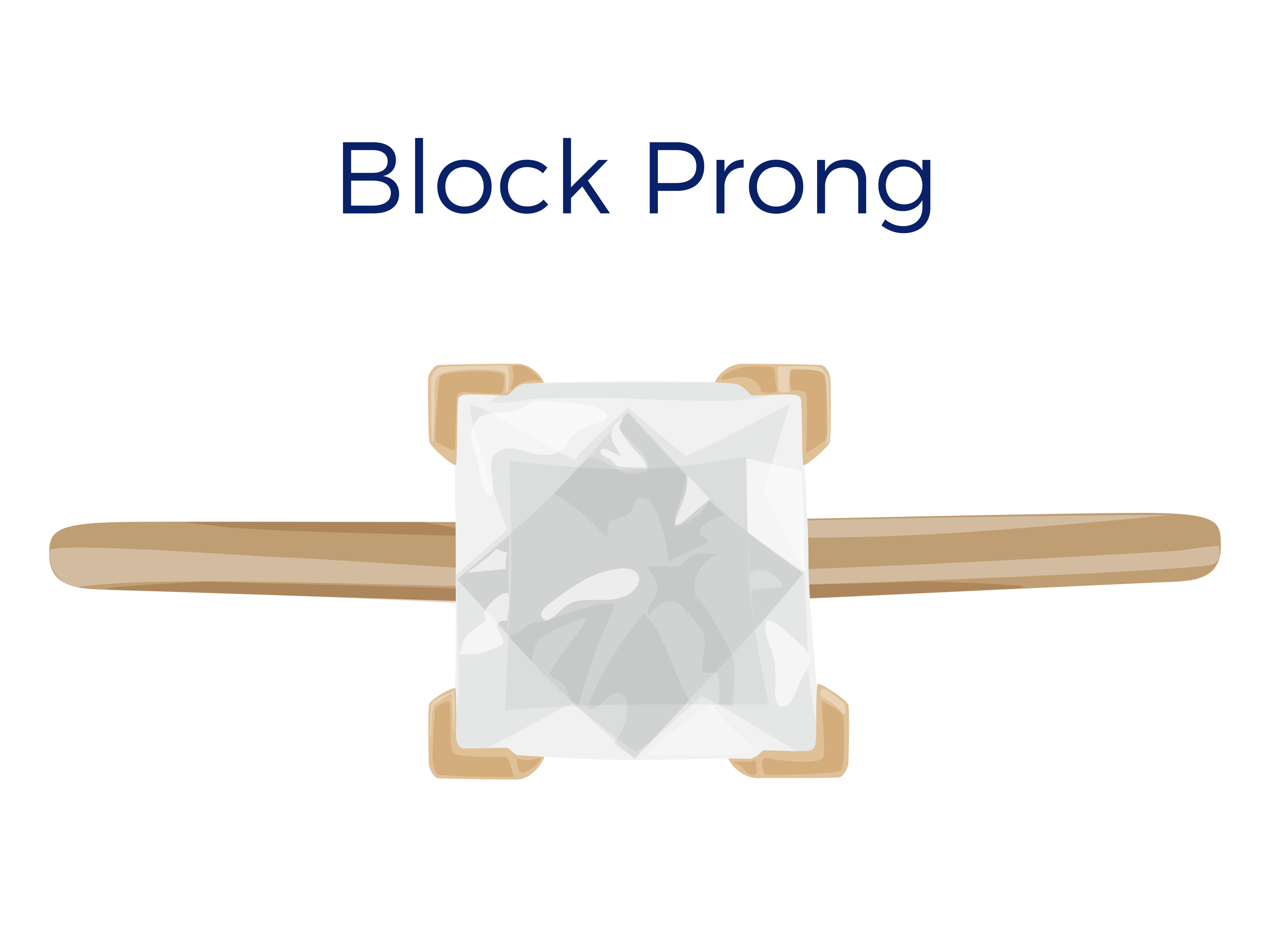 Number of Prongs
Most solitaire settings (like our signature Stella and Bella solitaire settings) have 4 - 6 prongs holding the center stone. However, some designers create pieces with 8-10 prongs for a unique visual effect and Fort Knox level security.
Four-Prong Setting
The favorite choice overall, four-prong settings strike a blissful balance between securing your stone and showcasing its shine.  
Why we love it:
Four prong settings showcase more of the stone than 6 prong styles.
Less prongs mean fewer hidden spots to clean. Dirt and grime build up under prongs which can loosen them, so a four-prong style can be less maintenance.
What to keep in mind:
Four prong settings give a squarer look to your diamond so they're amazing to accentuate square and rectangle-shaped stones. They're also beloved for round stones, as many people love their minimalistic look. If you're not a fan of the square illusion, a six-prong setting may speak to you better.
Four prongs are of course slightly less secure than six, however 4 is still more than enough to securely hold your stone. Keep in mind: the most important factor in your stone's security is the quality and expertise of the setter.
Six-Prong Setting
Super chic and a cult classic, six-prong settings are ultra-secure and timelessly fabulous.
Why we love it:
An extra layer of security with two added prongs – great for people who live a very active or high-impact lifestyle.
A six-prong setting makes round gemstones look rounder. For that truly circular shape, this is the style to select!
What to keep in mind:
More metal means less of your stone shows. This isn't usually an issue with larger stones, but in smaller settings, the extra prongs may overwhelm the delicate gem.
More prongs mean more tiny crevices for dirt and grime to hide under. So, to keep it clean, you'll have to be a little more thorough on your routine at-home cleans.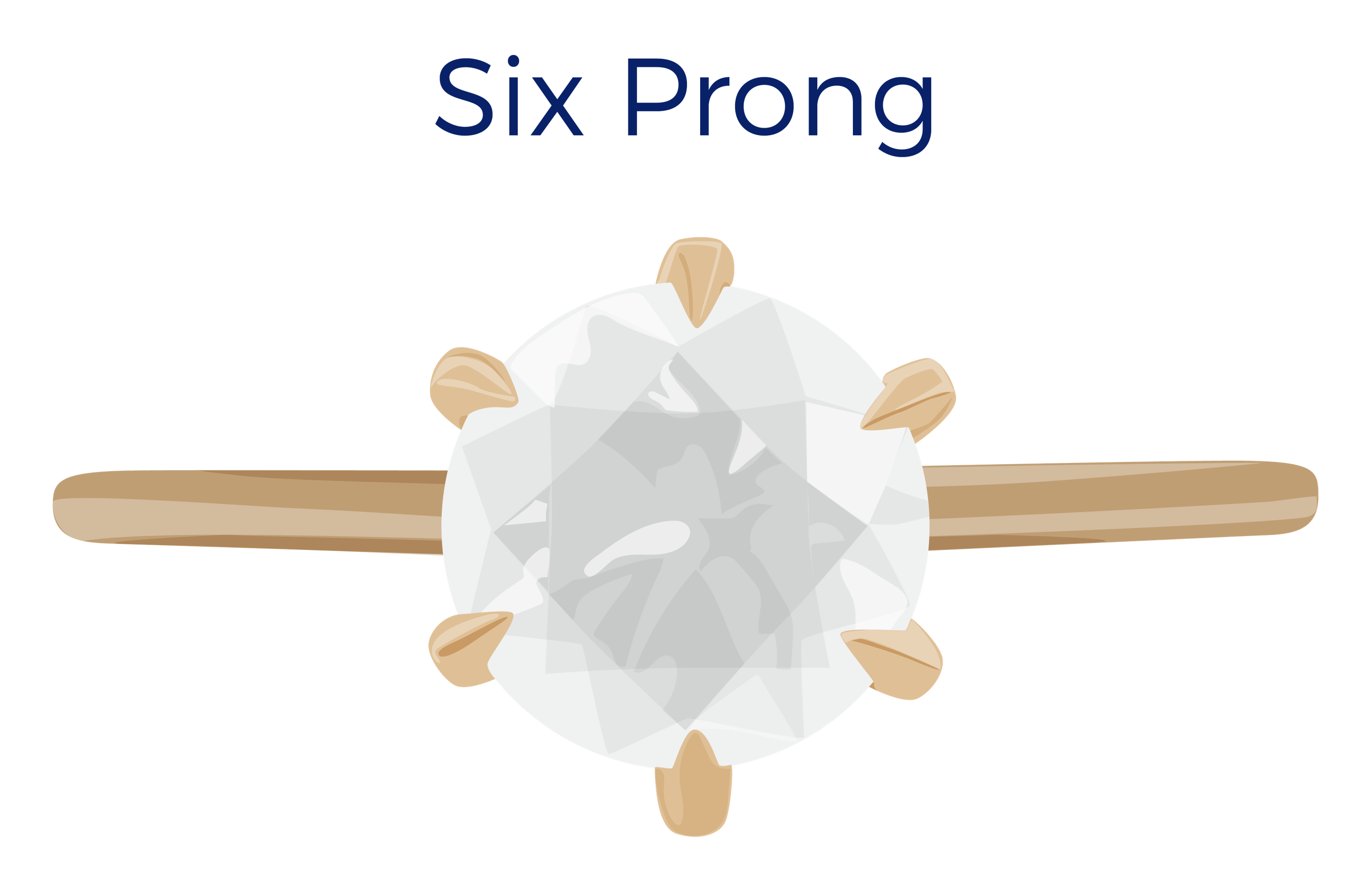 Q: Should you bump up to six prongs for security with larger stones?
A: On larger stones, you can either bump up to six prongs or stick with 4 prongs and add a basket for added security. It's kind of like building a house – you create the foundation to support the rest of the house, and many elements work together to create a sound structure.
It's not your job to worry about this though! We're here to ensure you have the most secure yet stunning setting without you ever having to ask. We'll never let you walk away with anything less than setting perfection.
Single or Double Prongs
Round diamonds are usually made with single prongs, whereas Asscher-cut and Emerald-cut diamonds are most often made with double claw prongs. We don't believe in rules though!
Q: Is the choice for double-claw vs single-claw more to do with aesthetics or security? Love the look.
A: 95% of the time, it's purely an aesthetic choice. We love a double claw on square-cornered stones like Asscher and Emerald cuts, and it can really add some sass to round and oval stones! In terms of security, double prongs aren't necessarily more secure than single prongs. Occasionally, a client might even choose strategically-placed double prongs to conceal a blemish or inclusion.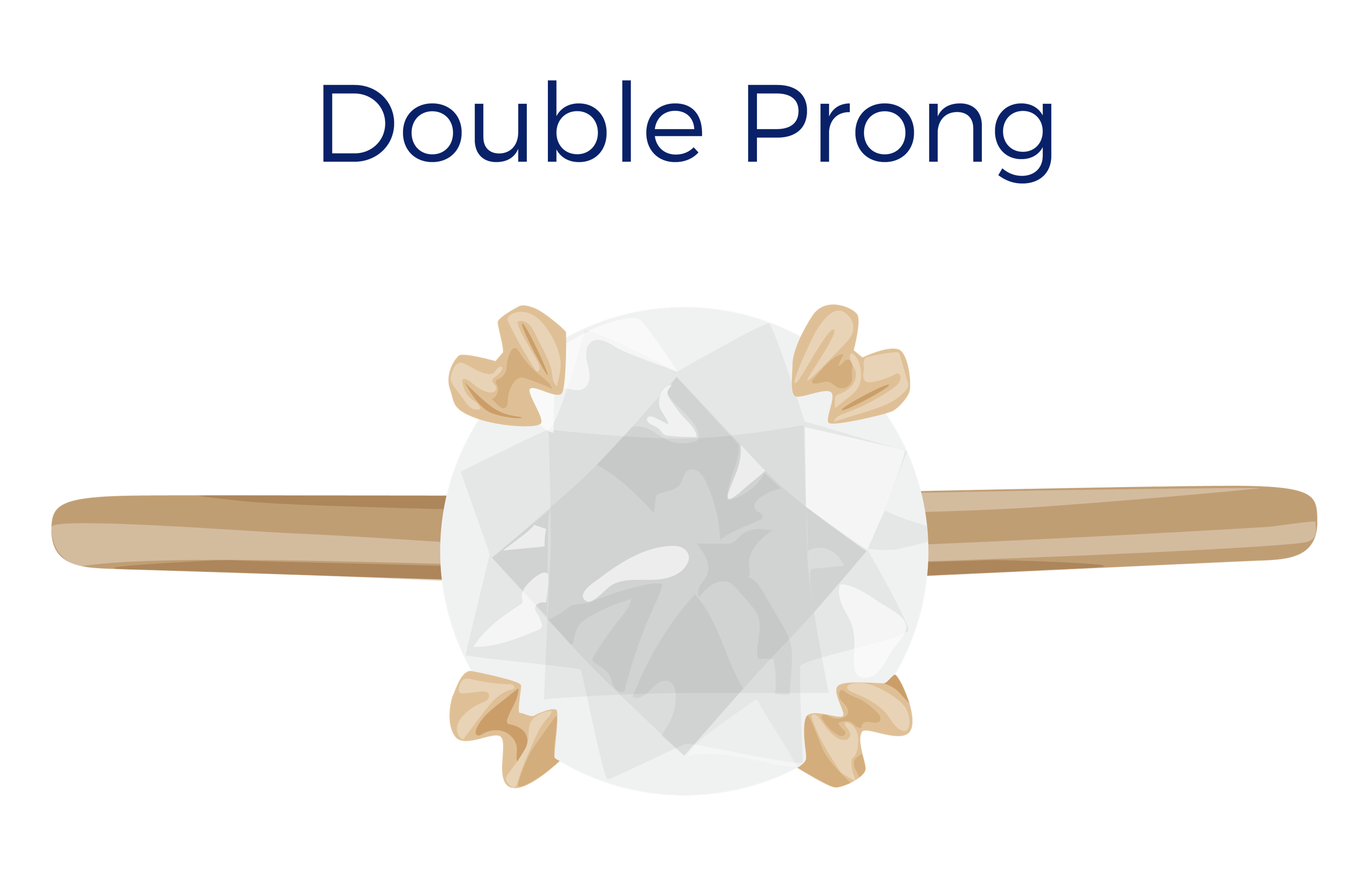 Orientation of Prongs
Both four and six prong settings come with a standard prong placement, but both can be customized for an ultra-unique aesthetic:
Compass 4 prong
The standard four prong orientation is diagonally from a bird's eye view but you can switch things up and orientate the prongs to resemble a compass (east, west, north, and south facing prongs)! It seems like a small adjustment but it creates a super distinctive look!
Rotated 6 prong
Just like with four-prongs, you can rotate the positioning of your 6 prongs so that the middle two run in line with the band. Sometimes just the slightest change can be the difference between 'not quite' and 'just right'.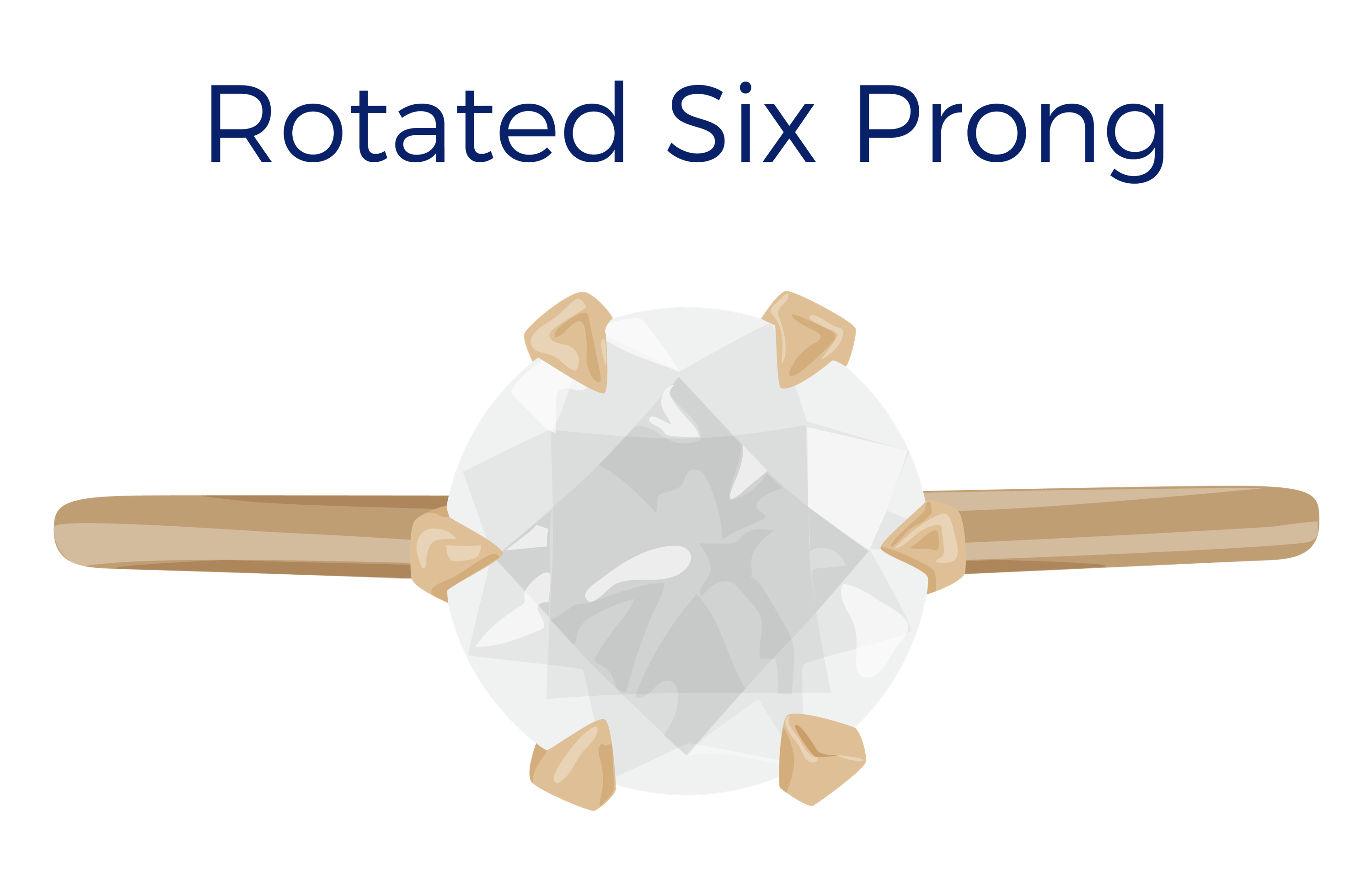 Ring Prong Care Tips
Consider and communicate your expectations around wear and care
Are you someone who loves sleeping in your ring? Are you a chef and going to wear it to work every day? Or do you work in an office and take your ring off every night?
Let your jeweler know a little about your lifestyle so we can tailor your ring design to your day-to-day life.
Handle with care
Prongs can get caught on fabric or warped from a hard impact, so it's important to treat your new treasure with care. First off, don't sleep in your ring – you don't know what your hands are doing while you're tossing and turning and prongs can easily get caught in your hair or on loose threads. Also, leave your ring at home for heavy workouts and abrasive activities like rock climbing.
Clean your rings
Prongs can weaken over time as dirt and grime build up underneath them. To keep your rings shining and secure, clean them at home every couple of weeks and drop them off for a professional cleaning every 6-12 months.
How to clean your rings between professional cleanings:
Fill a mug with warm water and a few drops of dish soap.
Let the ring soak in the mixture for a few minutes.
Scrub the stone, setting, and band with a soft toothbrush.
Make sure you clean under the stone! This is where the most dirt collects, and dirt underneath the stone can make it look cloudy and lackluster from the top.
Rinse the ring under warm water. Make sure you cover the drain!
Pat the ring dry or use your blow dryer on a cool setting to remove water spots.
Read our blog on Ring Care for more info on cleaning and care!
How to check for loose prongs
Hold your ring up to your ear and shake gently. If you hear a baby rattle sound, your stone is probably loose. Call your jeweler and they can tighten it up for you.
Most damage is totally fixable
While we always want to protect against damage, sometimes it happens. Don't worry though, warped or damaged prongs can easily be repaired or rebuilt by an expert jeweler.
Invest in jewelry insurance!
Insurance is usually only a small monthly fee and covers loss, damage, or theft - totally worth it! Ask your homeowners or renters provider if you can add jewelry coverage or look into specialized companies like Jewelers Mutual or Lavalier.
---