Jenny Norman, fresh from casting
Spring is around the corner!
Here at Gem Breakfast we're gearing up for another online pop-up, centered around the Solitaire.
This social media event brings together eight one-of-a-kind rings that are hot new takes on a classic silhouette, created by some of our favorite independent designers:
Emily Gill Design, Honey Jewelry Co., Jenny Norman, Army of Rokosz, Attic Gold, Maddin Jewelry, CVB Inspired Design, and Maggi Simpkins.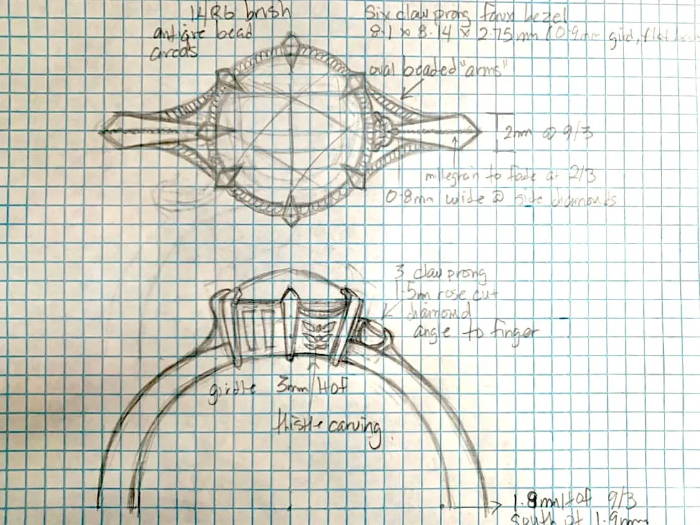 CVD Inspired Design, sketching inspiration
The Challenge:
We challenged them to design really unique and amazing rings using a limited number of diamonds with the focus on a stunning center stone from Misfit Diamonds.
We've teamed up again with Misfit Diamonds, our favorite Vancouver-based diamond wholesaler. They've supplied our designers with their choice of their favorite ethically sourced diamonds.
---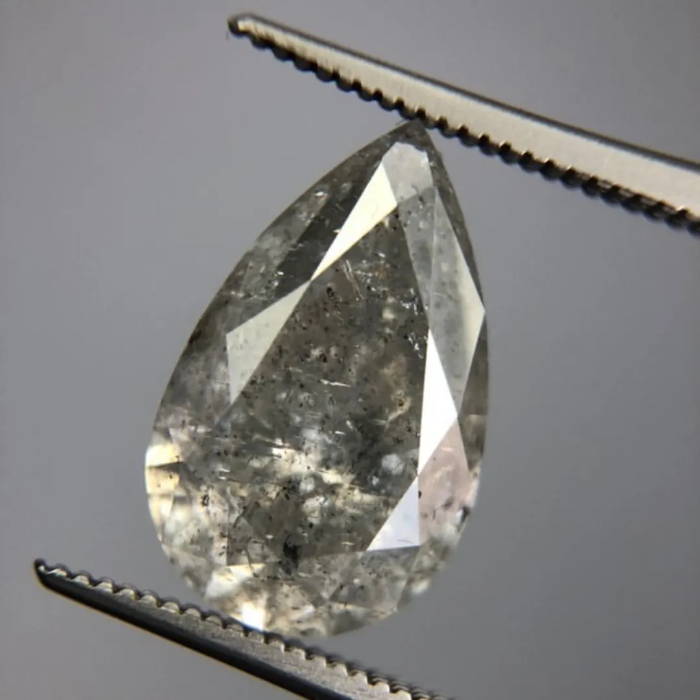 Army Of Rokozs's Diamond From Misfit Diamonds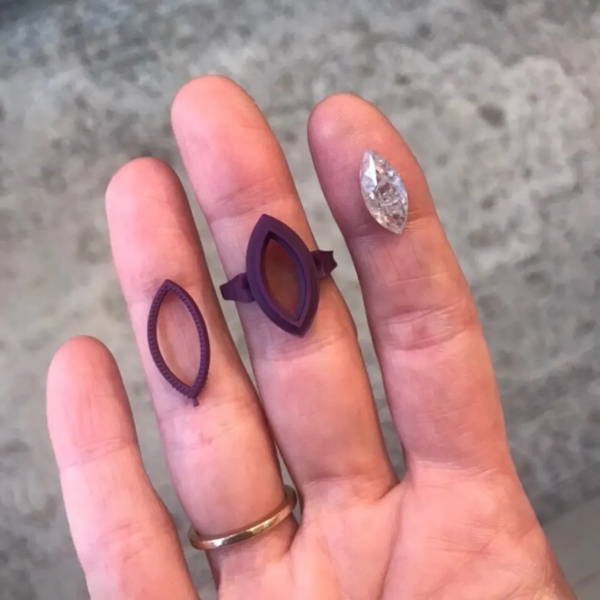 Maddin Jewelry diamond pick from Misfit Diamonds and wax casting
How can I get my hands on a piece? 
The collaboration will be released online on April 1st with special pricing.
Based on our previous pop-ups, we have no doubt that these pieces will sell out within a few days.
This is not the time to sleep on your favorites, because once these one-of-a-kind rings are gone, they are gone for good!
Follow Along!
Since we announced the #SolitaireSquad collaboration a few weeks ago, we've also had a ton of wonderful behind the scenes from each designer.
They've hinted at what their final piece will include and showed us how they're letting their artistic creativity go crazy!
Follow along on social media to see these rings come life with the hashtag #SoltiareSquad.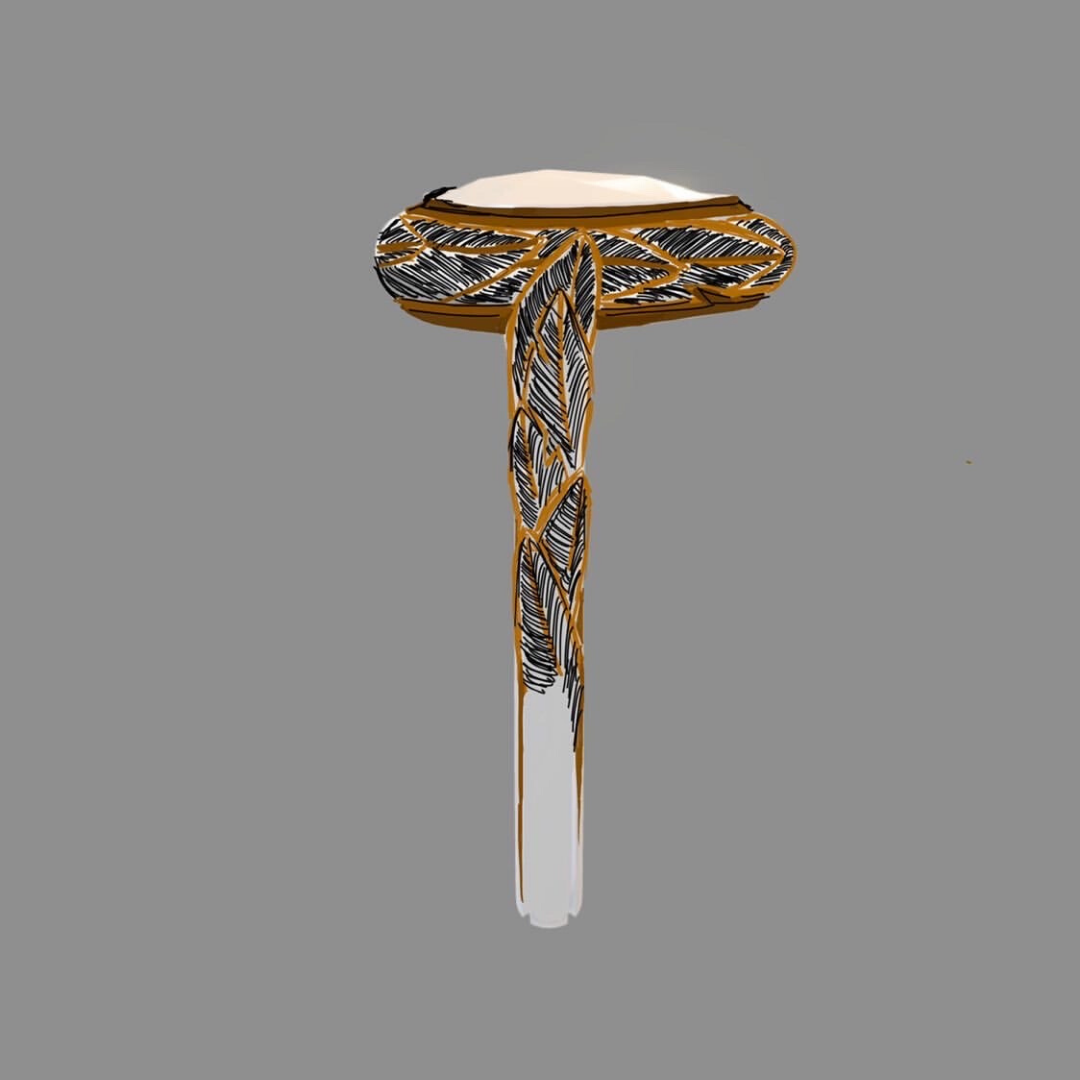 Honey Jewelry Co. Rendering In The Works
---
What are you most excited about when it comes to collaboration with Gem Breakfast on this challenge?
---
"There are countless ways to approach this solitaire challenge and I couldn't be more honored and thrilled to be amongst such a talented group of designers! Excited to watch all the interpretations unfold..." - Jillian Maddin
Maggi Simpkins Diamond From Misfit Diamonds
Attic Gold, fresh from casting
---
"We get to work with stellar talents for these pop ups. I think, when you become an established designer, you spend a lot of time helping bring your clients vision of their piece by you to life. These pop ups give these talents some free reign to play. It's my favorite part. Their eyes light up, they get excited. They get to do what they love to do, and that is to create. They take some risks, and they give life to their designs.
It allows for the general public to have a chance own a truly one of a kind piece of jewelry that an artist has created in their own distinctive style. Usually a special kind of magic occurs when that happens. I'm stoked to see what this crew puts together." - Ash Owner Of Misfit Diamonds
---
"I'm really excited to push the envelope yet again and experiment with a new use of my signature enamel with a diamond that is out of this world!" - Emily Gill
Emily Gill Design Wax Casting
---
Read More On The Gem Breakfast Blog
---