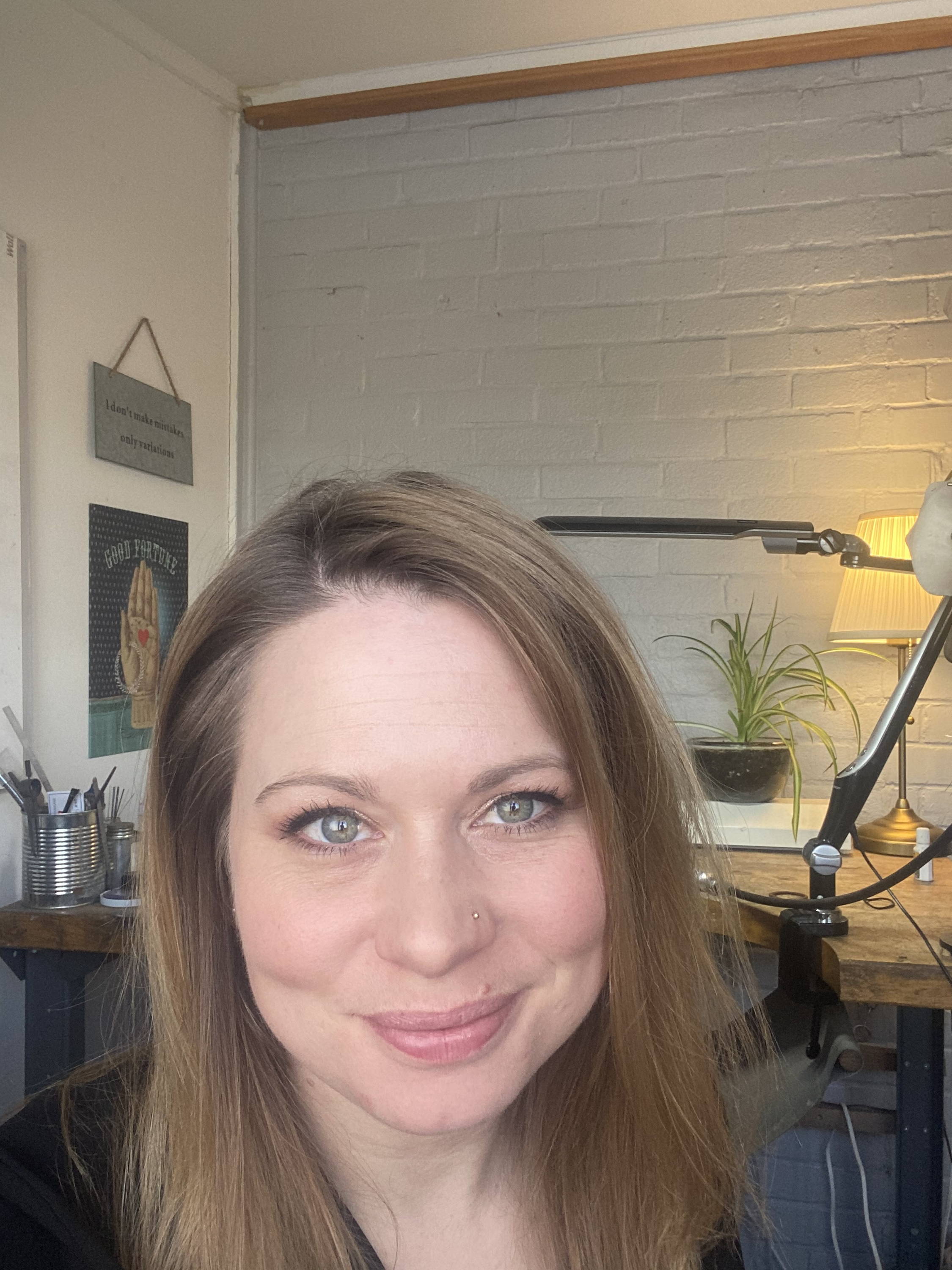 Today we're sitting down with the insanely talented Canadian Jewelry Designer, Emily Gill to learn more about how she creates (and keeps on creating) the endlessly original and strikingly beautiful pieces we just can't get enough of!
Where did you grow up and go to school?
I grew up in Montreal, Canada. When I was 20, I moved to the East Coast to attend the Nova Scotia College of Art & Design. There, I earned my Bachelor of Fine Arts in Jewelry Design and Metalsmithing. It was a really great experience – small, intimate class sizes and set in the most gorgeous historic buildings.
How did you get started as a jewelry designer? When did you know it was what you wanted to do?
I started making jewelry as a young girl, one of many creative hobbies. So, I always loved it on some level, but when I enrolled in jewelry school, it was mostly out of curiosity and a thirst for something different. When I started to feel that I had an aptitude for it, I began to really focus on the goal of becoming a full-time Jeweler.
Also, someone who hadn't taken it all the way told me it would be too hard, that it was a man's world, and I think deep down I wanted to prove her wrong.
How did you go from Design Student to where you are today?
The day after college graduation, I packed up 4 suitcases and moved to Toronto. I worked at a part-time job by day and started making jewelry by night. I rented a studio with low-interest leftover student loan money, taught classes to meet my rent, did a few shows and won awards, but I was financially strained at all times.
I started out making really expressive art jewelry – big, funky pieces with lots of enamel on copper. Shortly after, I had two positions over 5 years working for fine jewelry businesses. In the second job, I was a Shop Assistant for a very talented and established Jewelry Designer who made custom diamond engagement rings. It was her attitude that I held close, one of fearlessness and abundance - a skill all entrepreneurs need to cultivate, on top of technical drive. She was one of the first people to encourage me to create high-end pieces with enamel, which I always kept in my back pocket as a skill, and one that I never sold out to my bosses. She respected that and we're still friendly.
I kept a website and Facebook page active, and friends and referrals started reaching out to commission jewelry. That was a turning point - I was growing a portfolio of fine jewelry to add to my website, and soon after, my Instagram. Once my designs were out there, it all started to snowball.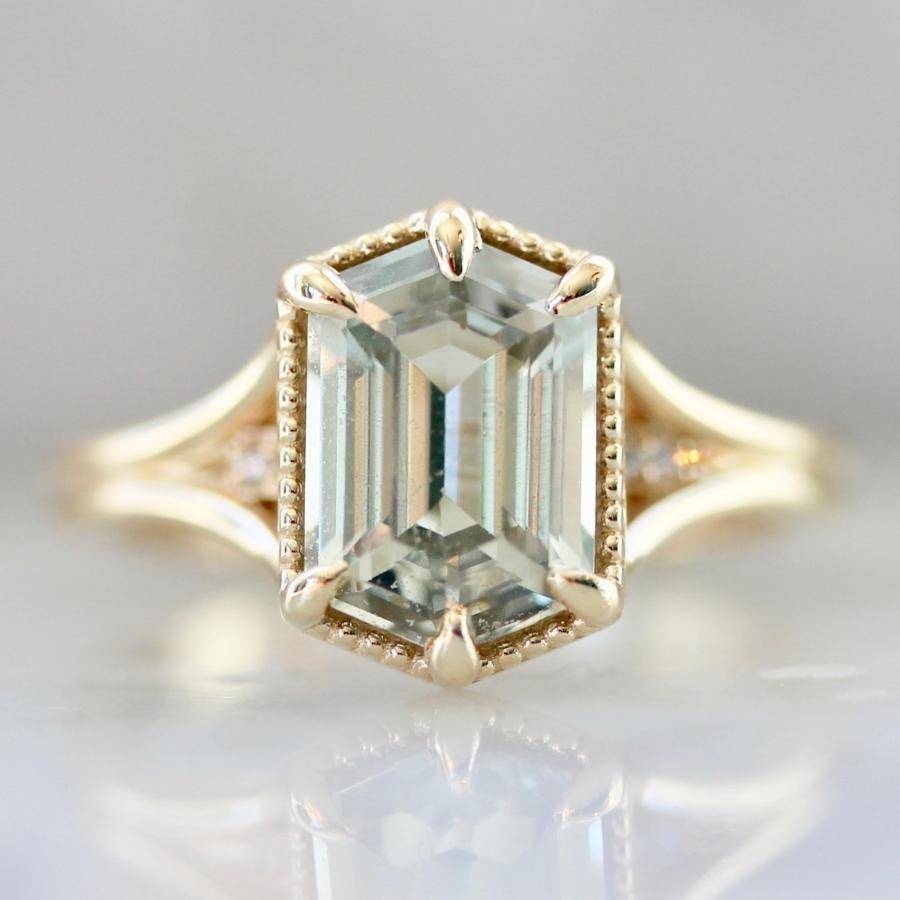 Mint to be Hexagon Cut Sapphire Ring (sold)
How did you meet Catherine (Gem Breakfast Founder)?
We met in 2017 via email. Our diamond dealer Ashkan introduced the two of us (learn more about Ashkan in our interview with him). He suggested that Catherine include me in the Gem Breakfast store launch. It was a pop-up where 10 designers created 10 one-of-a-kind rings.
When I was first given the opportunity, I was really nervous! Selling internationally was a big dream, and San Francisco was quite possibly the coolest place on Earth that I'd ever visited! I was feeling a lot of pressure even though Catherine was so cool and supportive. I'm so glad I pushed through that fear and believed in myself because my partnership with Catherine has been amazing – I'm so grateful for it and for her.
How would you describe your design aesthetic?
A lot of people describe my style as 'modern vintage' and I think that comes close but there's also an element of playfulness – it feels whimsical and full of a youthful energy. I think maybe that comes from the color usage and the scale of my pieces.
Sometimes when I look at my rings I do see that art deco modern vintage vibe, but then sometimes I also see a little pop art.
So, in the end, I feel that each piece has a personality and an energy of its own. I stay true to myself and create what really resonates with me in that moment, and that will continue to evolve and flow.
If I had to sum up my design energy in a phrase, I would say 'modern-day child with an old soul'.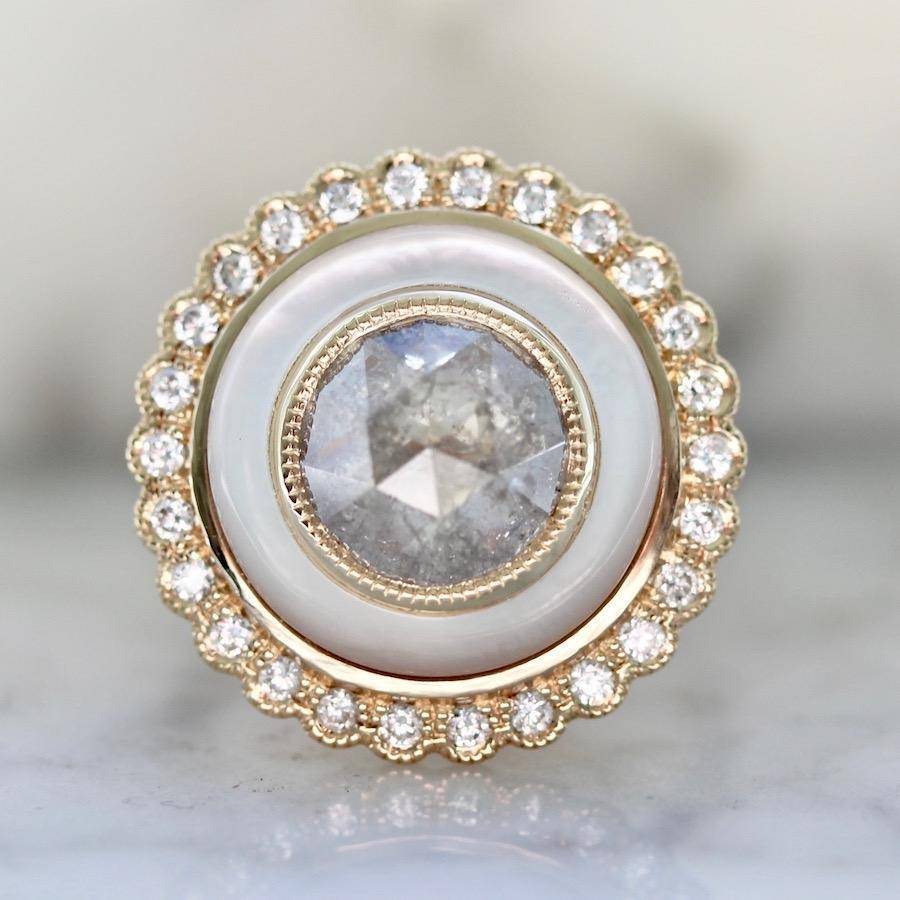 Are all your designs one of a kind or do you make more than one of some popular designs?
All my designs for Gem Breakfast are one-of-a-kind, however, I do make multiples of some of the popular designs on my own website.
Who is the woman who loves your rings? Do your devotees have anything in common?
It's definitely women of all ages, and men too. Overall it's a person with a distinctive style, who loves intricate details and larger-scale pieces.
For my custom clients, it's often someone who already has or collects some vintage pieces.
For my engagement ring ladies, it's women who love alternative styles, who want something truly unique, bold, and statement-making, though the scale seems to be more delicate for bridal as a whole.
Where does your design inspiration come from?
I work a lot by rearranging shapes and playing with proportion, sometimes with a theme in mind - a place, a vibe, or a color scheme. I use Adobe Illustrator quite a bit and find inspiration in unique formations of shapes. I think my process mirrors the abstract art world – a lot of bold, graphic, interesting designs come out of just playing with shapes.
For the one-of-a-kind rings I create for Gem Breakfast, I plot out a map on my computer with all the stone outlines and I rearrange them until it feels like they fit. And when that happens, I just know. It feels right.
What's the difference between engagement rings and buy-for-yourself rings?
Right-hand rings vs engagement rings: they tend to be a little bit bigger in scale – often more ornate. But really, I don't think aesthetically they're that different. Anything you love can be an engagement ring – we're not stuck in a box anymore.
What rings do you wear on a daily basis?
Most days, I wear my favorite Georgia ring – it's a rich blue-green sapphire with matching teal enamel, and I usually stack it with one of my chevron sunburst rings and a 22kt gold vintage ring.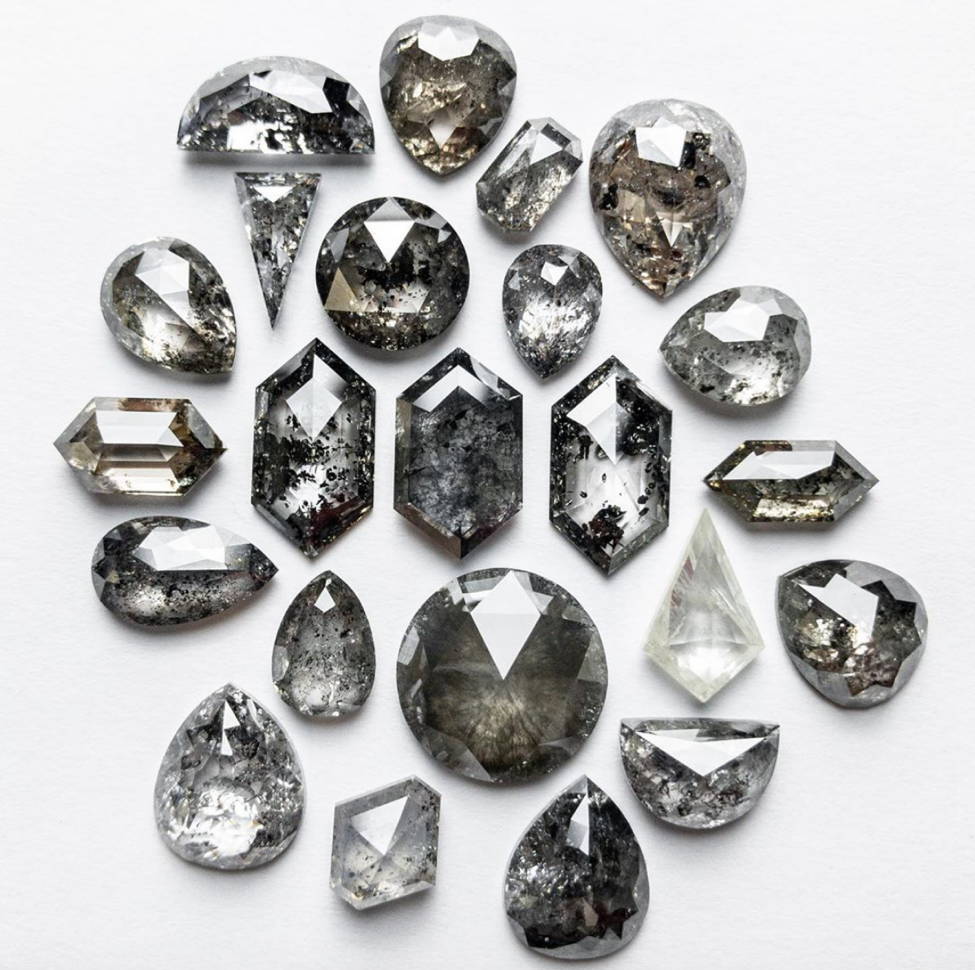 What is your favorite stone to work with?
I love working with diamonds and my favorite shapes are oval/pear/round because of the curves!
What's your favorite ring you've ever designed?
The first ring I ever made for Gem Breakfast – I really loved it. It's an oval grey rose cut diamond set in rose gold with black enamel. It was for my very first pop-up with Gem Breakfast.
It was special to me because I was really free to express myself on this unique platform and I was just so hopeful that people would love it. And I guess they did, because it sold in half an hour!
What is your design process like? From inspiration to creation.
For custom clients: I work from the center stone outwards. So, we pick the main stone, chat about the design inspiration, and then I create five drawings/layouts for the client to choose from. Once we've narrowed down the final design to one:
We create a 3D computer rendering
The ring design is 3D printed
The ring goes to casting (where a mold of the ring is made)
Lost wax casting (the gold is poured into the mold to form the ring)
Polishing and enameling
Gem setting
When I'm designing a one-of-a-kind ring for my site or for Gem Breakfast, I'm usually a little looser with my initial design/sketching. Sometimes I just want to design a hexagon-shaped ring for example, and sometimes inspiration will just come to me. But all of the above steps go for every ring I create.
Do you design differently for Gem Breakfast vs for your own site?
Initially, I designed more conservatively for my own website. Catherine (Gem Breakfast Founder) though, told me from the start that her goal is to set us free! She knows that as emerging designers, we often receive inquiries for all kinds of work unrelated to our aesthetic.
She wants to elevate us to the point of having creative freedom – to have people coming to us and saying 'I only want what you create. I love your vision'. She inspired me to take more risk design-wise, and now, I create show stoppers for both my site and hers without worrying as much if the investment will pay off, or if someone will fall in love with it.
How long does it take for you to design a ring usually?
Each ring takes about 40 hours of labor to create. First, there is my sketching and designing, then I send it to a CAD designer, which can take one to 5 hours. Then the ring gets 3D printed, cast into gold, polished and enameled. And last is the gem setting, which is a long and arduous task - my gem setters could spend one hour setting a solitaire or spend an entire day completing a Georgia ring.
I don't like rushing, I take my time to let my creativity flow and get the most flawless finish possible.
You use a lot of enamel – what exactly is enamel and what's the process like?
The enamel I use is called 'vitreous enamel' coming from the French word for glass. It is lead-free and comes in powders - it almost looks like sugar except in hundreds of different colors.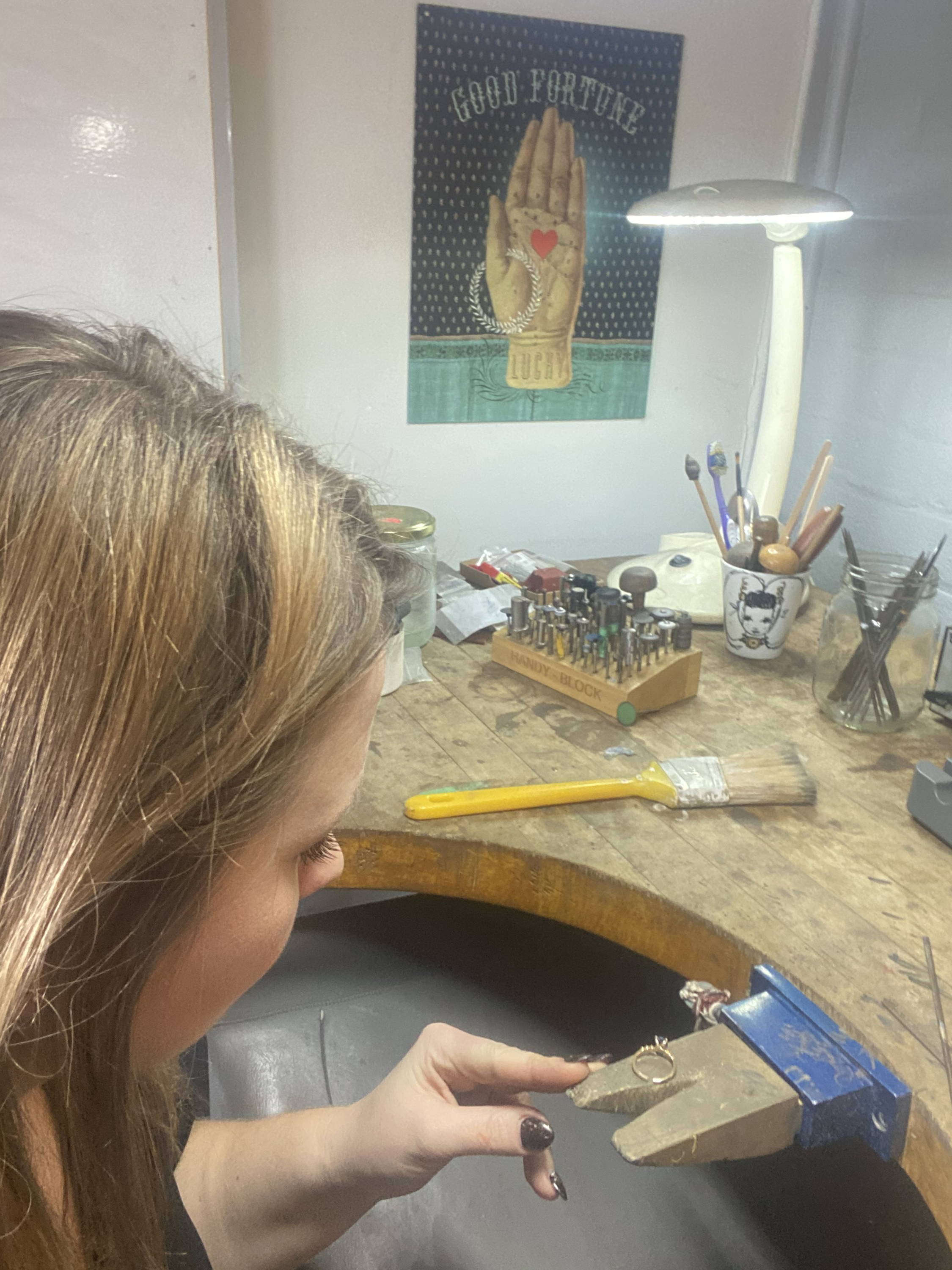 To apply it: I take a little bit of the enamel powder and mix it with water and glue made of plant-based organic materials. Essentially I end up with a paste of grains of glass and water.
With the world's tiniest spoon, I take a few grains at a time and place them on the ring where I want them. Once it's applied to the ring, it goes in the kiln, where it melts and fuses with the surface of the gold.
Do you put enamel in every piece?
No, not every piece. When I first started out making fine jewelry, I used enamel pretty sparingly. Now, I do enamel more and more because I want people to appreciate it. It's hard to envision in a custom piece, but once people see it in person (or in pictures), many of them are surprised by how much they love it!
Does enamel last forever?
In my designs, I tuck the enamel neatly into little channels and line accents so it's kept safe. Enamel will last forever unless you crack it. Scratches can happen but they can be fixed. I intentionally put in smaller, less exposed areas of enamel so they're less likely to chip.
I see a lot of blues and greens in your designs – are those your favorite colors?
I think they're colors we're conditioned to love in nature – leaves, water, the sky. And from a design standpoint, blues and greens work really well with my design techniques. With enamel, for instance, blue and green enamels react well with gold when baked. And aesthetically, if you put green enamel on a yellow gold ring, it's going to enhance the green. If you put blue enamel on a yellow gold ring, you're going to see blue but you might also see a bit of the yellow popping through. It's a lot of color theory!
It's funny - Catherine's always asking me if I can make rings with pink enamel because she loves pink so much! It's something I'm experimenting with and trying to find the perfect balance, but the color chemistry is finicky!
How often do you do hand-carving?
I use hand-carving very selectively now, like if I need to make a ring for a client that has an existing vintage ring, then I may need to carve a piece of wax to fit around her ring. But in most cases, I work with 3D technology to create rings that are highly symmetrical with many small details, and perfect consistency in their construction.
What is your favorite part of your job/business?
The part of my business that I love the most is making people extremely happy. I love seeing that sigh of relief when someone picks up their ring and it's all or more than they envisioned. I don't get that in-person moment with clients overseas, but many people reach out later and tell me how much they love it.
That moment of gratification that you have made something truly magical for someone is very rewarding for me. It means the jewelry has done what it's supposed to do for someone. A piece of jewelry is sentimental and emotional, it's beautiful and it's touching for someone.
What are you working on right now with the #solitairesquad designs?
The #solitairesquad is a design challenge that's similar to the first pop-up that Gem Breakfast had. With this one, Ashkan (our favorite diamond dealer) has provided 7 of us designers with an incredible diamond each - we could pick any diamond off his website. And with our chosen diamond, we're all designing a solitaire ring to be sold on the Gem Breakfast site, launching April 1st.
Can you tell us a little more about your design? Just a hint?
Mine is a really big, clear rose cut marquis diamond. And since the rules allow us to make stacking rings, I'm creating a couple of gorgeous stackers too. I'm going to be really #extra on this one – I can't wait for everyone to see it!
Check in on the GB Instagram and Emily's Instagram to see sneak peeks of all the #solitairesquad rings as they near completion!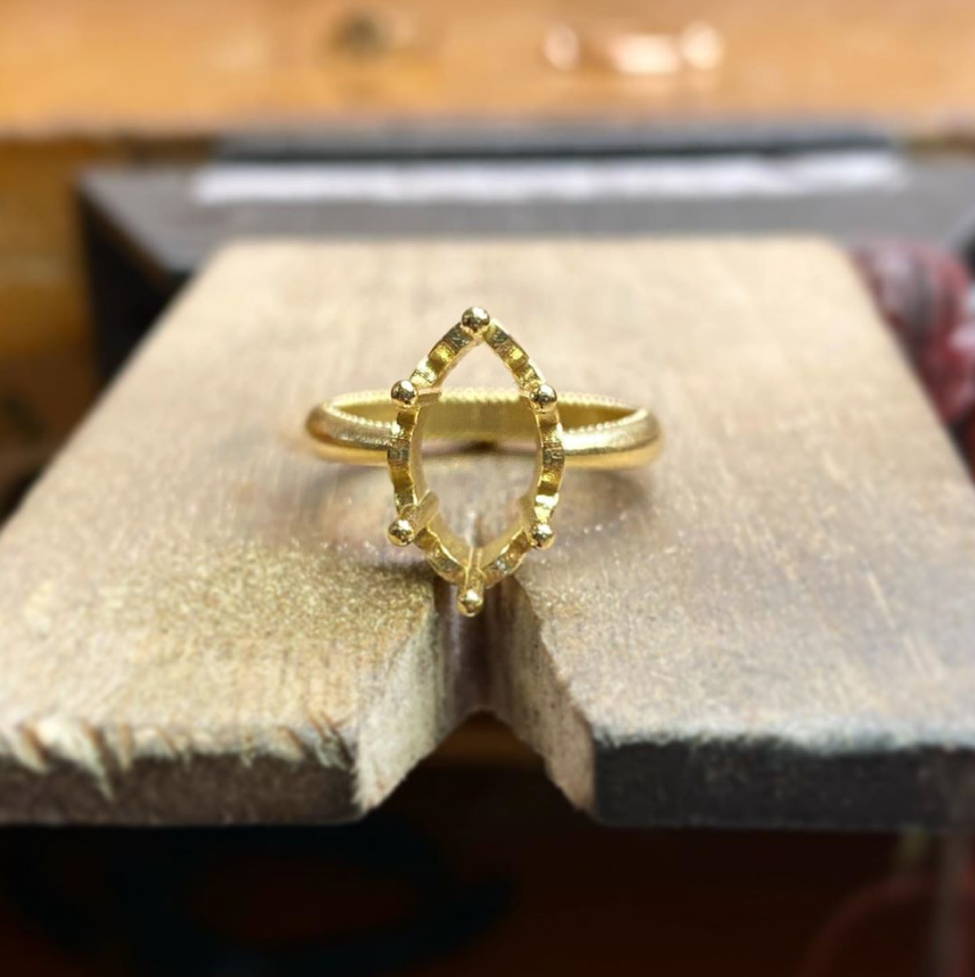 ---
Shop Emily Gill at Gem Breakfast