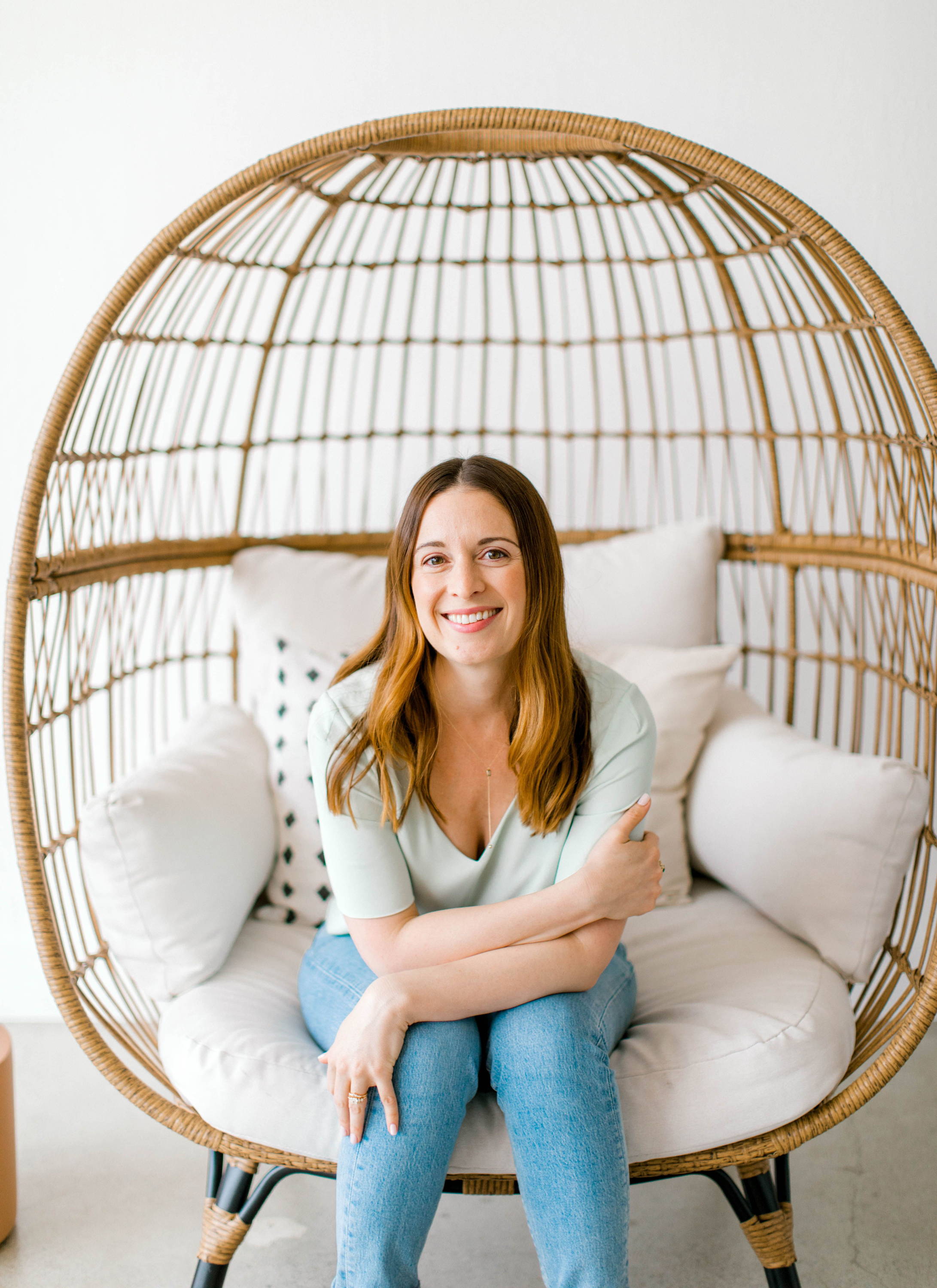 Today in our Meet the Maker series, we're chatting with Brooke Miller of Porter Gulch. You'd know her from her incredible showstopping tiara bands, ethereal sapphire confections, and her jawdroppingly stunning halo designs. Keep reading for more about her design process, why she loves an elevated halo, and her favorite rings she's ever made.
How did you get into jewelry design?
One day while working my corporate job in New York, I commented on a friend's ring that I loved. She said she'd made it, which blew my mind! I found out where she was taking her silversmithing classes and immediately signed up. I would bring a tool box of soldering equipment, files, and saws to my corporate job because I went straight from there to class. My coworkers started asking me if I was going fishing because my toolbox looked exactly like a tackle box!
From there, I started taking more specialized classes like wax carving, and eventually I enrolled in a fine jewelry program at a small school in TriBeCa.
Did you always love jewelry?
Definitely. Even as a child, I was very into beading and making friendship bracelets for all my friends. I loved crafts, and that maker tendency combined with my discovery of (and obsession with) gemstones led to my love of fine jewelry.
How would you describe your design aesthetic?
A modern take on classic styles. I try to avoid trends as I want my designs to age well. I love to mix diamond shapes and add visual interest through different configurations of round, princess cut, marquise, pear, and kite shaped accent stones.
What's your favorite ring you've ever made?
I made my sister's engagement ring – nothing can beat the sentimental value of that ring. Next, would be a ring I made with a seriously stunning 4 carat emerald cut teal sapphire.
What about your favorite ring you've made for Gem Breakfast?
Literally every month I have a new favorite ring so this is a tough one! If I had to choose, I'd pick Rituals (sold) – it was a custom cut green-blue sapphire ring with tapering marquise and round accent diamonds. It wasn't the most complicated design but there was something so special in that minimalistic setting.
I also LOVE Lady Luck – it has the most amazing champagne diamond I have ever seen.
How did you meet Catherine (GB Founder)?
I met Catherine through the Women's Jewelry Association here in San Francisco. She was giving a talk about how she grew her social media – it was such a great presentation. I introduced myself right after, knowing I wanted to work with her.
We set up a time to meet, and now we work very closely together. I love her passion for jewelry and who she is as a person.  
What is your design process like from beginning to end?
I start by seeking out an interesting center stone – whether it's a distinctive shape, unexpected cut, special inclusion, or amazing color. I work with a few really great colored stone and diamond vendors.
Next, I sketch – sometimes I'll pick up a stone and know exactly what I want to do with it. Other times, I'll need to play around with it a little bit.
If I'm not sure of the design yet, I put the center stone on my desk with many smaller diamonds and I play around with different arrangements. Then, I'll sketch out my favorite arrangement(s) and sit on them for 24 hours to see which ones I like best.
Next, it goes to CAD for 3D design. I make changes until I'm happy with it.
Then it goes to casting – I work with a couple really great casters in San Francisco.
Lastly, it goes for cleaning, polishing, stone setting, and final quality check.
Before I had kids and my business grew so much, I did everything by myself. Now I focus on the parts that I love the most and do best. My amazing team of casters, setters, and CAD designers are all in union square in San Francisco.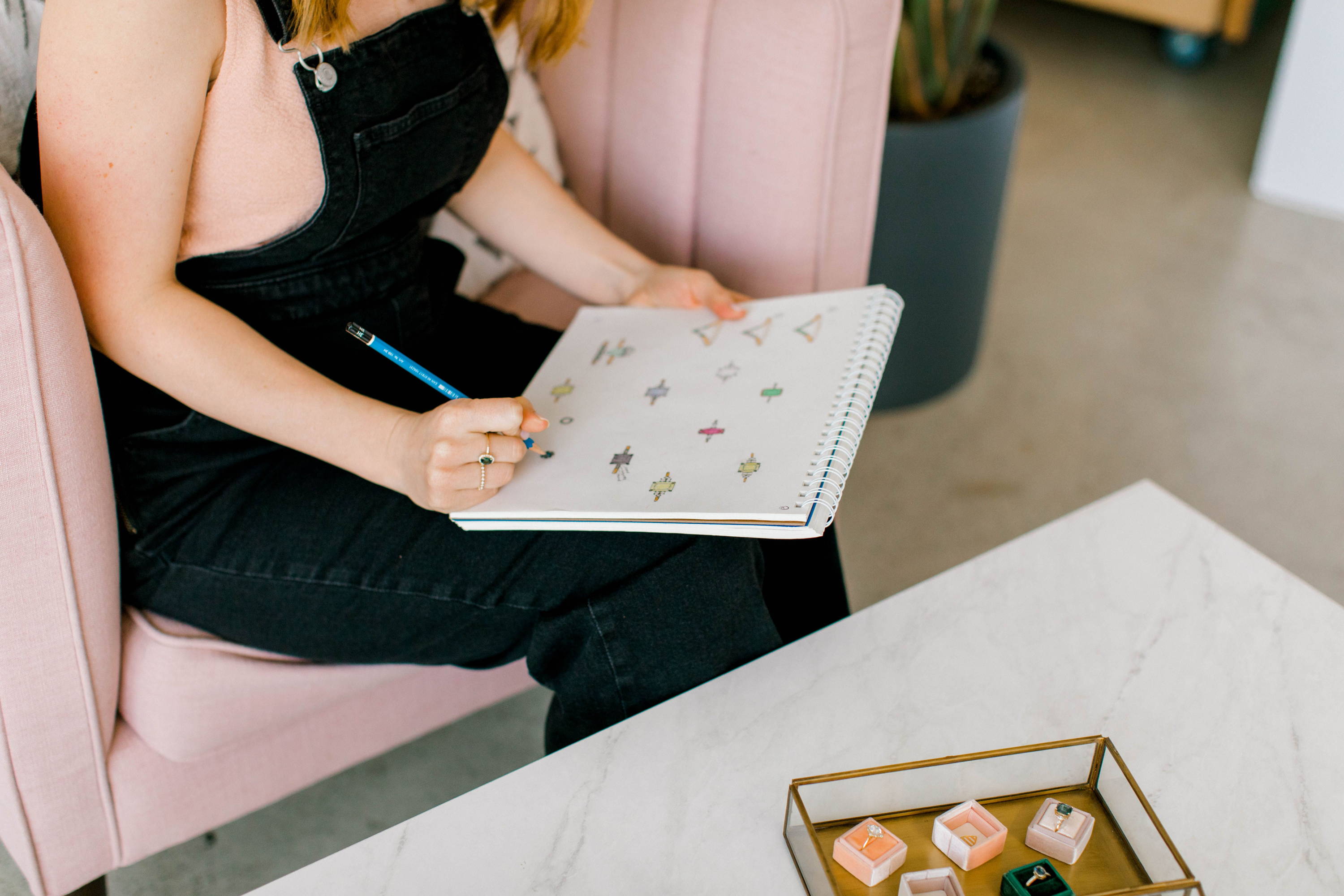 Where do you find inspiration? How do you come up with new designs?
Mostly I'm inspired by the stones themselves. I seek out really interesting stones with unusual shapes, amazing colors, or eye-catching inclusions. Those kinds of stones stir me up and the inspiration flows very naturally when I see them.
Once I have an amazing center stone, I design the rest of the ring to complement it and help that stone shine its brightest.
What does Porter Gulch mean?
Porter Gulch is named after the idyllic street I grew up on in Santa Cruz, California.
Who is the person that loves your designs?
I have clients from all walks of life with very different styles so it's hard to narrow it down. Most of my clients want something classic but elevated and distinctive, definitely something timeless and not trendy. They love unusual gemstones and appreciate the little details.  
What jewelry do you wear on the daily?
I wear my engagement ring (a cushion cut diamond with marquise and round melee on the sides – similar to rituals) and my wedding band that I remade a couple of years ago + my Willow stacking ring on my pointer finger.
On my right hand, I wear an assortment of stacking bands and a cocktail ring on my middle finger. I have quite a few necklaces that I love too but I've put them on hold because my baby likes to yank them off!
You create tiara bands and curved stacking bands like no one else! How did that start?
In the beginning, I made simple, tiny stacking bands and I evolved over time to make them more and more extra – adding diamonds, patterns, and creating showstoppers to complement engagement or right hand rings. Initially, it was because I didn't want the tiny band hidden by the center stone of the ring. With a curved tiara band, both the band and statement ring can shine.
More is more – true or false?
False. I think less can be more.
How has your design style evolved over the years?
When I started, I was mostly working with sterling silver – creating simple stacking rings and dainty necklaces. Now it's evolved to the fine jewelry brand I am today with mostly bridal clients and milestone pieces. I think my style has really just grown up tremendously since the beginning.
How do you choose gemstones? You have such variety in shapes!
Usually they just have that X factor and I fall in love. As a baseline, I look for very high-quality stones and then search for interesting colors/shapes/inclusions and stones I haven't seen before.
Sometimes my vendors will have some surprising stones to show me that I wasn't looking for, but cannot resist. Recently, I bought a bunch of tanzanite in the most gorgeous colors – I saw them and ideas just started flowing.
What's your favorite stone?
I love sapphires. Montana sapphires, with their subdued subtle colors, Madagascar sapphires with their incredibly rich blues and deep greens, Umba sapphires from Tanzania with their stunning natural inclusions (the sapphire version of a salt & pepper diamond) – I love them all. Sapphires are special because they come in so many different colors (even bi-colored, parti stones), and they're very durable so you can wear them every day.
You are the halo queen! What do you love about halos?
First of all, thank you! I have to admit, I used to not like halos. Then, once I started mixing stone shapes (a halo can be so much than round stones) and creating unexpected halo designs I'd never seen before, it felt really new and different. A sparkly halo can add a lot to a design – whether that's contrast, color, visual interest, or size.
I've never seen the draping diamonds design you do before – like moonlight (sold) on the GB site. How did you come up with that?
My inspiration for moonlight was vintage-inspired fascinators you see brides wear at weddings! They're a little asymmetrical and very extra – it's those little details that make a ring feel special and distinctive.
---
See all Porter Gulch designs for Gem Breakfast here!
---
Shop Porter Gulch at Gem Breakfast