If you're searching for a unique wedding band or stacking ring that's anything but basic, you've come to the right place. We are the diamonds-for-dessert mecca of showstopping stackers and wedding rings and diamond bands you've never seen. Keep scrolling for every style and design of band you could dream of - from cosmic to art deco, deeply symbolic to positively regal, nature-inspired, diamond-encrusted, and everything in-between.
In this list, you'll find some of our bestselling made-to-order signature wedding band styles plus many one-of-a-kind designs that we can recreate or customize for you. Or we can create a completely OOAK, never-before-seen design just for you.
Browse all made-to-order and OOAK designs here!
---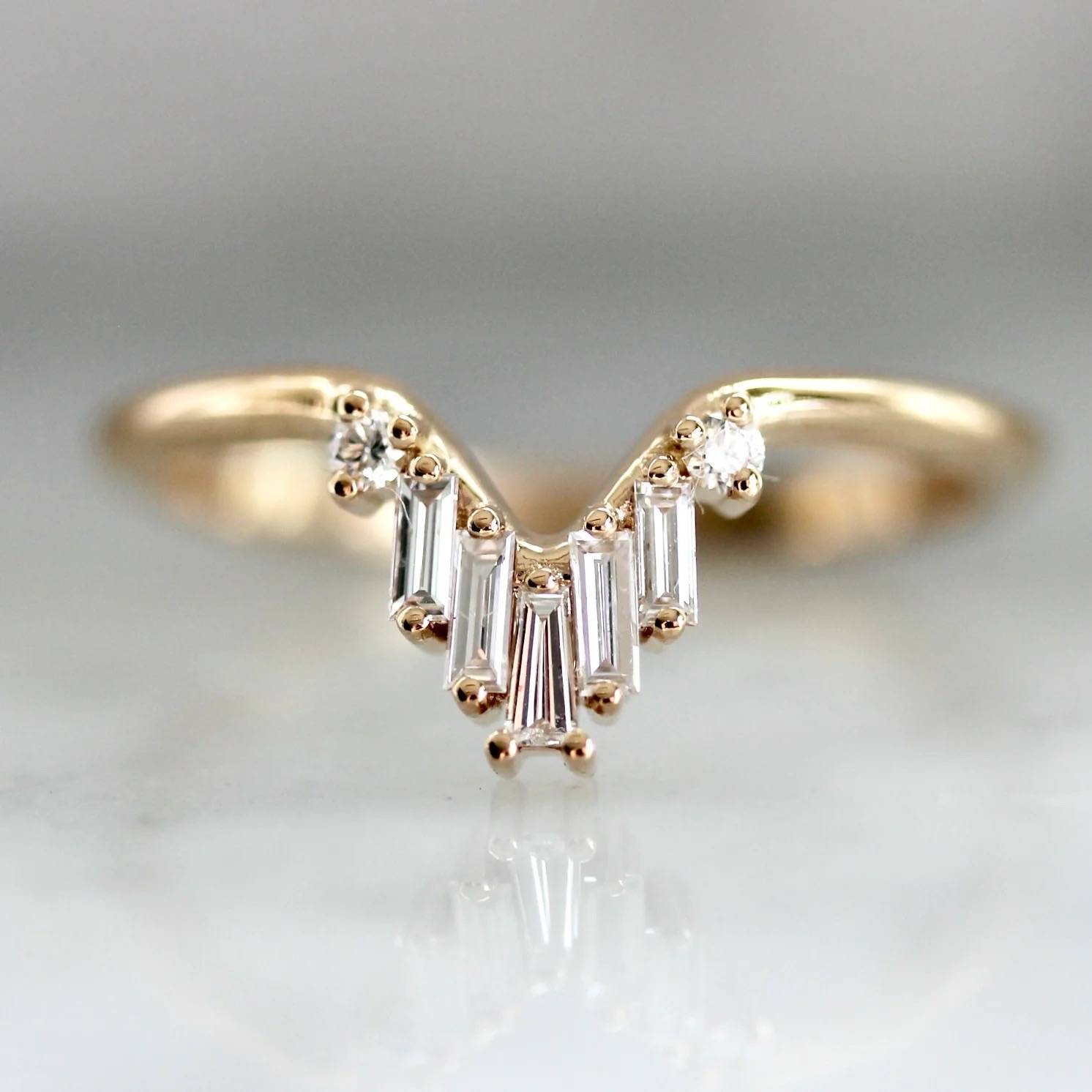 2. Baguette & Round Brilliant Diamond Tiara Band
A tiara band turned art deco and delightfully architectural. Channel your inner Great Gatsby with a striking staircase of sleek white baguettes and sparkling round brilliant diamonds. The crown your engagement ring deserves.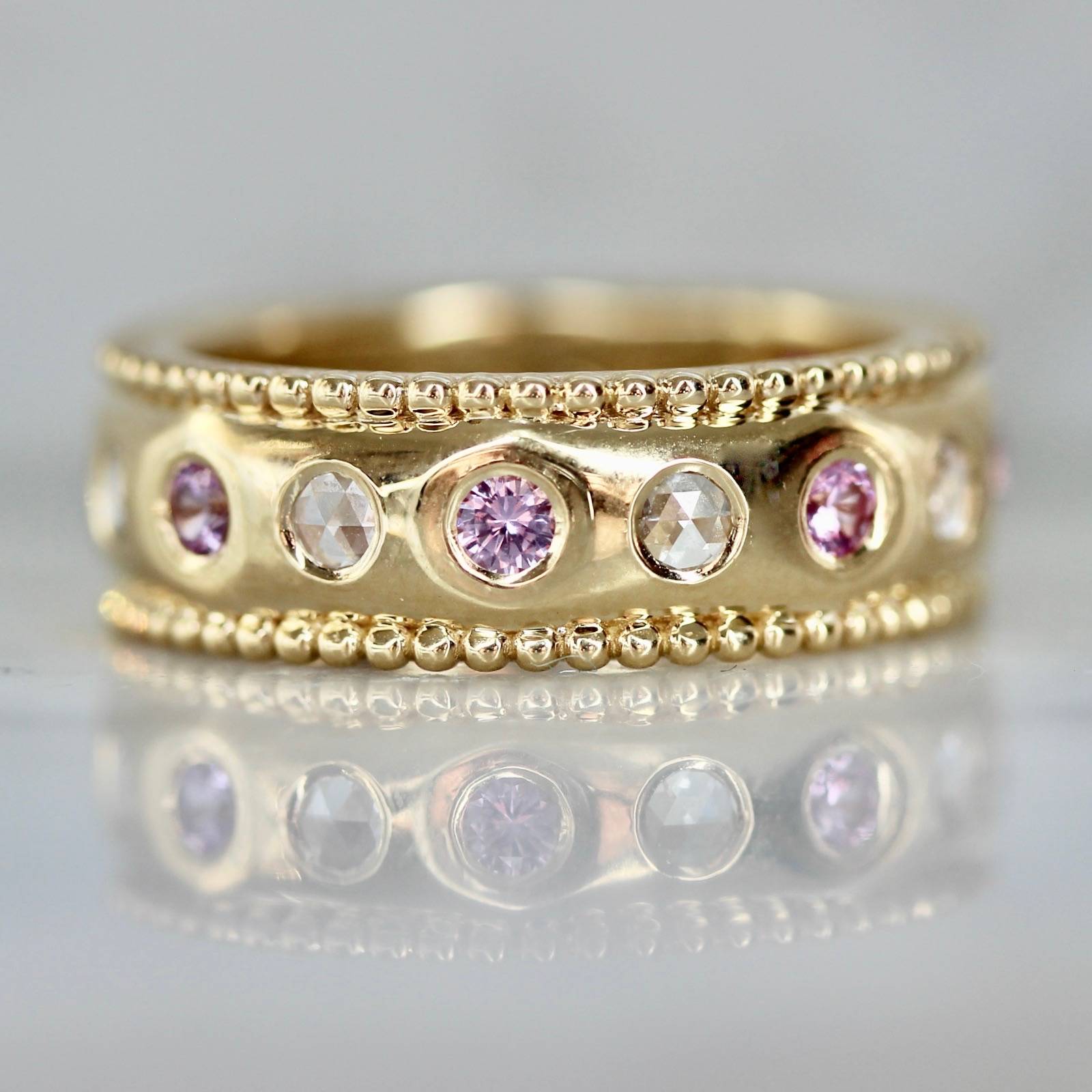 3. Pink Sapphire & Diamond Band
A band that makes a serious statement – extra wide with a regal touch of milgrain texture and a medley of rose cut diamonds and pink sapphires – it's giving queen-atop-the-throne vibes all the way.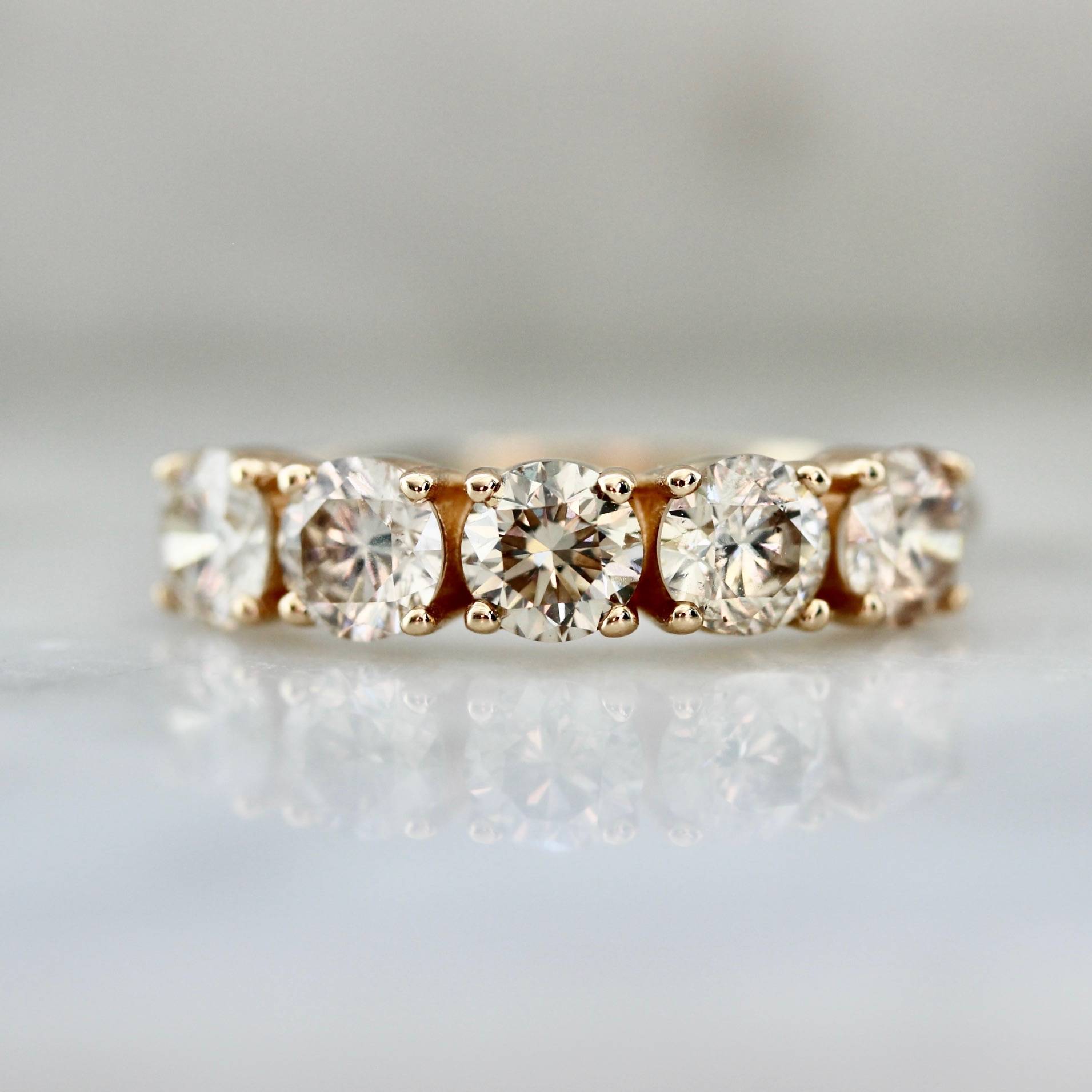 5. Five Stone Champagne Diamond Band
If you love that diamond shine, you'll love this 1.05 carat five-stone diamond band – it makes a gleaming statement all on its own and compliments any engagement ring. Try with champagne diamonds for a stunning touch of warmth that brings out the sun in your gold.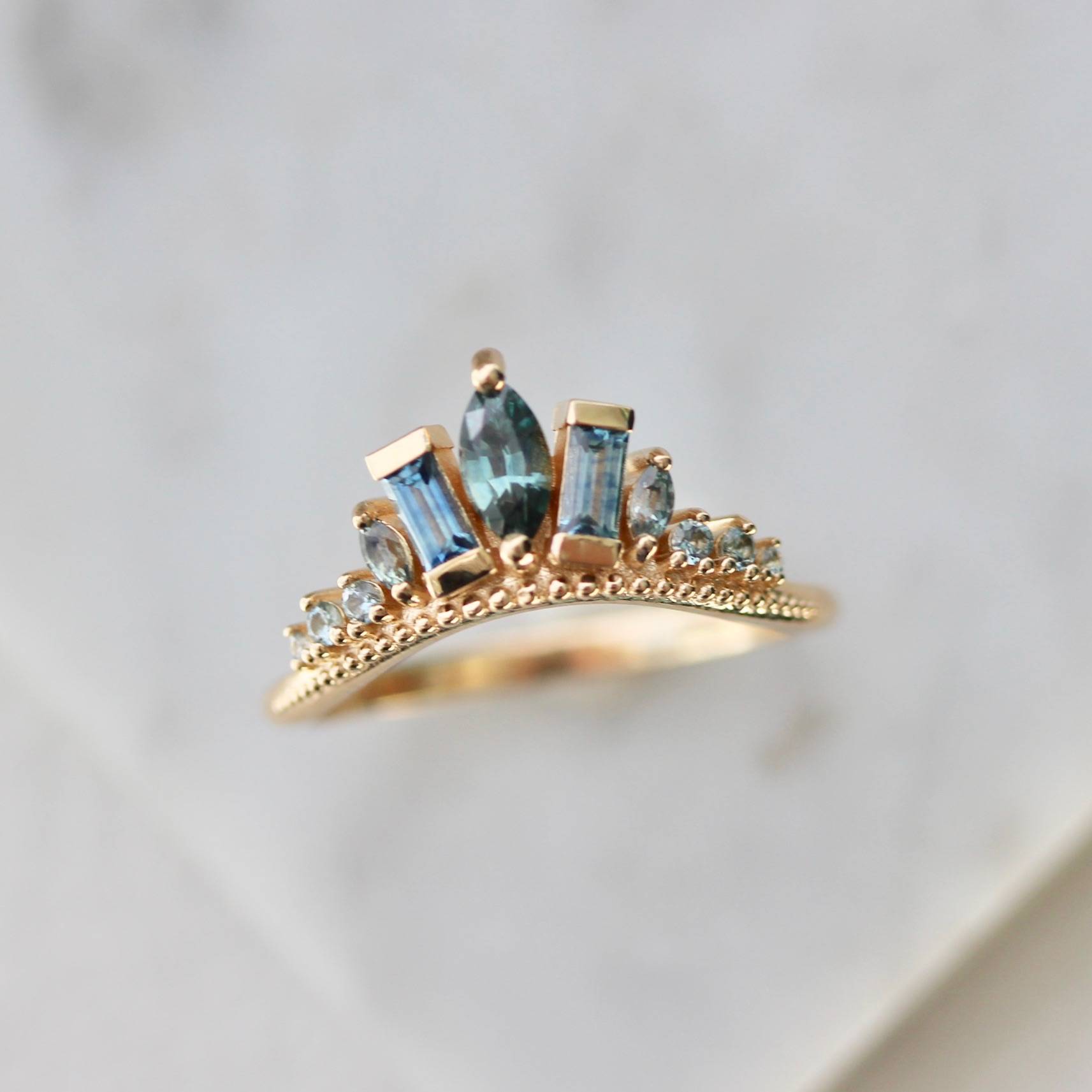 6. Azul Montana Sapphire Tiara Band
The ring to rule them all! For a wedding band that's a moment all on its own, opt for this oceanic tiara band made with stunning marquise, baguette, and round brilliant teal Montana sapphires. It's giving royal jewels and under the sea energy all at the same time.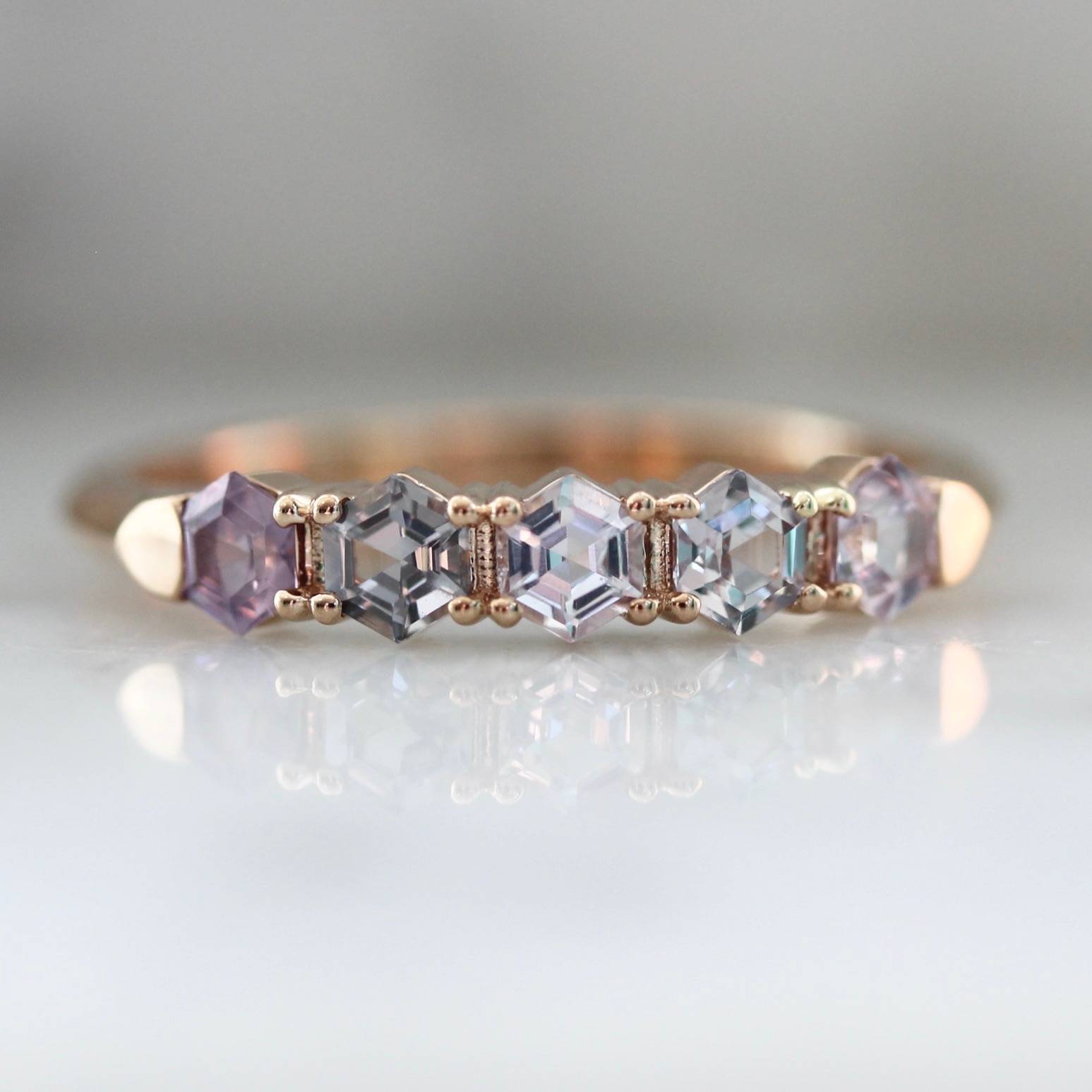 8. Multicolored Hexagon Ombré Sapphire Band
Sexy hexy! For the bride who's anything but ordinary and loves a touch of whimsy – this multicolored hexagon sapphire band is your brand of ethereal. With soft pastel tones of blue and purple, this band is giving fairyland in the most elevated way.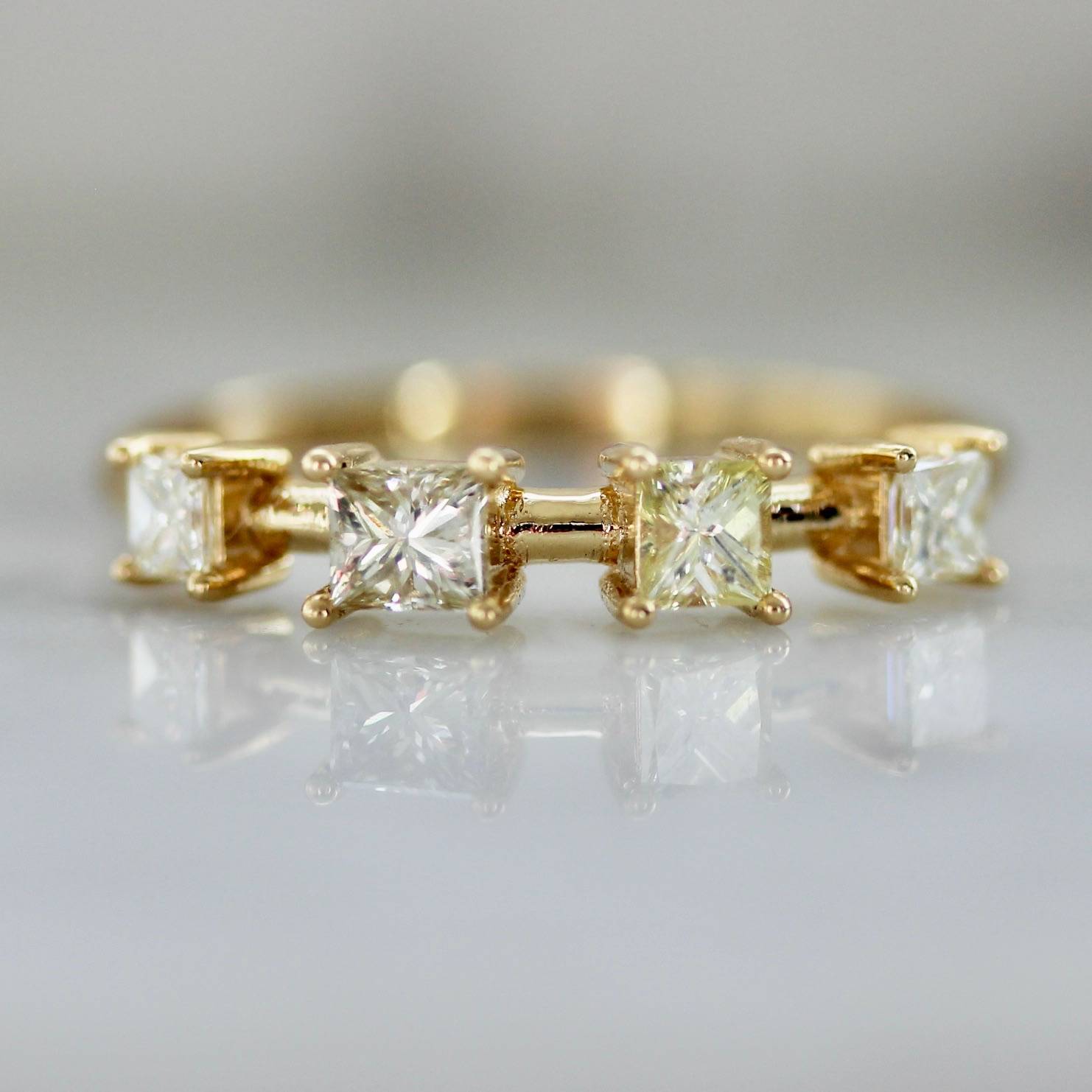 10. Princess Cut Diamond Band
Princess cut modernized with a collection of warm and cool hues and an unexpected spaced-out arrangement. It's a classic diamond band made much more interesting.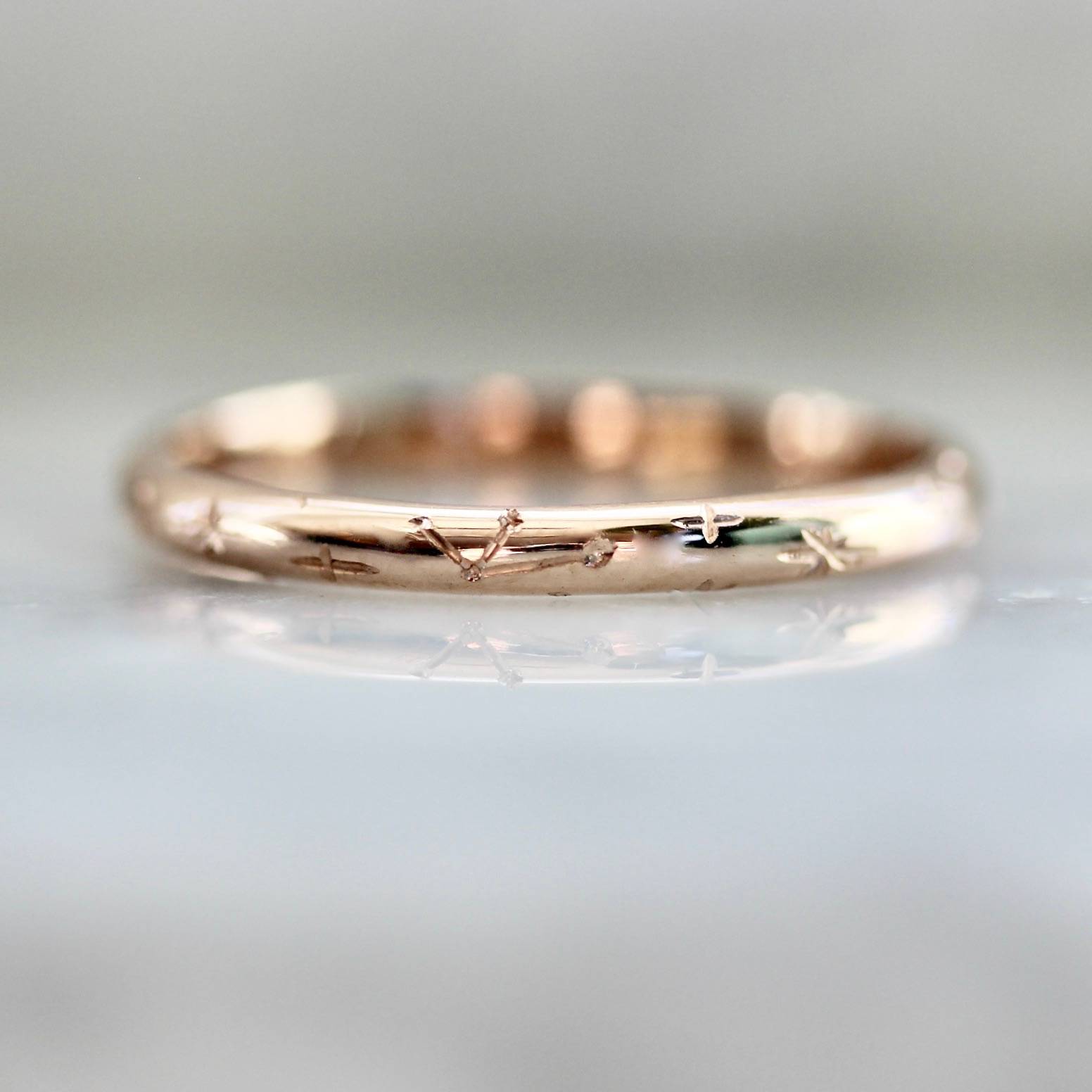 13. Equinox Moon & Constellation Engraved Gold Band
Inspired by the Autumn Equinox, this cosmic moon and constellation hand-engraved band gives all of the star-crossed, love-you-to-the-moon, infinitely connected energy you could ask for. Opt for rounded edges like this one, or squared corners for extra edge.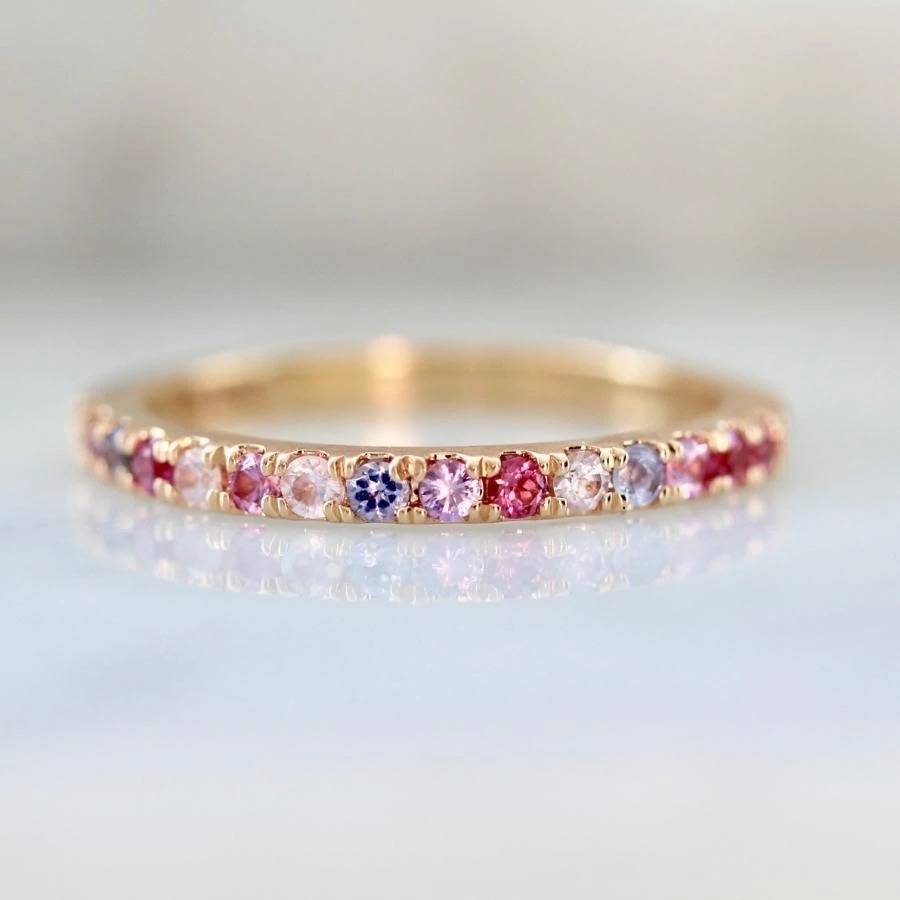 16. Pink & Purple Sapphire Medley Band
Pink is the new clear, have you heard? Reject all convention and opt for a multicolored ombre pink/purple sapphire and diamond band to add interest and romance to your wedding stack. Stunning with yellow or rose gold and a multitude of center stones.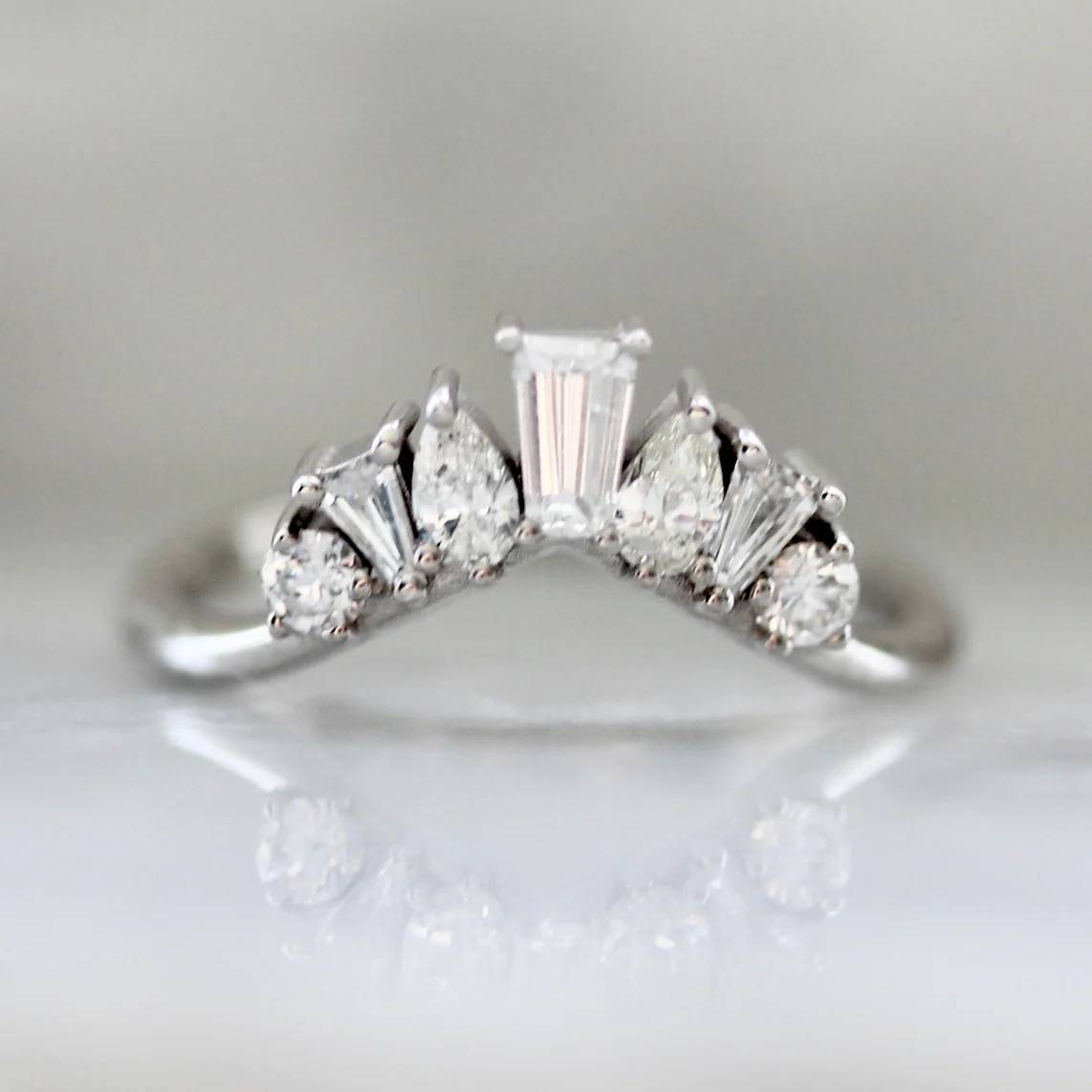 18. Mixed Cut Diamond Tiara Band
The crown to top them all – with incredible height and a mixture of round brilliant diamonds, baguette diamonds, and a delicious pear shaped diamond peak, this tiara band will take your engagement ring to another dimension.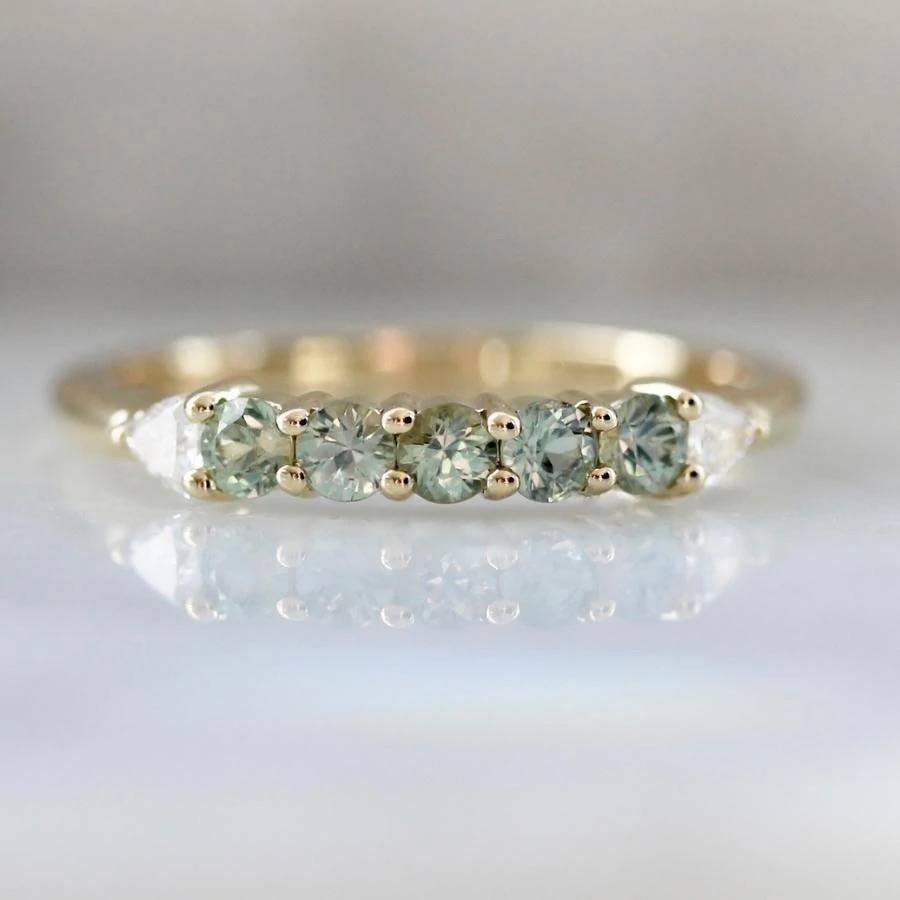 21. Round Brilliant Green Sapphire Band
An irrestistible array of underwater soft teal sapphires paired with bright white trillion side diamonds makes a subtle and unexpected statement.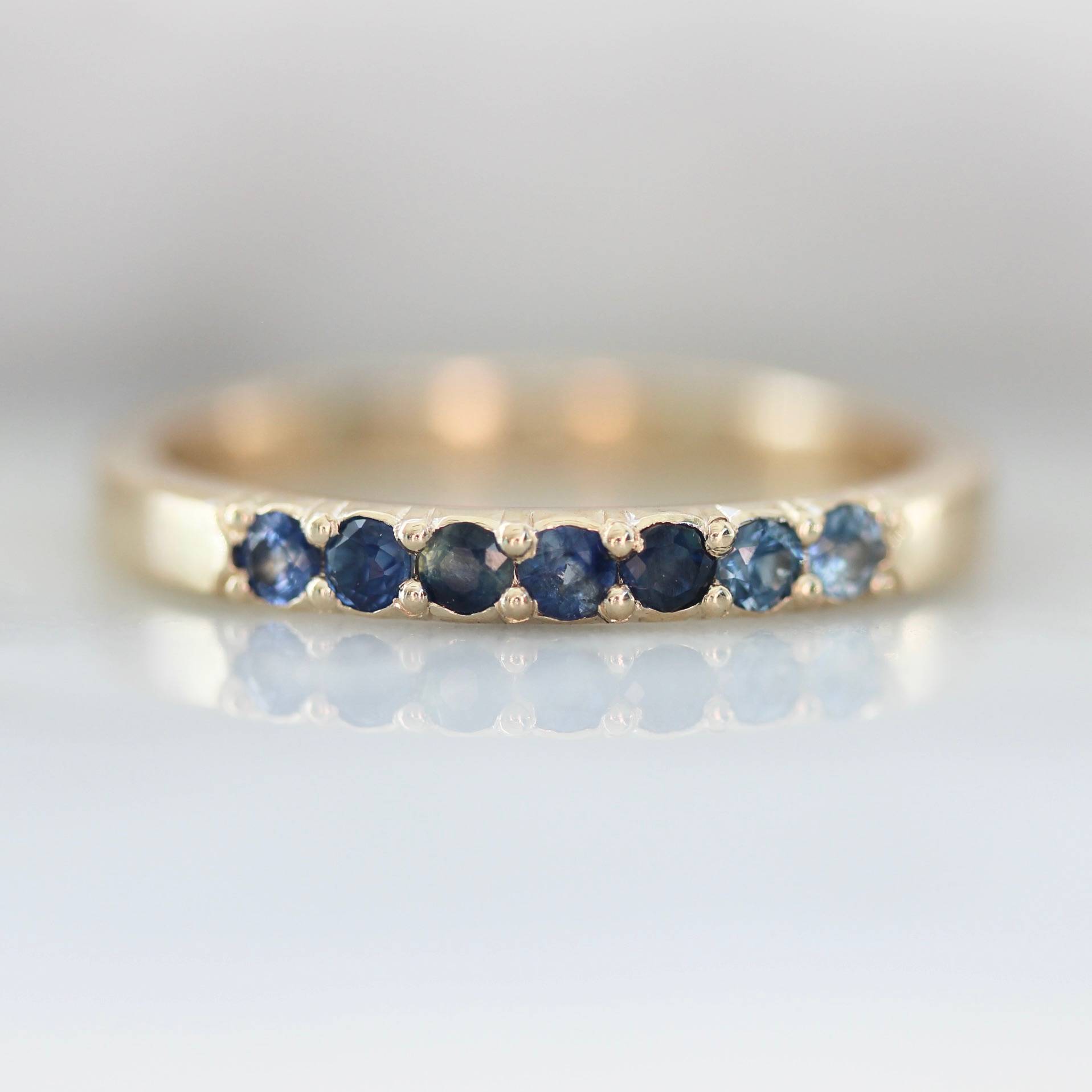 22. Ombre Blue Sapphire Gold Band
An ode to the ocean with an ombré rainbow of blue sapphires in varying hues. Sapphires are the new diamonds and are an unexpected yet timeless choice.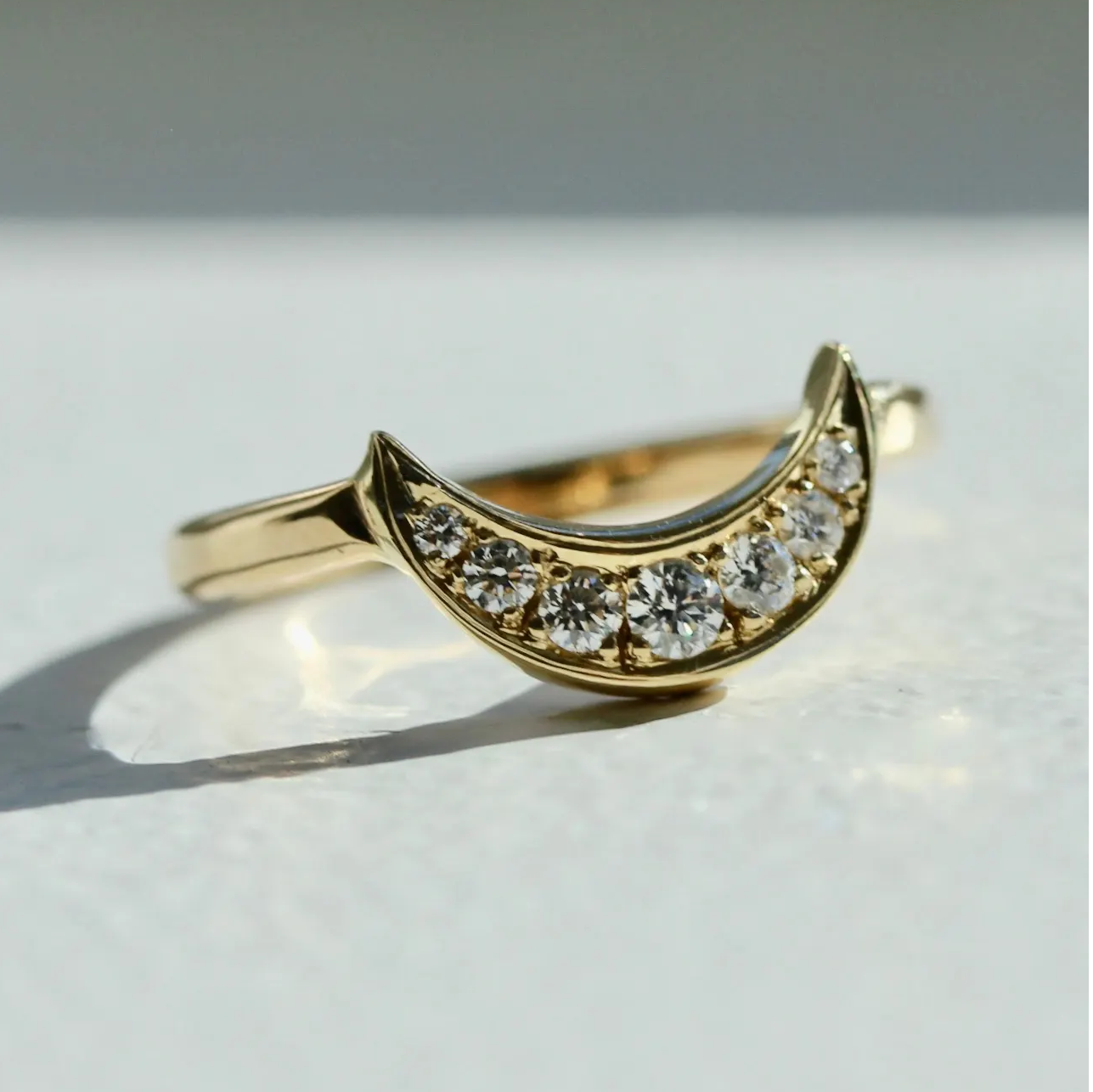 23. Crescent Moon Diamond Band
You'll be over the moon with this celestial, diamond-encrusted crescent moon wedding band. Wear atop or beneath your round center stone - curve-side up or down to change its position in the sky and in your st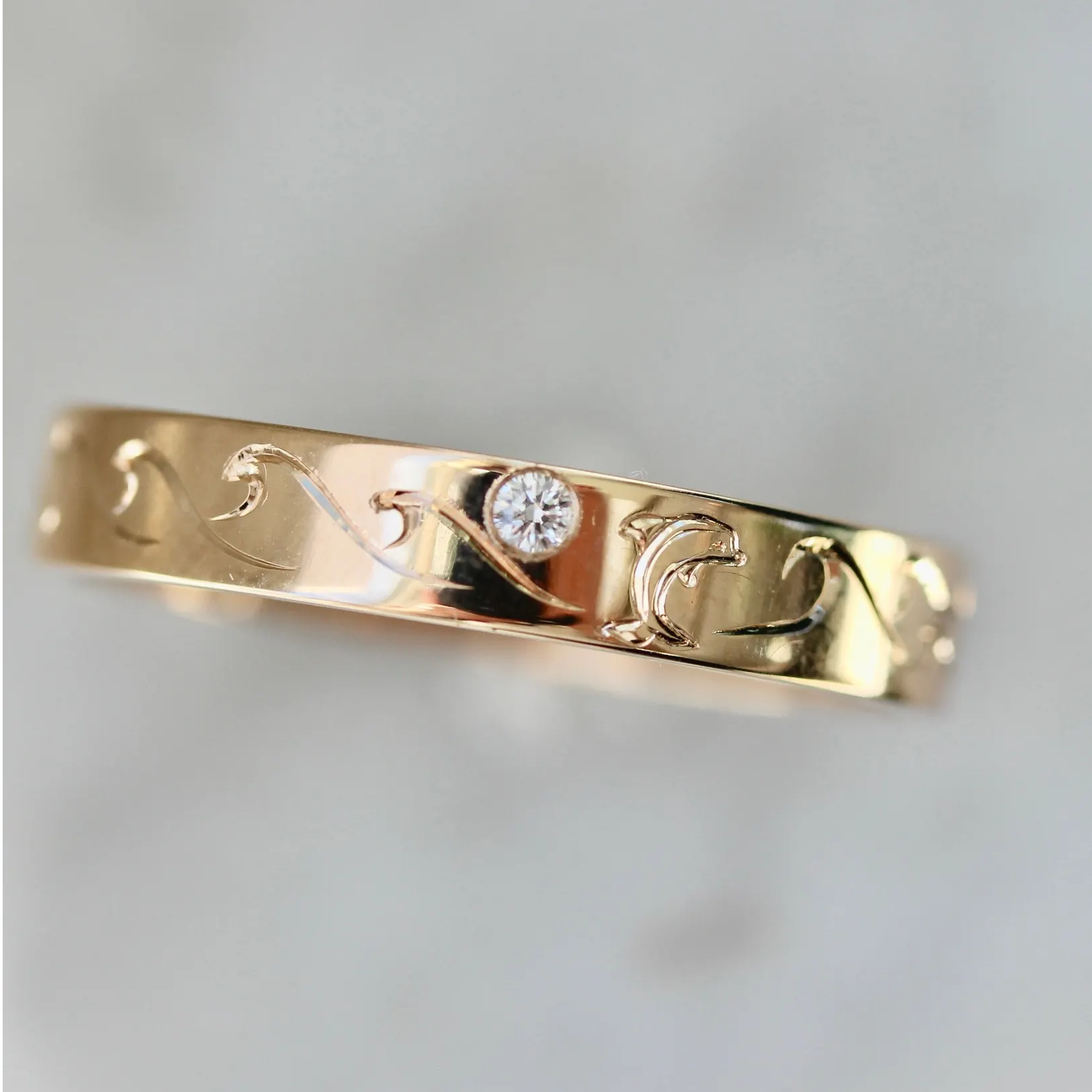 24. Waves Engraved Gold Band
An under-the-sea dream with cresting waves, dolphins, and glistening white diamonds hand-engraved into a gold band of just-right thickness. If you love the depths of the sea, this marine band is for you.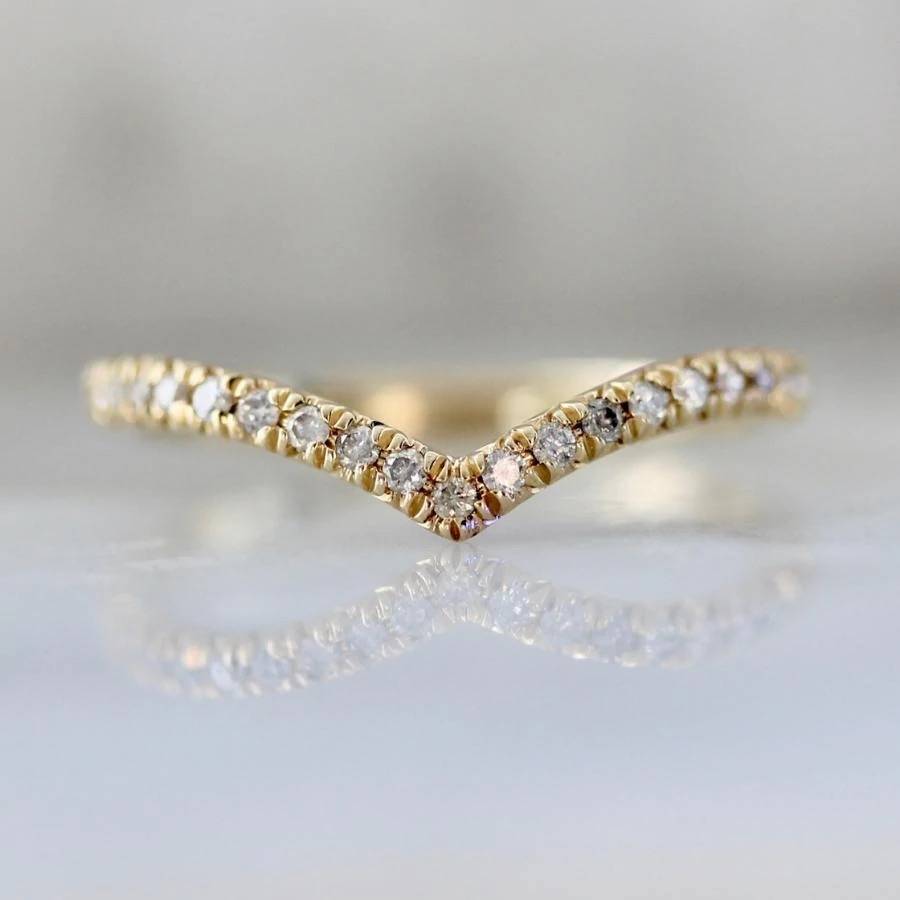 25. Salt & Pepper Diamond Chevron Band
Contour your engagement ring with a delectably unexpected chevron band peppered with cosmic salt & pepper diamonds. Take the detail level up a notch with an enticing French cut pavé setting.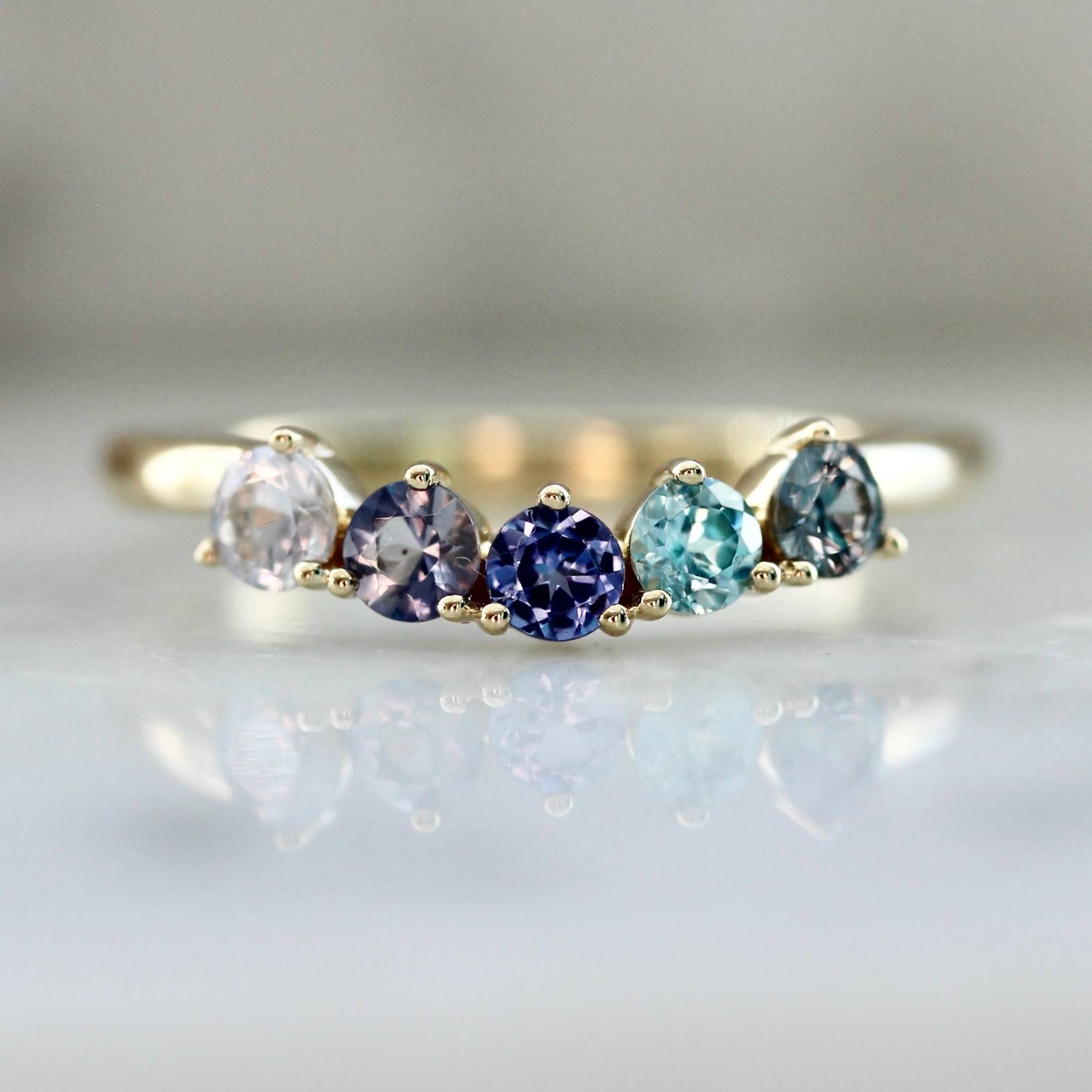 28. Topaz, Spinel,and Sapphire Curved Band
An unexpected combo of multicolored blue-toned sapphires, spinel, and topaz plus a subtle curve = an unforgettable wedding band to symbolize the specialness of your pairing.
29. Curved Montana Sapphire White Gold Band
Moody blue Montana sapphires set in a subtle curve and finished with white gold makes for the perfect ode to the cool-toned Queen. Every stone is a slightly different tone for endless interest in any light. Switch it up by stacking it curve side up or down.
---
INSPIRED TO CREATE YOUR OWN CUSTOM RING? LET'S CHAT