Shopping for unconventional, never-been-done-before, non traditional engagement rings or just-because rings? Say no more, we're here with all the incredibly unique, alternative engagement rings and stone choices to tickle your outside-the-box fancy.
In this list, you'll find many of our custom creations plus one-of-a-kind designs from our roster of independant designers and our in-house line, Made By Gem Breakfast. If you see something you love, book a free virtual or in-person consultation and we can chat about recreating that recipe with a twist to reflect your unique taste.
Want to explore every engagement ring we have? Click hereto browse the buffet!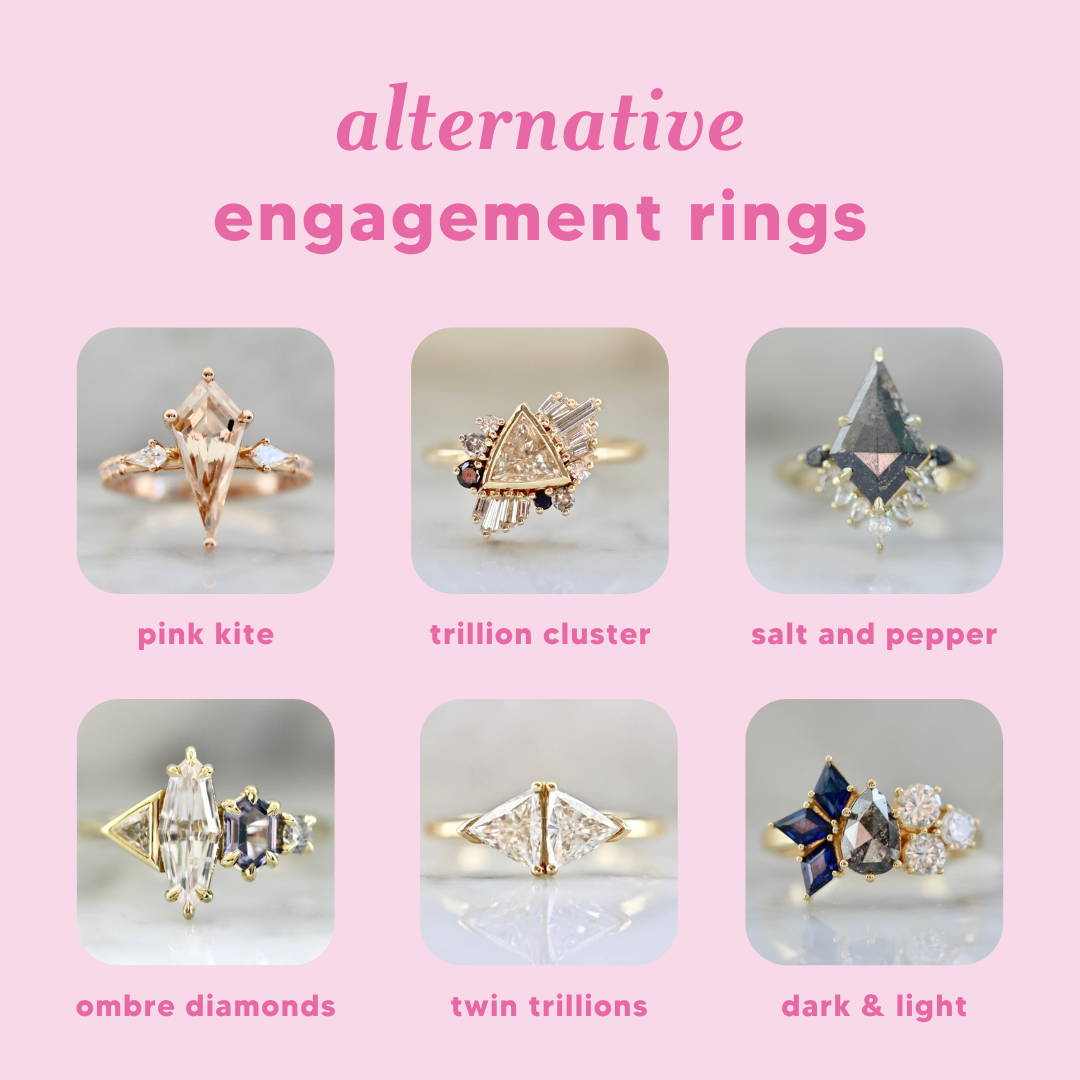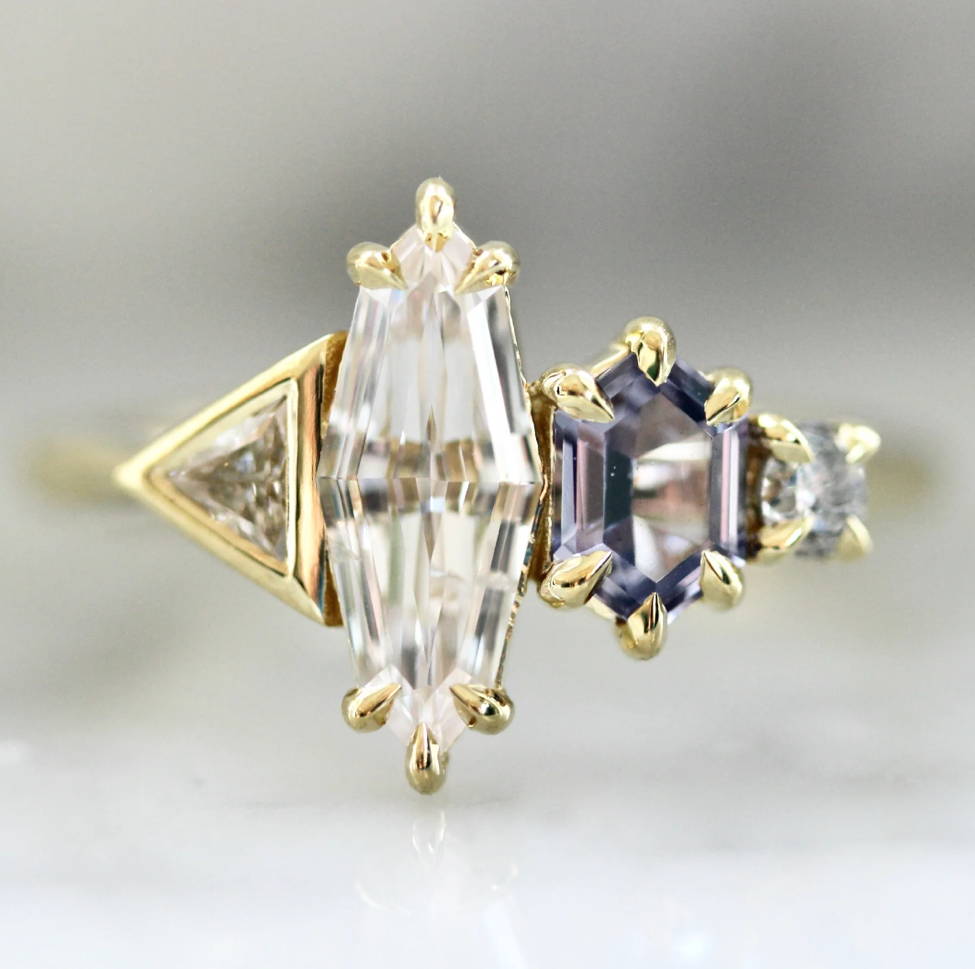 1. Diamond & Sapphire
Cluster Ring
White diamonds, salt and pepper diamonds, and the sexiest hexy sapphire set in a deliciously assymetrical design for a striking visual treat. Contrasting shapes, tones, and a mix of bezel and prong settings create the most satisfying combination that feels both perfectly cohesive and endlessly interesting.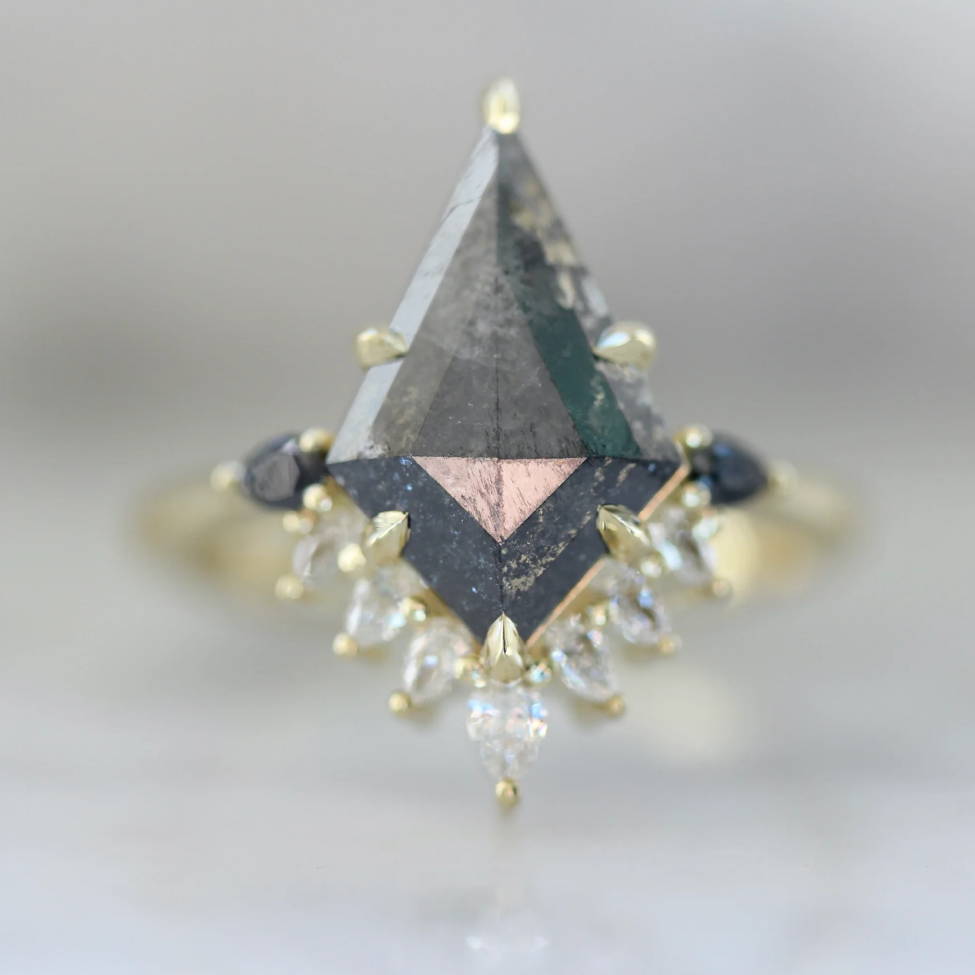 2. Kite Shaped Salt and Pepper Diamond Ring
If you love dramatic height and an unconventional shape, befriend a kite shaped diamond. The pairing of a stormy salt and pepper diamond with bright white accent diamonds is the most divine contradiction. Black accent diamonds keep it edgy and unexpected for interest from every angle.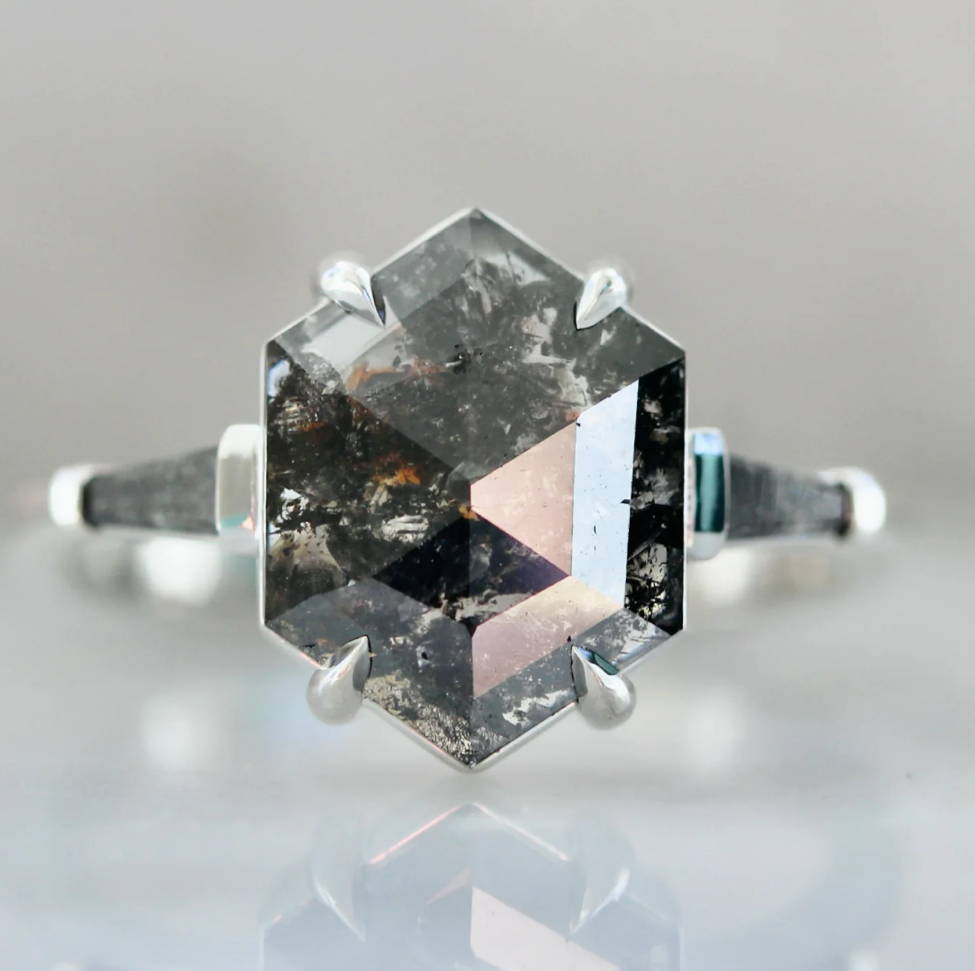 3. Hexagon Salt and Pepper Diamond Ring
Indulge in your dark side with a substantial, statement-making hexagon salt and pepper diamond set in a sleek, white gold design. Dark accent stones along the band complete the eye-catching black and white aesethetic.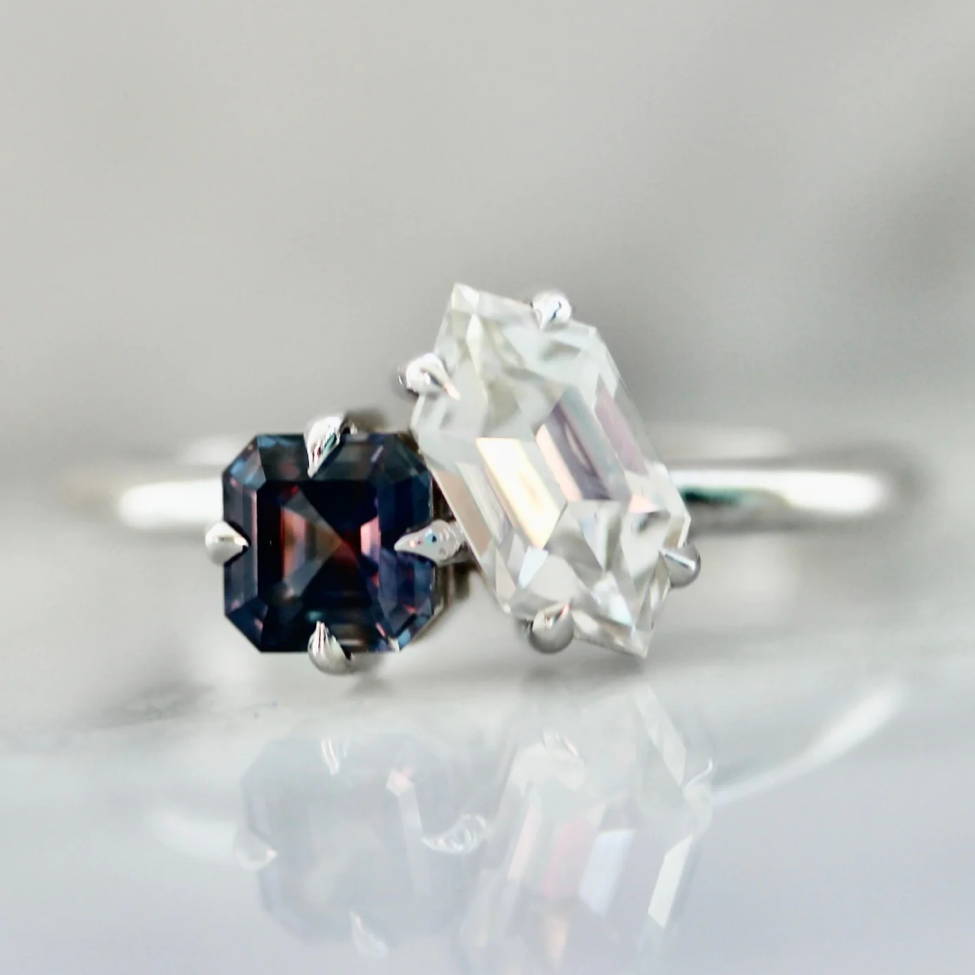 4. Toi et Moi Diamond and Sapphire Ring
Toi et moi designs are having a major moment but are still living on the fringe - far from traditional. Lean even more unconventional with an elongated hexagon shaped white diamond nestled next to a covet-worthy bi-color sapphire.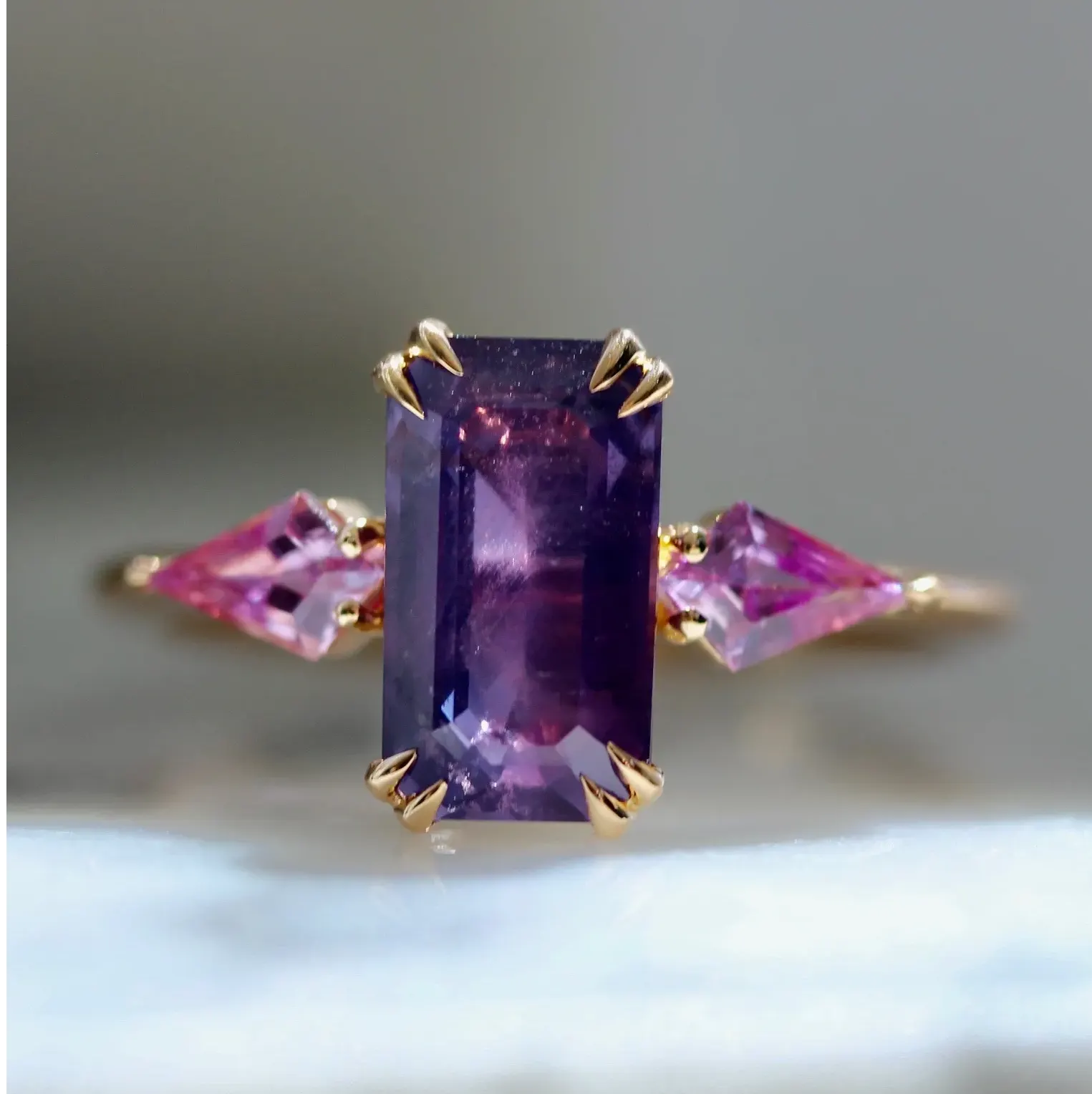 5. Purple-Pink Emerald Cut Sapphire Ring
Who says you have to choose between purple and pink, my color-loving friends? This ring embraces all the candy colored goodness with a mine-to-market purple emerald cut sapphire flanked by tantalizing pink kite cut sapphires. Set in our exclusive Peach Gold and finished with double claw prongs for unapologetic presence.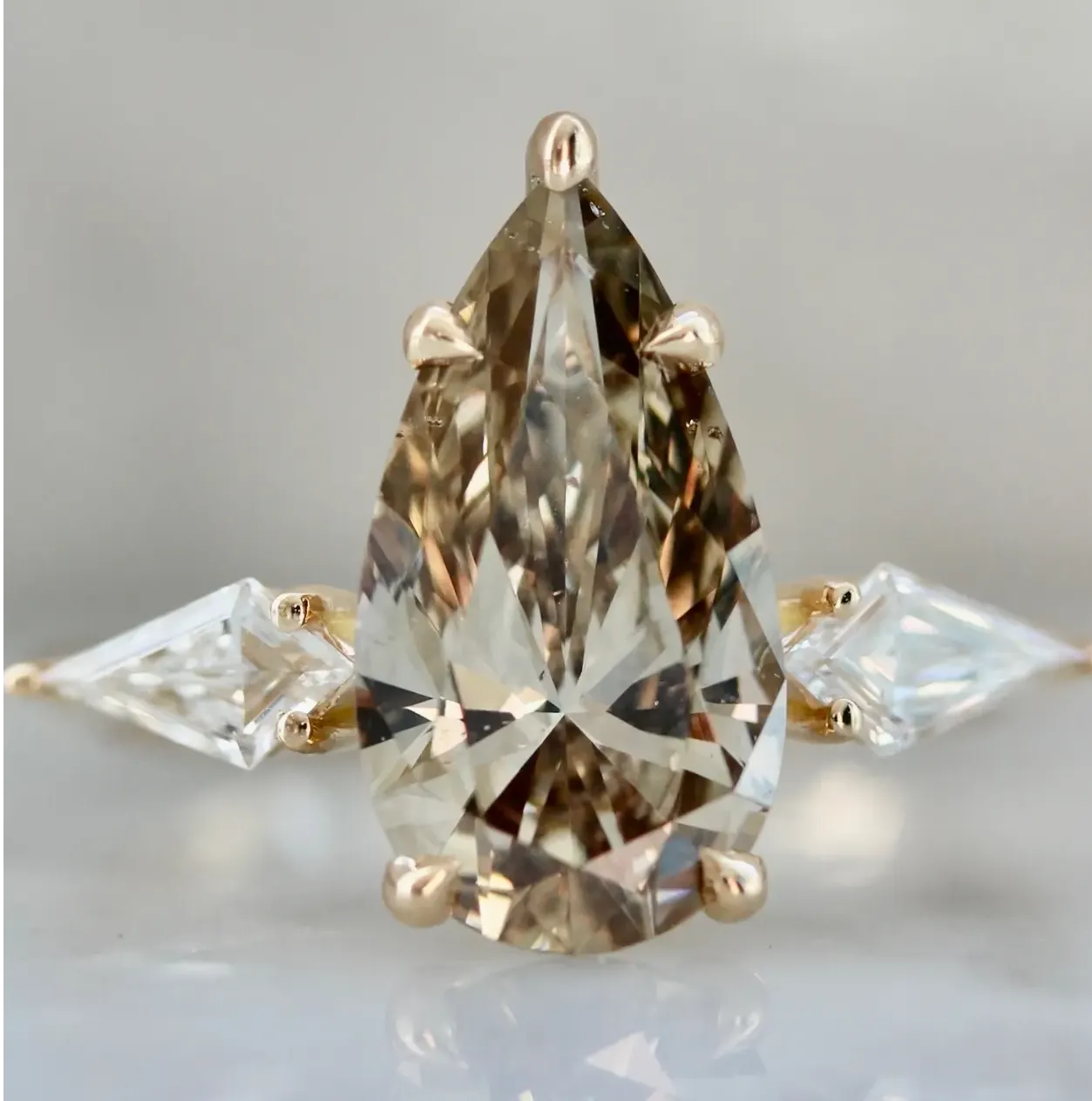 6. Pear Shaped Champagne Diamond Ring
One of our most viral rings ever, this elongated, rich champagne pear paired with bright white kite diamond sides turned heads all around the world. The warmth in the stone makes the gold gleam brighter and the contrast of white and champagne diamonds is simply irresistible.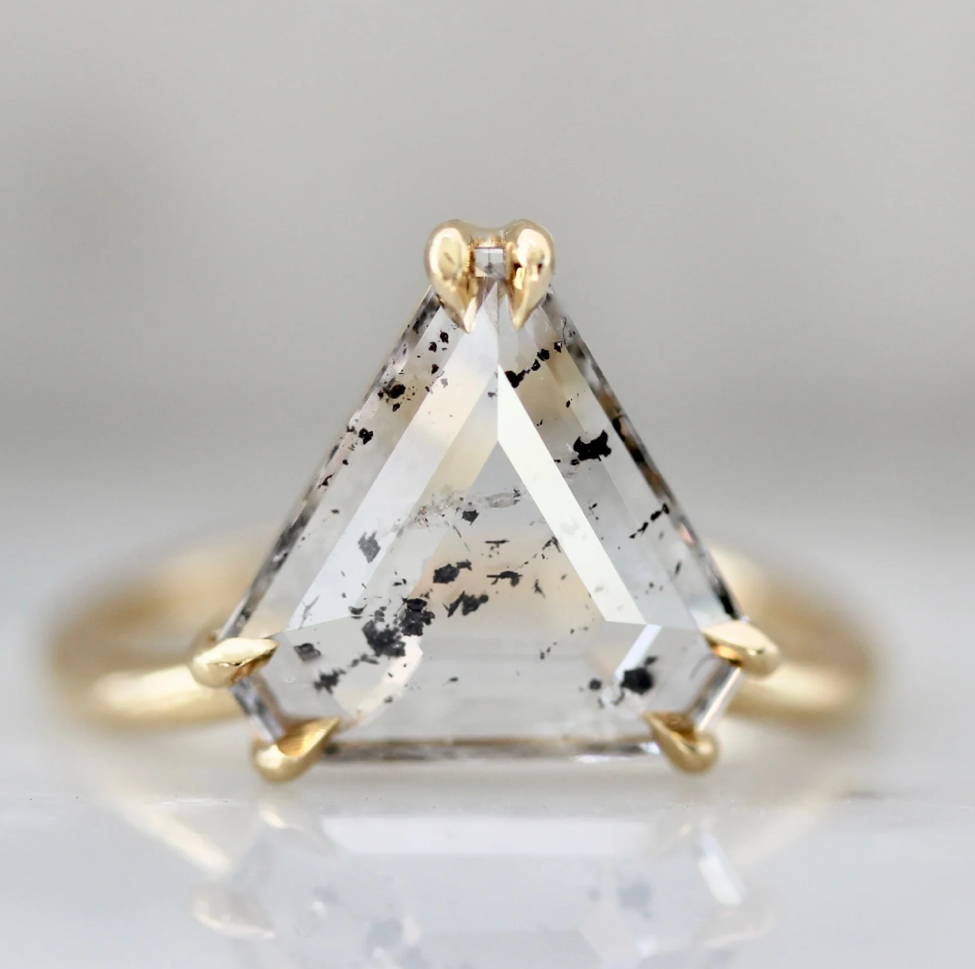 7. Salt and Pepper Diamond Ring
Unconventional doesn't have to mean complicated - sometimes it's about a truly spectacular, one of a kind dalmation dotted salt and pepper diamond set in a minimalistic double prong setting to showcase it's unique magic without distractions.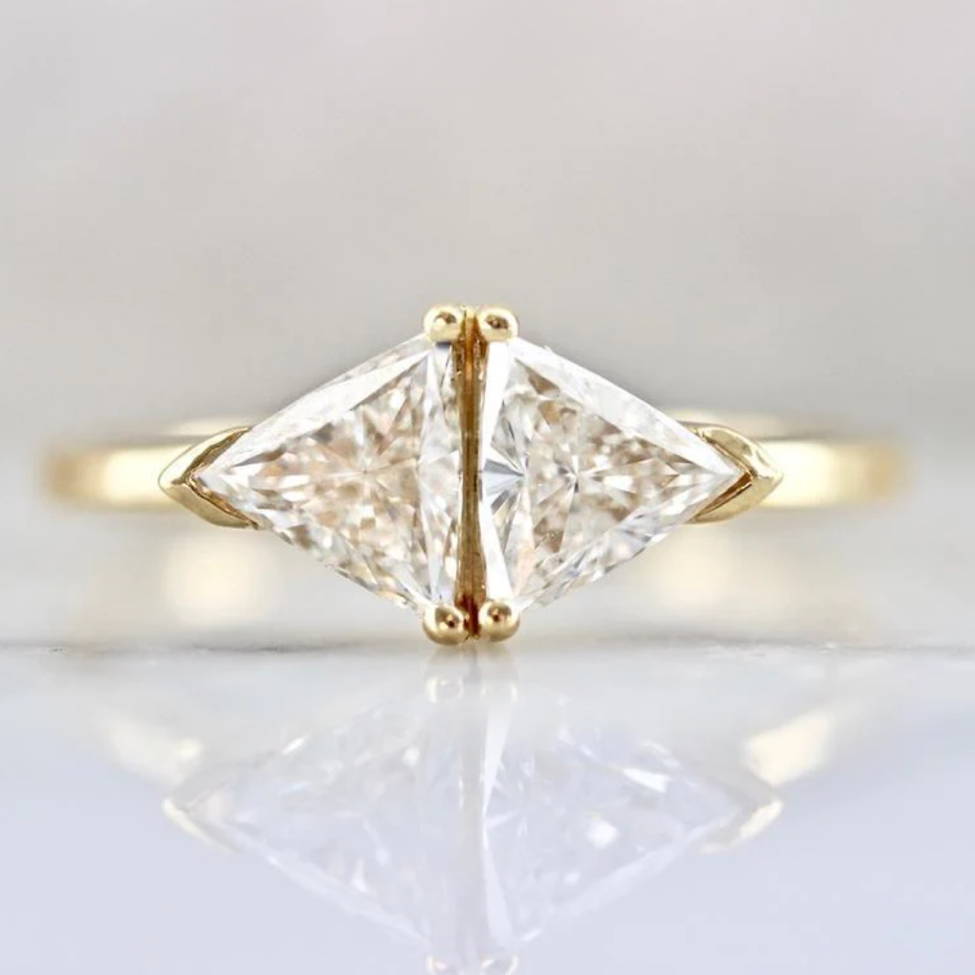 Traditionally used as accent stones, it turns out trillion cut diamonds are meant to steal the show. With two luminous white diamond trillions sharing the spotlight, this ring is chic, minimalistic, yet completely unexpected.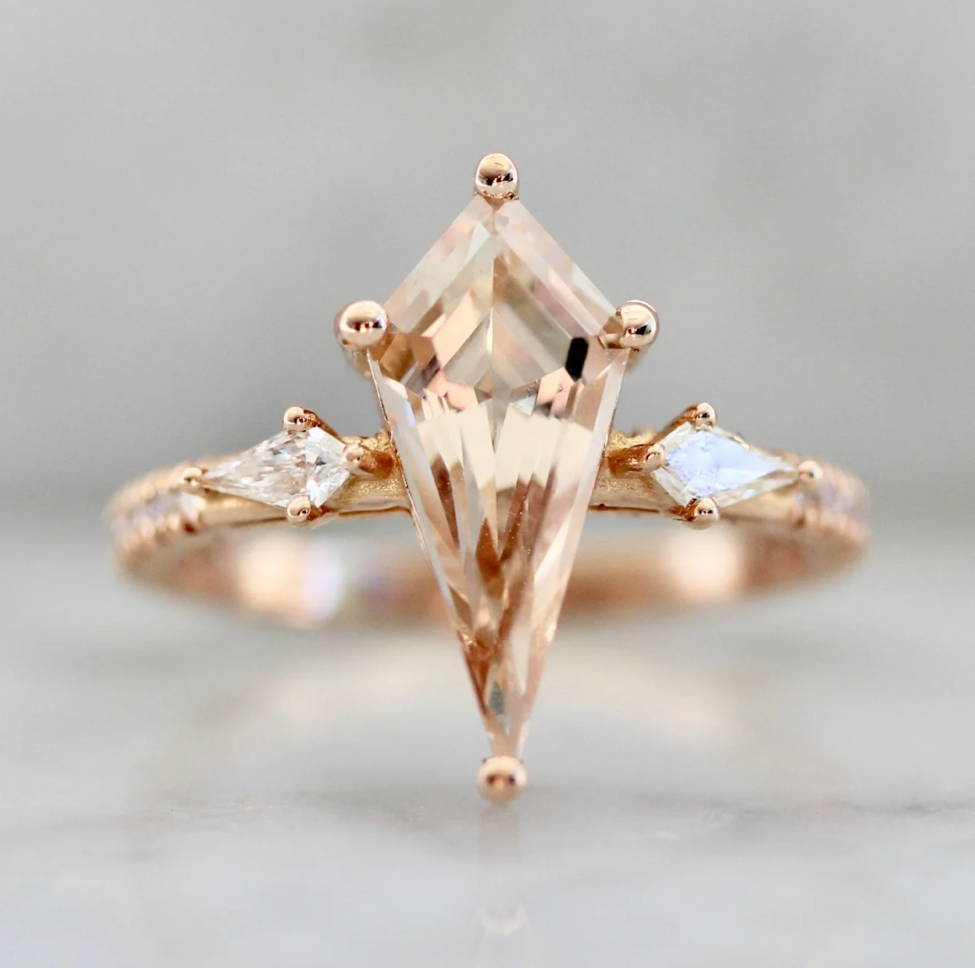 9. Kite Shaped Morganite Ring with Diamond Sides
An elongated kite cut in a warm, dusty pink tone gives drama, romance, and a stunning art-deco feel all at the same time. Two bright white kite diamonds draw attention outwards and give the perfect touch of contrast. Stick with morganite for a treat-yourself ring or swap for a pink sapphire for a more durable, higher-shine option.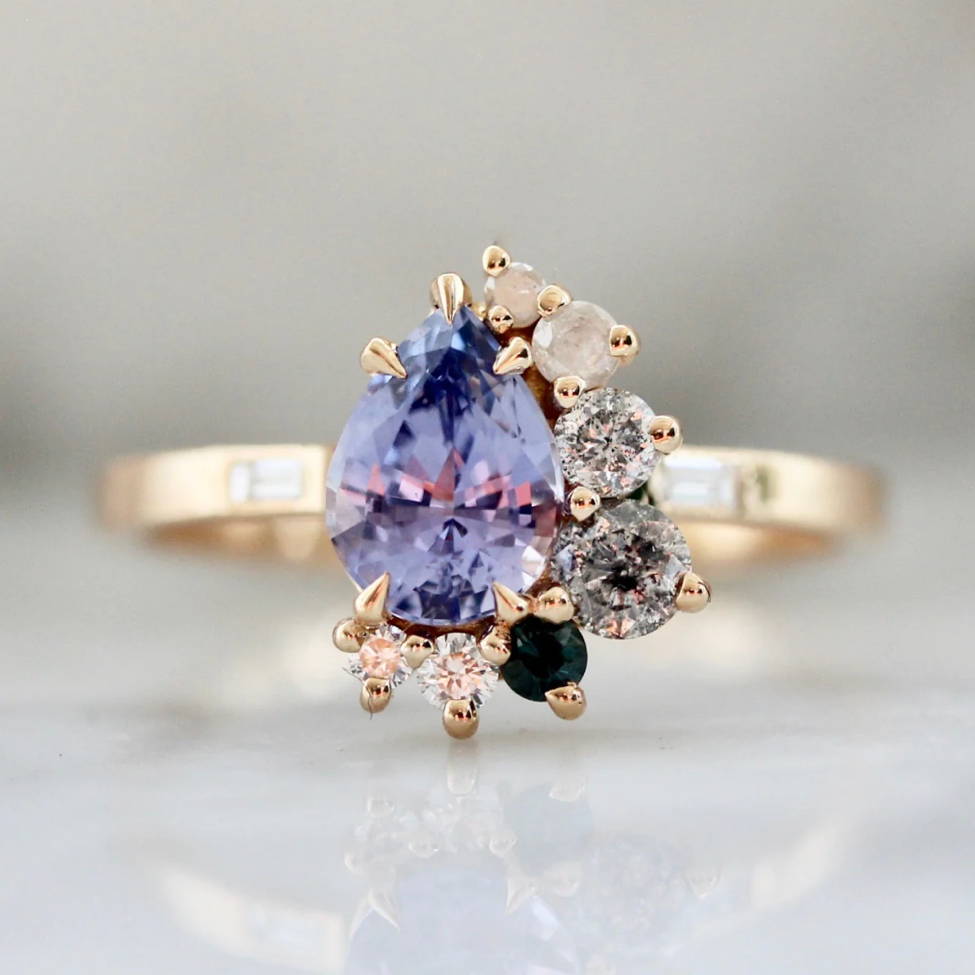 10. Purple Pear Shaped Sapphire Cluster Ring
A cluster ring is the epitome of unexpected and offers an endless array of options to create a completely custom, one of a kind, deeply meaningful design that's for you and you alone. From the gemstone pairings and sizes, to the arrangement, the limit does not exist. Take inspiration from this buffet of sapphires and white and salt and pepper diamonds.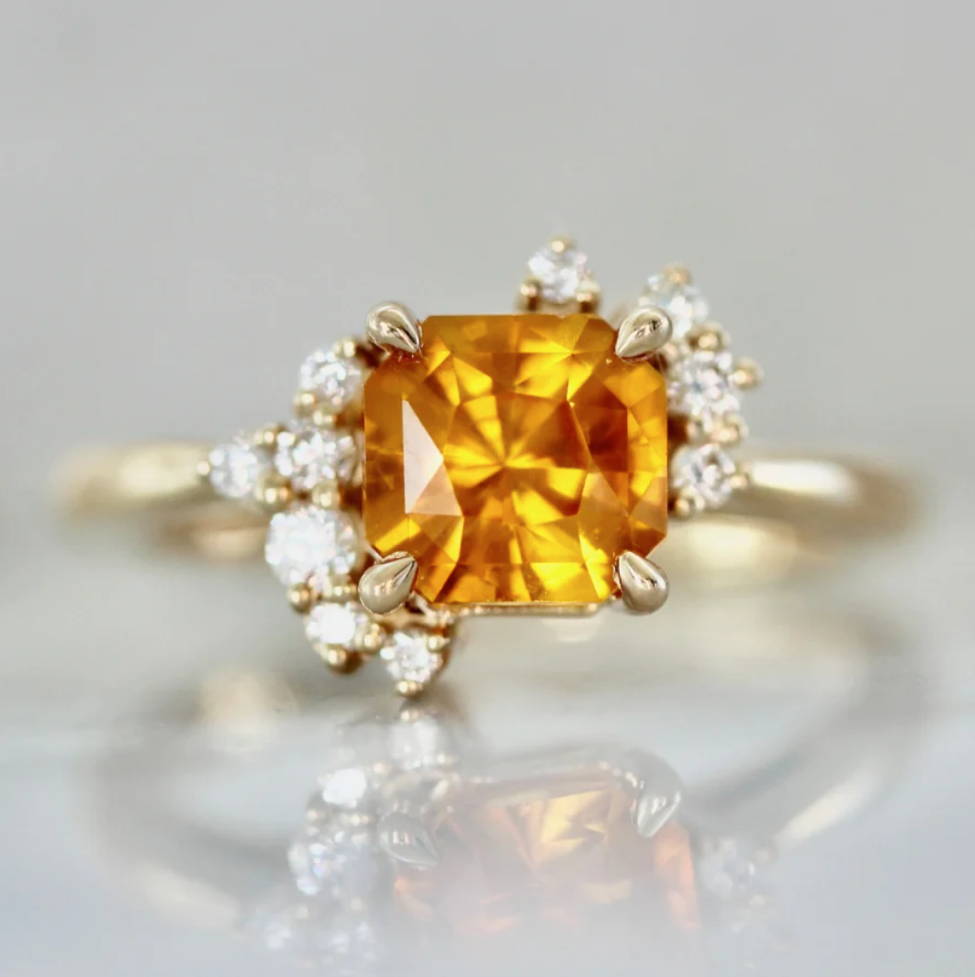 11. Orange Sapphire Cluster Ring
Sapphires are the new diamonds and orange is fresh on the menu. This ring pairs a cream-soda colored orange radiant cut sapphire with a lavish serving of assymetrical sparkling round brilliant diamonds. It's vitamin c for the jewelry-obsessed soul.
12. Asscher Cut Diamond Ring
Our Founder, Catherine's very own redesigned engagement ring. A classically stunning Asscher cut diamond becomes unconventional with a 90 degree rotation and sizeable kite diamond sides. Proof that white diamonds don't ever have to be boring.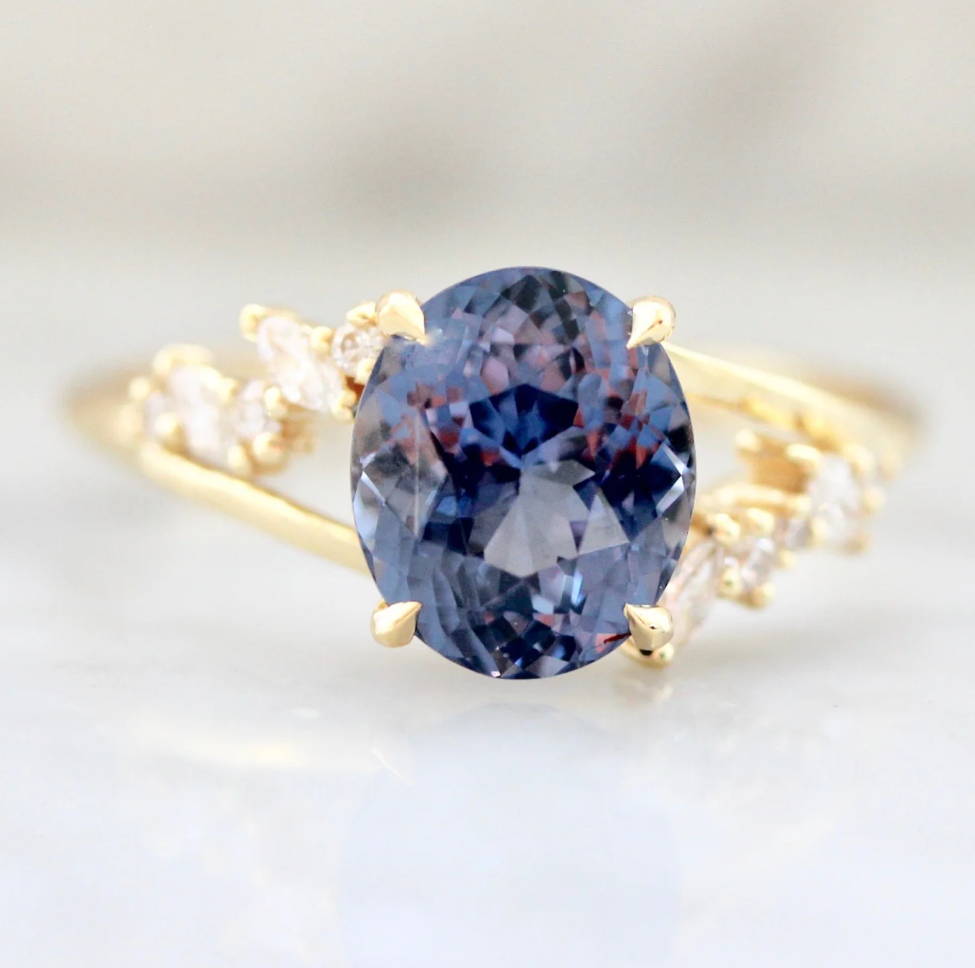 13. Oval Blue-Purple Spinel with Diamond Accents
We started with a hypnotic purple spinel and added a diamond-encrusted split-shank band that adds a nature-inspired, fairlyland energy to the design. The combination of the moody center stone and bright white delicately arranged diamonds creates an unexpected effect that we love.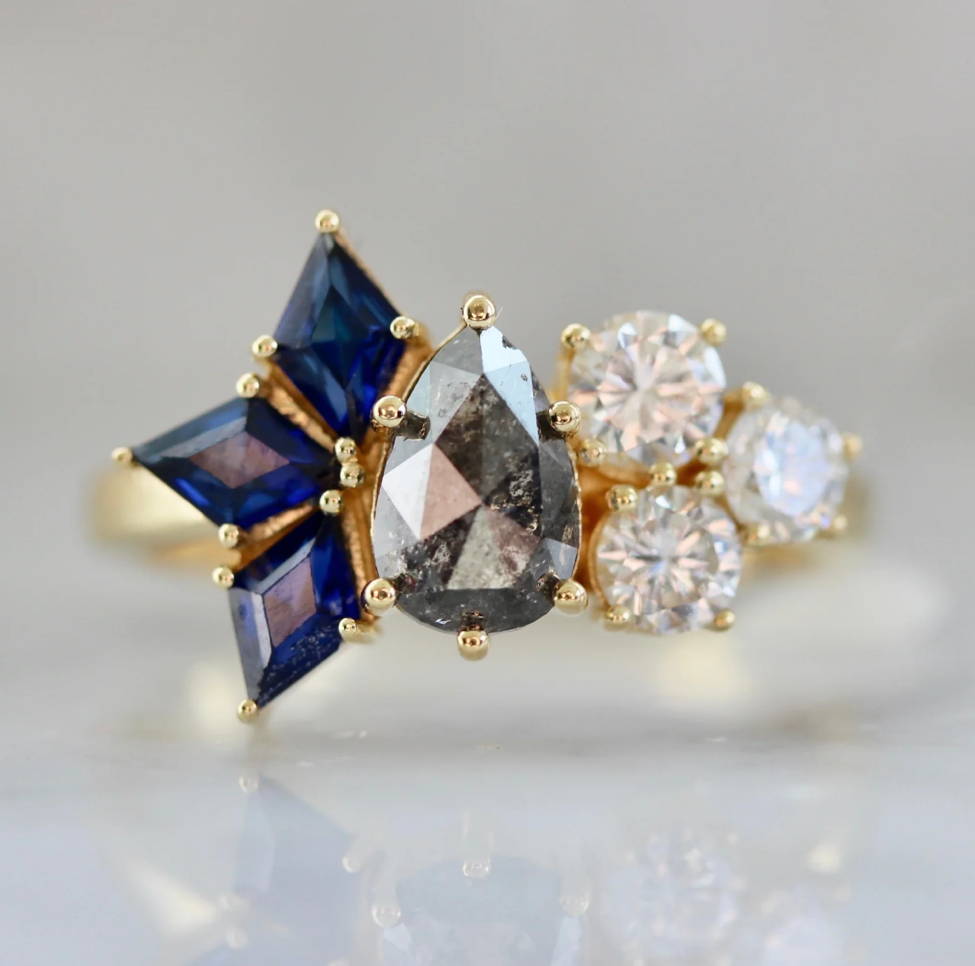 14. Salt and Pepper Diamond Cluster Ring
Can you tell we love a cluster? A memorable arrangement has a variety of colors, shapes, textures, and the perfect amount of assymetry. This design pairs a stormy salt and pepper rose cut diamond with a fan of bright blue sapphires on one side and sparkling white diamonds on the other. Obsession-worthy.
15. Salt and Pepper Trillion Cut Diamond Ring
For the cool-toned queen, a totally outside-the-box arrangement of two rose cut salt and pepper trilion cut diamonds in a lustrous white gold setting. The black and white contrast feels moody and dramatic in all the right ways.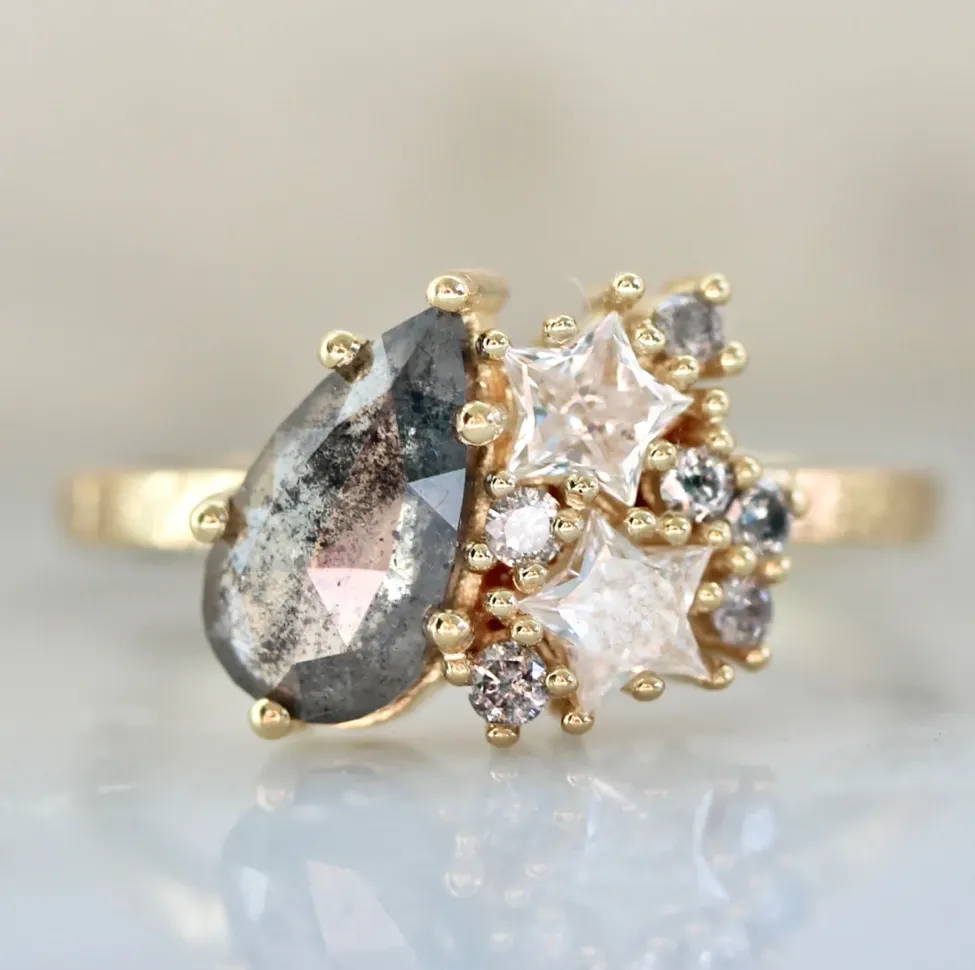 16. Salt and Pepper Diamond Cluster Ring with Star Diamonds

The ring we get neverending DMs about! A cosmic, night sky salt and pepper pear-shaped diamond clustered with the brightest star shaped diamonds and a garden of salt and peppers makes for a truly magical and unforgettable design.
A ring we'll never forget. A stunningly rich red octagon-shaped garent set into an assymetical cluster with a rough sapphire, tiny sparkling diamond, and an iridescent opal. You just can't stop staring at it - the contrast of textures, colors, and finishes makes this ring completely irresistible.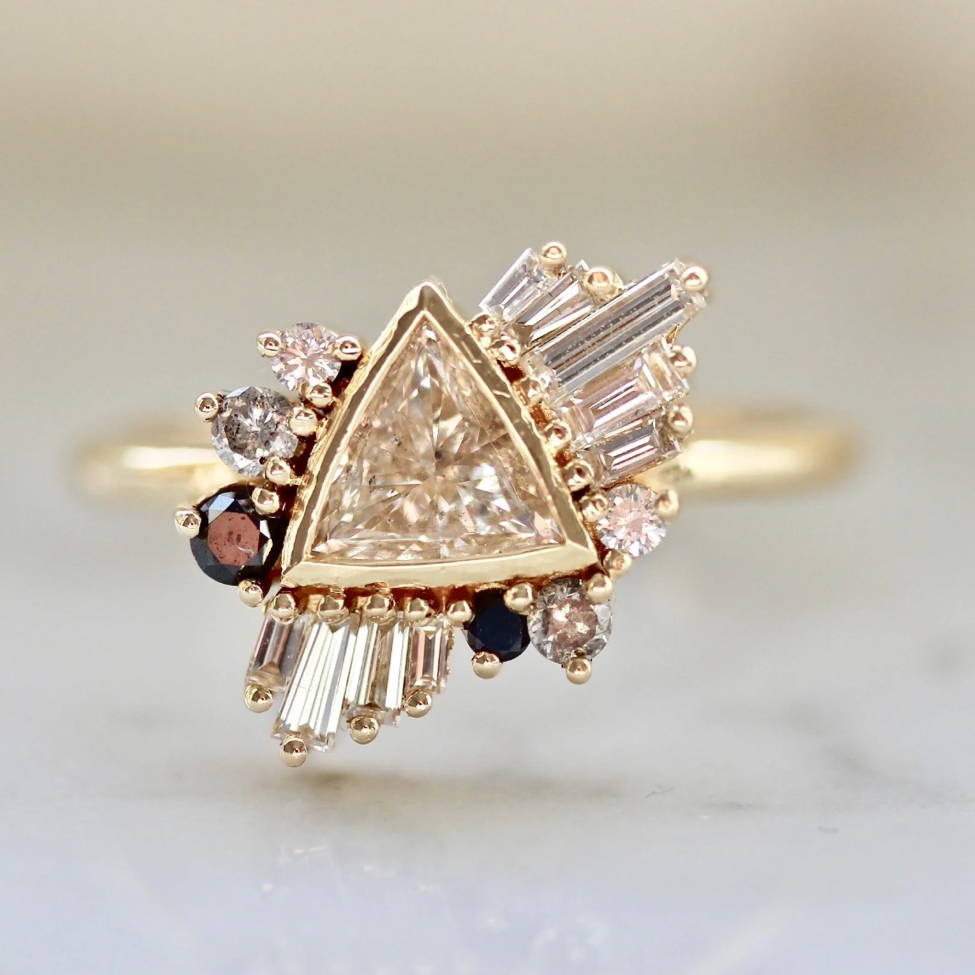 18. Diamond Star Cluster Ring

Throw all the rules out the window and create a cluster that screams celebration. With a buttery trillion diamond center stone, every tone of salt and pepper diamond, and an anything-but-symmetrical fan of white baguette diamonds, this ring is unapolegetically extra and we love it.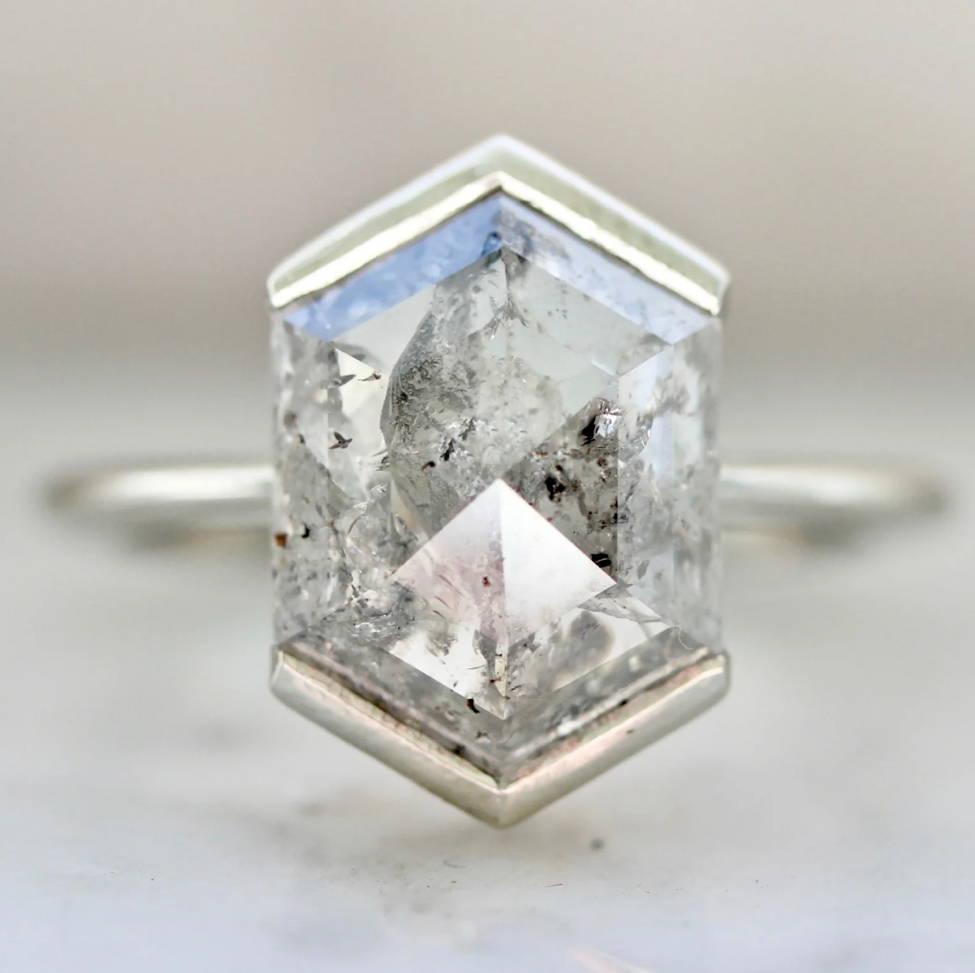 19. Hexagon Salt and Pepper Diamond Ring
This ring is giving medieval, game-of-thrones vibes. All this incredible eye-catching rose cut salt and pepper diamond needed was a sleek, white gold half bezel setting to complete the icy, power ring energy.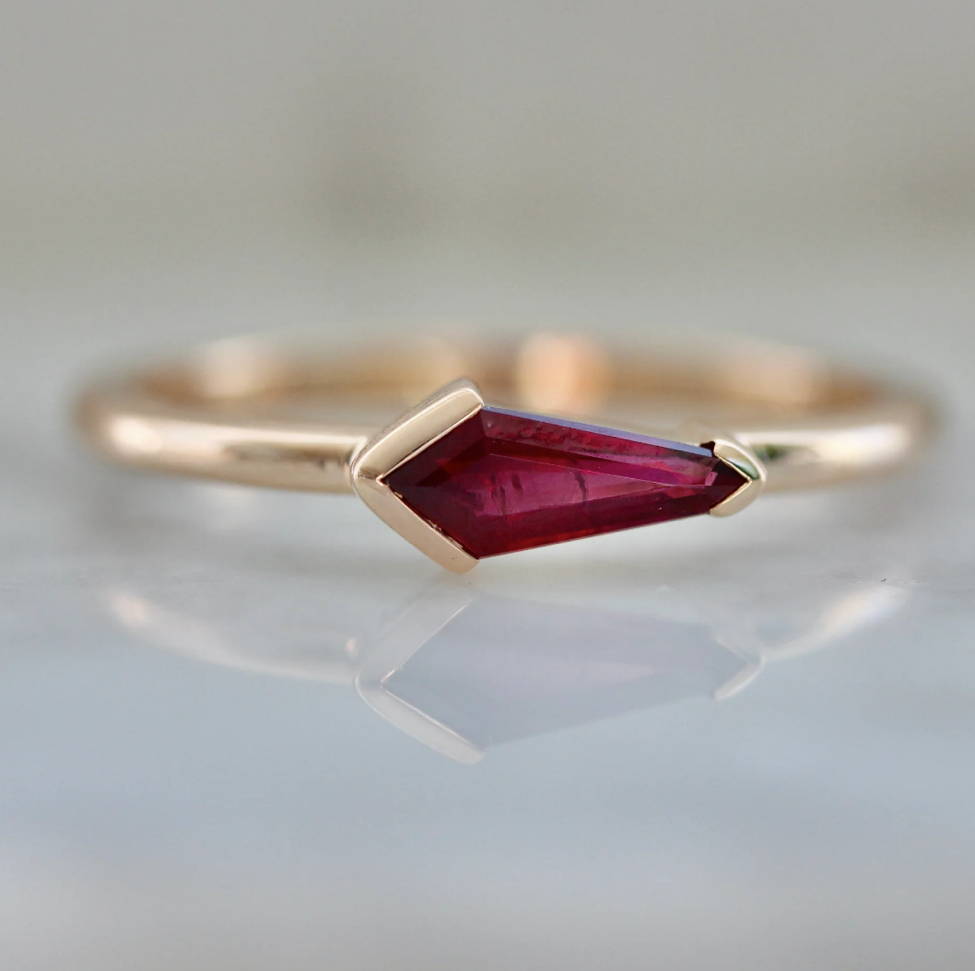 20. Kite Shaped Pink Sapphire East-West Ring
Sometimes unconventional just means an unexpected stone choice like this candy-colored pink sapphire plus a simple twist to set the stone east-west in a sleek half bezel setting. It's minimalist in the most interesting way.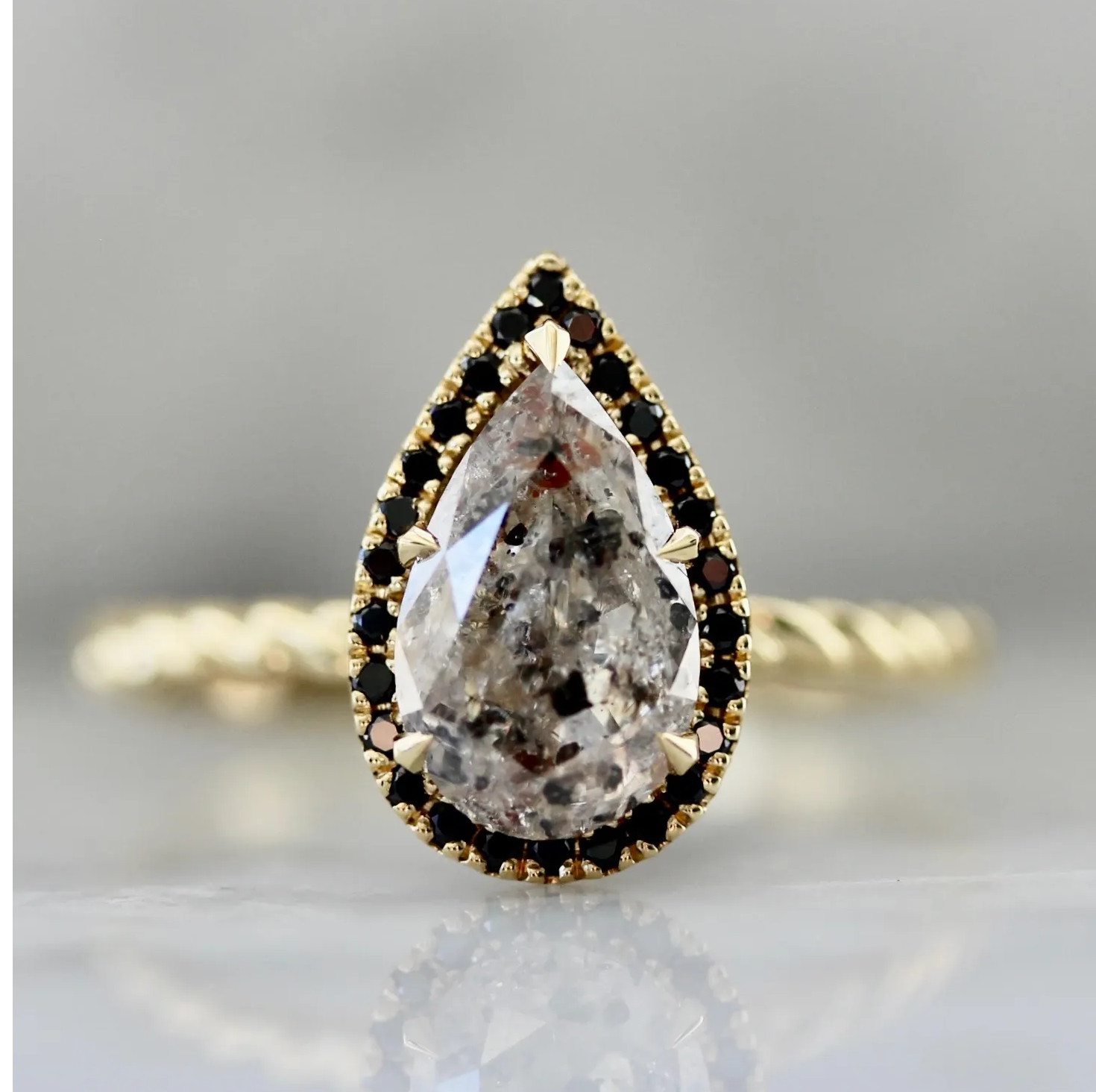 21. Salt and Pepper Diamond Ring with Black Diamond Halo
An unexpected halo design for those who love the little details. A striking salt and pepper pear shaped diamond is framed by inky black diamonds to bring out those dalmation flecks, and is finished with a luxe twisted gold band. It's the unconventional maximalist's best friend.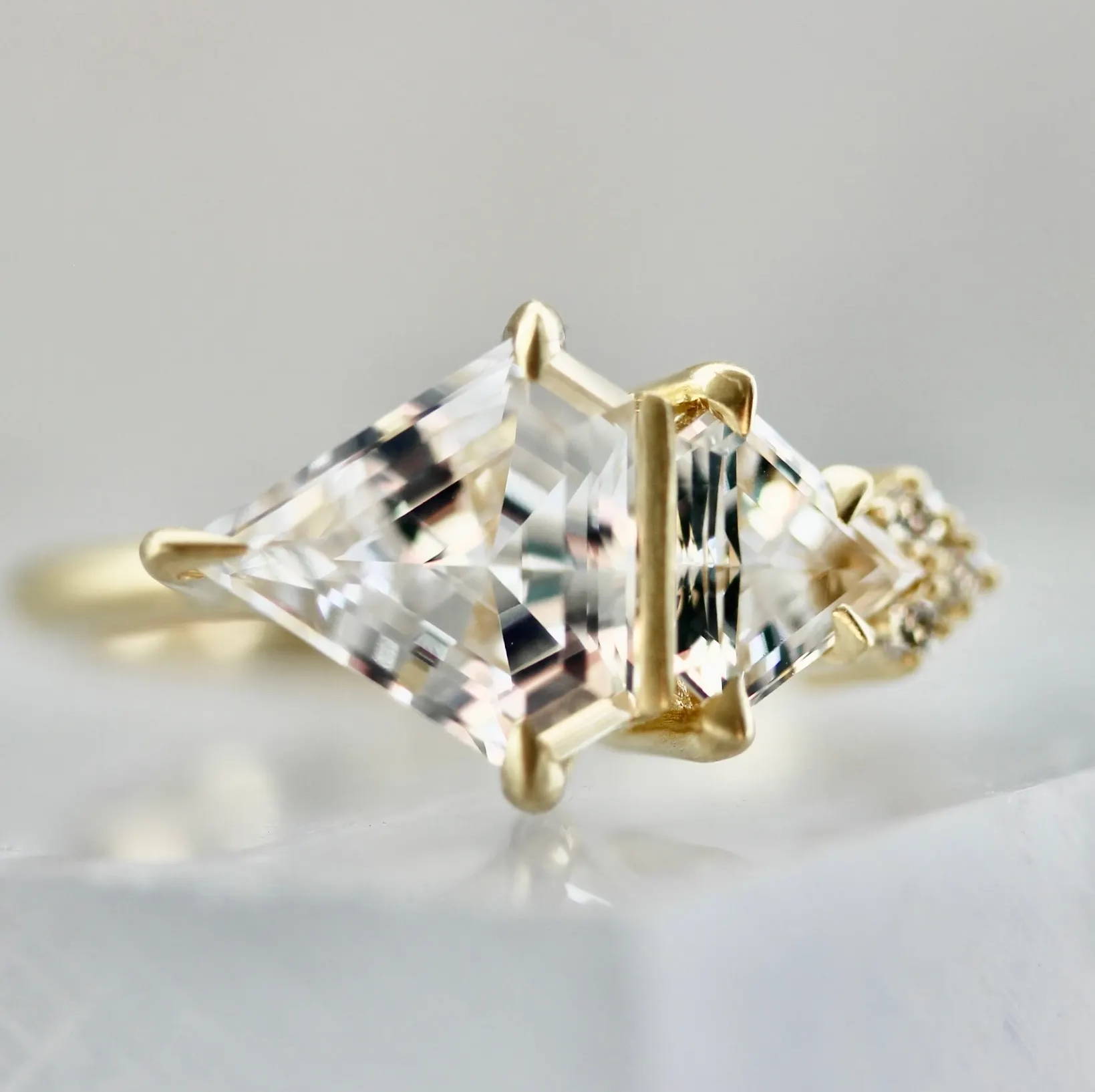 22. Geometric Custom Cut White Sapphire with Matte Finish

Giving seriously hypnotic, hall-of-mirrors vibes, this ring pairs the raciest geometric cut white sapphires with an unexpected setting for a design you can't stop staring at. A matte gold finish allows those one-of-a-kind, custom-cut sapphires to shine their brightest without distractions.
INSPIRED TO CREATE YOUR OWN CUSTOM RING? LET'S CHAT