Today in our Meet the Maker series, we're chatting with Andrea Rokosz of Rokosz Jewelry, a truly gifted Jewelry Designer who's as kind and genuine as she is prolific. Andrea's designs are out-of-this-world creative and seriously visionary, which is why we loved learning how she comes up with her showstoppers that always sell out in record time.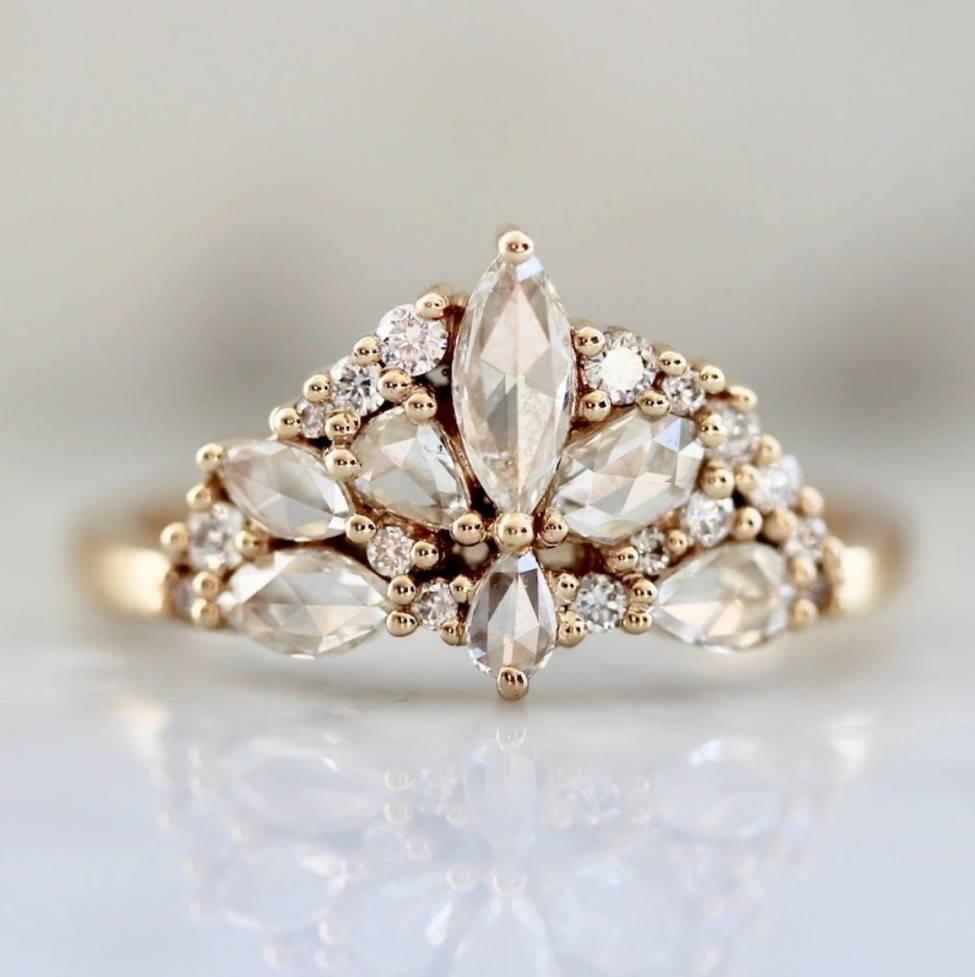 How did you get into jewelry design? Where did your love of jewelry begin?  
I've always loved jewelry. As a kid, my grandma would take me to the bead store with her and I'd string together necklaces and bracelets - I was so proud wearing my creations! I'm very sentimental and every little token means so much to me (my sister thinks I'm a borderline hoarder).
Funny story - in high school Metalworking class, I did my best friend's assignment for her and made rings for everyone in the class (because I loved doing it), and I got kicked out of the class for wasting materials! So that probably stalled my jewelry journey a little.
Then, when I was in University taking Cognitive Neuroscience, my (now) husband got a job in Calgary for a year. I was deciding on the next step in my University career and didn't want to leave Vancouver. With him out of town, I had a lot of free evenings, so I signed up for a jewelry course to fill my time. After one class, I was completely hooked. Within the year, I dropped out of school, quit a job I was making good money at, and applied for the full-time jewelry program. And that was it! Everything's been very fast-paced since I started.
What's a misconception people have about Jewelry Designers?
People really glamorize this career. They think it must be so glitzy and fancy and that you're clean all the time (LOL). I'll be in a meeting sometimes and realize I've had a huge smudge of polishing element on my face the whole time!
How would you describe your design aesthetic?
I have a hard time describing my aesthetic and I think it's because I'm so connected to my work - it's like being asked to describe myself, and how do I put into words every facet that creates me?
Overall, I'd say my aesthetic is influenced by what's bringing me joy in that moment of creation. My designs are constantly evolving according to my mood, interests, and abilities. I think that's why I create such diverse pieces that resonate with such diverse people.
I also share a studio with my younger sister who owns two vintage clothing stores (called Low Life) in Vancouver - she has this really cool aesthetic, kind of punk rock meets hip-hop. She and I bounce ideas off each other all the time and I think a lot of my aesthetic comes from growing up with her.
You use lots of snake details - what's the significance/story behind that?
To me, snakes symbolize beginnings, the cycle of life, and the ability to shed your skin and start over. That resonates pretty deeply with me. My dad is such a huge inspiration to me and a living example of what a snake signifies in my mind. He had a career his whole life that kept our large family very comfortable. But he always wanted to be a real estate agent, and when he was in his 50s, he quit his job and switched over to real estate. That was a big wake-up call for me because it happened right when I was deciding between continuing with neuroscience or going into jewelry. And there my dad was quitting his job and beginning again – it gave me the courage to do it myself.
Also, snakes are beautiful and have so many design elements – the scales, the eyes, the gorgeous curvy shape. I always hand carve them to create that natural shape.
Snakes just feel very powerful to me – even my wedding band is two snakes coiled together.
How has your design style evolved over the years?
It's been a massive evolution from where I started to where I am now. I started off with a silver line that was inexpensive to produce and much less complicated to fabricate. I was very fortunate with that line - it seemed to instantly fill a need for people and I gained a really cool following.
How I transitioned into higher-end fine jewelry: a man asked me to make a custom engagement ring for his girlfriend who loved my jewelry, and at the same time, my best friend got engaged and asked me to make her ring! It was pretty amazing (though intimidating at the time) to be creating my best friend's engagement ring in tandem with my first engagement client ever.
I posted those first two on Instagram, and people started coming to me right away to make their engagement rings. I was blown away, it's so meaningful to make these milestone rings for people.
You need so much knowledge to create higher-end fine jewelry pieces (and do it well). But I've had many people around me that helped by answering questions or offering their expertise. Plus, I'm such a nerd and I love learning new things. I research endlessly and saturate myself with knowledge until I feel completely confident in what I'm doing. Once you have confidence in your expertise, you can make anything you want and there's no limit to your designs!
Where do you get your inspiration? How do you come up with new designs?
I'm inspired by so many things - vintage furniture design, architecture, and my surroundings in Vancouver - it's endlessly inspiring living in a city bordered by both mountains and oceans. My family and I spend lots of time outdoors and nature is a bottomless source of design ideas.
Back when I had more free time, I used to visualize new ideas while meditating in float tanks - I did this regularly when I first started in fine jewelry.
And sometimes, I'll wake up from a dream with new ideas for a piece. But most often, I'm inspired by my clients. People come to me with a story about their partner or themselves, and designs will come to me based solely on that story. Even just a picture of someone's partner can spark ideas for me.
How did you come up with the name Army of Rokosz? Is there a special meaning?
Rokosz (like hocus pocus) is my last name. We have so many kids in my family (there's 5 of us) that we're like a little army of Rokoszes.
There was also this rebellion in the 1600's called the Rokosz Rebellion which I think is a cool connection. That rebel undertone really connects to the vibe in my jewelry.
I am simplifying and changing my name in January to just 'Rokosz' which reflects my style evolution and feels more connected to my current aesthetic.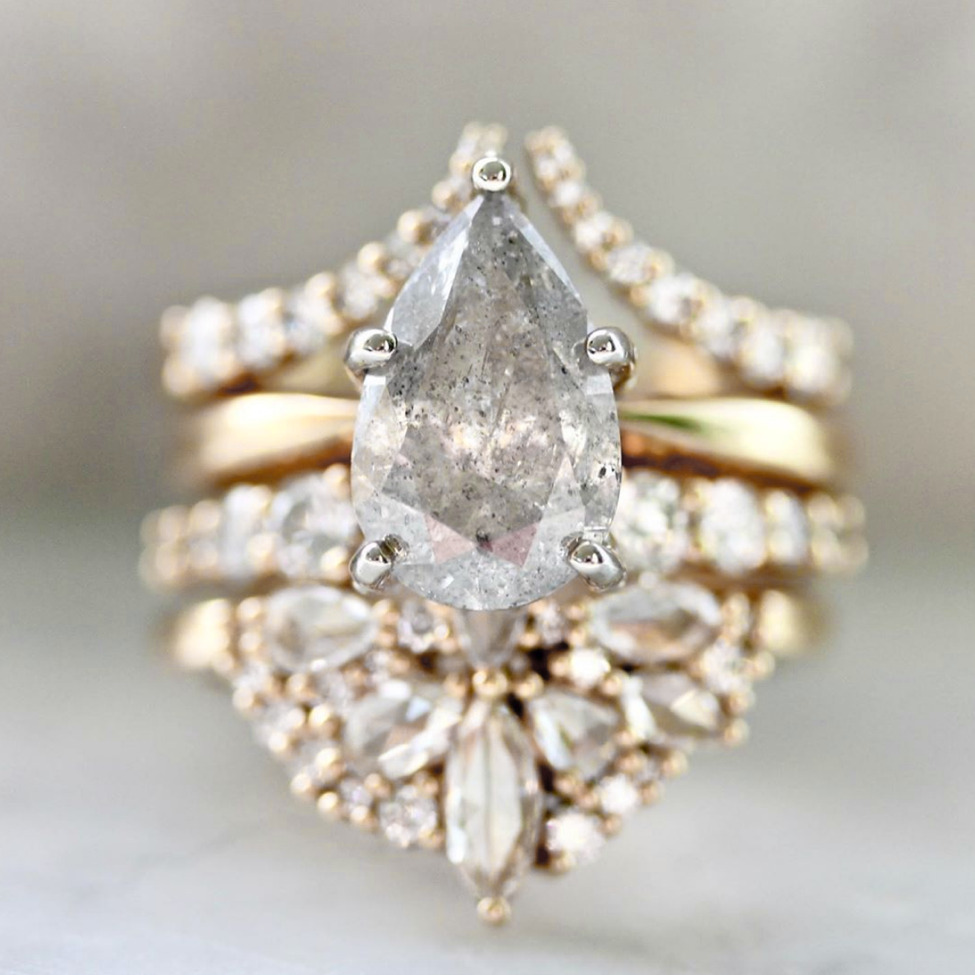 You are the queen of stacking rings! Why do you love them?
I think a well-curated stack is one of the most beautiful things you can put together. Plus, I like giving people the option of expressing their moods with their jewelry – some days you might feel like icing out an entire finger, and other days you might wear just one tiny ring.
In a stack, you can have some rings that are more subtle and everyday and others that are more ornate. It's almost like getting dressed in the morning – are you going to wear layers or just one statement piece?
And for me, my hands swell a lot in the summer and shrink in the winter, so I tend to wear more rings when it's cold and less in the heat.
When it comes to Jewelry, more is more. True or false?
It depends! More is more if you're picking the right pieces. But I like to keep it tasteful so people take notice of the special pieces I'm wearing. I curate my pieces so they have meaning - reminders of a moment in my life, or a special connection, or a gift from someone I care about.
What's it been liking working through COVID?
Things have been taking a lot longer, but because of that, I've had more time with my clients. My meetings were much shorter before and I'd do a lot of correspondence over email. Now, I'm able to spend more time connecting with clients and getting to know them. That's led to more personalization of their pieces – little hidden elements that speak to their story and their style. I've always loved putting special moments into my clients' pieces and the extra time has given me more space to do that.
When you're purchasing something from me, it's a part of me, so it's nice when my clients get a sense of who I am. Plus, they get a better product if I know them too.
What jewelry do you wear every day?
I wear my grandma's ring, my wedding set, a beautiful vintage ring, and a ton of bracelets (people say they can hear me coming before they see me).
When I was pregnant with my first daughter I found a key on the ground that said 'WD' which felt fitting because my husband's last name is wood. I sent a picture of it to my sisters, they looked up the meaning (we all love symbolism) and it means 'healthy baby and good delivery'. I got the key cast in cold and I wear it every single day. And I usually wear a stack of chains made mostly from other designers I admire.
Oh, and I wear a nose ring every day!
Favorite ring you've ever designed?
My favorite ring ever is my husband's wedding band – it was one of the first fine men's pieces I made. It's a bonkers signet ring with a snake on the top, a buffalo on the side, and the spot he proposed on the other side. He's supported me so much throughout my career and it meant so much to make it for him.  
What about a favorite ring you've made for Gem Breakfast?
For Gem Breakfast, my favorites are the pieces I made for pop-ups. I felt so fortunate to be a part of that first pop-up – I was beyond thrilled to be asked. I loved that first ring, it turned out phenomenal.
How did you and Catherine (GB Founder) find each other?
Through Ashkan Asgari, our mutual Diamond Dealer - he brought me into that first pop-up.
Catherine is so supportive. Anytime I send her a design, she's totally on board with it – no matter how crazy or out of the box it is. Her trust level inspires me to create these totally bonkers designs. And then these amazing people get to wear the pieces that come out of my imagination.
What's your design process like from start to finish?
I start out with the center stone and lay out the surrounding stones into different configurations.
I do some drawings (usually three).
I decide which drawing I want to create.
Based on the design, I decide which techniques I'll use to make it (I use a mix of hand carving, straight fabrication out of gold, and CAD).
Once the piece exists, I polish it up and take it to my stone setter. I work with the most amazing stone setter – he's so insanely talented and I feel very fortunate to work with him.
I do the final inspection, package it up, and write out a little note for my client.
I like the ability to be able to do things by hand - it's such a cool lineage of humanity and I want to keep those techniques alive. But CAD is beautiful too.
We're in a very fortunate position now to utilize all the different techniques – CAD, hand-carving and fabrication and mix it all together to create whatever we want. Because 20 years ago, some of today's designs wouldn't have been possible.
Who is the person who loves your designs?
I think it's someone that appreciates small details. It's funny – my setter and I worked on this different type of pave setting with tiny details between the stones that you can only really see under a microscope. I posted it online and had a client zoom in on the image asking for those exact tiny details in her ring. I was excited that she noticed!
I think the details are sometimes subconscious – a person will be drawn to a ring but they're not sure why and those details may be why they connect with it.
What's your favorite part of what you do?
First is getting to know my clients - they're so kind and patient and I love hearing their stories. And I love seeing my clients' reactions to their pieces. I just had this couple who I'd never met order their wedding bands from me. After I shipped the rings, I didn't hear from them for a while. It turns out they decided not to open their rings until they were at the altar and they had a photographer capture the moment they saw the rings for the first time. I cried when I saw those photos – it was the most beautiful thing!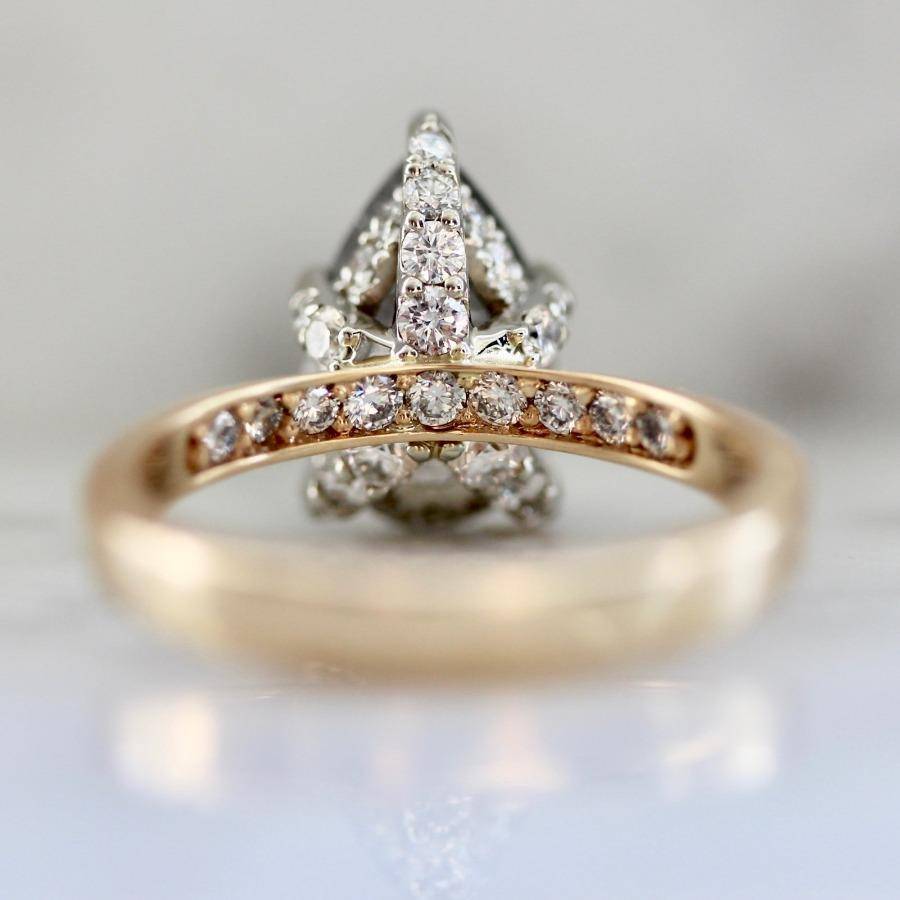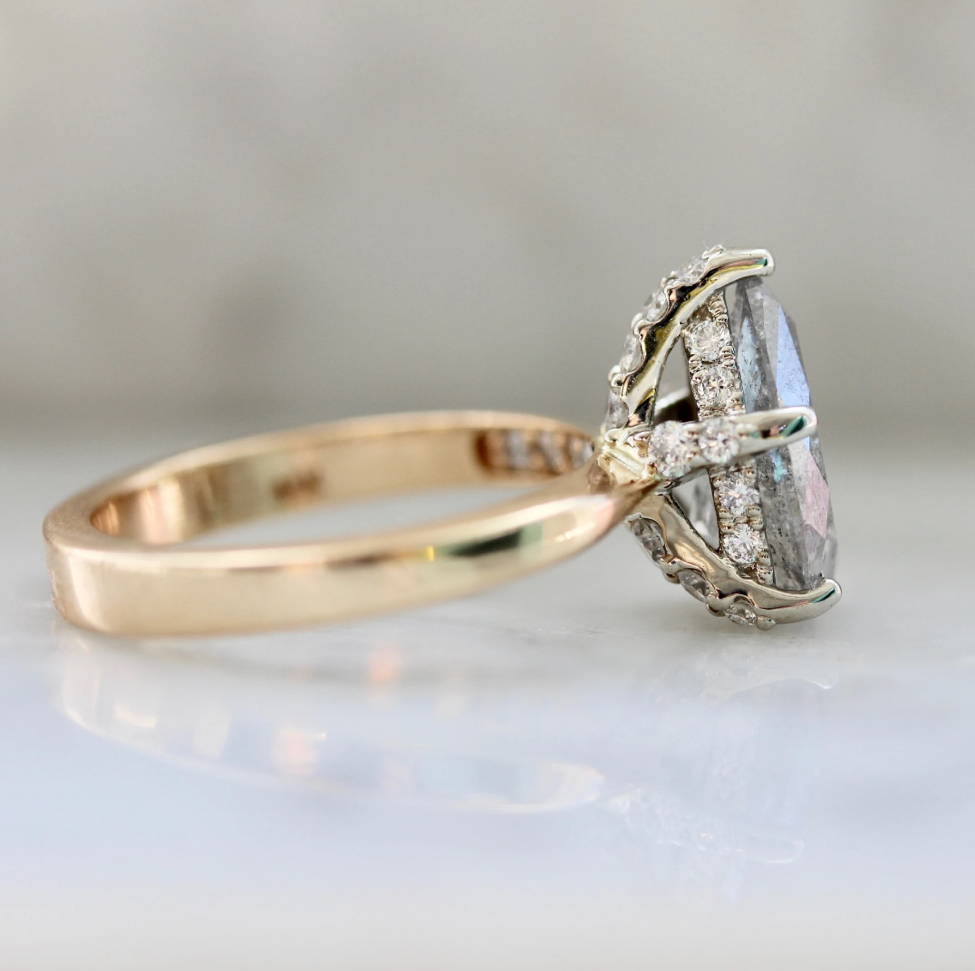 Also, because all my work is custom, I never know what kind of job I'll be working on. It's always a surprise and I love that. And second to that is sourcing stones – I could look at gemstones all day long!
Honesty, I love all of it! I never would have dreamed that I'd be doing this as a job. It truly never gets old - I still send photos to my parents of rings I made – I'm so endlessly excited that I get to do this.
You use a lot of salt & pepper stones. What do you love about them?
Salt & Pepper stones have a real life to them – if you look at one under a microscope (which I do with every stone), there's a whole entire world inside.
And while white diamonds are beautiful as well, you can put in the specs online and find multiples of the same diamond. But with salt and pepper diamonds, every stone is so unique and beautiful – no two are ever the same. Each one looks alive in its own distinctive way.  
I love round brilliant diamonds too though - there's something so classic and beautiful about them. Plus, they can be arranged as accent stones in so many ways – the design possibilities are endless.
---
Shop Rokosz Jewelry at Gem Breakfast