In today's Meet The Maker, we sat down with Canadian Jewelry Designer, Jilian Maddin. As humble and genuine as her designs are magical and showstopping, Jilian is the artist behind those stunning engraved bands you've all been eyeing, the intricate sapphire pieces that fly off the site, and of course that unforgettable bird ring made for our Solitaire Squad challenge last year. Keep reading to learn more about Jilian's design process, her connection with birds, and the inspiration behind some of her most memorable Gem Breakfast designs.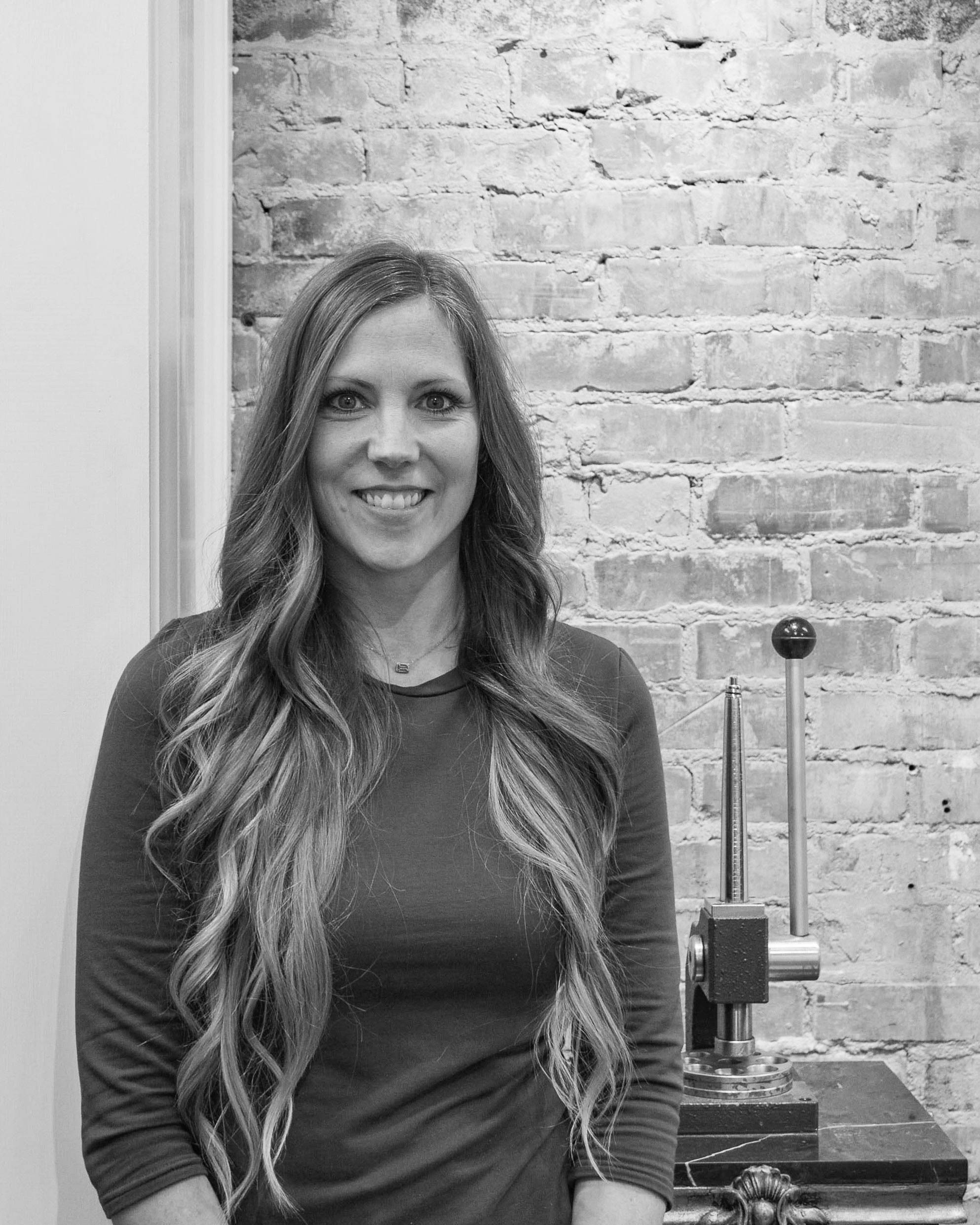 How did you become a jewelry designer?
I started out studying Environmental Design, which I loved, especially the hands-on aspect of making models. Meanwhile, my friend in the jewelry design program bought a building and I moved in as a tenant. She and I spent a lot of time together doing our "homework" – me creating architecture models and her creating jewelry. She taught me some intermediate jewelry skills and I began making pieces which started selling right away. Seeing how well my designs were doing, she suggested I take my obvious knack for design and switch to the goldsmith program.
This was perfect timing, as I was realizing my favorite part of architecture (the hands-on modelling) was only a small portion of the job. Jewelry had both the design and hands-on elements that I loved, minus the computer work.
So, I finished my architecture program, started the goldsmithing program, and never looked back. It's been about 15 years now – I've had two daughters, built a business I love, and designed countless pieces. Through it all, I'm still at the original studio (Made You Look) where I get to work shoulder-to-shoulder with my best friend. We're so grateful we've been able to build these incredible careers together – it's a little slice of heaven.
Where do you get your inspiration?
The stone is always the starting inspiration for me. I find a stone I love and let the lines, the colors, and the cut inspire the design.
Who is the woman who wears your pieces?
The women are of all ages, which I love. What they seem to have in common: they've worked really hard, come a long way, want to feel empowered, or just want to treat themselves. The ring becomes a touchstone of accomplishment and empowerment.
They're also people who are willing to celebrate milestones - whether that's clearing energy, closing a chapter, or starting a new one. Jewelry can hold so much symbolism and meaning for the wearer!
What's your favorite piece on the site?
I really love the Goldfinch - the seafoam green color of that diamond is so special and unique.
What's your design process for a GB piece?
I start with the stone, draw up 5-10 options in my sketchbook, mull things over, and maybe run ideas by other designers at our studio.
Next is the CAD design – I'm very lucky to have my CAD partner in our studio, so we sit side-by-side and put it together.
Casting – a wax mold is made, then filled with molten gold to shape the piece. I'm so lucky to have casting in-house as well.
Polishing, which I do mostly myself.
Setting – I have wonderful setting partners right in the studio.
Engraving – all of my laser engraving is done in-house by a wonderful woman I called the laser goddess. The wax engraving I do myself.
Photography - I do all my own photography and social media.
How did you meet Catherine?
I reached out to Catherine after we'd been been following each other on Instagram for awhile. Ashkan from Misfit Diamonds was working with her, and he suggested I reach out for help reselling a ring. She gave me some great tips and then asked me to send her some new work. I was very thankful for her help and it's been so great working with her.
What jewelry do you wear on the daily?
I basically stack on as much jewelry as humanly possible! There are days when I have a ring on every finger (which I know is ridiculous but I love them all)!
Usually I'm rocking one or two of my wide bands, and I always wear the original wide band that I made 6 years ago. I also just made myself a ring with this crazy beautiful unicorn diamond from Misfit Diamonds. Once I finished it, I sent it my friend in Vancouver and he did some incredible engraving on it. It's a really special piece – I wear it every day and never take it off.
On my ears, I wear big gold dangly earrings or a pair of beautiful earrings my boyfriend bought for me, and then some gold chains and neck pieces. The rest changes everyday – I wear pieces that I've collected from other designers that I love in Toronto and Vancouver.
Favorite GB piece ever? What was the inspiration behind it?
Leota (sold) – it was just the most amazing bright blue sapphire. I almost had to keep that one for myself.
The inspiration behind it: I met this wonderful woman who wanted to collaborate for a styled wedding shoot. The stylist had a very clear theme for the shoot and was looking for a classic blue sapphire ring.
I don't usually splurge on new stones just for a shoot but when I saw that blue sapphire, I couldn't resist. I took the plunge and designed something super over-the-top to go along with the extravagant 20s/30s vibe of the shoot. I love how it turned out!
Do you believe artists are born or made?
I have two artist parents so it's definitely genetic for me, but I was also surrounded with it growing up so that's a tough one! I would say it's more born than made in my opinion.
Tell me about the interesting prongs on your rings.
For a long time I was only a bezel setting girl because I used so much milgrain, but when I shifted into more light and airy designs (which I initially revolted against), I had to think about claws. The second I saw the tiger claws (what you see on most of my rings), I was sold.
What's the piece that took you the longest to create for GB?
The Heart's Signal ring that I made for the Solitaire Squad challenge. I've been carving in wax since the beginning but I haven't done a lot of metal carving (which this design demanded) so this project really challenged me to slow down and learn some new skills.
Speaking of that ring - we have to talk more about the amazing hidden bird carving - what's the story behind it?
I picked that stone from Misfit Diamonds because of the massive surface area. I knew I was limited to just one stone, but the size of that diamond allowed me to create something exciting and intriguing underneath.
When I chose the stone, I immediately pictured a bird with a long tail. At the same time, I was pulling daily tarot cards from this beautiful bird-themed deck and at least 3 times a week, I kept pulling the same bird - an Indigo Bunting. That bird represents transition, evolution, and personal growth – all themes that were incredibly relevant to that moment in my life.
So, I decided to carve an Indigo Bunting on the underside of the stone, not really considering whether others would want that particular bird on their finger! It was a passion project for me and I love how it turned out.
Is there a piece you're dreaming of making?
I'm planning to take a metal engraving course taught by a master engraver - I especially want to learn more about carving birds. Then with my new skills, I may create a set of five intricately engraved wide band rings.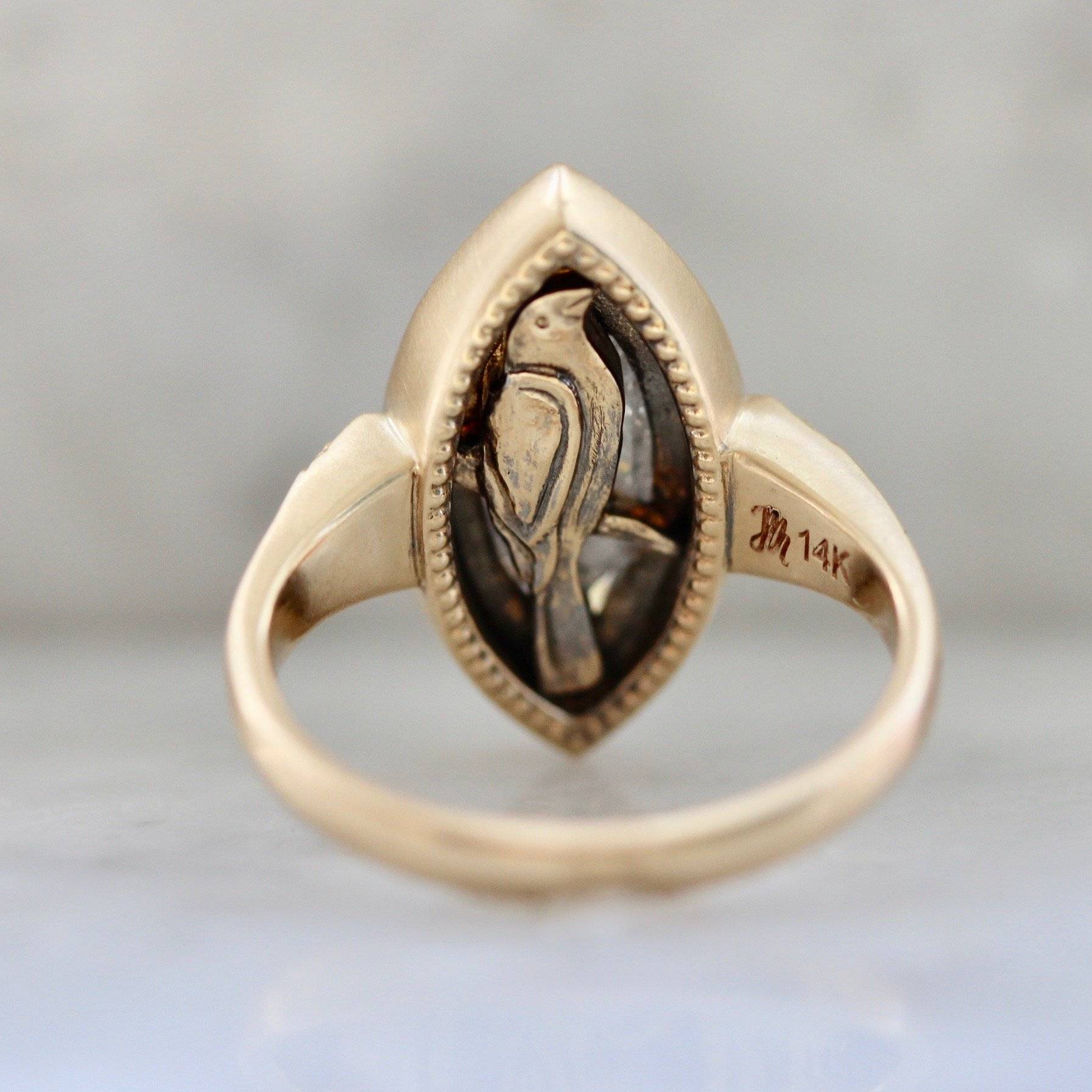 Your rings feel like power rings – is that intentional?
Definitely. I never did successfully go completely down the ultra-delicate path – I love solid statement pieces that I can live my life in every day. Pieces that feel empowering and substantial to the wearer.
More is more – true or false?
True! There's no such thing as too much.
Shop Jilian Maddin at Gem Breakfast