It's our fifth birthday! Five years of creating stunning, artisan-made jewels to commemorate special moments, memories, miletones, or just to add a little glimmer to someone's finger.
Five years of doing what we love so much, of spreading gem-filled joy to our GB devotees all over the world. As we turn five, we celebrated by chatting with each one of our team members to hear their fave moments (and rings) of the year and what they're looking forward to next!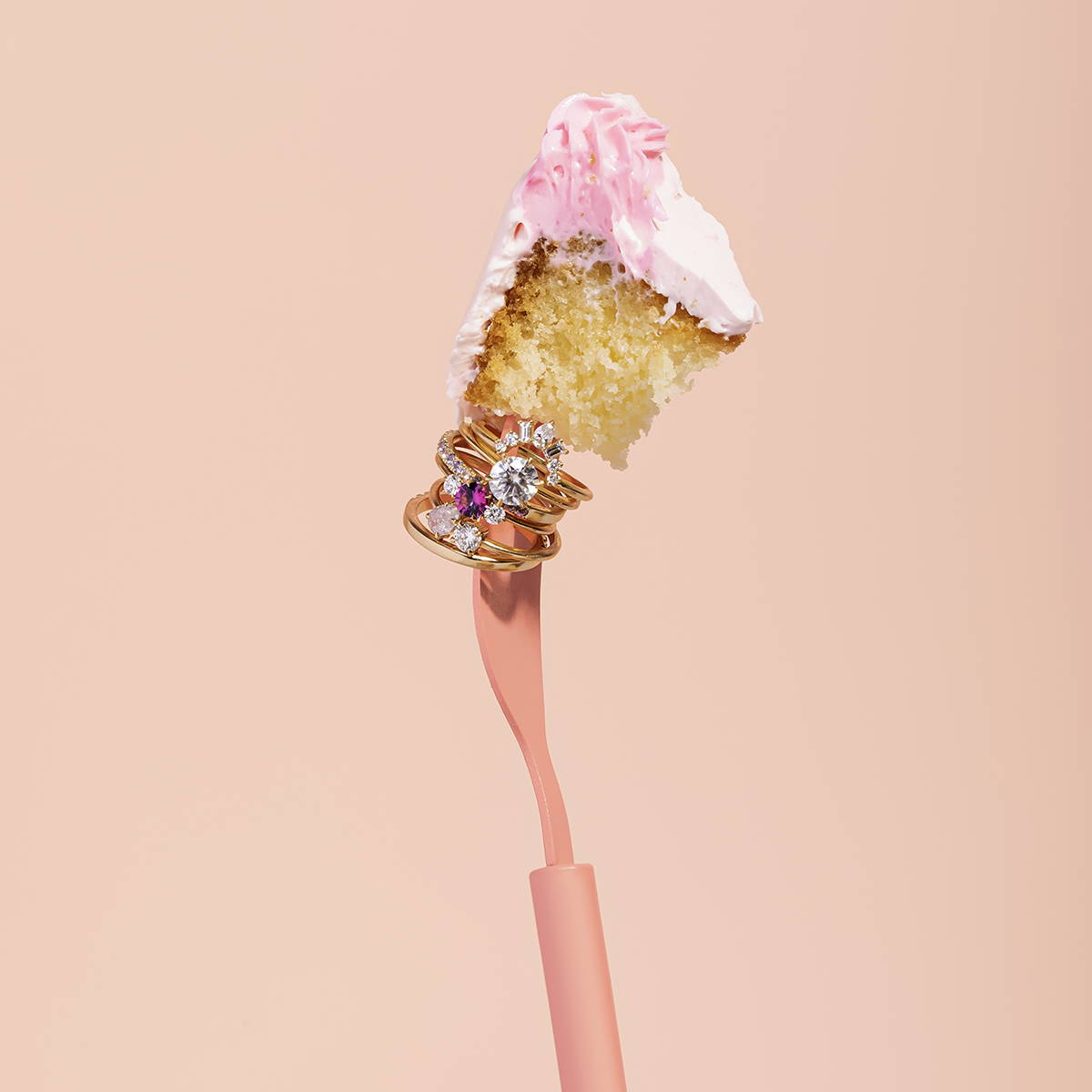 ---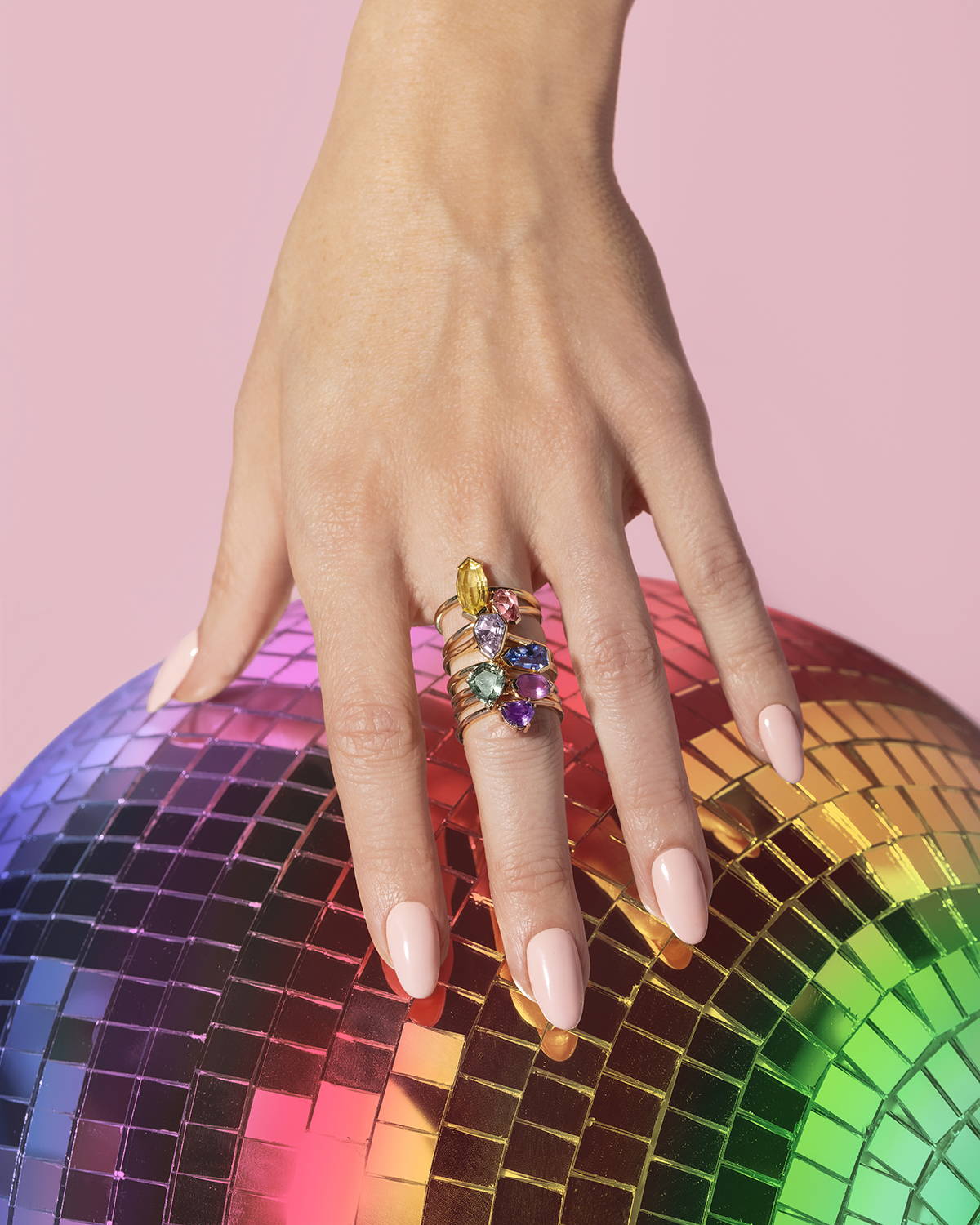 How long have you worked at GB? What's it like now vs then?
Almost 3 years! I was Cat's first ever employee. In our interview, she said, "I don't want to be a boss" and I was like, "great I don't want a boss!" I had a very limited role when I first started – just some copywriting. We learned together what I could help with. Now my job is much bigger and broader. I write all the product pages, help with pricing, get to name all the rings, I do all the emails, help out with Instagram, and Catherine even bounces design ideas off me at times (that's so exciting). We're very symbiotic and work great together.
It's fun now also with a few more employees – more people to ask questions to and get input from. We have a really solid team.
What was your favorite moment this year?
The Pride Collection is my favorite moment for sure. The collection has been in the works for a year – we put so much work in with stone sourcing, creating the rings, doing the photoshoot. I kind of teared up when I saw the finished rings – it was a really proud moment. Cat and I came up with the idea and picked those stones together and it felt like a culmination of my time at Gem Breakfast that led up to this moment.
And of course I loved naming the rings after drag queens because I love Ru Paul's Drag Race and drag queens in general!
How do you come up with the ring names?
I unabashedly consume ALOT of media which helps inspire the names – it might be something I seen on Tumbler, Pinterest, or in a book I read, or a movie I'm watching.
The Mykonos sapphire band was inspired by a friend's trip to Greece – all those amazing blues had major sapphire vibes.
And sometimes the designers have already picked a perfect name that captures the ring's essence, and in that case, we keep it.
What are you looking forward to this year?
We have a lot of fun collections coming up this year. Every month there's a new collection of rings. I don't want to say too much, but think white diamonds with bespoke ring boxes, champagne diamonds with one of a kind watercolors… a lot of exciting things coming!
What's your favorite ring this year?
The Binor ring (sold) – it's named after me because it's a dupe of my very own engagement ring. The only difference is that the Binor ring has diamonds in the band and mine doesn't. It had the most stunning antique cushion cut purple spinel, and of course set in Peach Gold just like mine.
---
What was a highlight of the year for you?
Finally having a whole team that works so well together, with each woman in the right role for them. It's hard to find that perfect balance of skillsets and people that mesh – it feels really special to have achieved that.
Exciting new designers this year?
Kelty Pelechytik – her designs are amazing and she's an absolute delight of a human.
Artemer– I was really excited to bring them on – their designs are so unique and I love the rings they've made for us.
Meg Lizabet – she's incredibly talented and I love everything she designs. It's funny, every ring she's made for us has sold almost immediately except for the freaking amazing Azul Sapphire Tiara Band– I'm stunned it hasn't been snapped up yet!  
What are you looking forward to?
For the first time, we've been able to create curated collections. Our Pride Collection was first, and we have three more collections coming up this year that I can't wait to share.  
This year, we've had the time and people to be more thoughtful about our designs and present a body of work versus just individual rings. Each collection has a vision and our photoshoots really capture the energy and excitement around each one.
How's your baby and what's it been like running GB as a new mom?
He's wonderful. He'll be a year old soon which is so crazy. It's been wild to watch his personality come out - he's so full of life and precocious and opinionated. Having him has made me feel even more fortunate for the great team supporting me while I was bringing this new person into the world.
Favorite ring(s) this year?
I can't pick just one but I'll try to narrow it down. I loved Starlet (sold), Lola (sold), and the Good Karma bands (I bought a pink sapphire one for myself) (sold). Also, some of Emily Gill's rings have been really fabulous this year.
---
How long have you been at GB and what do you do?
When I was originally brought on, I was hired for client management and more of the administrative side but then Catherine realized I have the skills and experience to do the custom side.
Now, I mostly work on custom projects - I make sure all of our customers are cared for, that their questions are answered, I source stones, work on designs, and do custom appointments. I love it, creating gorgeous rings for people is what I was made to do.
What was your favorite ring this year?
For a client named Blake, we made a olive green oval diamond ring with a super fabulous grey-blue-green-teal ombré band. That ring was so special – it's pretty funky and was exactly what her partner wanted. I love being a part of people's special moments.
What was a highlight for you this year?
I got my Graduate Diamonds Diploma in May which was a definite highlight. I was awarded a full scholarship for the course from the Diamonds Do Good foundation – an amazing foundation that supports people all over the world to get jewelry certifications.
What are you looking forward to this year?
Continuing to be a small part of people's love stories and making commemorative pieces that celebrate engagements, new babies, self-love gifts, anniversaries - all the special moments in life.
I'm also super excited for the Moyo Gems Pop-Up, especially Andrea Rokosz's hand-carved panther ring – it's so killer, I can't wait to see it completed.
Tell us about sourcing stones - do you have a favorite this year?
It's so satisfying helping customers that really care about transparency and ethical sourcing. I made a ring this year with an Australian mine-to-market 2.82 carat dark green super saturated emerald cut sapphire. It was really nice to give her exactly what her partner wanted – an ethically-sourced, mine-to-market stunning sapphire ring.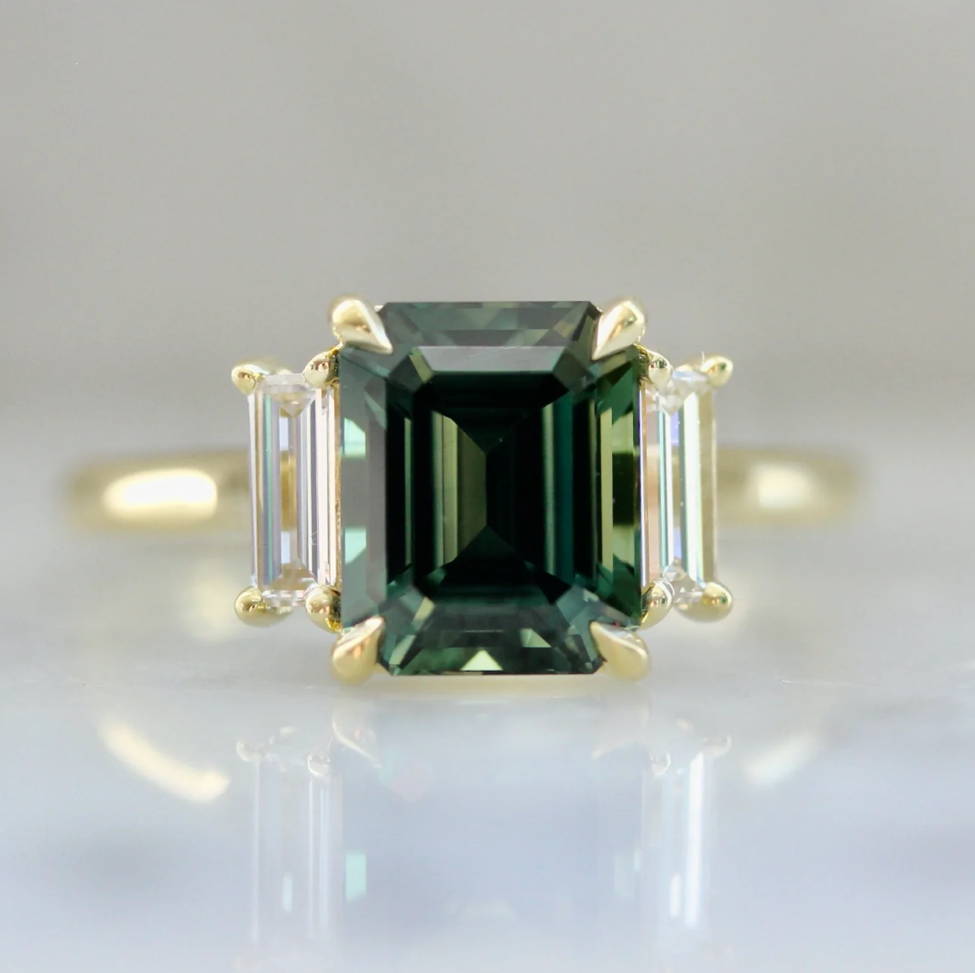 ---
How long have you worked at GB and what do you do?  
I've worked at GB since July 2021 – I came on right before Cat's maternity leave.
I'm the person who physically moves jewelry between jewelers – I own the whole production process both physically and digitally. I manage inventory, keep production up to date, keep our safe organized, transport pieces between artisans and keep track of the many hands that touch our pieces. And then once the pieces are completed, I package everything, give it a final check, communicate with the clients to coordinate shipping information, and get it all sent it out. I order ring boxes, stock, and keep everything running smoothly in the office.
I'm also the person spray painting alot of those color coordinated props you see in our photoshoots – it's a real booty workout squatting all day spray painting everything!
Highlight of this year?
I made my girlfriend's engagement ring through GB this year! I bought the diamond while I was out diamond shopping with Cat – it's a champagne salt and pepper and I put it in a signature Gem Breakfast setting. It has the celeste engravings on the band, diamonds on the shoulders, and a skull engraving on the ring booty.
I haven't proposed yet but I hope she'll love it!
What are you looking forward to this year?
We updated our ring box design this and I'm really excited for it to be unveiled! We had a cute design before but we wanted a custom version that reflects the fun, colorful personality of GB.
So, I spent a lot of time researching designs, sharing them with the team, and got everyone hooked on it. Eventually we found a supplier with a bracelet box we loved and they customized it into the perfect Gem Breakfast ring box that can hold and showcase all of our unique ring styles.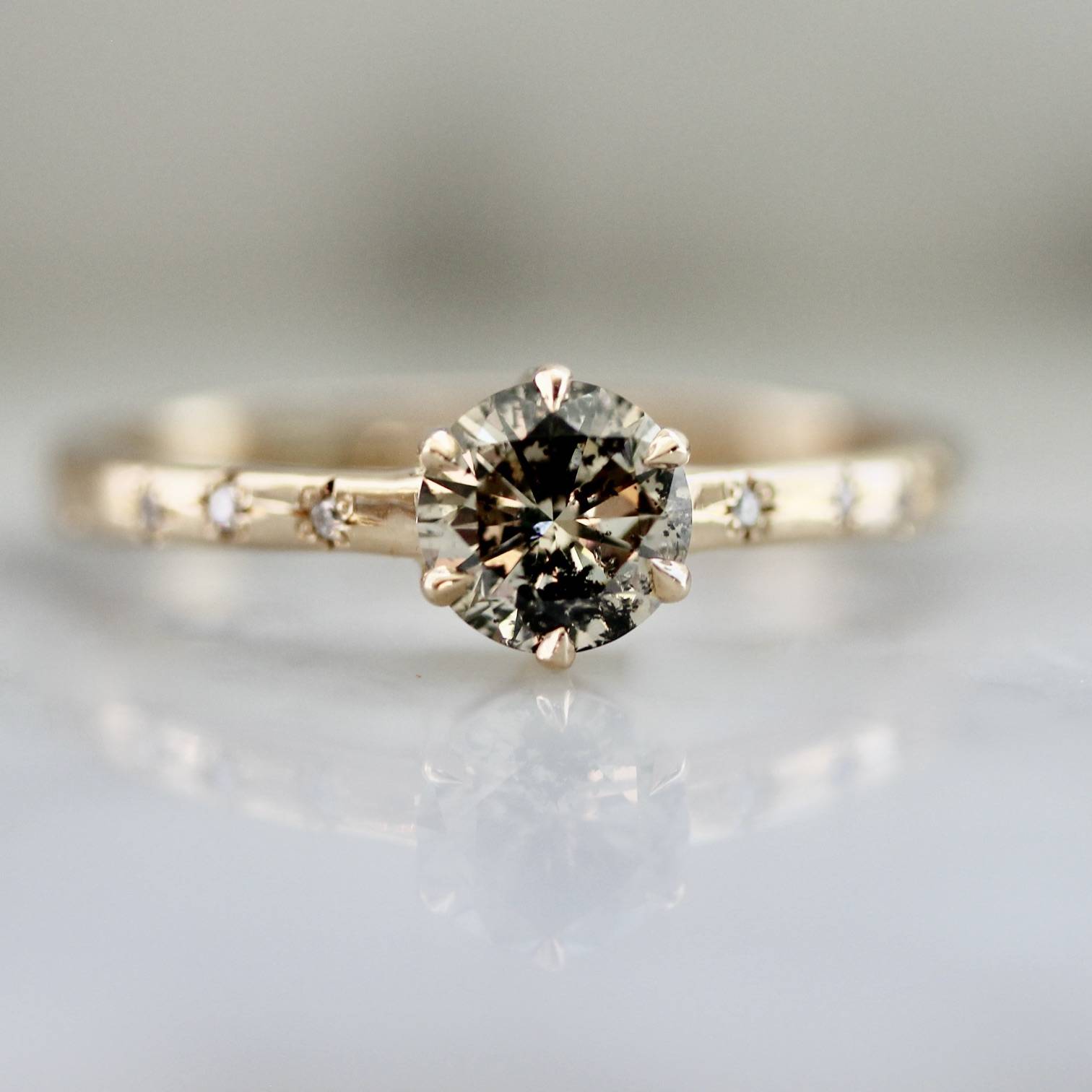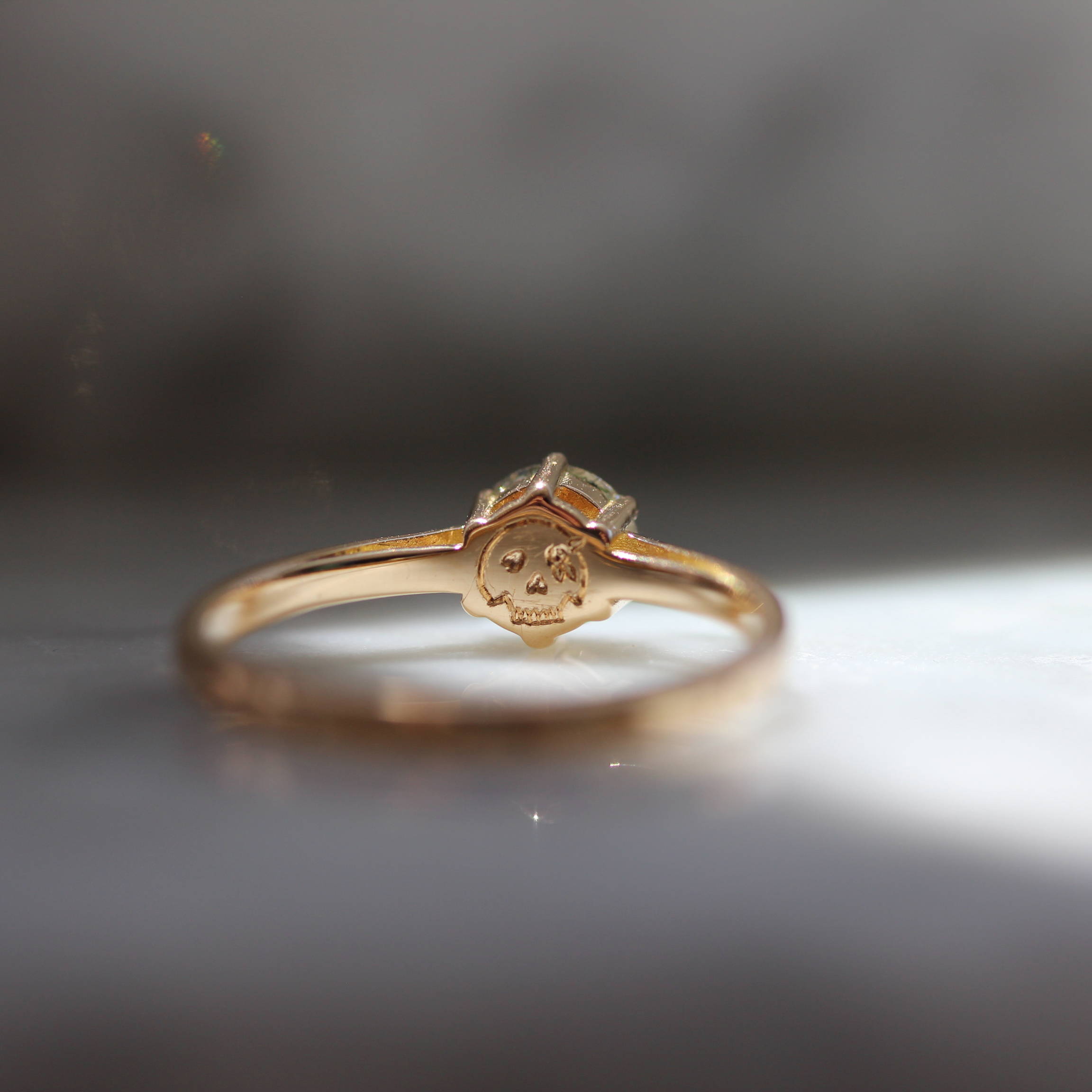 ---