In case you haven't heard, there's something new brewing with our Gem Breakfast Founder, Catherine Cason! Keep reading to find out what's up plus help celebrate our 4th birthday!
P.S. because no occasion is complete without jewels, we're giving you 15% off all ready to ship pieces from June 29th to July 5th! No code needed. Automatic at checkout. Not applicable to collection, sale, custom or made to order items.
---
You have some exciting news to share! Tell us about it.
I have a baby coming at the end of July! We're totally unprepared and don't have a name yet, so if anyone has any ideas, please share with me! We're very excited and at the same time, getting ready for our lives to totally change.
It seems important to know - what's the baby's weight in diamond carats? ;)
About 4.5 lbs, so a little over 10,000 carats! About 3 times bigger than the largest diamond ever found – my kind of baby ;)
What will your baby's sign be?
I'm hoping he'll be a Leo rather than a Cancer. I'm a Sagittarius and Leos and Sags get along really well.
What will baby's birthstone be?
Ruby! They seem to keep adding birthstones all the time though so who knows!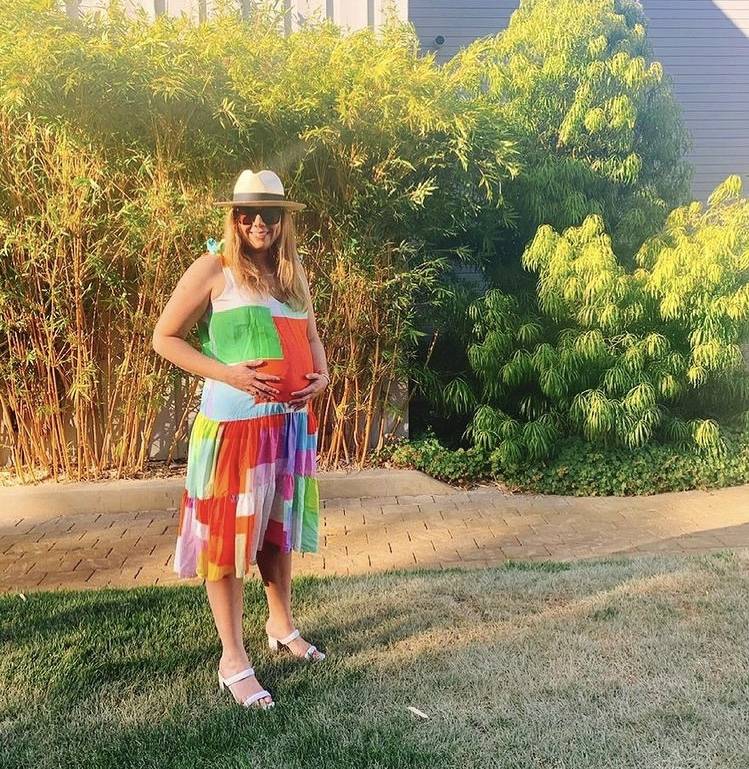 Are you thinking of any gem or jewelry inspired names for the baby?
I have a friend who named their son Asscher - I really regret that name is used up!
How does Harper (your dog) feel about getting a sibling?
I think it might be a rude awakening for her sadly! She's already reacting to all the changes in the apartment – giving us grumpy faces when we move things around! I don't think she's a fan of change. I'm sure she'll make room and learn to love the little interloper though!
---
Happy 4th Bday to Gem Breakfast! How has GB changed this year?
It's changed a lot. We've continued to hire people and build out a team, which is very new to me! It was just me for a while, so the reality of more people around, plus learning to manage others – it's been a major growth opportunity for me.
With the baby coming, I'll have to let go of the reins a bit more which is definitely a little scary. Luckily, I have great people around me that I can trust.  
And all the while, in the middle of lots of changes, the business is growing – we had our biggest month ever last month which is very exciting!
Any exciting new designers join GB this year? What are their styles like?
Yes a few amazing new independent designers joined the Gem Breakfast circle:
Erin's style has a lot of range – from streamlined, delicate and modern, to vintage-inspired and more feminine. She's made some stunning pieces with rose cut stones and of course, the coolest sapphires.
Ruta's pieces feel like candy – gorgeous, swoon-worthy bright gemstones set in super modern and interesting designs. Also, the price point is great on all her pieces, making them perfect treat-yourself rings!
Deborah's pieces are a mix of old-world aesthetic with modern design and gorgeously intricate engraved details. Everytime you look at one of her pieces, you'll find something else gorgeous you didn't notice at first glance.
Did you see a lot more engagements this year vs other years?
We did have record sales – a mix of both engagements and treat-yourself purchases. It's been great to see people getting married again and moving forward with their weddings that were on pause thanks to COVID!
What was your biggest learning or surprise this year?
Learning to let go of parts of my business and trusting other people to help me out more! It's tough when you've been working solo or holding tightly to certain aspects for a long time. I'm learning though, and I'm so grateful to have the people I do at GB.
What's your favorite piece on the site right now and your overall favorite this year?
Maestro by Emily Gill is probably my favorite right now. The color of that sapphire is bonkers, plus those icy trillion cut diamonds and the delicious, green diamonds. It almost looks edible.
This year overall, my favorite was the Riptide sapphire band – it had the most unreal mix of bi-color sapphires set in a stunning color gradient.
What's your favorite custom ring of the year?
A 4 carat pink sapphire ring we made – I will not forget that one. What can I say – I love pink, I can't get enough!
What are your plans for GB for the next year?
I'm taking a little step back from custom work so we're trying to get even more one-of-a-kind, independent designer rings on the website to keep things exciting and new.
We're bringing back the Equinox Band for the Summer Solstice (a much requested return!), we're doing some special box collabs, and Misfit diamonds just launched their loose sapphire selection on the site so you can shop those right now!
You redid your engagement ring this year! Why, and what was the process like?
Yes! I decided to redesign because It didn't reflect who I was anymore (plus I love designing and making rings!) I love the redesign, it's perfect. I had to have our trademarked Peach Gold ®, and of course I love a step cut stone! I am extra empathetic to every bride trying to pick out their own ring now though – it's really hard to narrow it down!
What was your biggest challenge with GB this year?
It seems like people's perception of us is shifting as we grow - like they're seeing us as a massive brand now and interacting with us differently as a result. The truth is, we're still so small! It's still me, Cat answering your DMs and replying to your comments on IG! We're still just a community of kindred jewelry lovers, and I'd love to keep that tight-knit, casual vibe forever!
We're so fortunate to have the business we have – I am grateful for it every day. I built this business to support and showcase independent designers and make fine jewelry more fun and accessible (and empower people to treat themselves whenever they feel like it!) That is still very much our ethos, we support local artisans, independent designers, and ethical gem dealers who we know personally and trust. We are still the little guys even as the GB circle grows!
---