If you're a Gem Breakfast OG, you know all about our infamous design pop-ups and the unforgettable rings that come out of them. If you're new to Gem Breakfast, welcome - this is where the magic happens.
For this Moyo Magic design challenge, we tasked seven insanely talented indie jewelry designers to create epic, one-of-a-kind rings to showcase their hand-picked Moyo sapphire from the Moyo Gems program from East Africa.
You may be asking yourself, what's a Moyo Gem and why are you so excited about them? Moyo gems are mine-to-market stones ethically sourced from a female mining collective in Tanzania, Africa. They're one of the best examples of a truly ethical gemstone supply chain.
'Moyo' means heart and these gems are truly the heart of the community - empowering women miners, invigorating the economy, and ensuring fair, ethical, and safe working conditions for these female artisanal miners from East Africa. The Moyo gemstones are truly beautiful inside and out.
Scoll down to read more about the Moyo Gems program & keep scrolling to hear from each of the seven designers on why they picked their one-of-a-kind Moyo stone, the special meaning behind their design, and how they hand-crafted their ring from start to finish. If you are interested in shopping loose Moyo Gems, visit this link!
Shop all the rings in the Moyo Magic Collection here!
---
What Makes Moyo Gems So Special?
Q & A with ashkan asgari of misfit diamonds
Tell us more about the Moyo Gems project
The Moyo Gems project is aimed at creating economic empowerment for miners, and specifically women miners, for whom this is a problem in many nations around the world. By providing gemstone training, easy (and voluntary) access to gemstone buyers, and safety training and equipment, these women miners can make a liveable income on their own terms. This lifts the whole community as they spend their income locally and help to grow the local economy as a whole.
Ethical mining practices With Moyo Gems
The Moyo gems are mined by independent local women and a handful of men. The women miners helped design the Moyo Gems program - how they wanted it to operate, how they wanted to be paid, and what they hoped to accomplish. All the initiatives to give back to the community are also chosen by the female miners.
HOW THE PROGRAM WORKS:
The women miners sign up for free, go through worker safety training, receive free gemology training, and Moyo Gems helps them secure legal mining rights.
When they find gems, the female miners can sell into the Moyo Gems program or they can choose to sell elsewhere. The miners negotiate with the assistance of an experienced broker that they select, and all miners make 95% of the export price of their materials. The broker makes 5%. According to the miners, they are making 3-10 times what they would expect to make selling gems outside of the Moyo program.
PACT (an international NGO) oversees the entire program and makes sure that the miners are treated well, paid fairly, and have access to education and training resources to empower the women as miners and entrepreneurs.
All women miners are members of the Tanzanian Women Miners Association - a trade group founded, led, and made up of women miners across Tanzania. The group works to fight discrimination, advocate for better laws and services, and help reach the most remote miners with the fewest resources.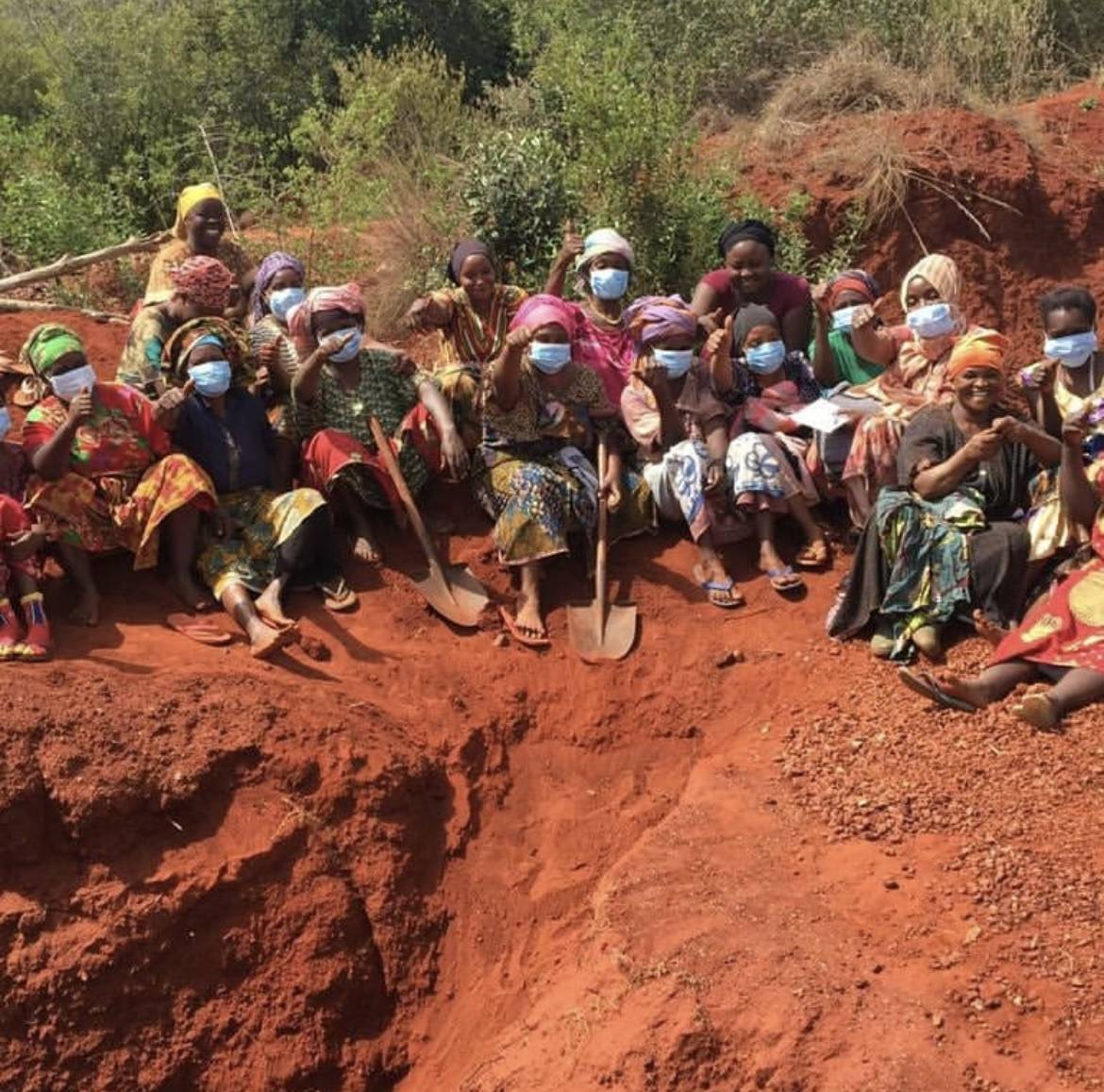 How are the Moyo Gems traceable?
The Moyo-approved miners are invited to participate in 'market days', with vetted local brokers. All sales are voluntary and it's up to the miner whether to sell through the Moyo system or not.
Once sold, the stones are bagged in branded tamper-proof bags, duties/taxes are paid by the approved exporter, and the gemstones are delivered to program trading partners, and then onto us. This important because Moyo Gems are traceable with documentation to us and ensures we can be a truly ethical supplier for t
We buy from one of Moyo's trading partners, Maison PIAT - a highly esteemed gem house in France – they are fully RJC (Responsible Jewelry Counsel) certified and they are one of three companies with access to Moyo gemstones right now. To become RJC certified, your program is fully audited, and while no system is perfect, RJC is one of the primary industry councils that holds weight because they are very thorough. This gives us confidence in the Moyo process and their traceabilty.
Why do you love Moyo Gems?
There is an incredible spectrum of spectacularly beautiful colors – from very vibrant pinks, purples, blues, oranges and teals to really distintive smoky grey-greens. I love the smokiness in the colors and their mesmerizing color-change qualities. These beautiful gems really showcase the variety of colors in gemstones from this region.
What does this collaboration mean to you?
Catherine Cason and I have been collaborating since 2016 – we've had the pleasure of working together on some amazing projects with some really special people.
We wanted this collaboration to be centered around meaning rather than a stone shape or design aspect. The vision behind Misfit is a company that partners with people downstream and upstream in the supply chain to help create positive change and raise the standards of what sourcing looks like. This year, I was introduced to the Moyo Gems program through PIAT Gems, and it embodies everything we want for the future. They're focused on female economic empowerment and education and are raising the standards for traceability and ethical mining conditions. And the fact that our entire design team for this chall is also female makes this pop-up feel very special.
These designers are all such phenomenal talent with their own unique aesthetic. Each one of these ladies is an independent dynamo, forging their path in this industry.
---
Why did you pick your Moyo Gem?
I love the size, the shape, and the elongated proportions. It has gorgeous color striations at all depths and angles that create an almost iridescent vibe.
What does this collaboration mean to you?
It's very special to team up with a whole group of insanely talented people – we bounce ideas off each other, problem solve, and inspire each other. It's an opportunity to raise everyone up.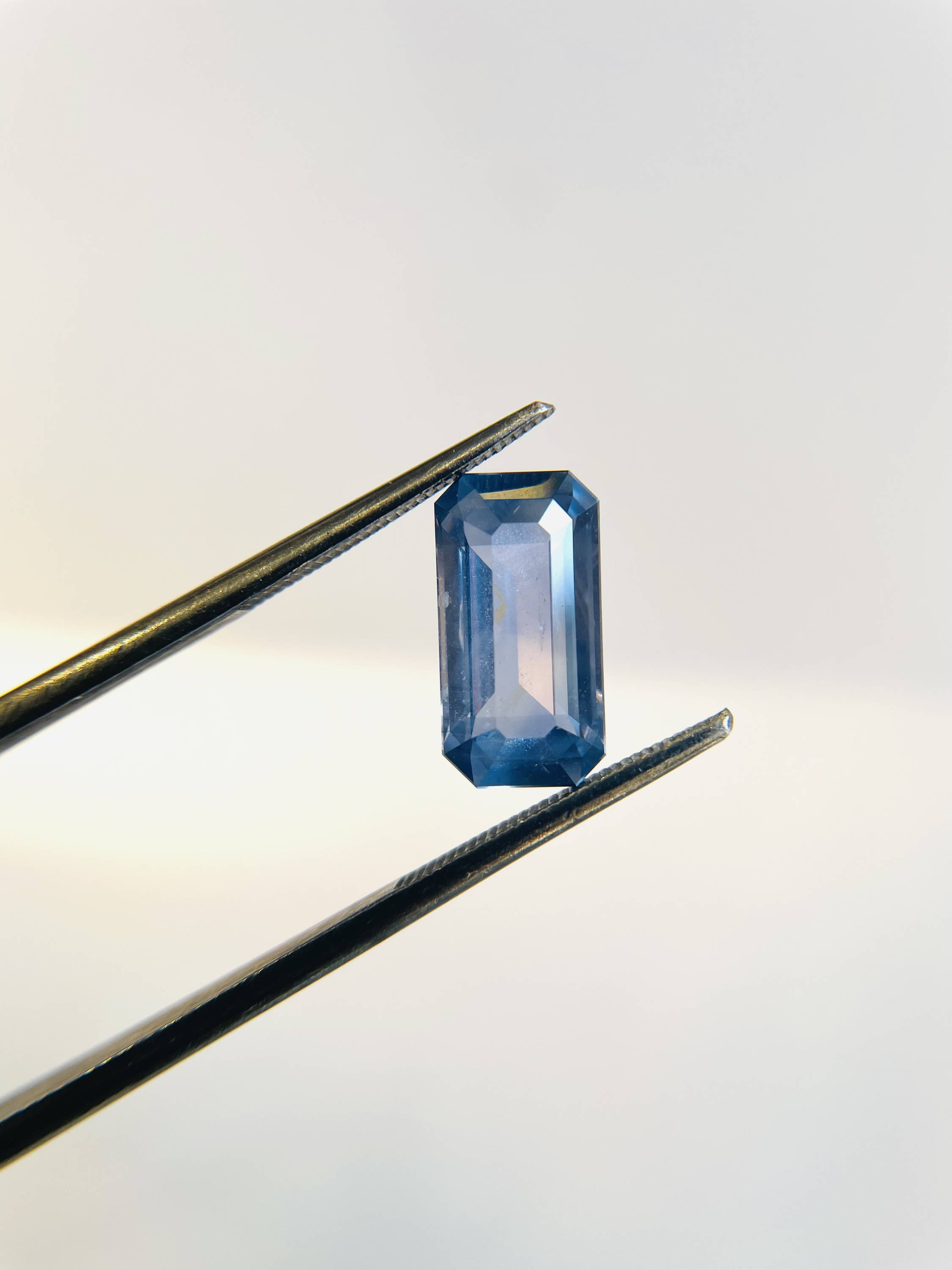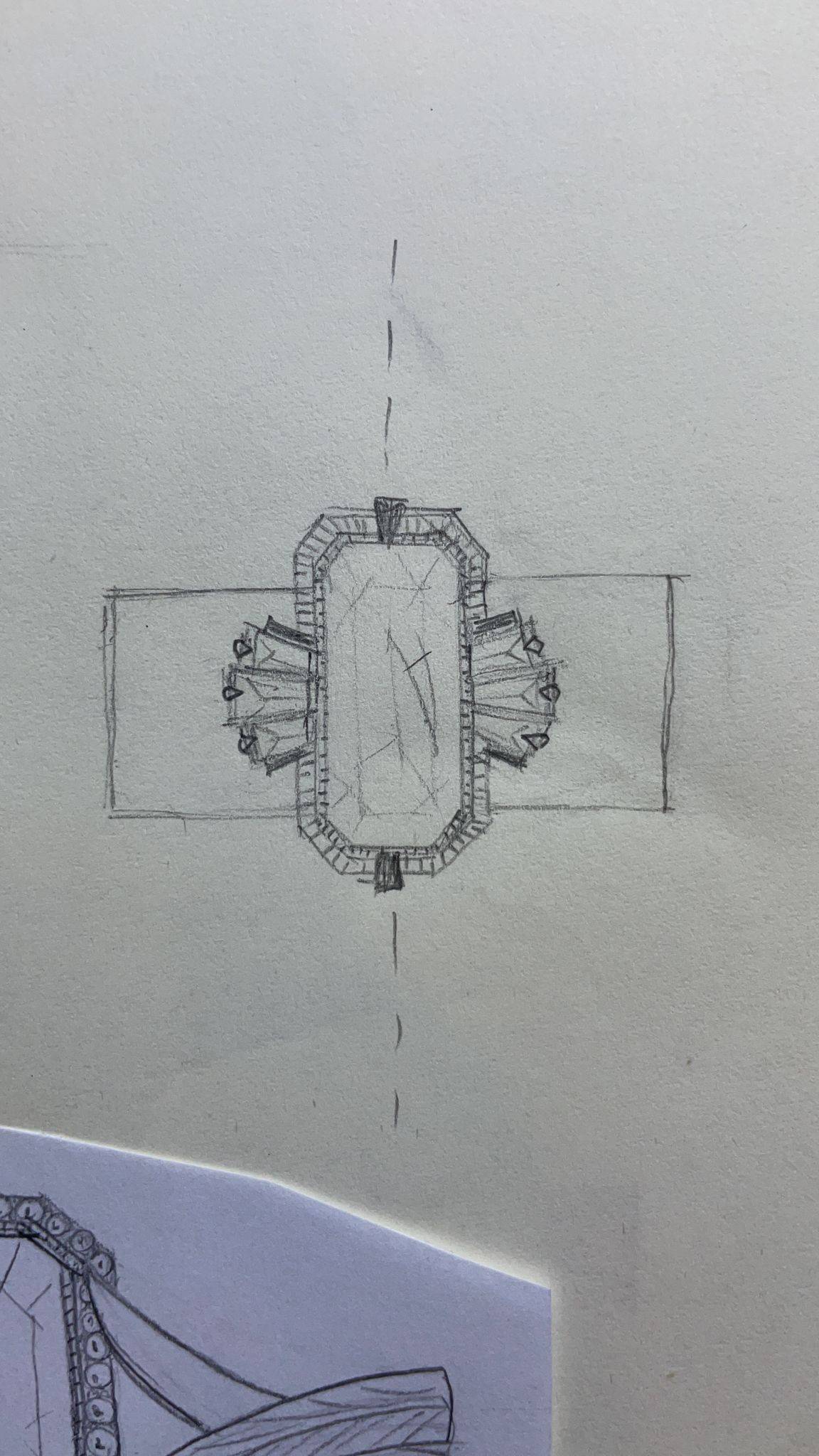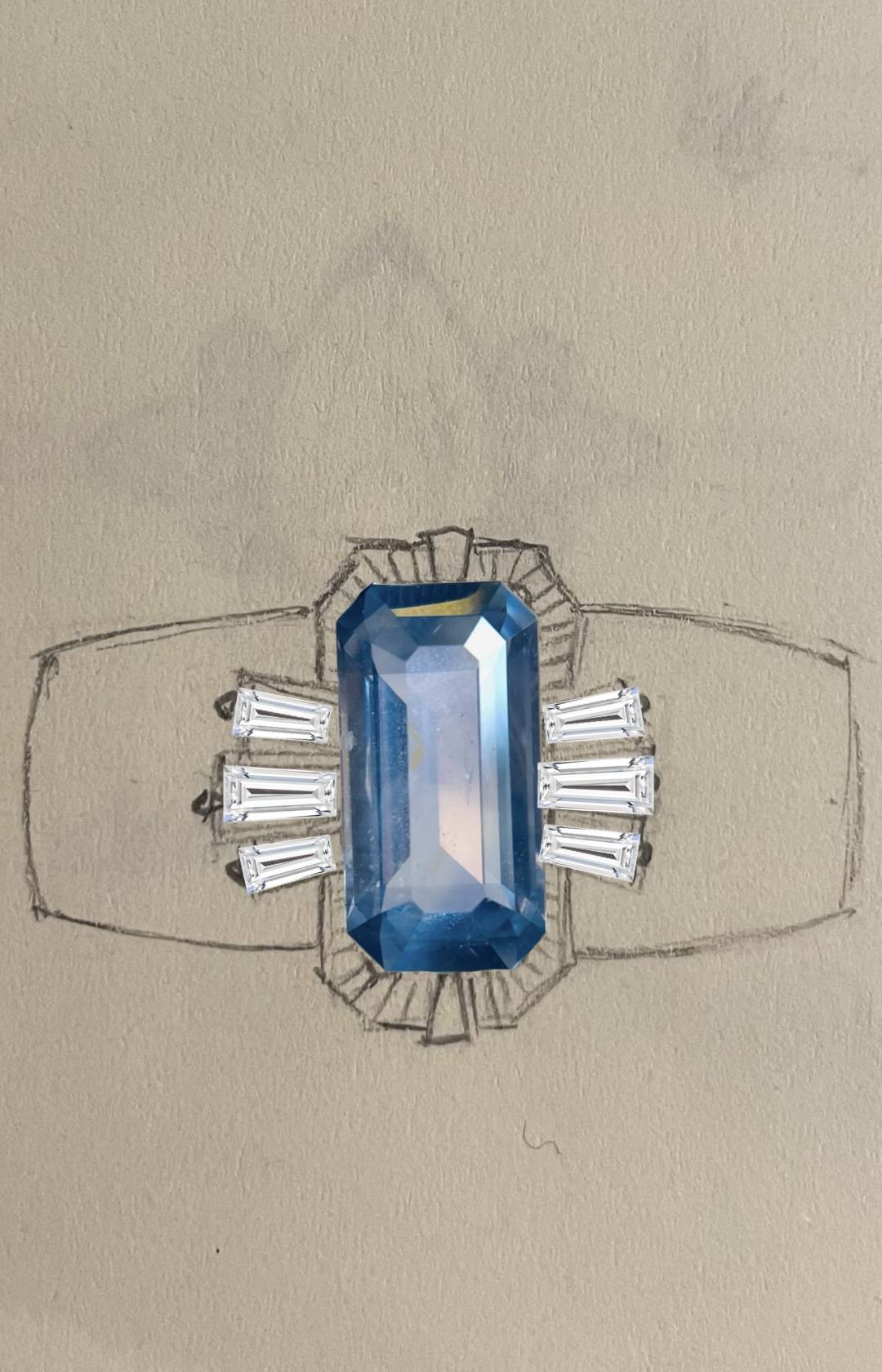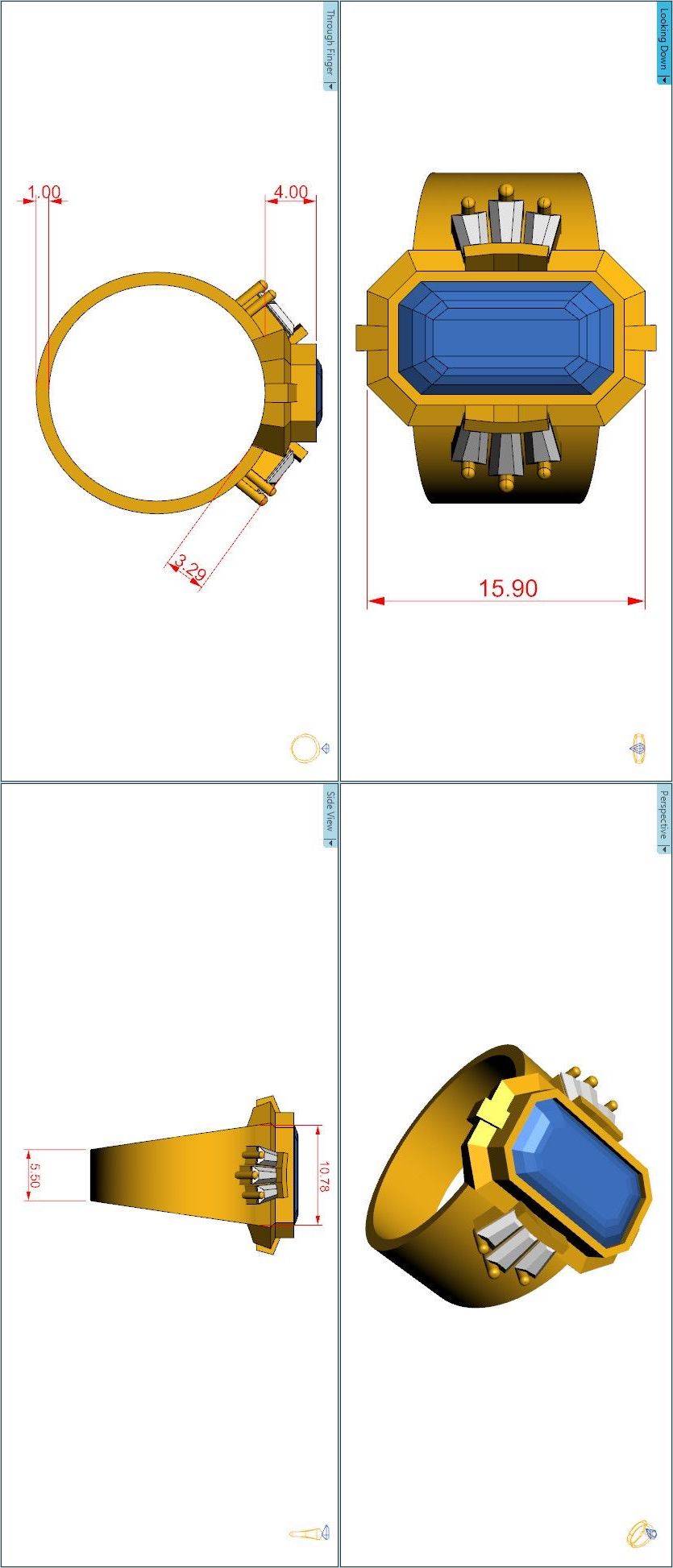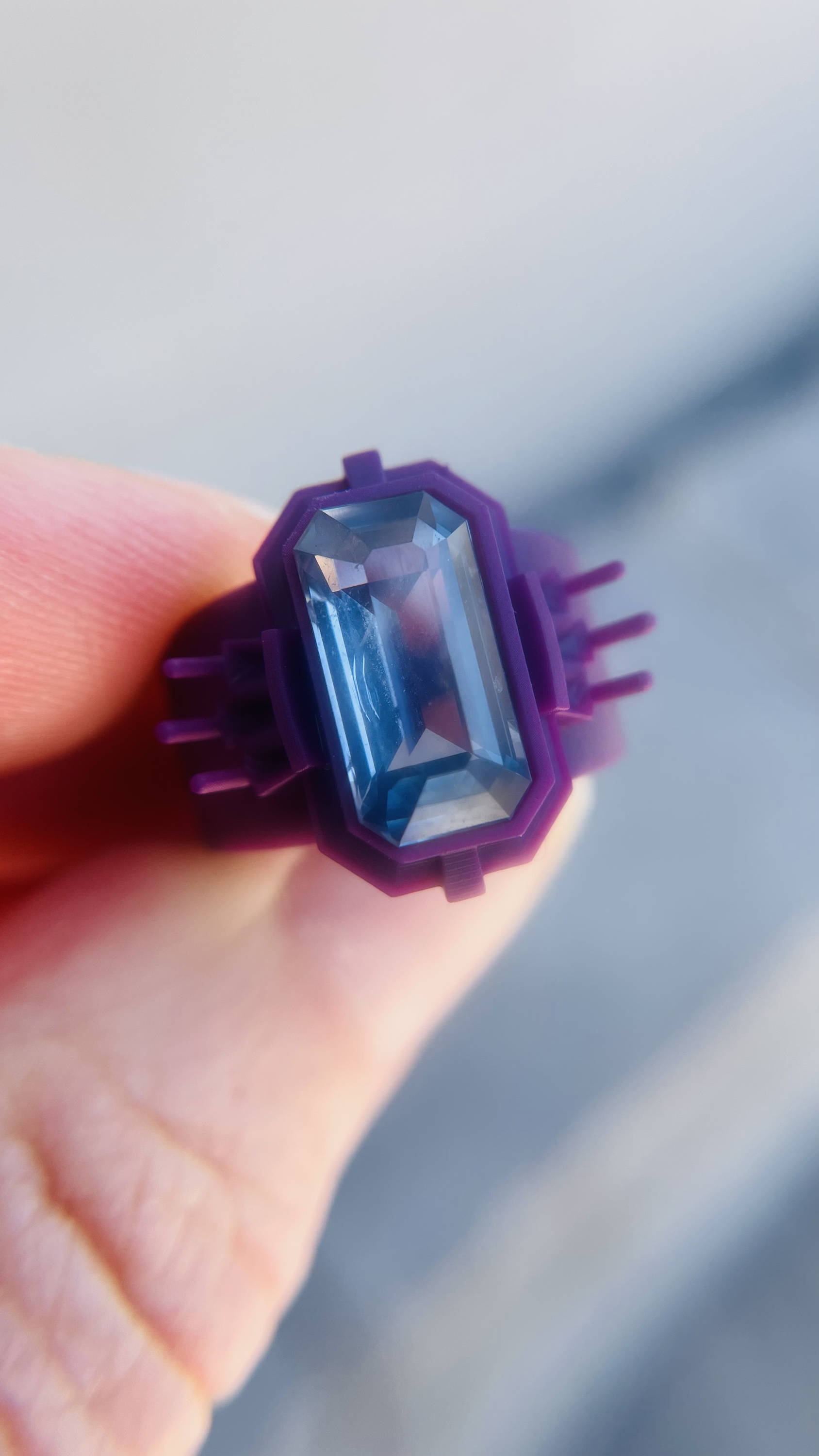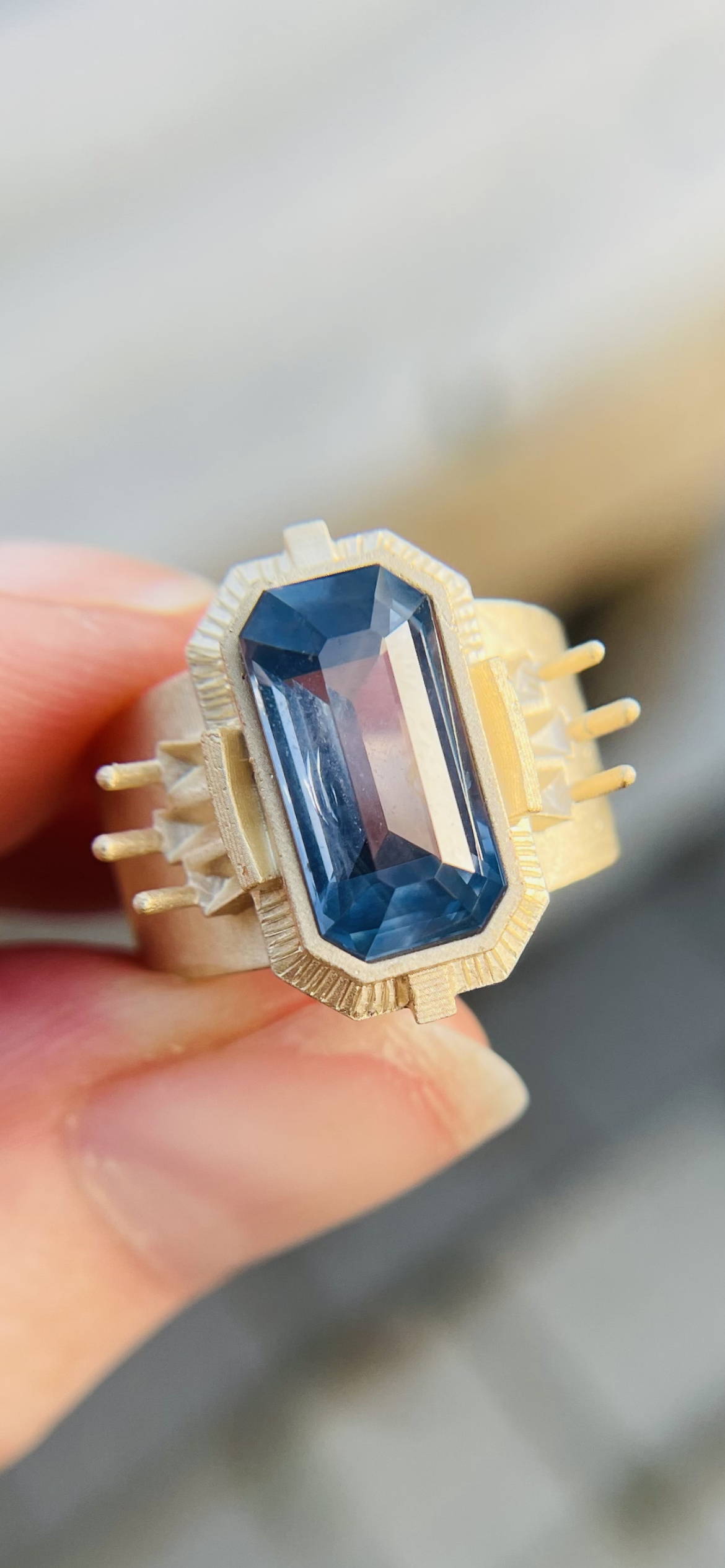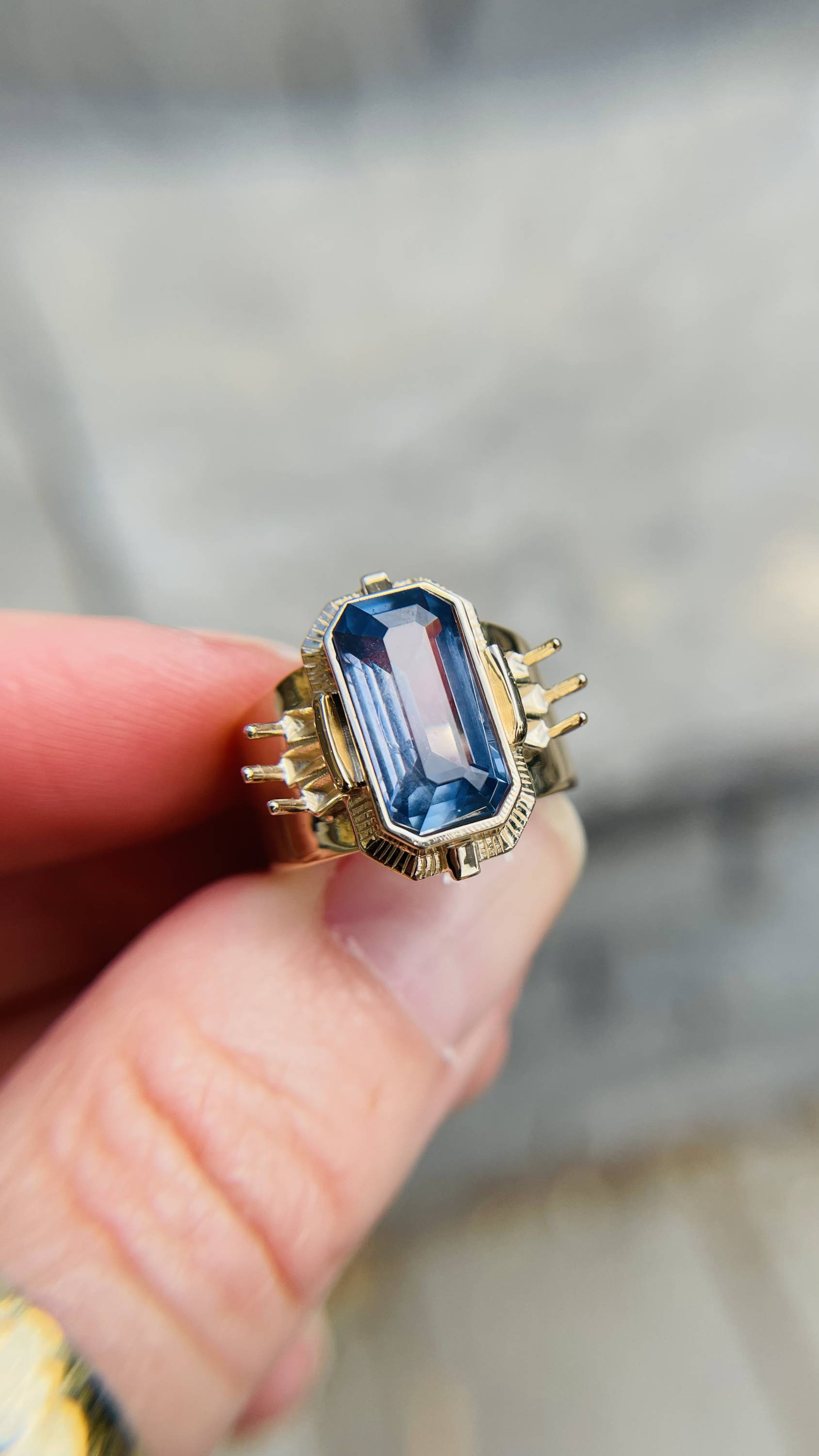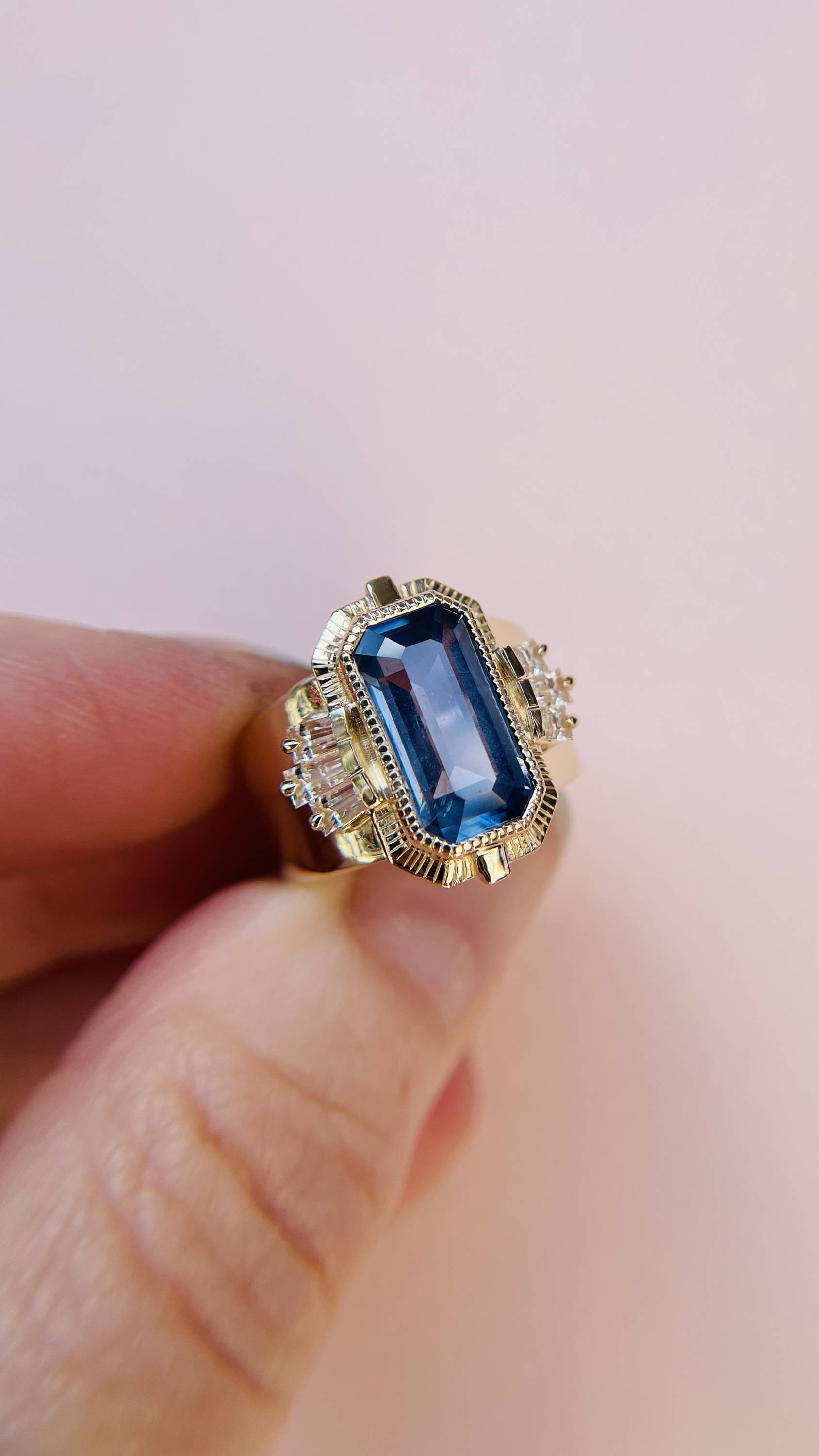 This particular collaboration has extra meaning because of the awareness we're creating about the ethics and origins of Moyo stones. The female empowerment aspect of this project is so exciting – it's contagious. I have two daughters and this kind of message and project is truly powerful for them to see.
What was it like working on it?
When Ash was talking about this collaboration, I got excited for him but I resigned myself to not being part of it since I've been in the past two. Then when I got the email from Cat, I was so excited and honored to take part.  
Sometimes, I get really excited about a project but struggle to actually sit down, hash out all my ideas, and sketch. With this project, I jumped right in - zero difficulty getting to sketching.
THE DESIGN PROCESS
Sit down with the stone and ideate.
Create sketches
My CAD partner and I work things out to within 0.1 of a mm.
Then, the wax model is created – I added in some of the engraved details at this step.
Lastly, the ring is cast and polished, the stones are set, and it's polished again.
Is there a special meaning behind your piece?
These wider bands are sort of touchstones. When I made my first one, I wasn't seeing what I wanted to see in the industry so I decided to make it happen for myself. It came from a place of power – I realized I can create the opportunities I want to see.
I call my best friend 'my lighthouse' because she's everything for me – she's the ground I need to stand on in many ways. These rings are kind of like that – if you're going through a tough time, or you accomplished something special, this can be a reminder to keep going, continue on your path, or maybe change directions and stand in your strength.
Did you know what you wanted to design right away?
I drew 8 ideas and had a hard time deciding - they were all exciting to me. I put it to the group and they helped me narrow things down. That's another great aspect to this collab – everyone can play a small role in the magic of it all.
For the past few years, I've been making more of these big chunky pieces despite everyone doing incredibly dainty jewelry. This pop-up was the right opportunity to finally make one of my signature wide bands for Gem Breakfast. I love making something substantial that will last a lifetime, something that feels powerful and significant.
Tell us about the finished design
It's a 3.53 carat blue sapphire with slight purple and sometimes peachy hints. It's bezel set with a gorgeous layer of milgrain around the center, and the center stone is flanked by custom cut white baguette sapphires – graduated in size so they fan outwards. They're surrounded by a hand-engraved halo of sun rays. It has a wide but tapering gold band for comfort.
---
EMILY GILL BESPOKE JEWELRY
What does this collaboration mean to you?
These collabs are so important and impactful for us designers who don't always have access to a shared community. We all uplift and inspire each other throughout the process.  
These pop-ups also empower us to create something original that speaks from our heart, something that doesn't need to conform to the basic trends in the jewelry world. It's an opportunity to do something different and try to push ourselves as designers – and the rings that come out are just extraordinary.
This Moyo pop-up is extra special – I've done a lot of research into what the Moyo project provides for female artisanal miners and it's amazing. There is so much being done to empower and support female miners. I wish every stone I sold had a story like that.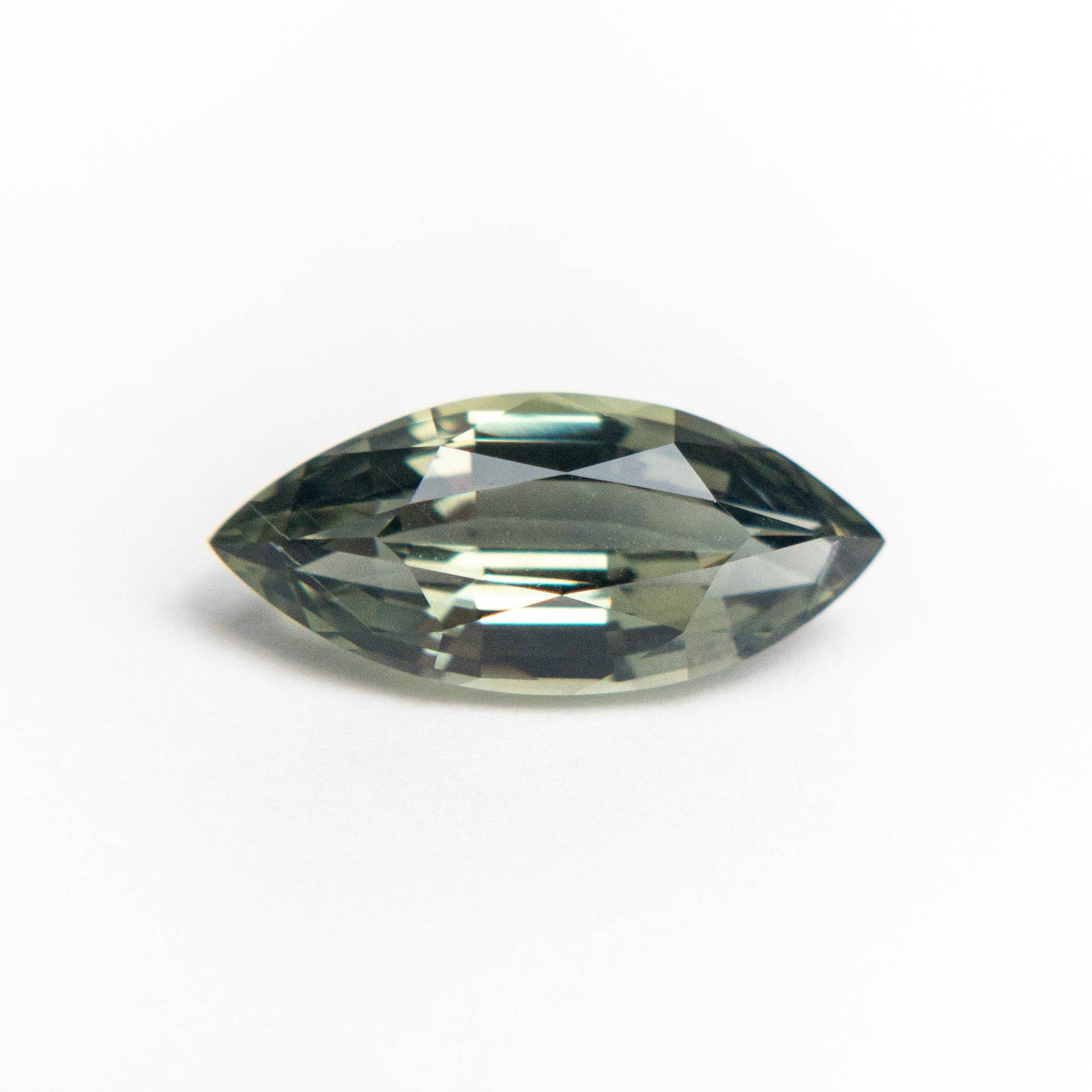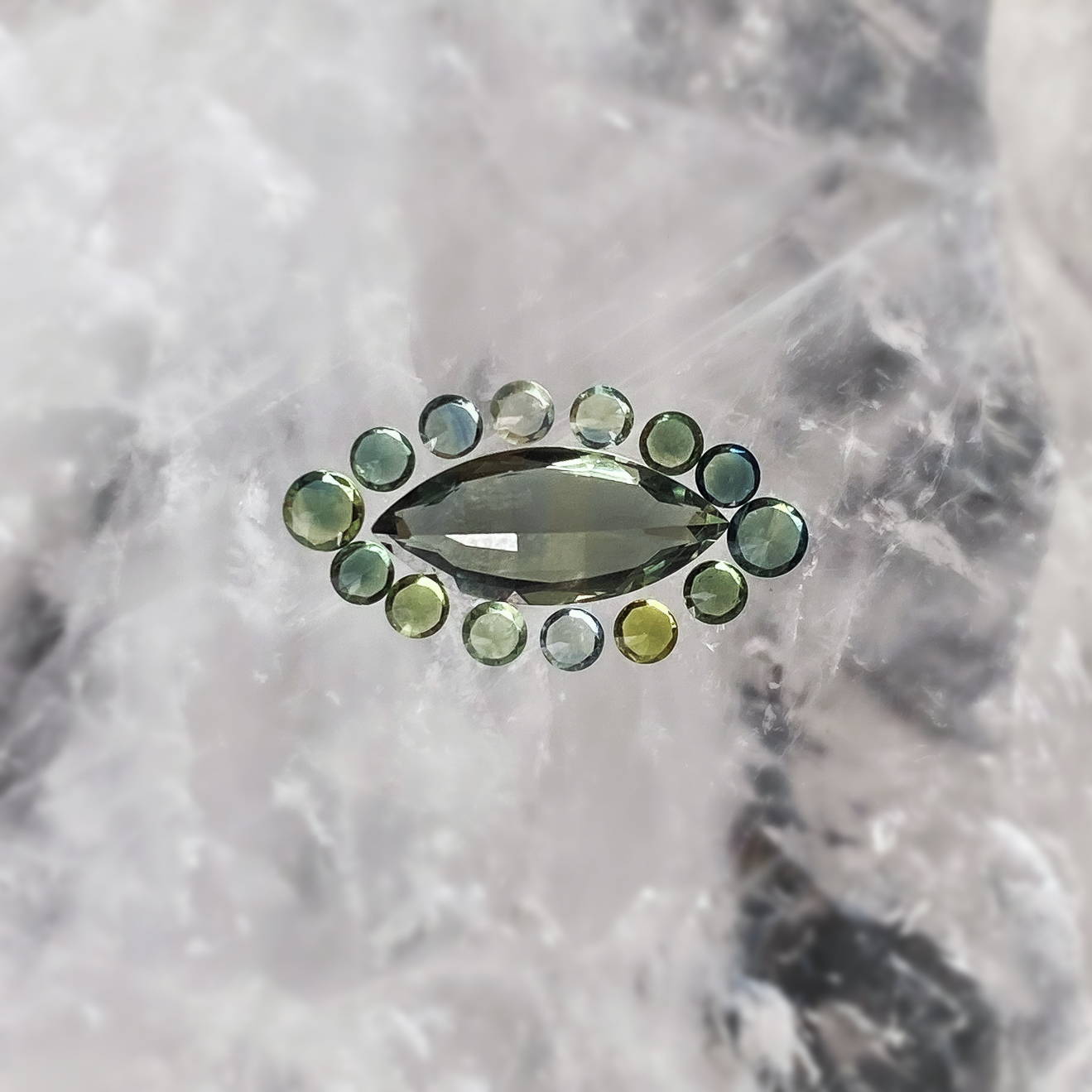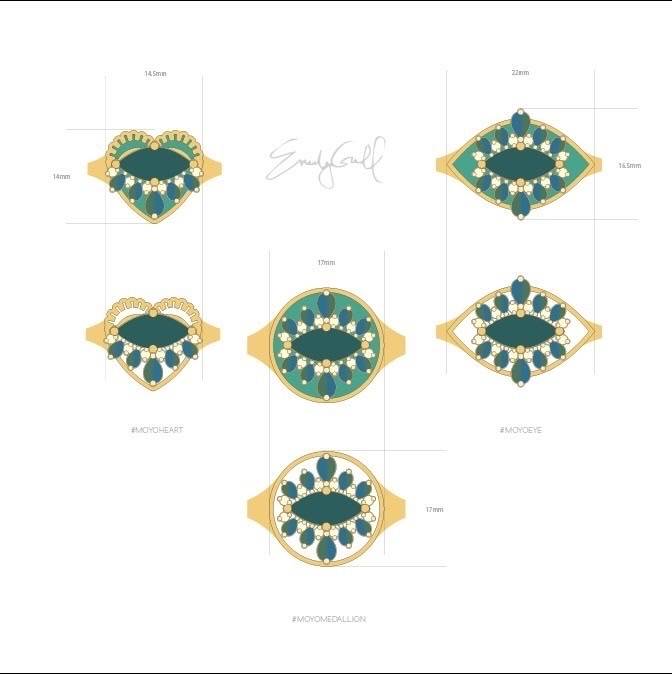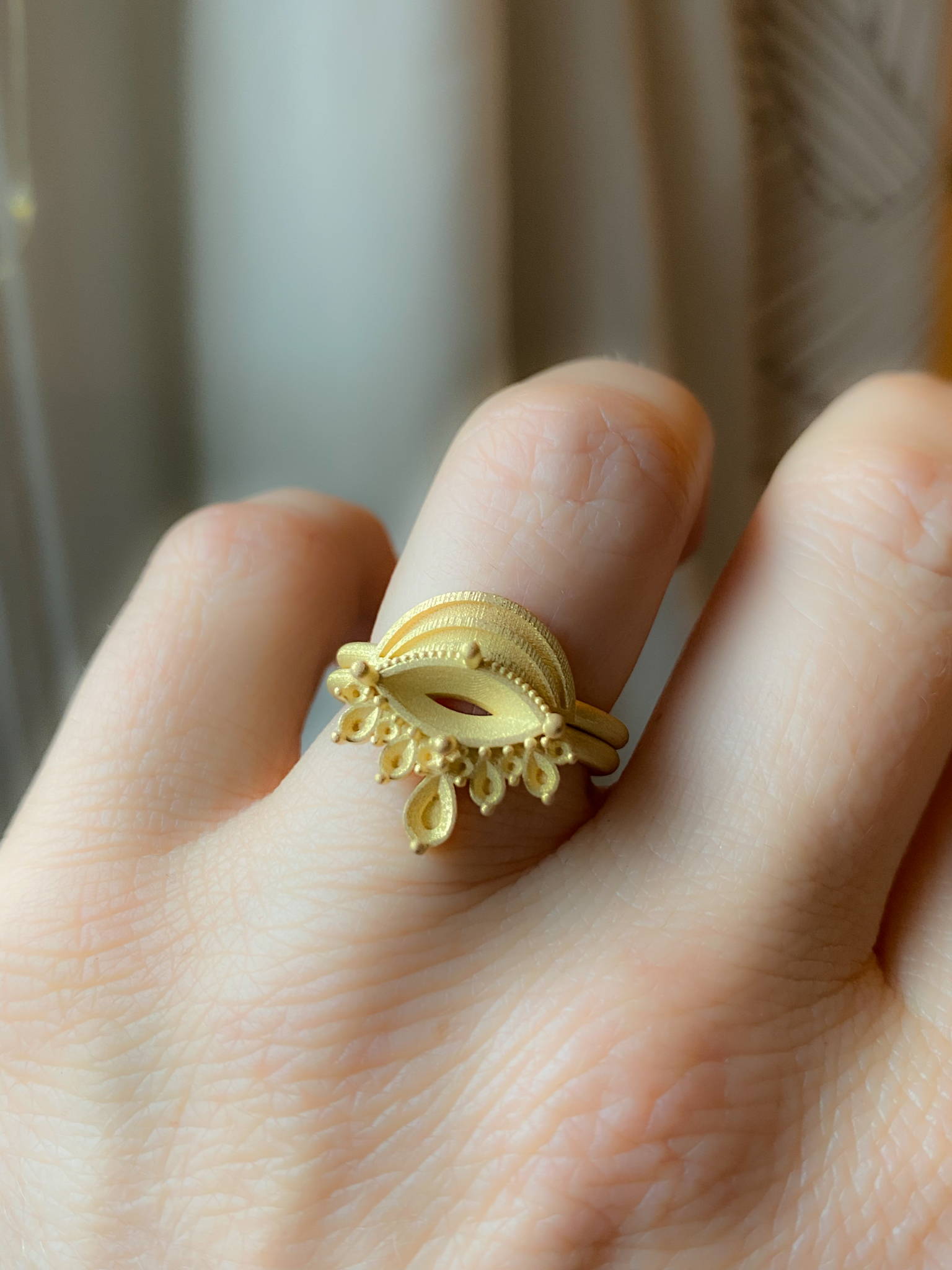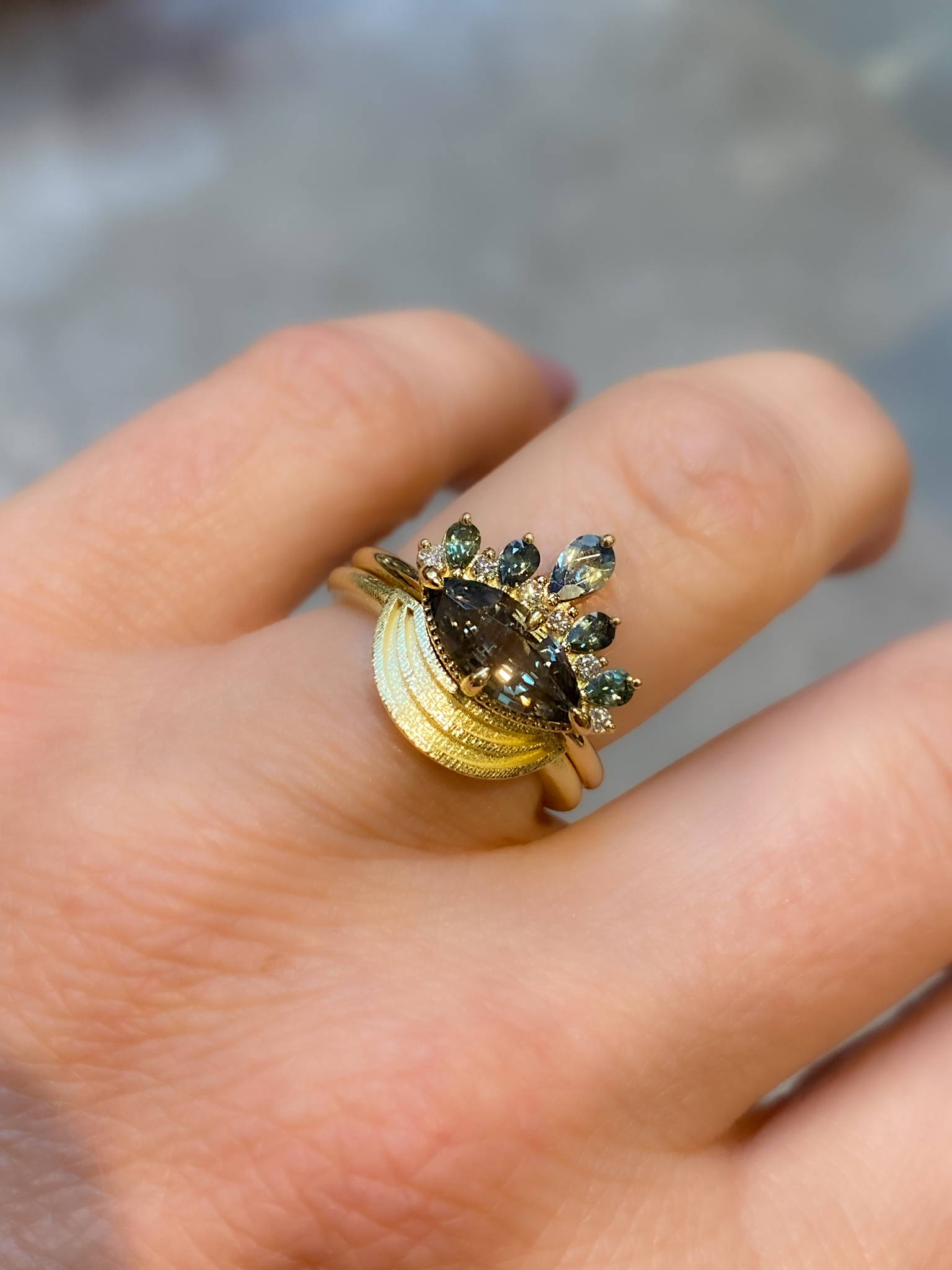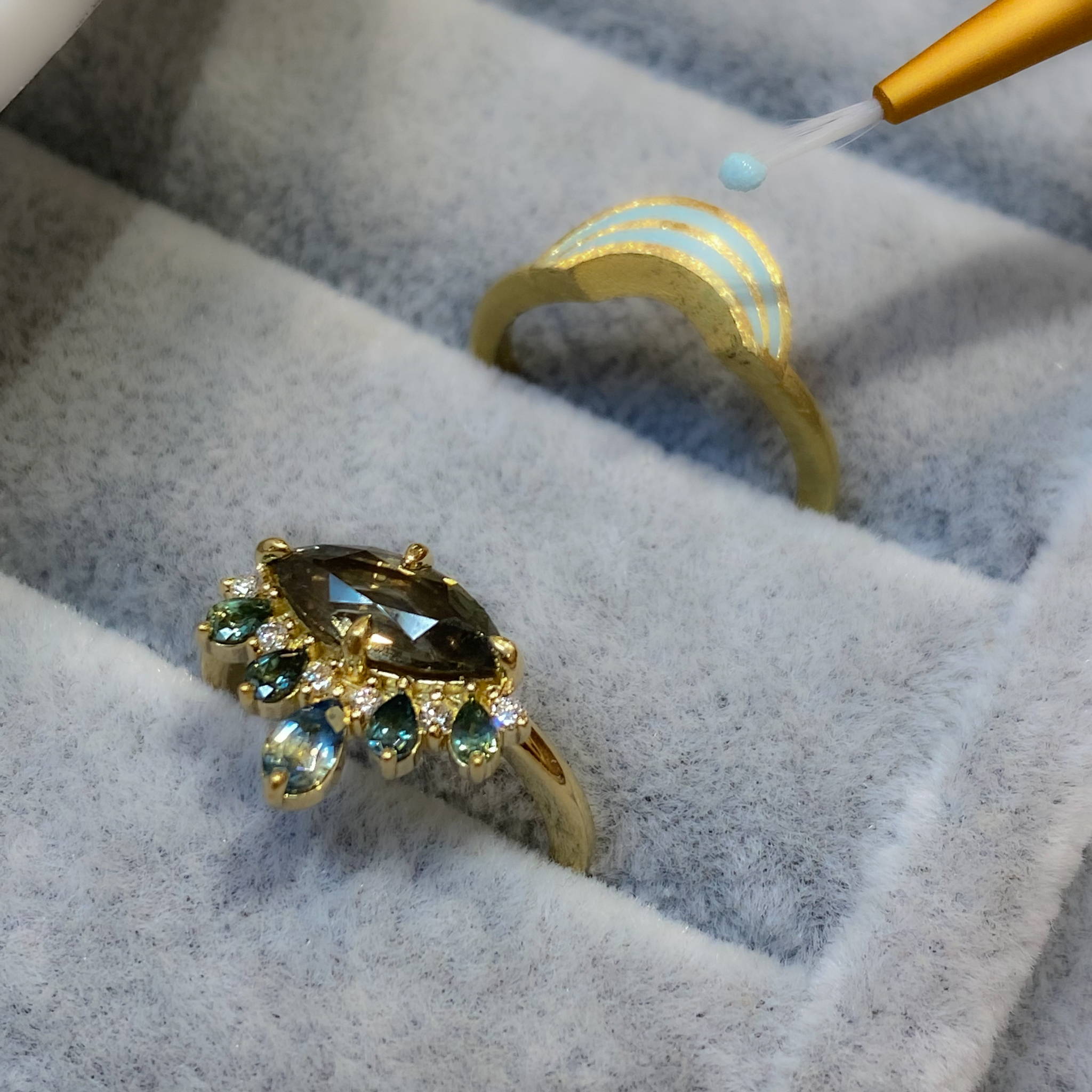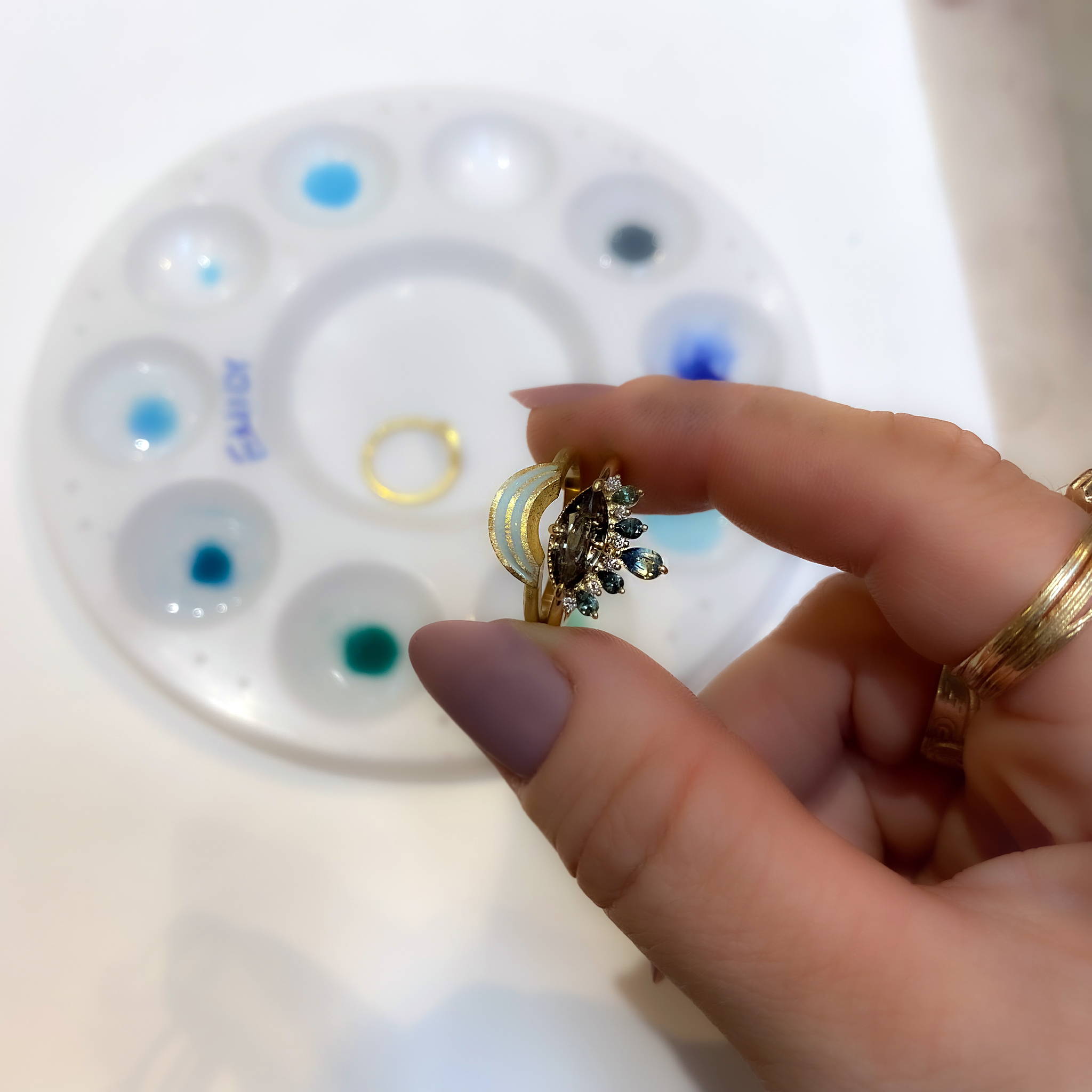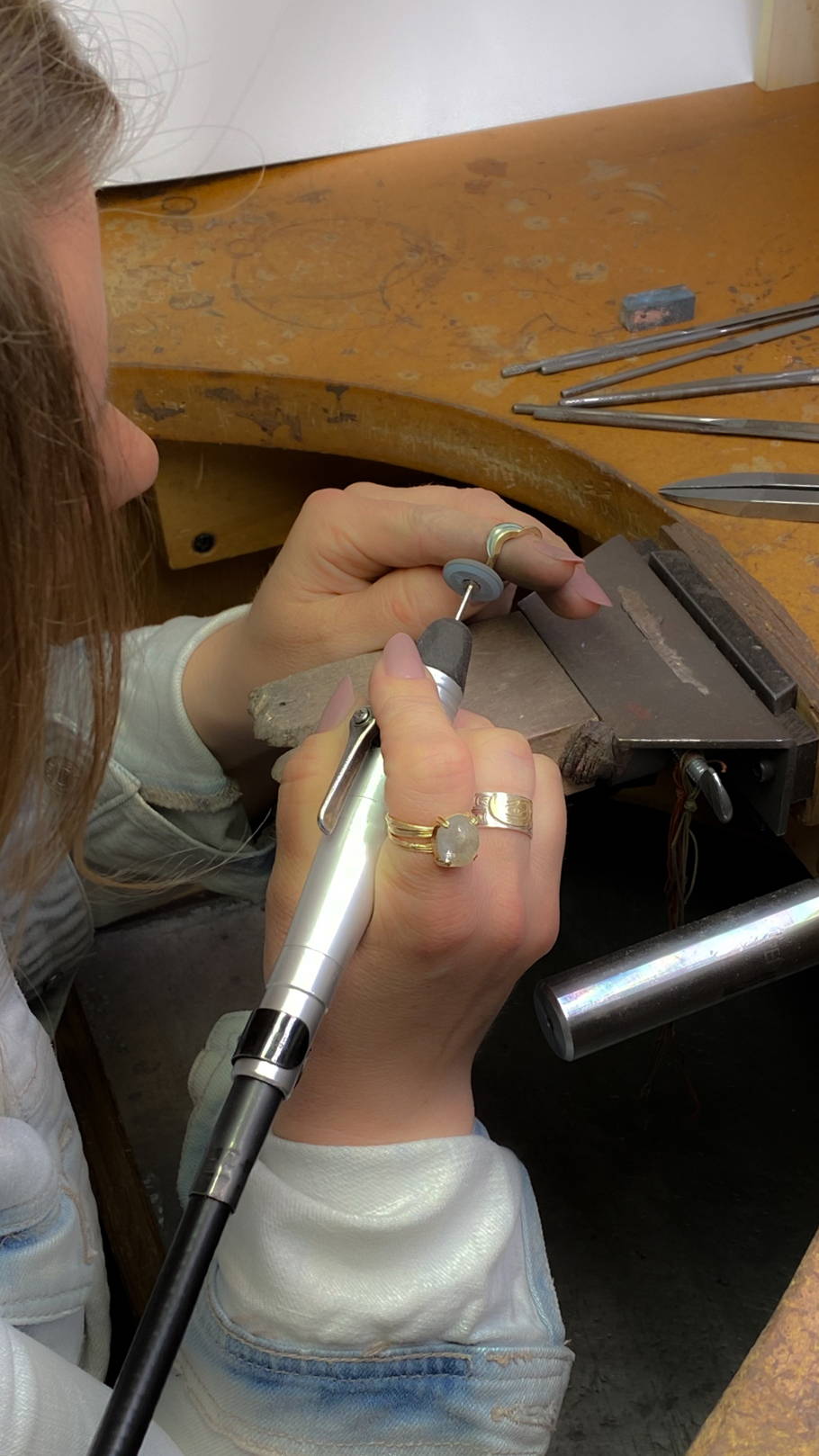 Why did you pick your Moyo Gem?
I love a marquis and this one is green with an earthy feel – I immediately thought of how I could play up the green in the stone with enamel.
When I got the stone, I realized it's a color-change sapphire! It starts out moss-green, and under incandescent light it morphs into a purple tone - that was a twist that made things tricky.
With that surprise in mind, the theme became the unexpected. Usually I design a ring on the second day, and then I commit. But this stone was moody and I didn't know how to handle the shifting colors. It was a new experience for me.
What was it like working on it?
I started with three different designs and I ran them by the whole group. I took in people's feedback, but in the end, I changed the ring almost entirely.
In line with the unexpeted theme, at the last minute, when I was enameling the band that goes with this ring, the motherboard on my digital kiln died! So, I had to torch-fire the band instead. That means I used a jeweler's torch to melt the glass onto the band with a flame – the most ancient way to enamel. It worked and it looks beautiful and I'm very proud of how it turned out.
Is there a special meaning behind your ring?
I love when people create their own story or symbolism with my rings, but for me, the eye symbolizes authenticity – like the honesty and connection you can feel with direct eye contact. I also love the meaning behind eyes in mythology and design – they're always emanating a lot of power.
Tell us about the finished design
The Moyo marquis sapphire is set east-west to give a lot of finger coverage and the five pear-shaped Australian parti sapphires look like lashes or tears crying out. There's a lot of nuanced color in the ring that truly reflects Mother Nature.
The enamel band (which I made as part of the set) is a beautiful arch of turquoise color and finishes off the inspiration of an antique evil eye.
Together, the rings are a talisman, an heirloom - they're little sculptures to me.
What was your inspiration?
My Moyo sapphire made me think of the important people that got me obsessed with jewelry when I was younger – I knew I wanted to nod to them. One of those people was a sweet, eccentric 73-year-old lady who I worked for in her Montreal bead store. She was Jewish-German but moved to Peru during the war - she brought all the beads and buttons from her grandmother's Berlin bead store with her. When they later moved to Montreal, she opened a new bead store with her collection.
She collected a lot of eclectic pieces from all over the world – it was an almost historic collection of jewelry. The first time I ever saw evil eyes was when I was 15 in her shop – it was a Turkish evil eye.
So, when I was making this piece, I was thinking of her and how she influenced me as a teenager to appreciate all kinds of jewelry from all over the world – Afghan jewelry and African trading beads (which are so valuable), and ancient indigenous pieces. She's a part of this ring with the eye theme.
Going even farther back, when I was 6 years old, my mom brought us to Kenya for a month. We travelled to the coast, inland, and to the Masai villages. I remember seeing women in tribes making jewelry with small glass beads. When Catherine told me about Moyo Gems, it brought me back to my very first memory of loving jewelry in Africa. It was very significant in an almost spiritual way.
---
What does this collaboration mean to you?
It's phenomenal. These female miners are badass - mining gemstones is a very tough job and they are doing so much to empower women in their community and beyond. I wanted to celebrate how fierce these woman are - they are doing such a beautiful thing by starting a lineage of woman in this industry – they're changing history. The world is moving forward and opportunities are coming up for people that didn't used to be there. It's a new page in history and it's beautiful.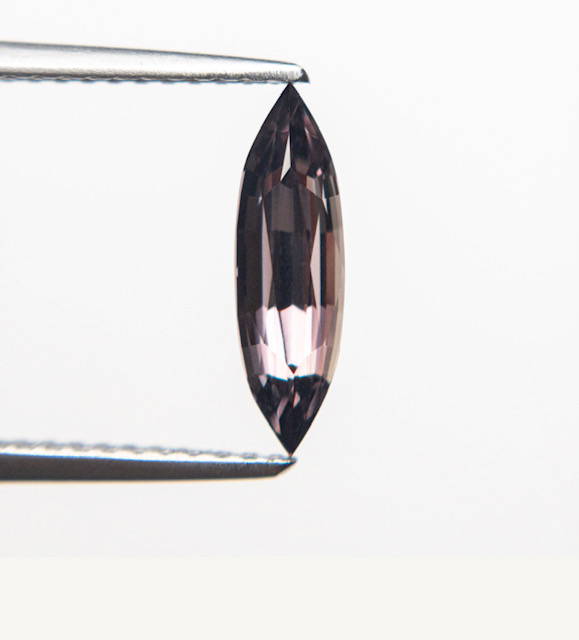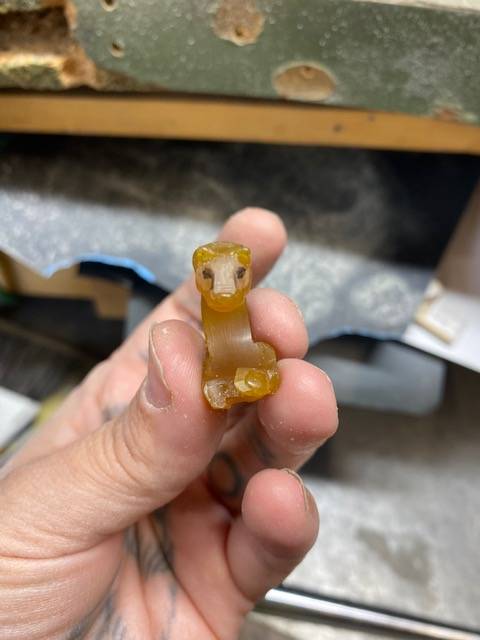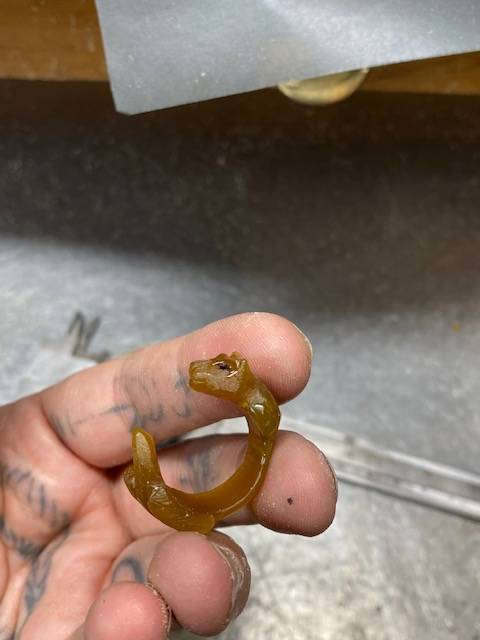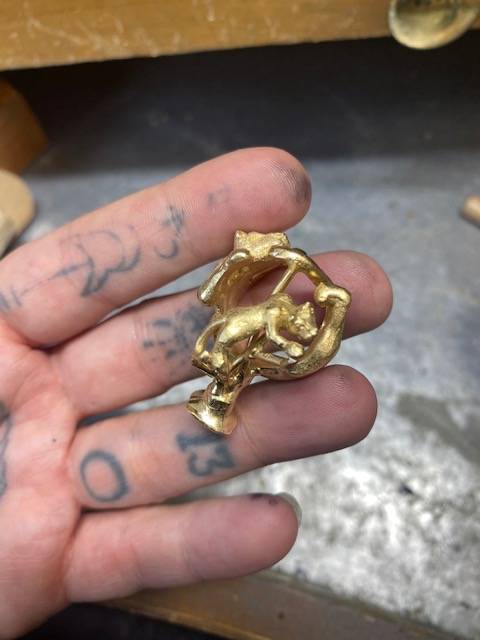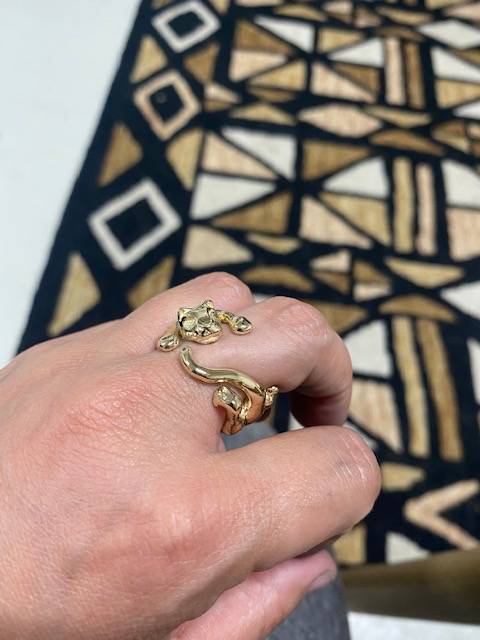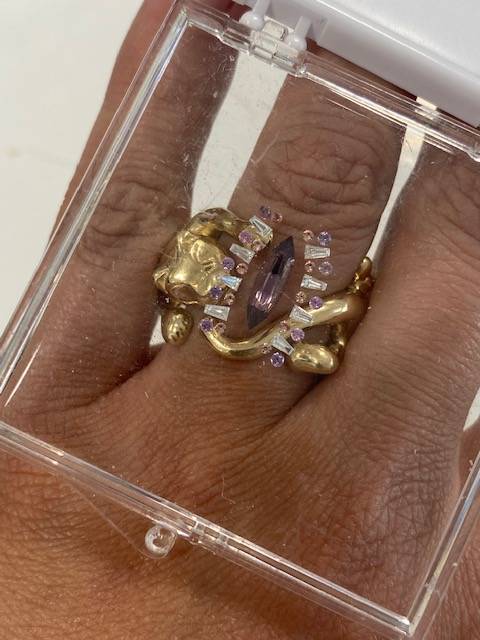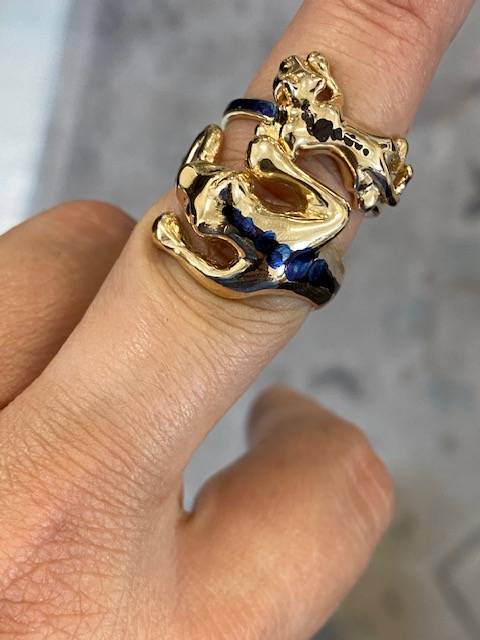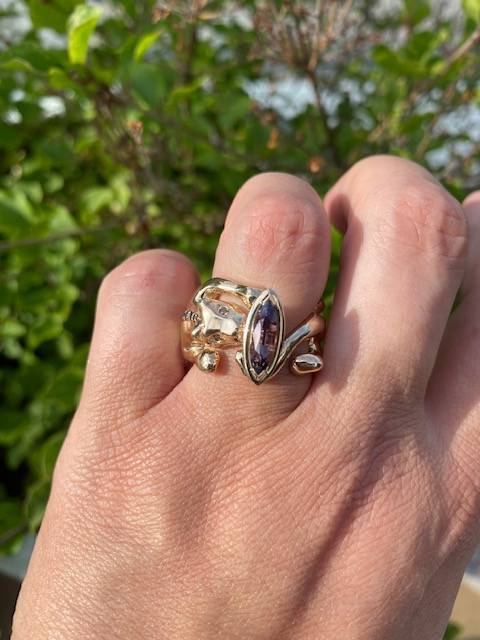 I love working with Cat and Ash and all the other designers that I respect so much – their talent and creativity makes me word harder. I've seen all the rings – they're insane. Every designer here has next-level talent and everyone leveled up this time in a crazy way – it got very creative and exciting.
This collaboration is really about celebrating women in this industry – those amazing female miners, us female designers, Cat who started this all, and Ashkan who's such a cheerleader and supporter of women in Jewelry.
What was it like working on it?
I hadn't hand-carved something like this in years so it was a huge challenge to make this very detailed piece. It was motivational and therapeutic to create it. When it was finished, it looked exactly like my vision and it felt really special.
The whole panther is hand-carved out of wax which took a very long time. I did it in stages – I started with the head first, then the shoulders, and moved to the body. It had no legs for a long time – they were really challenging. The setting was done in CAD and then the pieces were soldered together after some of the tiny stones were set. I lasered the Moyo sapphire in place first and then soldered it.
What was your inspiration?
I thought 'if I wanted to make something to celebrate women, what would it be?'. When I was pregnant with my daughter, I had constant dreams of panthers – they're symbols of guardianship and they're very fierce. That felt like the perfect symbol. And as a mom, I thought how cute to put these cubs with it.
Symbolically, it came from my own journey into womanhood and femininity. It was a celebration of the feminine self – the fierceness and the protectiveness – the journey of a woman in this world.
Tell us about the finished design?
I made two rings. One is a very heavy, solid gold panther that wraps around the finger – it looks like it's crawling around the finger with one foot pushing back and one arm reaching out. It has a black diamond spine and champagne diamond eyes. The moyo sapphire is set in its tail. Under the Moyo sapphire, there's a gallery of white baguette diamonds and some pinky-purple and peach sapphires.
The second ring is a tiny baby cub stacking band that nestles into the mama panther. There's 7 pink-purple sapphires on the band of the cub to nod to the 7 designers.
---
What does this collab mean to you?
I won't lie, I was in tears when Catherine asked me to be a part of this collaboration. I've looked up to the designers that have done past collaborations and was a bit envious when I saw the people coming together and supporting each other. I'm a woman in Toronto who doesn't come from generations of jewelry designers or diamond dealers and I built my business up alone. In the beginning, I saw an industry that was really hard to break into and I always thought it would be lonely for me.
Being a part of this collaboration has made me feel that connection – it's so invigorating to be a part of a community that doesn't want to compete, but instead support and uplift each other.
The most important aspect of this collab is the Moyo program - we're supporting these female miners by bringing these incredibly special gemstones to market and educating people on their origin. So often, we create these beautiful pieces of jewelry but are far disconnected from the real people who work so hard in (oftentimes) marginalized, underprivileged communities. I get praised for this beautiful ring I made, but the people working tirelessly to bring us these beautiful gems don't get any kind of recognition. I'm grateful to be a part of this project where we're highlighting these stones' origin, educating people on the miners, and supporting these communities and these women.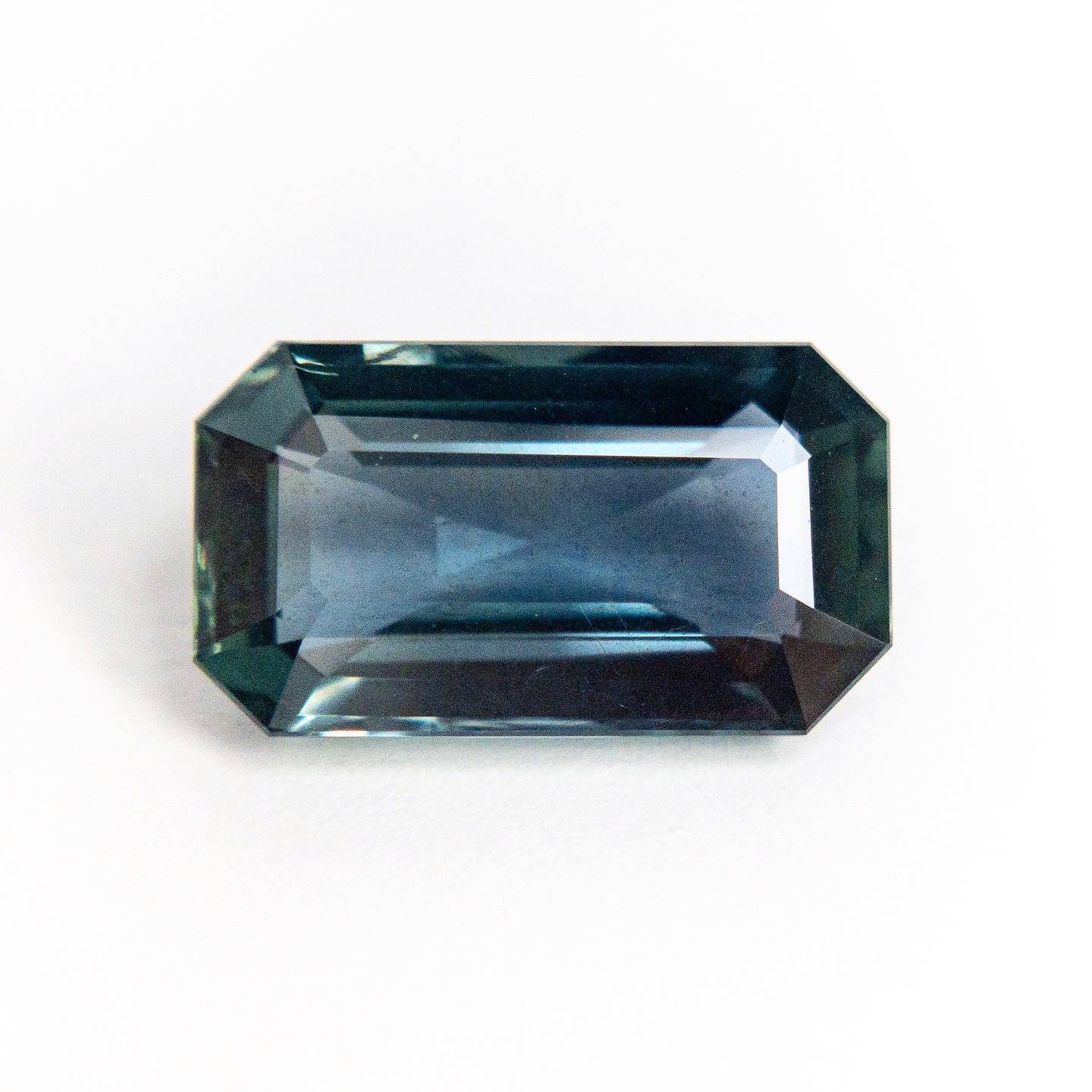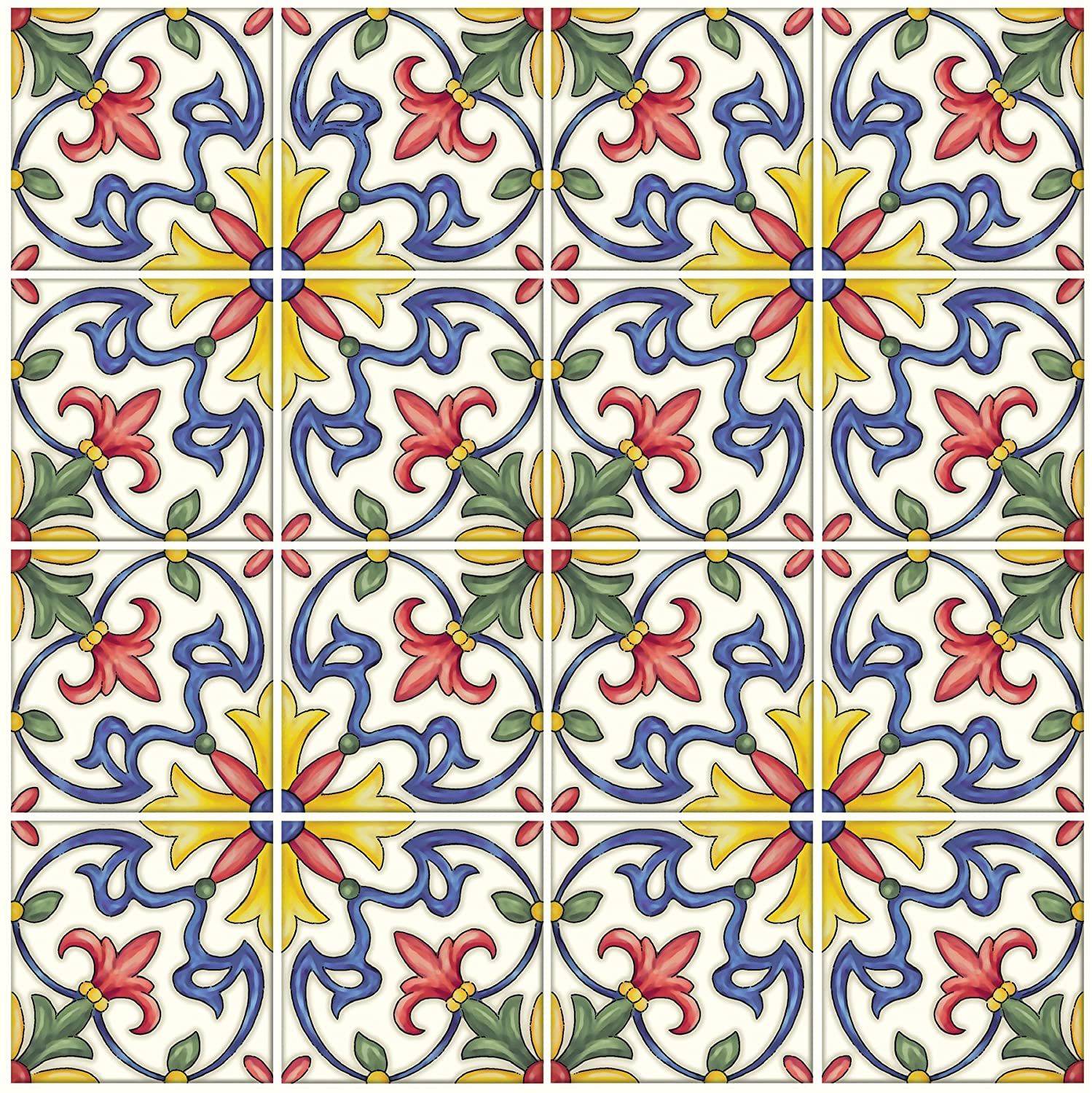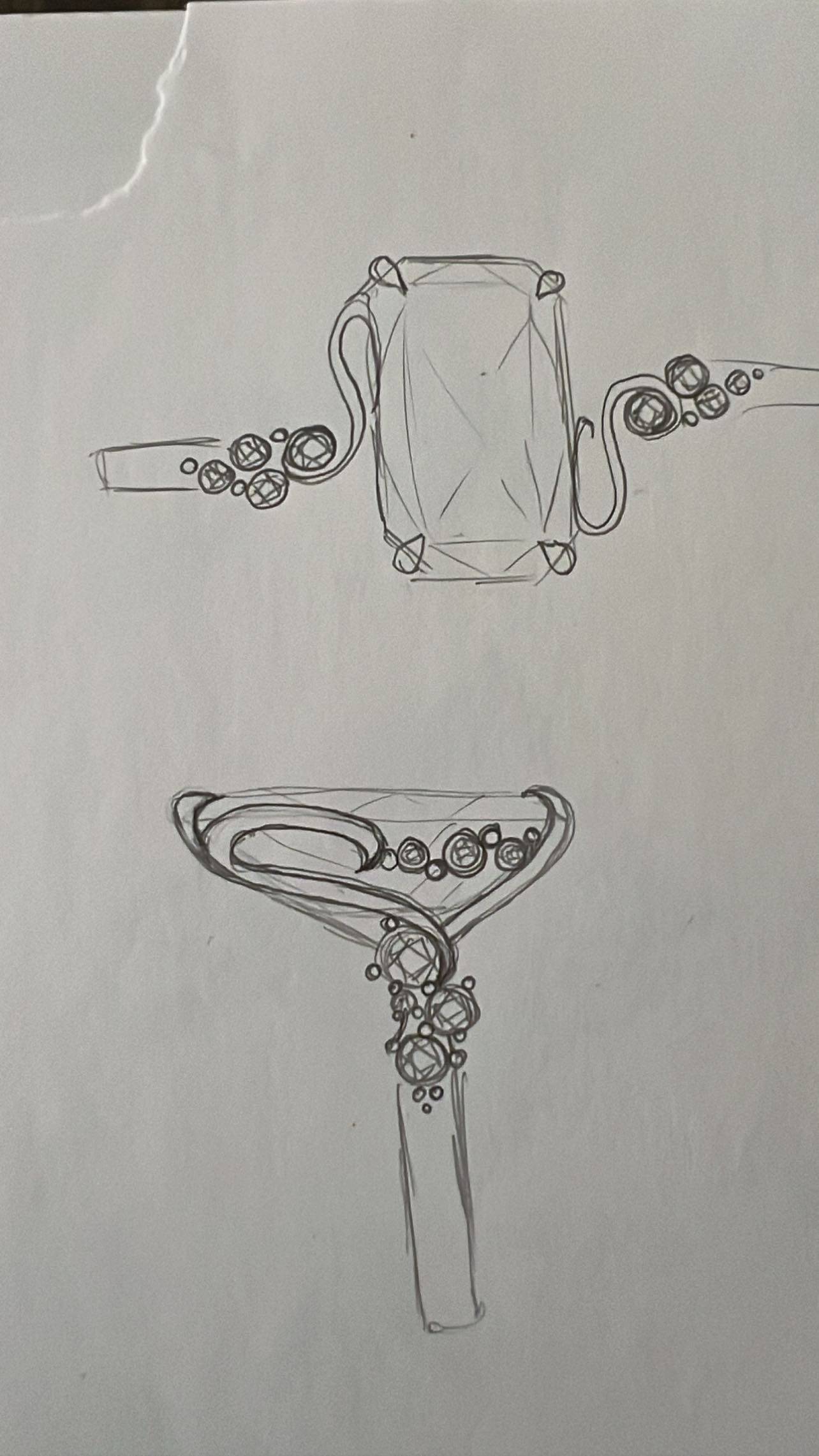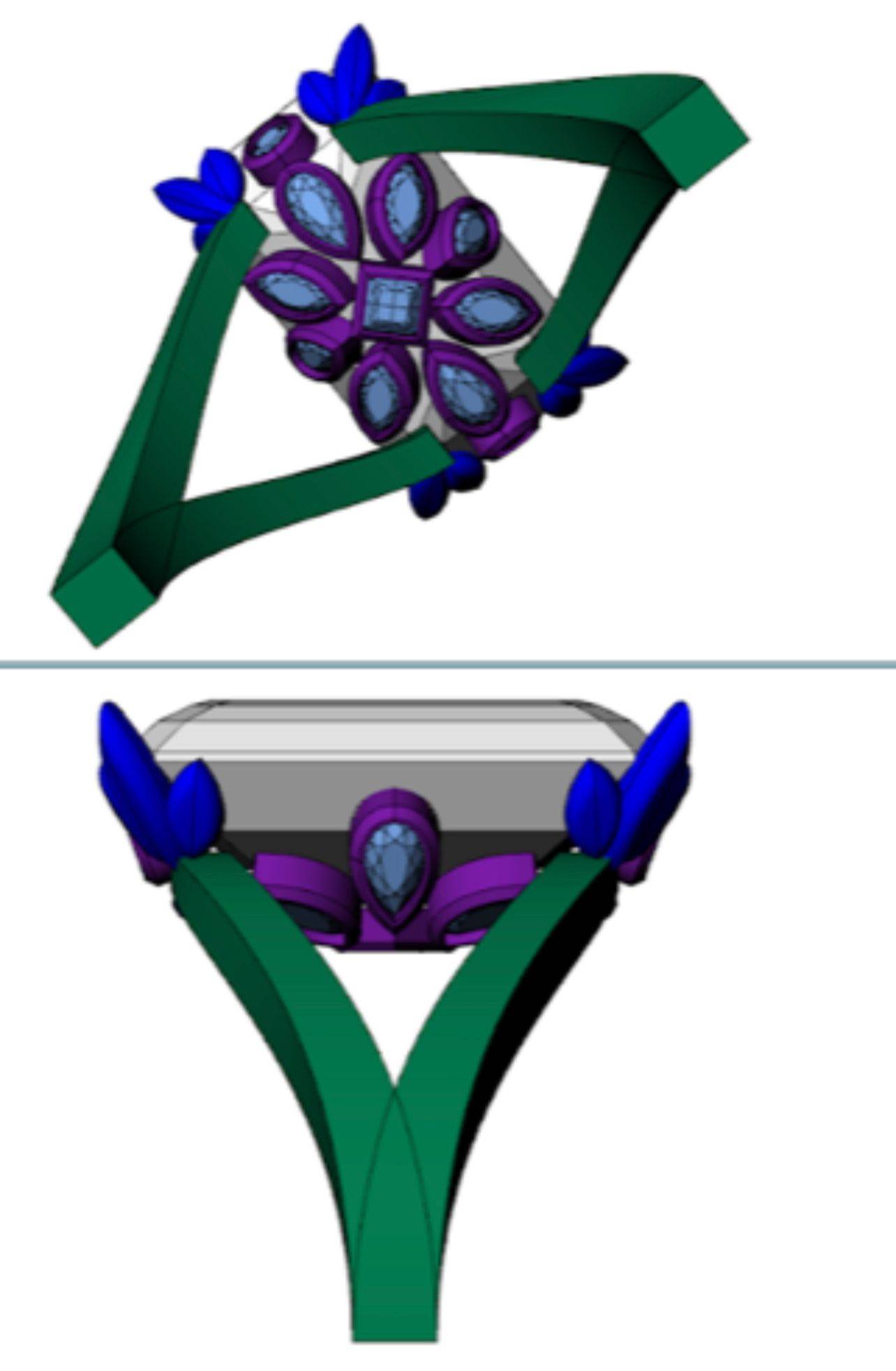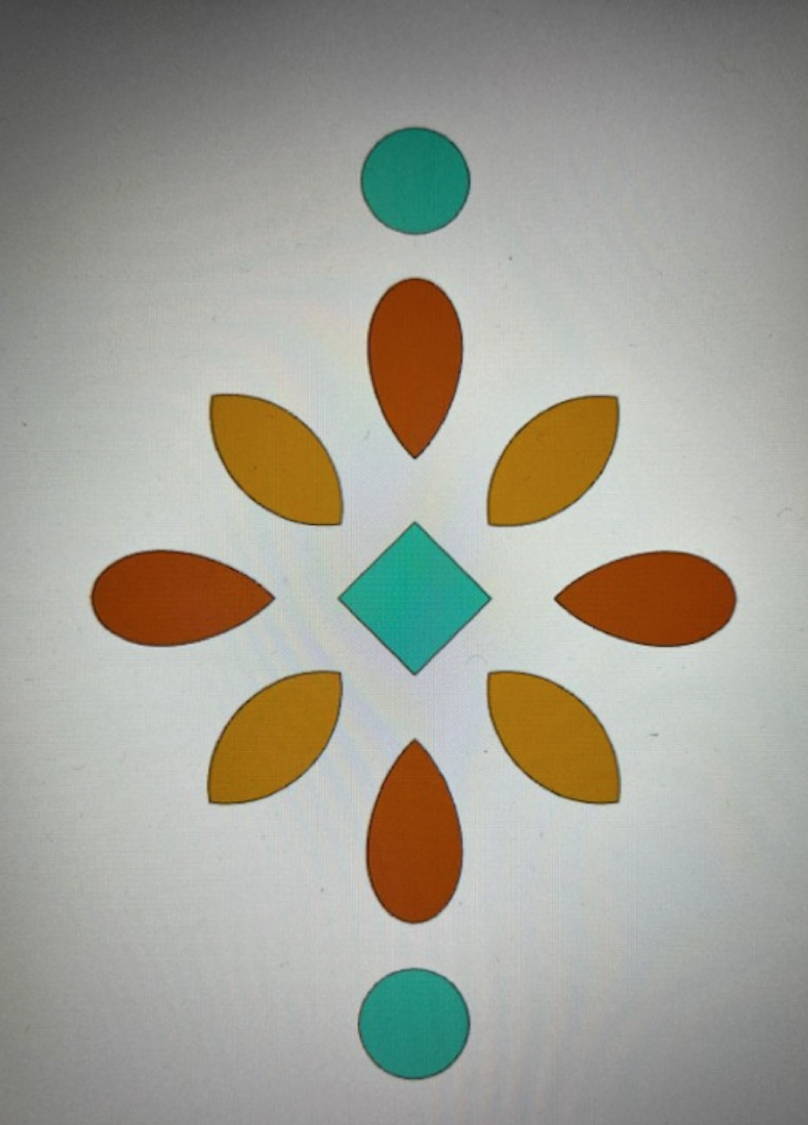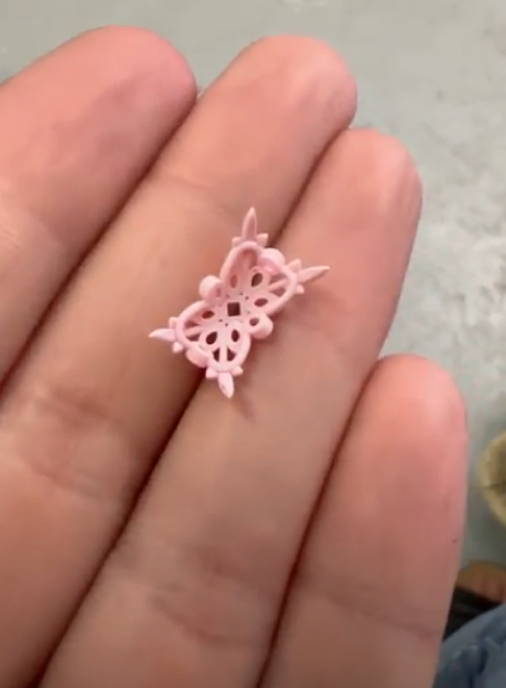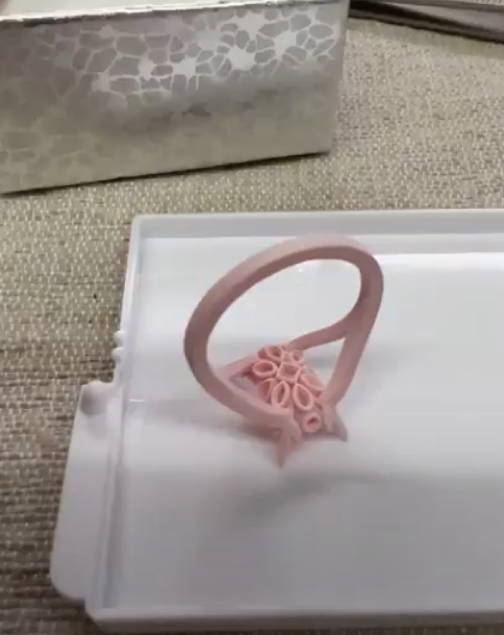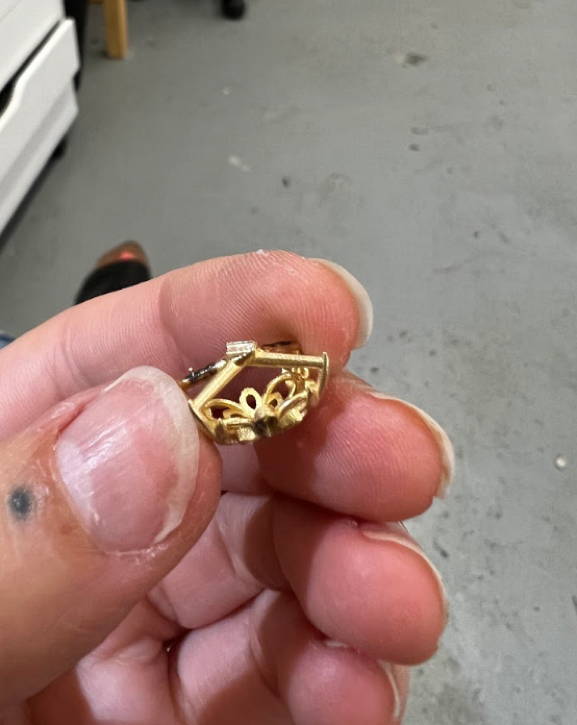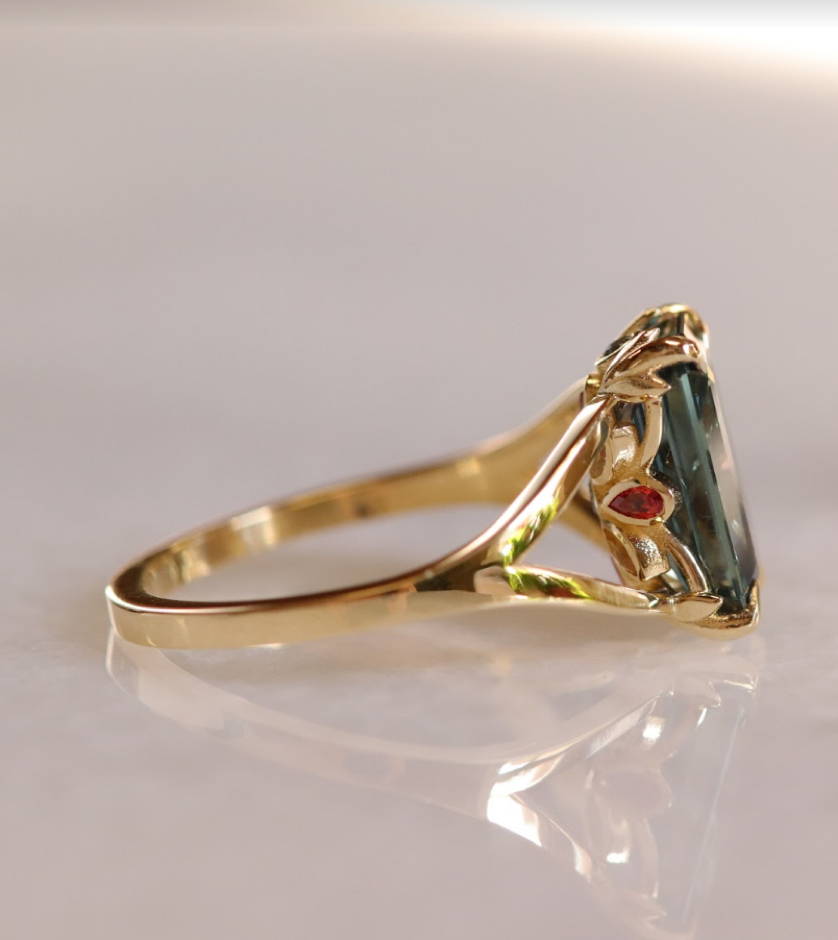 Why did you pick your Moyo Gem?
Based on the designs floating around in my head, I knew I needed a big stone – the bigger the better. So, when I saw this stone, I knew. It's the most magnificent teal-blue color with just a touch of green in it. It has a little bit of shimmer and a thin film of opalescence that give it a mermaid tail look – it's incredibly beautiful.  
What was it like working on it?
I've incorporated patterns like this in metal before, but never including small stones - it was such delicate, intricate work.
I went back and forth, redoing the design over and over to make it exactly right – there wasn't any room for error. Normally you set your stones at the very end, but this ring had to be made in multiple pieces and the stones had to be set first. Once the stones were set, we had to solder all the pieces together. It was a pretty difficult task – we had to ensure we didn't fracture the stones or change their color with the direct heat – it was very time consuming and extremely delicate work.
It was definitely the most stressful thing myself and my setter have ever done, it was a team effort and we were sweating the entire time.
It was such a great journey though – I learned so much and my suppliers and setters were so excited to do this thing we'd never done before. Very stressful on one hand, but very exciting and rewarding on the other.
What was your inspiration?
I struggled to land on the design – I was taking it very literally at the beginning and was trying to incorporate hearts in some way. It felt like I was forcing something that didn't match my aesthetic. Instead I thought – what's in my heart? And that brought up memories of my culture, my memories, and my travels in Portugal.
So, I decided to do an Azulejos design. Azulejos are beautiful hand-painted tiles that often tell a story or have gorgeous geometric or nautical patterns in them. You see them in Portugal or Spain or the Mediterranean. The word Azulejos directly translates to 'polished stone' which felt perfect for my design – it's unique to me, represents my culture, and the word's meaning is exactly what we're celebrating – a beautiful, polished sapphire.
So, I looked through a bunch of different tile patterns, designs, and photos and I started sketching. I came up with a layout that I loved that would go with my stone shape and size. I had custom-cut sapphires made to fit this design so it would look like a real Azulejos tile.
Tell us about the finished design
At first glance, it's a simple sapphire solitaire ring, but when you turn it over, there's this special, symbolic hidden detail – almost like a curiosity, a little treasure that's just for you.
When you look at the stone in the light, you can see the different colors of the sapphire pattern shining underneath – it's very mystical. When you look closely, it has a stained glass vibe.
---
KELTY PELECHYTIK JEWELLERY
What does this collaboration mean to you?
This collaboration is everything. This is my first pop-up so when Cat reached out to me, it was a really special moment. It's been an amazing opportunity to work alongside all these amazing, talented, impressive, established jewelers. These women are exceptional.
On the gemstone side, I've been looking for Moyo gems for months. I had already approached Ash about the sapphires because working with sustainable, ethically-sourced stones is wildly important to me.
So, when I was approached with this pop-up, I was extremely excited to use not only Moyo Gems, but the best Moyo gems on offer. It was like Christmas and it meant so much to me.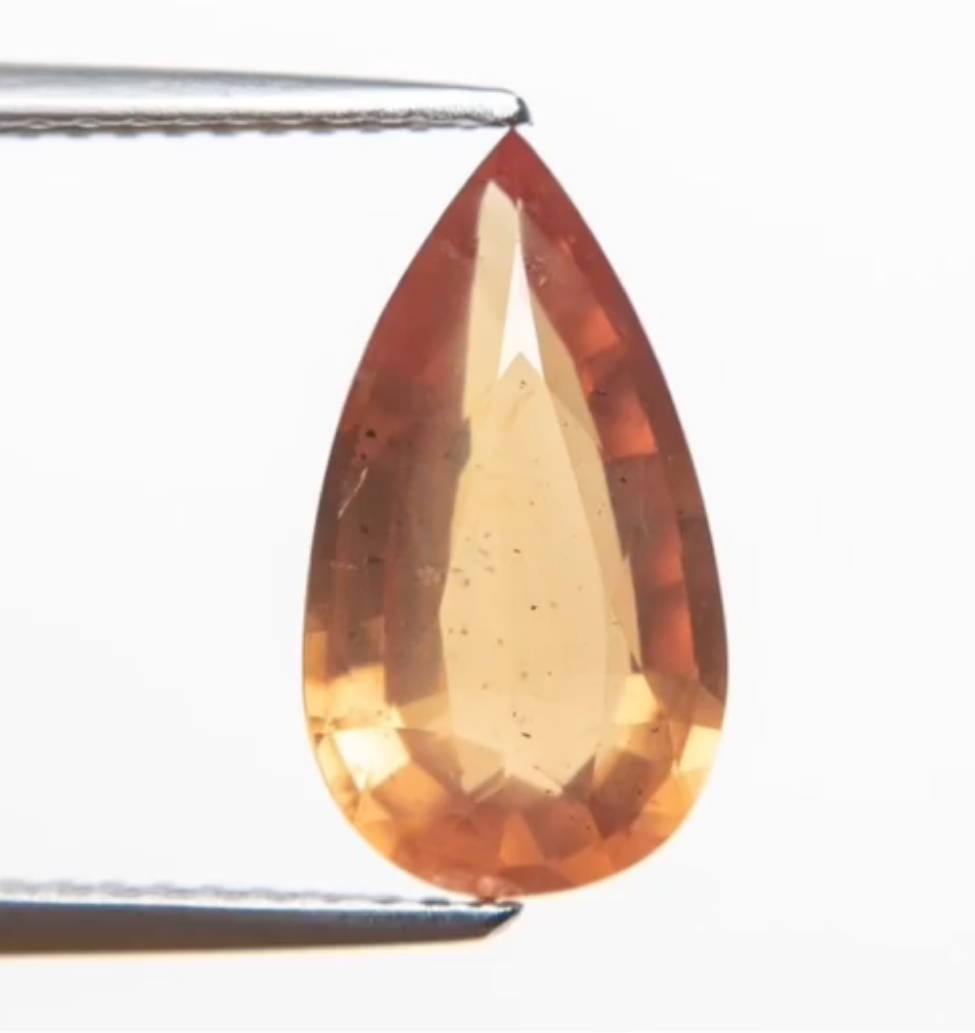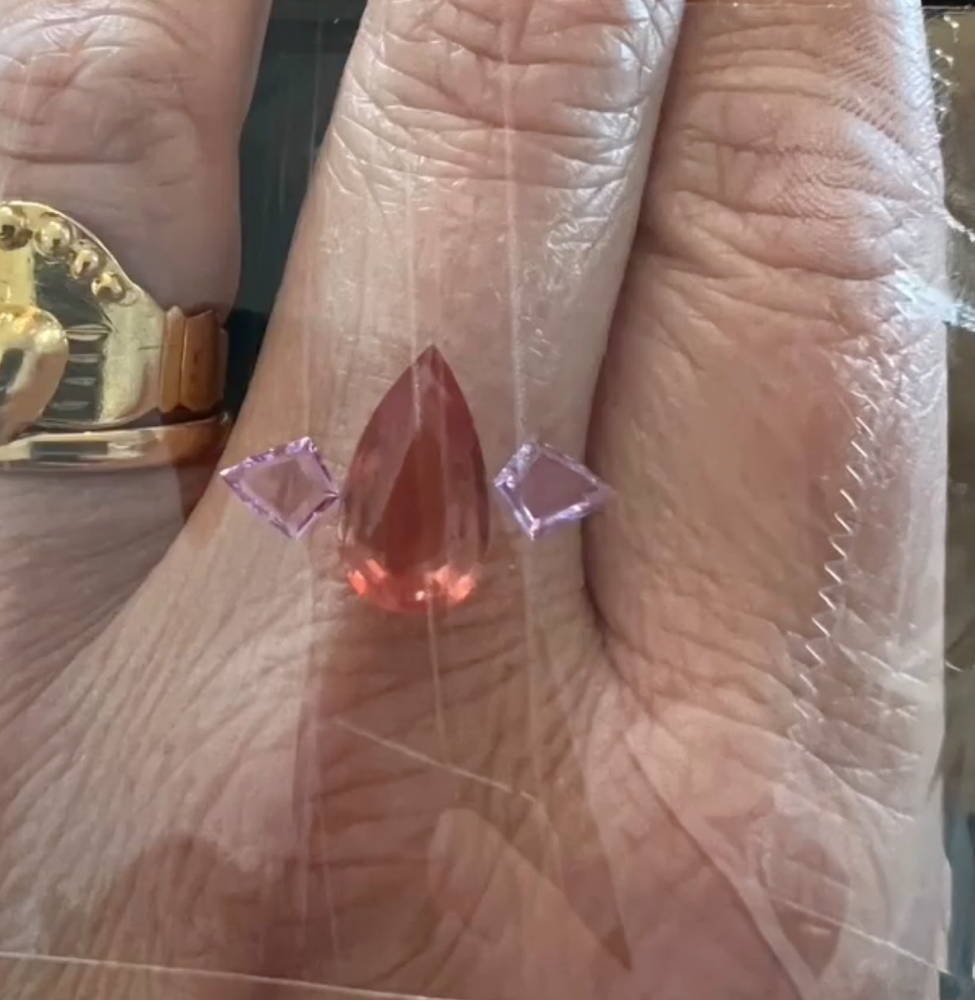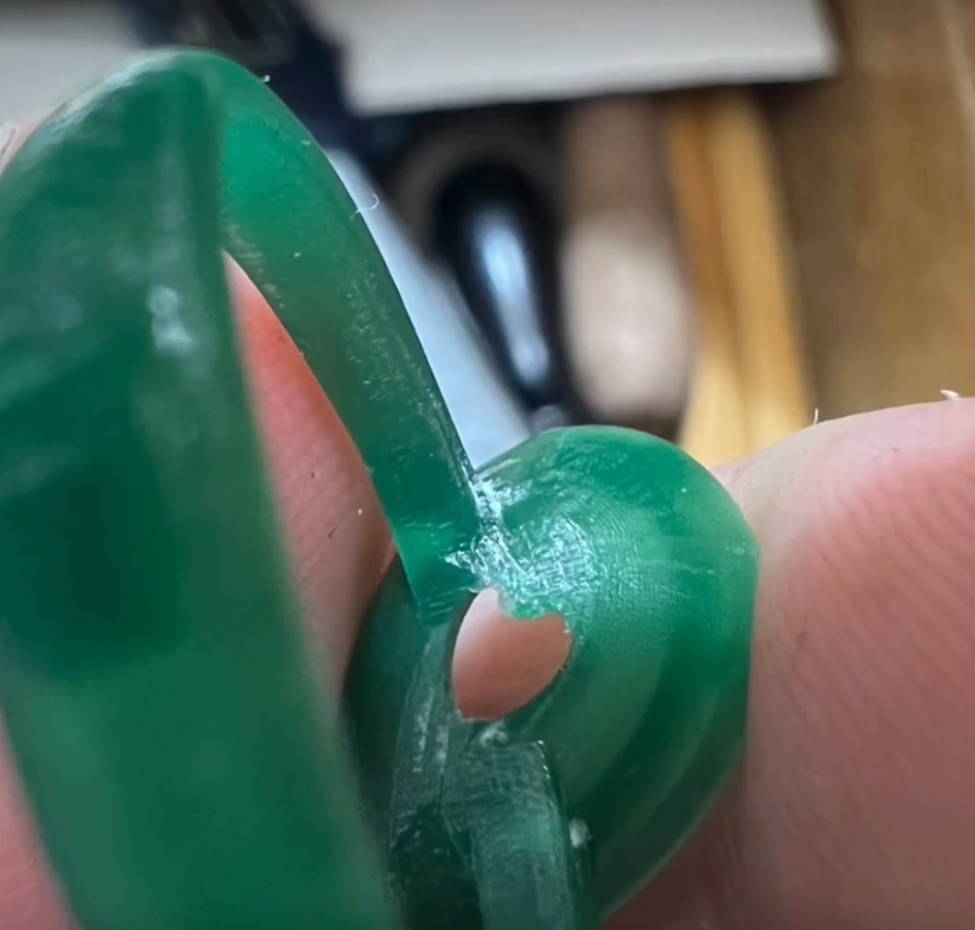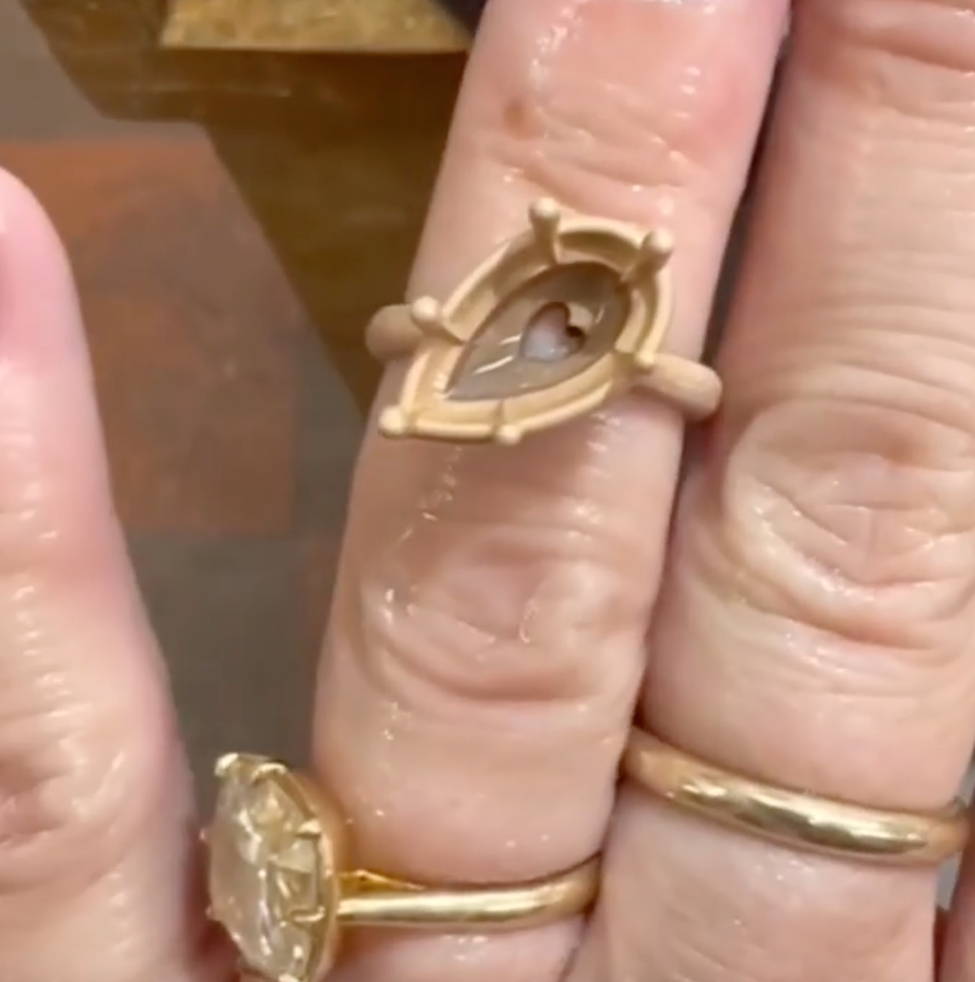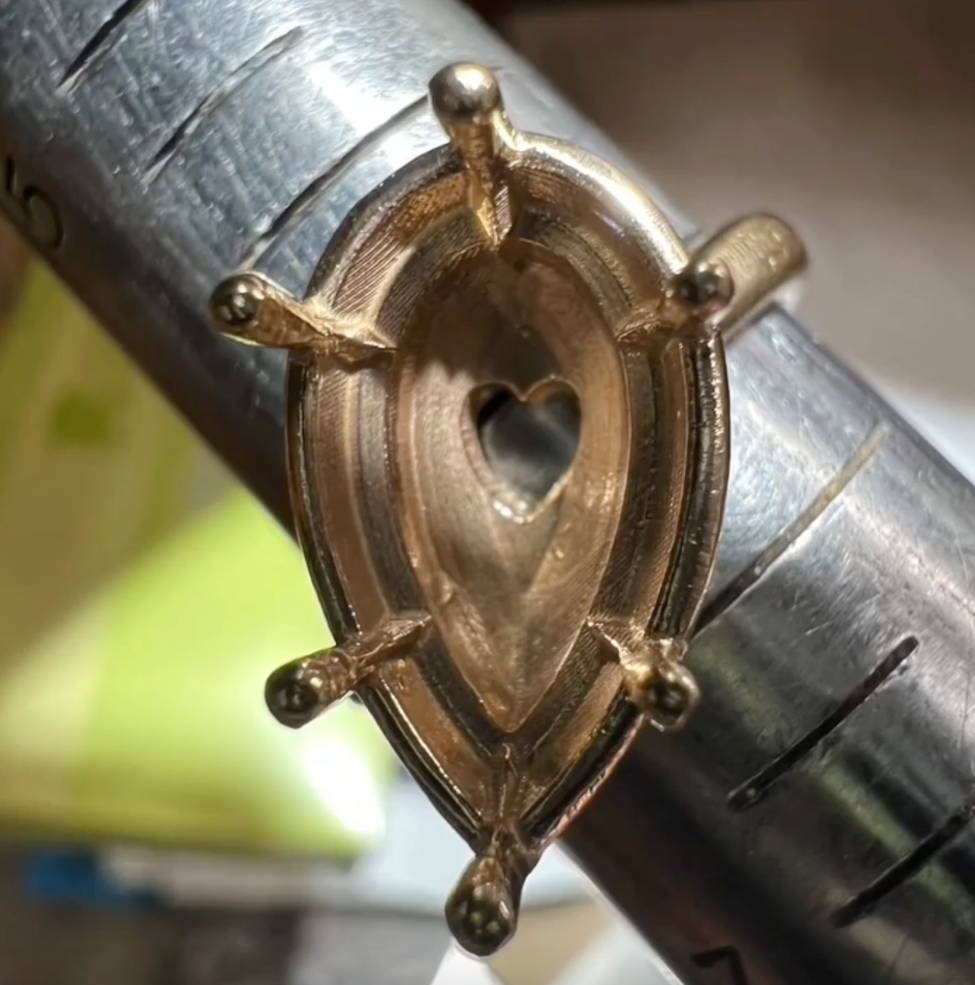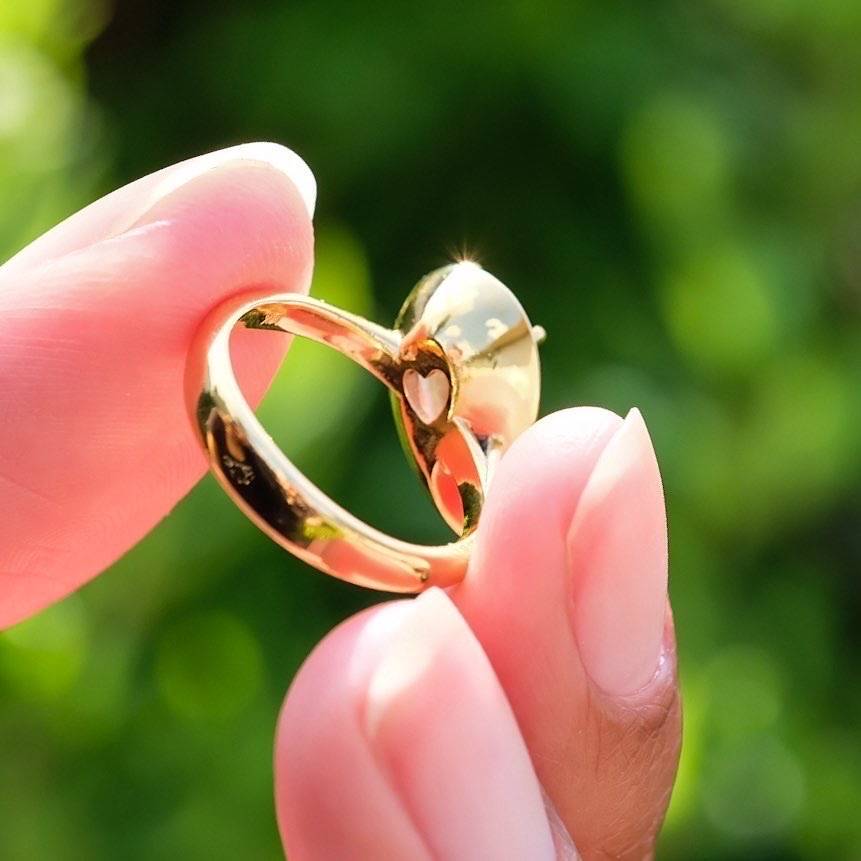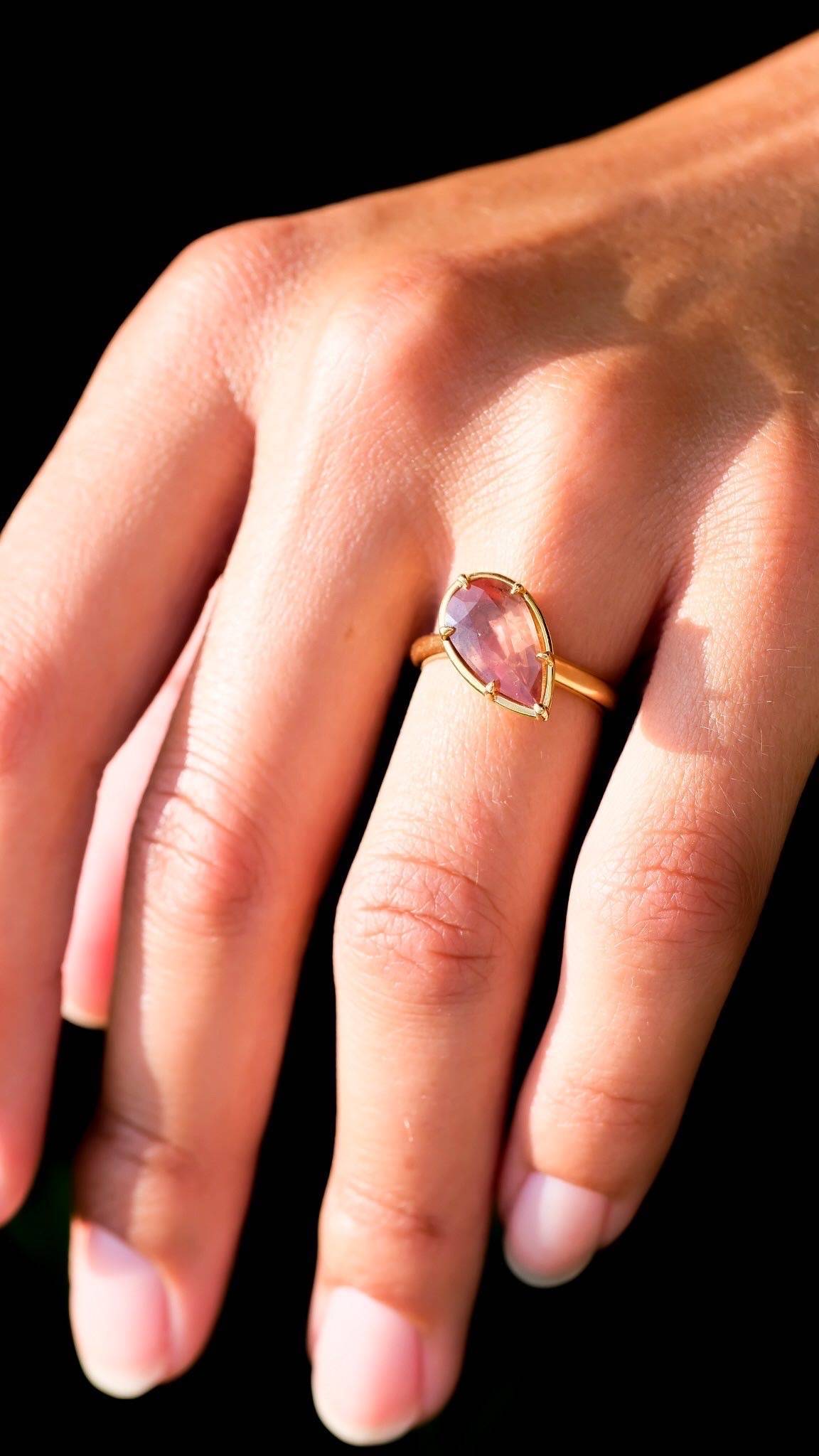 Why did you pick your Moyo Gem?
I initially picked two stones - a peach, pear-shaped sapphire and a purple oval ruby. I was going to make a toi et moi ring. I shared a progress photo and a client of mine who's going through IVF messaged me saying she needed that ruby – the stone was going to represent the past, present, and future and everything she's going through on her fertility journey. After hearing her story and thinking of the female miners, I knew that stone was meant for her and that I was meant to make a solitaire.
The peach sapphire remaining is one of the most remarkable stones I've ever seen. Something about this stone radiates from the side – it feels different and very special. It's a peachy-orange color – one of the prettiest tones I've ever seen. My daughter's favorite color is orange and it's become mine also. It's a big stone, about 13 mm so I wanted it to be a solitaire and have it be the moment all by itself – it's so simply beautiful on its own.
What was it like working on it?
I did consider making it into a cocktail ring with multiple colorful stones but I wanted it be a sustainable piece with only the Moyo gem and recycled gold. It felt important to keep the integrity of the piece by using only that incredibly meaningful Moyo gem. Also, the size and color of the stone is so powerful on its own, I knew it had to be just Moyo.
Is there a special meaning behind your piece?
It celebrates where it came from – the values of the Moyo collective - love, empowerment, opportunity, and community. The project itself has so much meaning and it's an honor to get to work with these stones because they're so hard to find.
Tell us about the finished design
When on the finger, the sapphire is positioned to always point towards your heart.
There's a hand-carved heart on the bottom of the setting to represent Moyo which means 'heart' in Swahili. I used all repurposed gold so it's a completely sustainable piece of jewelry.
What was your inspiration?
My inspiration came from the word Moyo - I wanted it to be full of passion, romance, warmth, and love. I wanted everything to wrap back to the meaning of Moyo.
---
What does this collaboration mean to you?
I was so excited to be part of this year's pop-up! It's an amazing gathering of artists and the talent represented in this year's collaboration is next level! In most of the industry, you're positioned as competitors and that's not how I like to work. I love working as part of a community, with the vibe of a rising tide. I love connecting with other artists in a way that's supportive, and I love seeing other people thrive. Gem Breakfast's collaborations make that possible – and I'm so grateful to Catherine and Ash from Misfit Diamonds for providing such a fun and dynamic opportunity to create something really unique with wonderful people. I'm in complete awe of this year's groups - the designs are breathtaking and the artistic process behind each ring is so inspiring!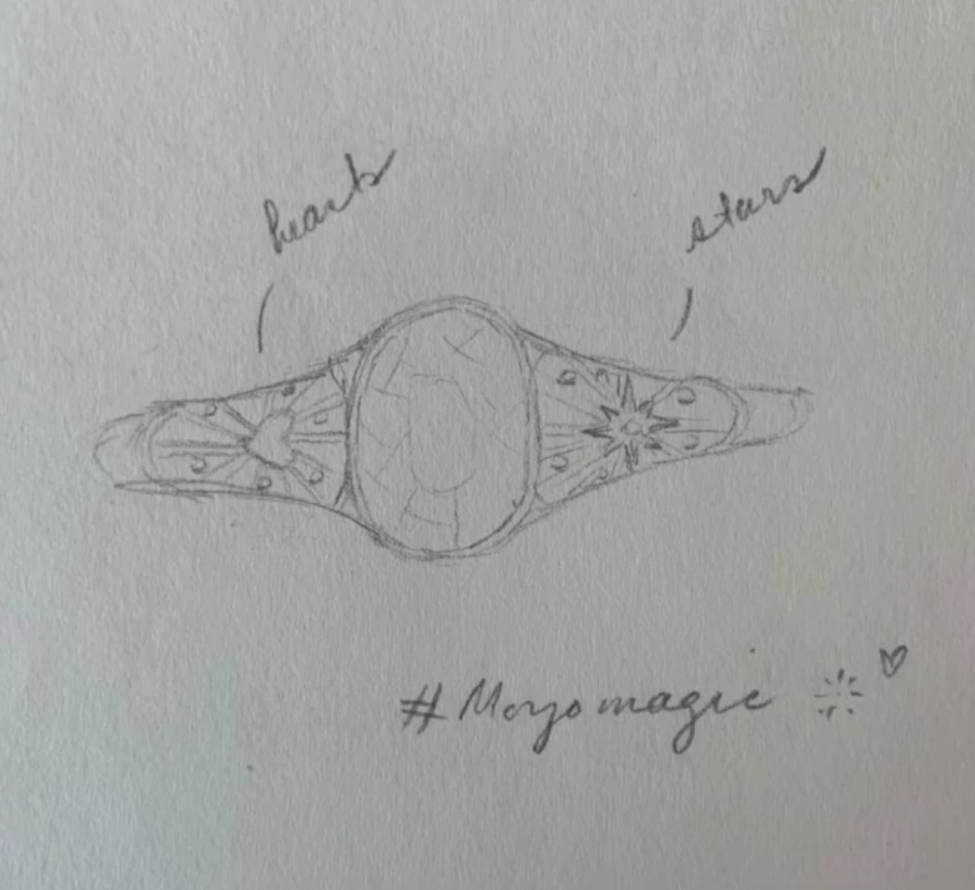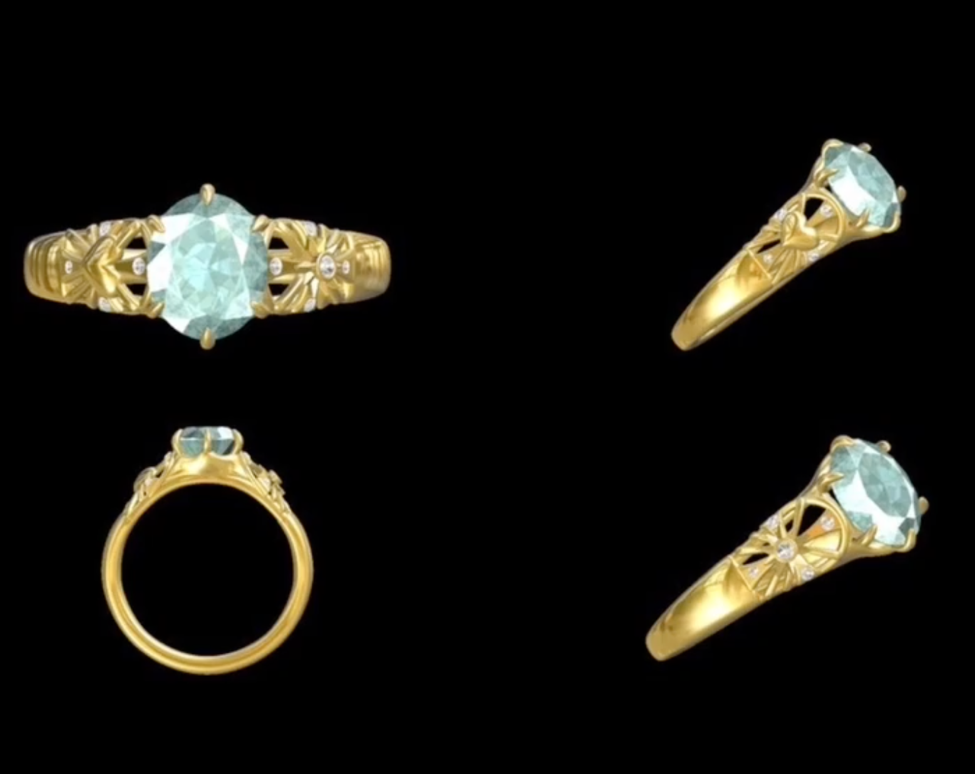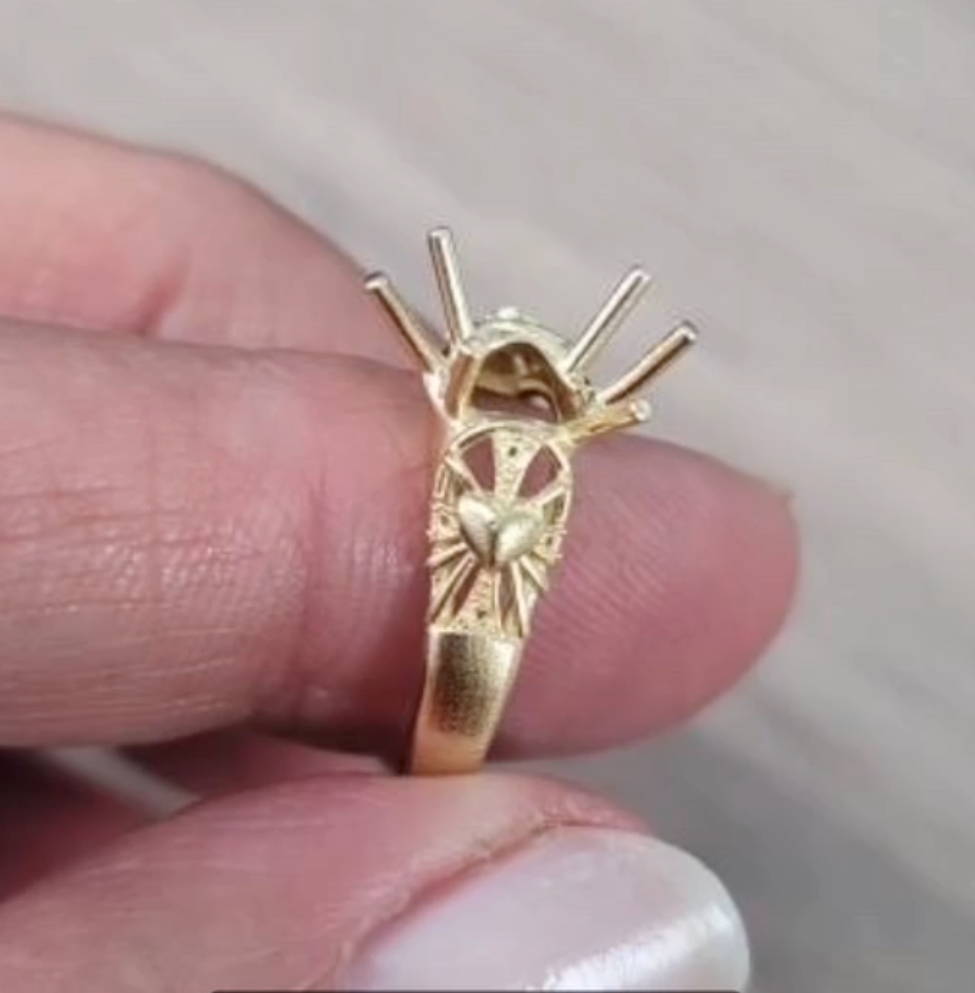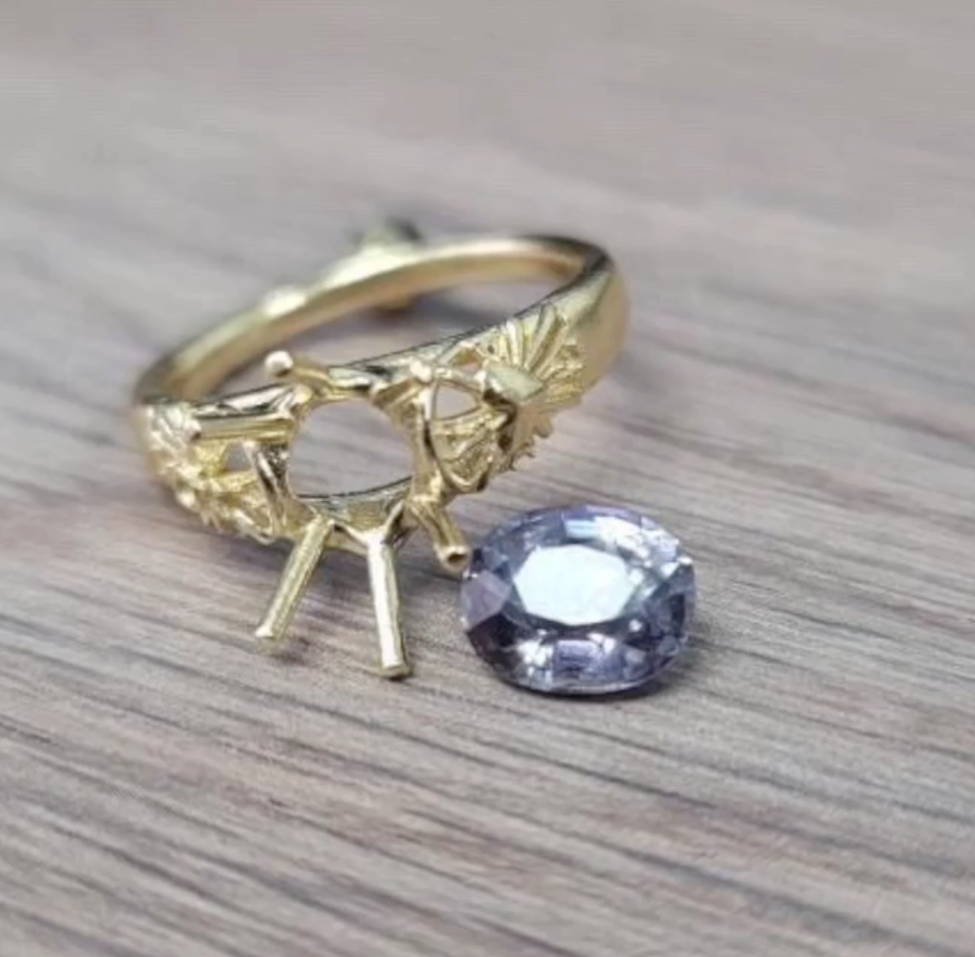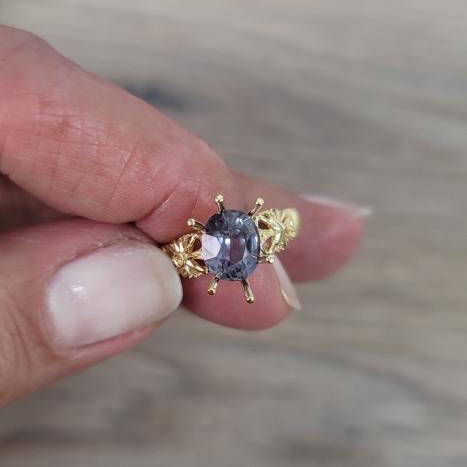 This year's program was especially exciting. The Moyo Project is doing such great work to support and empower women while advancing traceability. I've done a lot of research into these types of initiatives. Similar programs in Africa have proven that when you train and empower women, the surrounding communities get more economic benefit because participants reinvest their wages into their families, friends, and neighborhoods. It ends up building the economy in a way that few other efforts can. I love that this program elevates women and positions them as leaders – it's really a shining star of sustainability and traceability within the jewelry industry.
A huge thank you to the Gem Breakfast team for putting this together – it has been so meaningful to be part of an artist collective where we can all help each other thrive!
What was it like working on it?
It was really fun. I tend to overthink designs, but this one felt very natural. I wanted a design that captured both the magic of the stone and the emotional, real connection to its Moyo origin. The stone told its story with so much ease, and the result is very special.  
Why did you pick your Moyo G
I was immediately drawn to it - the color, the shape, the size, everything! I especially loved the color change properties of it – it really highlights the incredible magic of nature. It's amazing how the earth can create such a vibrant blue and purple gemstone that shifts in different lighting.
What was your inspiration?
I was inspired by the heart, the purpose, and the humanity of this project. I wanted to capture the magical elements of the earth and the cosmos to celebrate this incredible gem in a balanced way.
My design represents the balance between love and light – embracing and sharing love and light with yourself and others.
Tell us about the finished design
This 18k yellow gold ring features a beautiful 2.46 carat oval sapphire from the Umba Valley, Tanzania. In certain light, the sapphire's color appears cornflower blue and in others it's a rich purple. As for the style, it's a real mix of influences. It has Edwardian flair with streaks of art nouveau, and an almost alchemistic aesthetic. A heart and a star appear on either side of the ring, surrounded by white diamonds. These symbols of the heart and cosmos – or love and light – are intentionally presented in a symmetrical way to represent both personal balance and the urgent need for society's balance with nature.  
---
What does this collaboration mean to you?
It was very special to be included. I loved meeting all the designers - we all cheered each other on and lifted each other up. Having friends in the jewelry universe is so great.
I'm always thinking of the origin of stones – where they're coming from, are they being ethically mined, are we contributing to the communities we're pulling resources from? As a female Goldsmith and Gemologist in America, I've been given opportunities I'm grateful for and it's so great to see women around the women being given opportunities in this industry. I want to keep doing what I can to support and lift women up.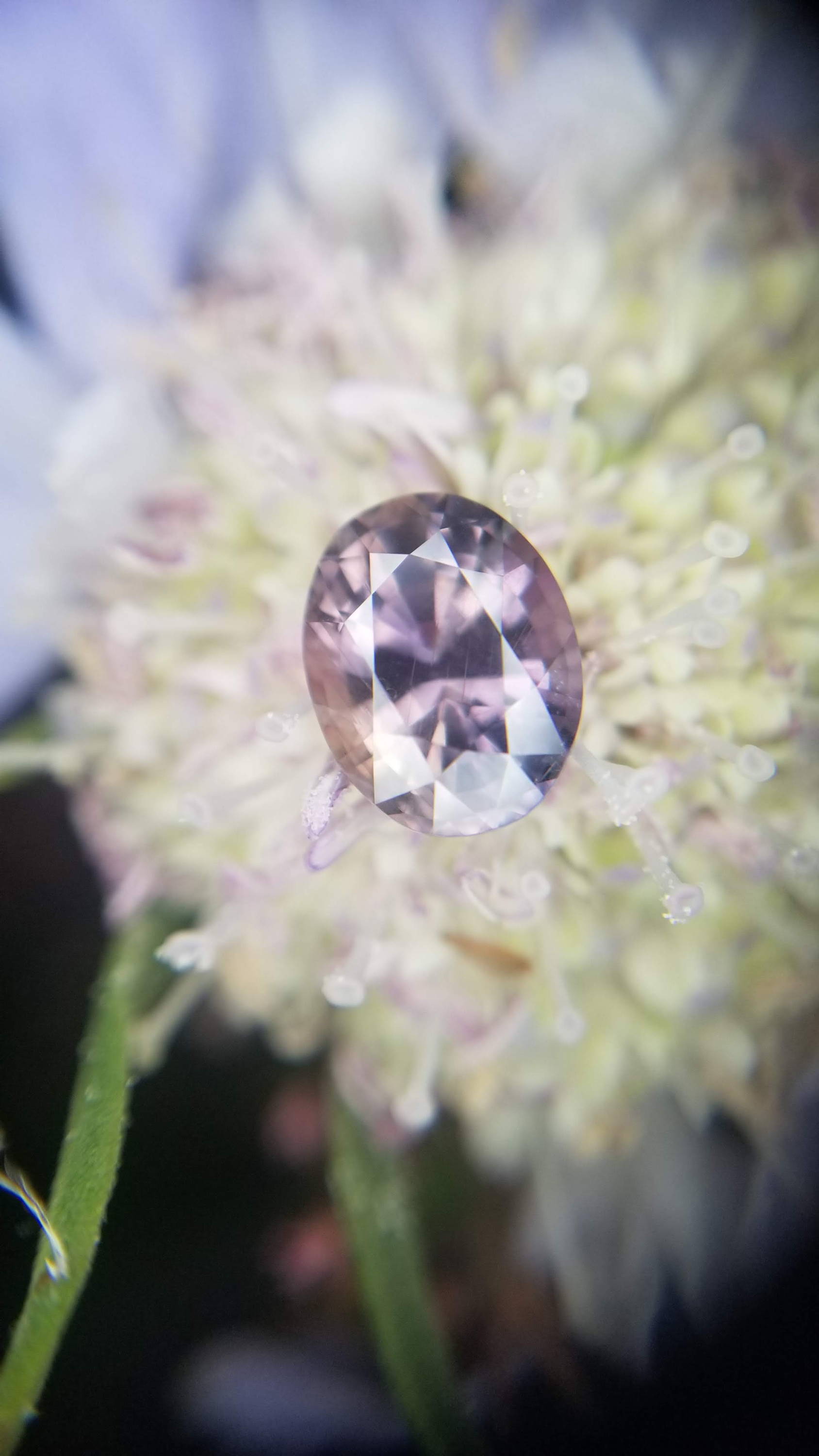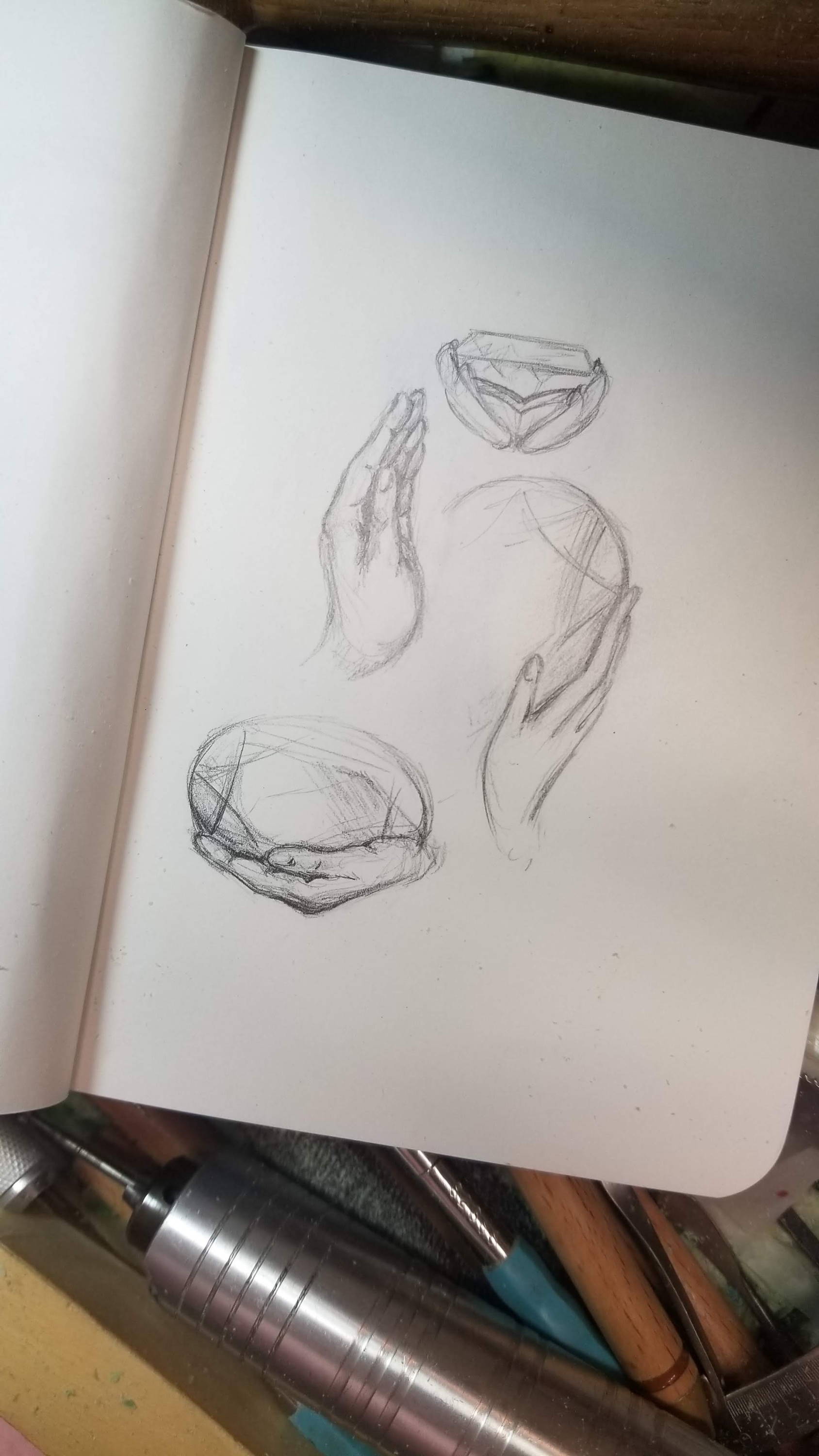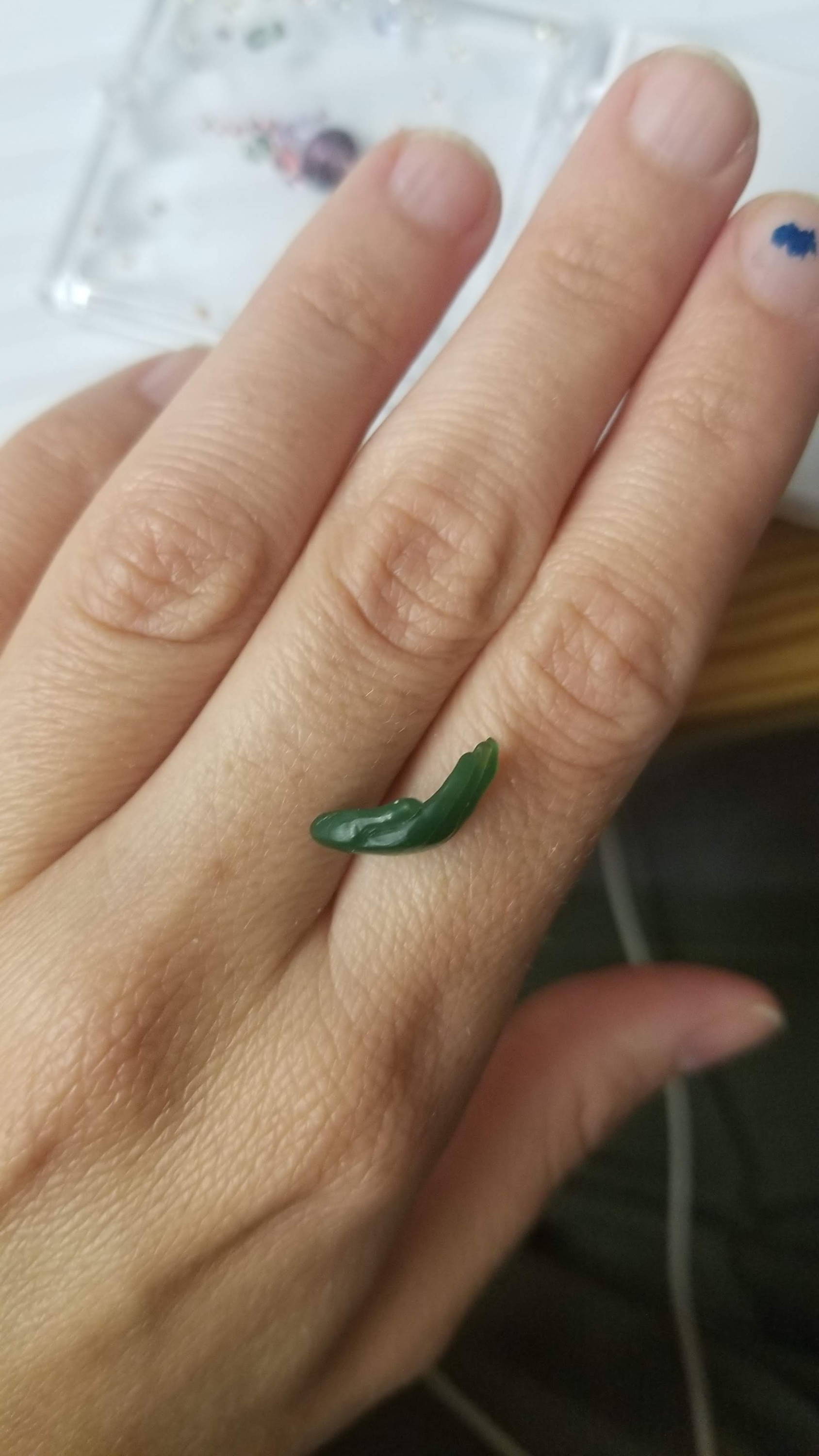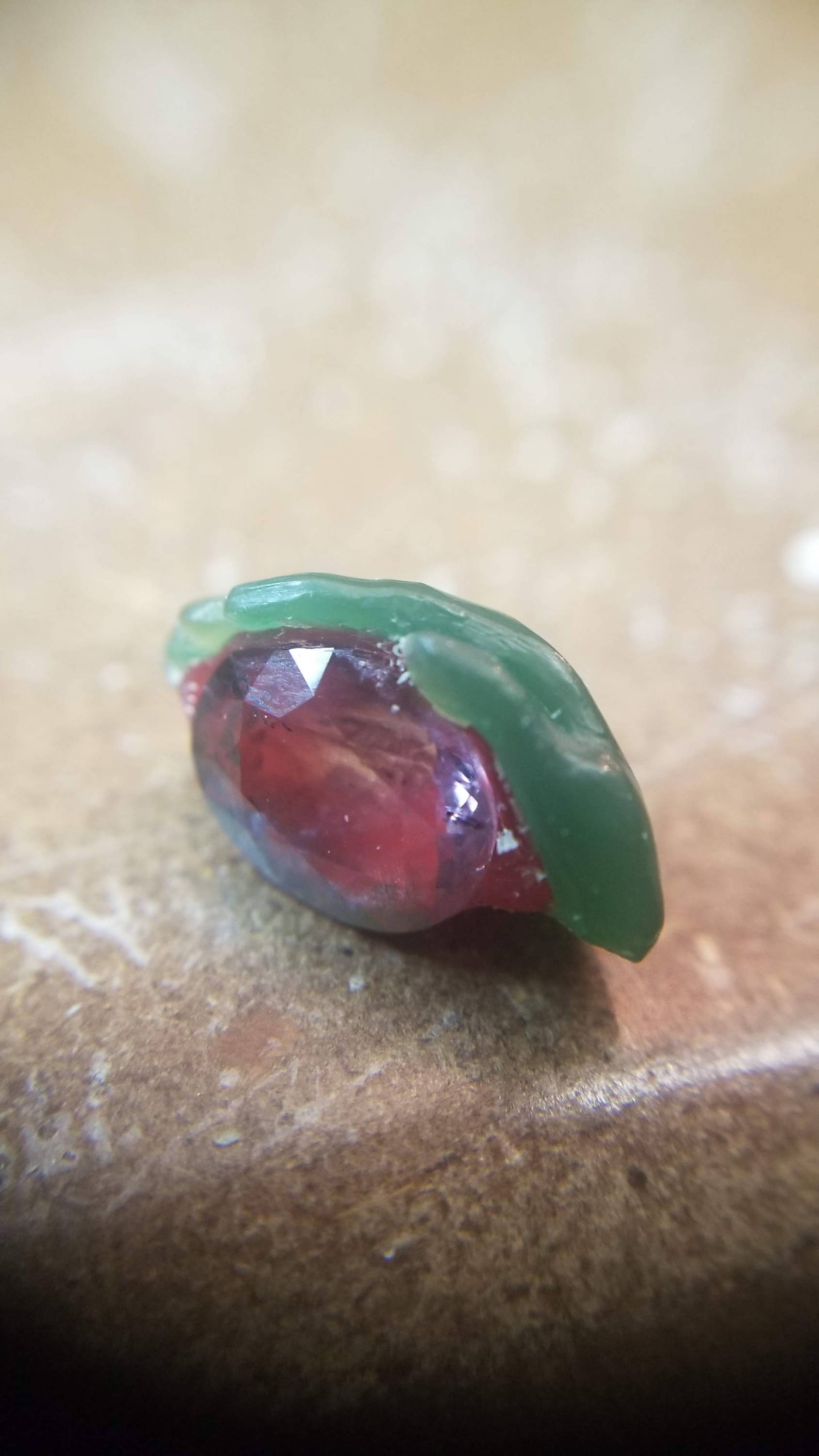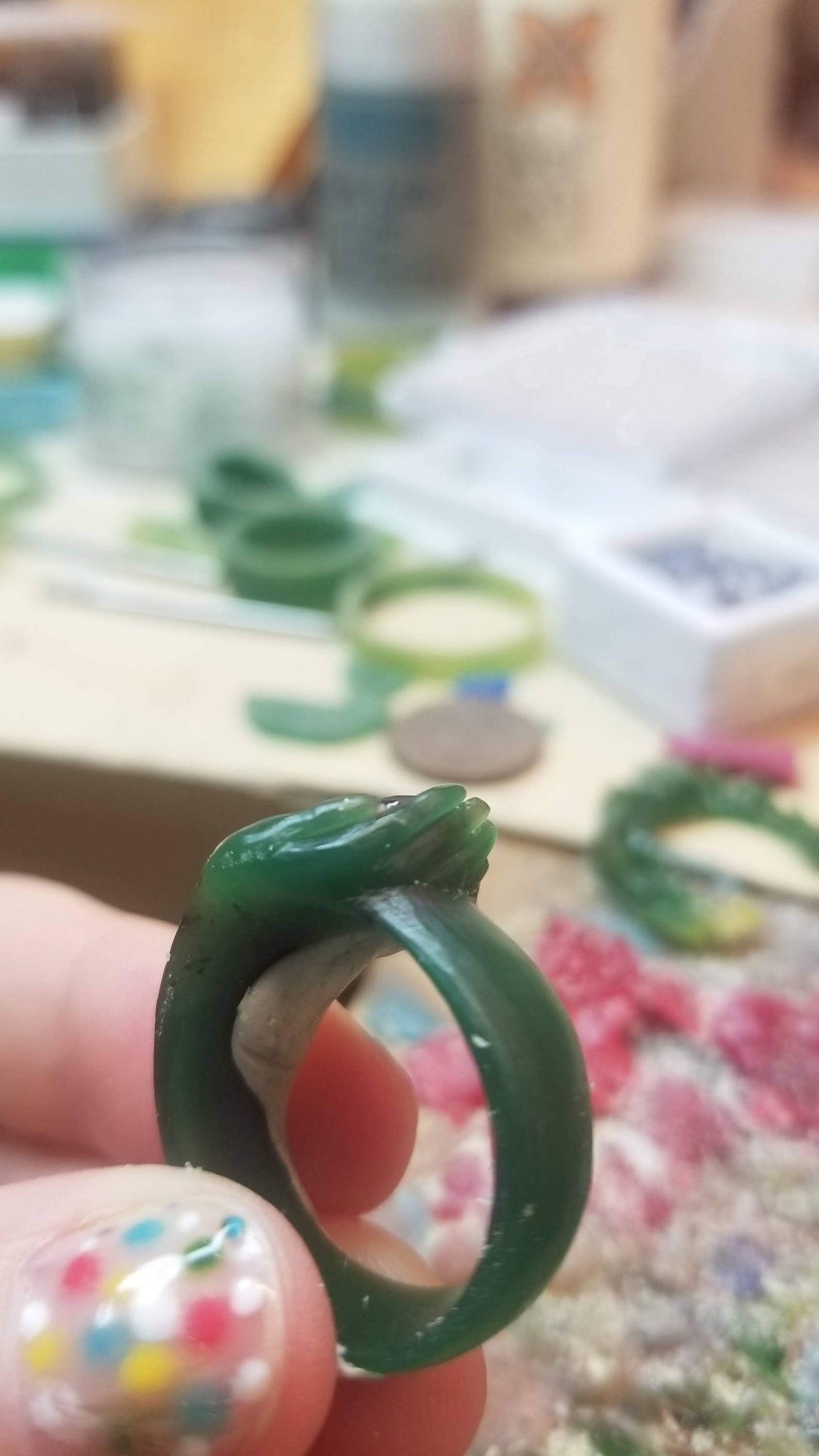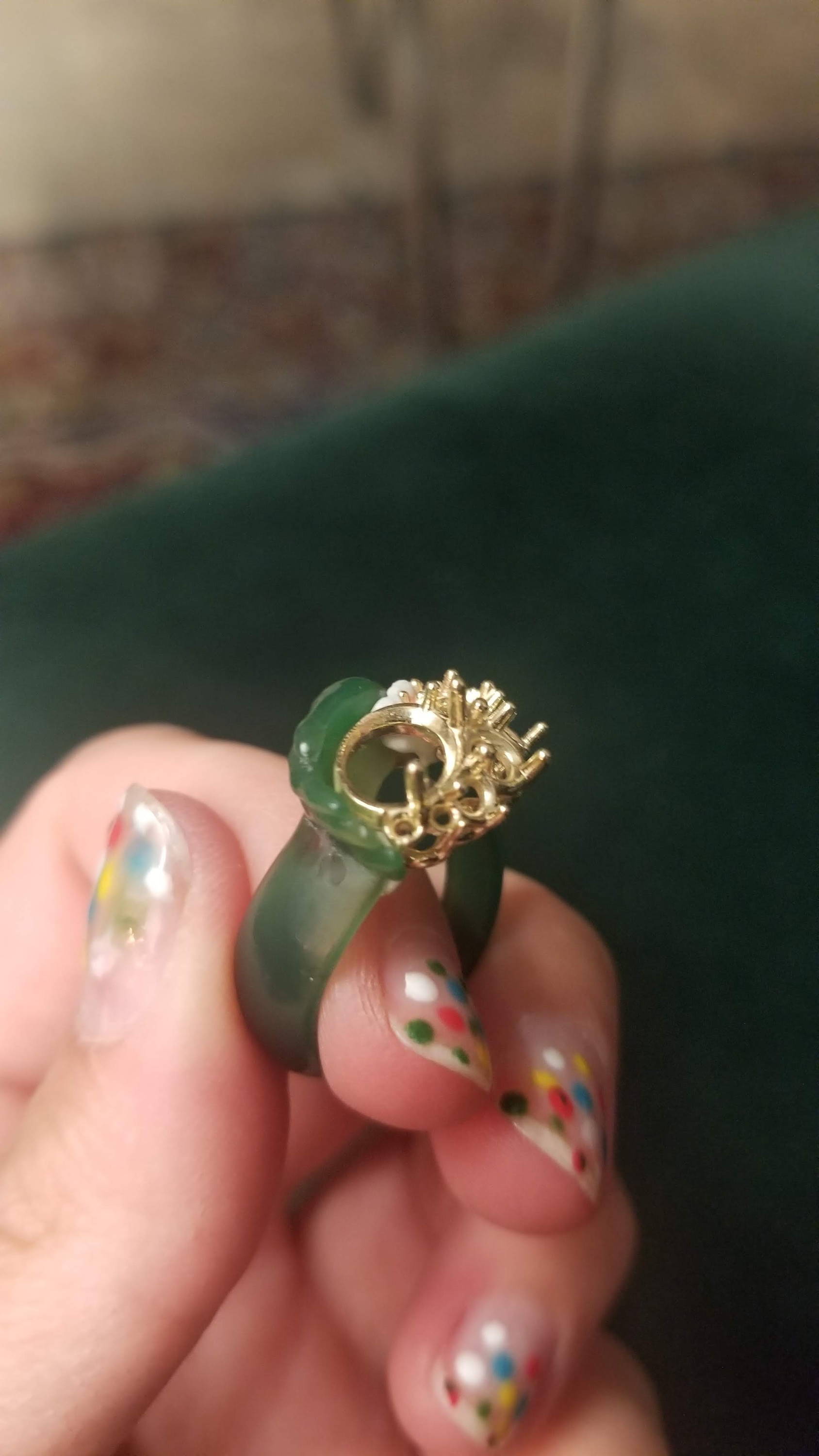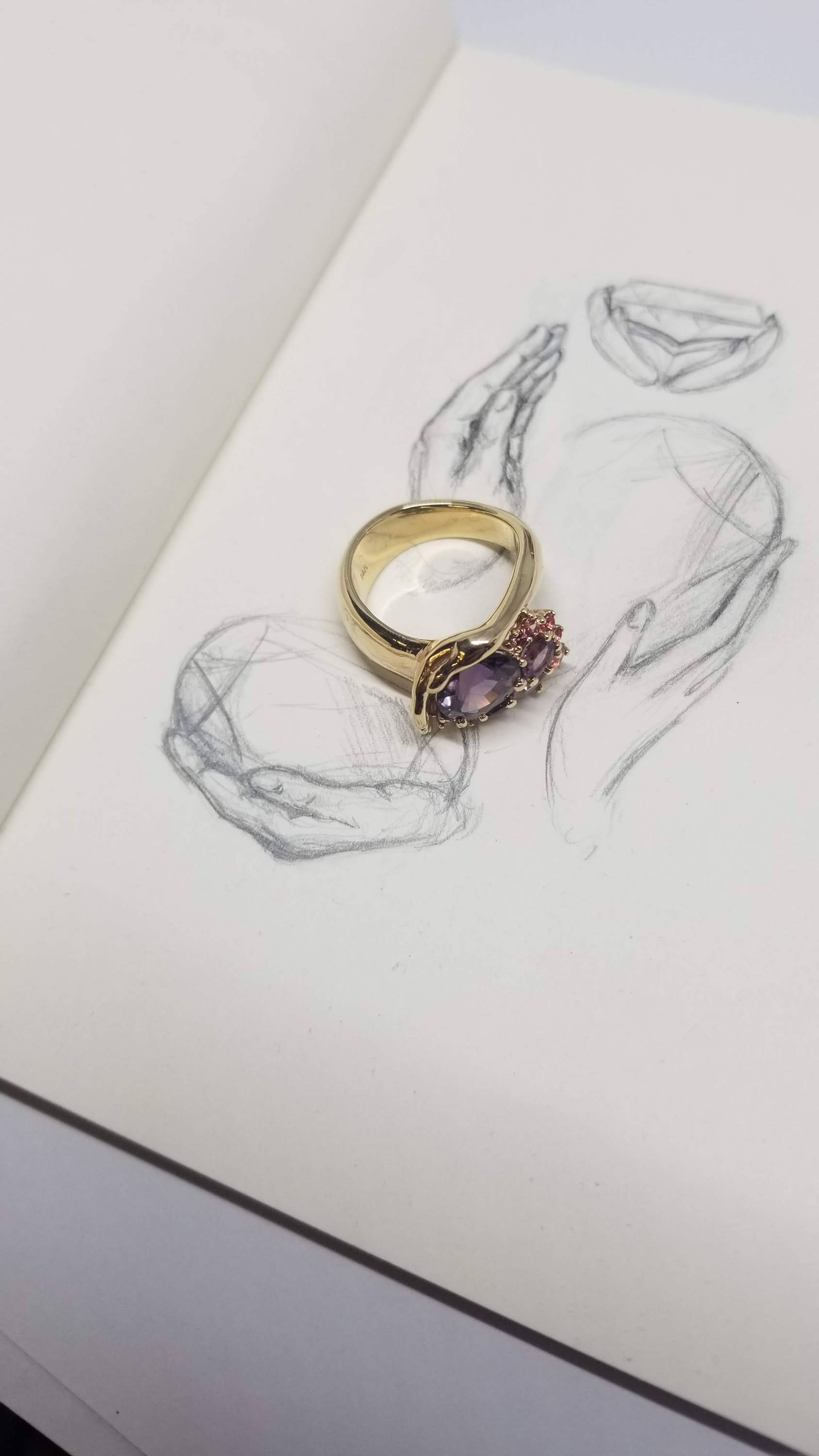 Why did you choose your Moyo
I love the stone I chose – the color is so magical and it shifts slightly in the light. Parts of it are purple and peach and parts have a mossy green tone.
Honestly though, I was honored to make a ring out of any of the stones here. I believe we all got the stones we were meant to.
Is there a special meaning behind your piece?
The hand represents the unearthing of the stone and the hand holds the stone to represent "Heart in Hand' - a symbol of compassion, understanding, and love. It means "given from the heart".
I make jewelry because it's significant and has meaning for the wearer. Jewelry holds so much energy – it even comes down to the music I'm listening to when I'm making a ring, how I'm feeling while I carving – it's a very symbolic, important process for me.
What was it like working on it?
The first part was figuring out how I would contour and carve this tiny hand, and next was finding the stones that would complement the Moyo sapphire but not take away from it.
The carving was a really fun, meditative process – when I'm wax carving, I'm in the present moment. It's very intuitive – almost like figure sculpting. I started with a chunk of wax and began carving the tiny hand that would perfectly fit the Moyo sapphire. Trying to carve knuckles, fingers, crevices, and details in this tiny, tiny little hand was a big challenge.
Funny story: I borrowed my daughter's Disney figurines to use as models for the hand. There were Cinderella and Ana Barbies all over my studio! In the end though, I had to use my own hand as a reference while I was carving.
What was your inspiration?
I started with a meditation to decide how to symbolize this overwhelmingly significant project in a ring. I thought about the female empowerment, the mine-to-market aspect, the process of unearthing stones with your hands, and how my hands are my tools – that's where the hand idea started. I'm reiki certified, and there's a lot of mystical energy in your hands that I wanted symbolized in this design.
With that in mind, I wanted to put a part of myself into the ring but also honor those female miners, this incredible stone, and the cycle of education and female rising that's taking place.
Tell us about the finished design
The oval center stone is set at an angle with the hand cupping the stone. On one side, there's a constellation of purple, peachy rustic sapphires that pull out the natural saturation and hue from the center stone.
The hand peaks around the stone and the wrist drops down to the side, flowing into the organic curved band that contours around the finger.
It feels very significant, and substantial and it's so exciting to celebrate the women who unearthed these stones.
---
Learn more about Moyo Sapphires and our ethically sourced sapphires from around the world in our blog!
---
Shop The Moyo Magic Pop-Up at Gem Breakfast