A magical parcel of glistening loose sapphires has arrived on the Gem Breakfast site – tantalizing teals, magical multi-coloreds, stunning step cuts, delicious deep blues, and enviable emerald greens in every shape and size under the sun! All sourced from our favorite alternative gemstone dealer, Misfit Diamonds.
To find out more about the latest arrivals, we sat down with Misfit Diamonds Founder Ashkan Asgari to chat about what makes these stones so special, his personal faves, plus his tips for shopping sapphires online.
We also have a full Q & A blogwith Ashkan Asgari of Misfit Diamonds if you'd like to learn more about the man behind your favorite gemstones and how his company handles responsible sourcing.
Why are you excited about these sapphires? What makes them special?
I appreciate a classic Kashmir blue sapphire as much as anyone, but my heart truly lies with the weirdos and the misfits – both with diamonds and colored gemstones. The non-conventional, nature-painted stones are what really interest me.
As you scroll through these sapphires, you'll see what I mean - there's the stunning parti (multi-color) stones, unheated Madagascar teals, and so many perfectly cut distinctive shapes. It's a celebration of the unique and one-of-a-kind.
We've searched and have found some fantastic vendors who specialize in unconventional precision-cut shapes like hexagons, shields, and kites.
Can you tell us more about bi-color sapphires? How are they formed?

Polychrome or bi-color sapphires have distinctive bands of color (referred to as color zoning) from the presence of iron and titanium impurities. Higher concentrations of iron results in yellow, higher titanium concentrations turn blue, and green comes from a mix of both.
You'll never find two identical bi-color sapphires out there – each one is uniquely stamped by nature and I love that.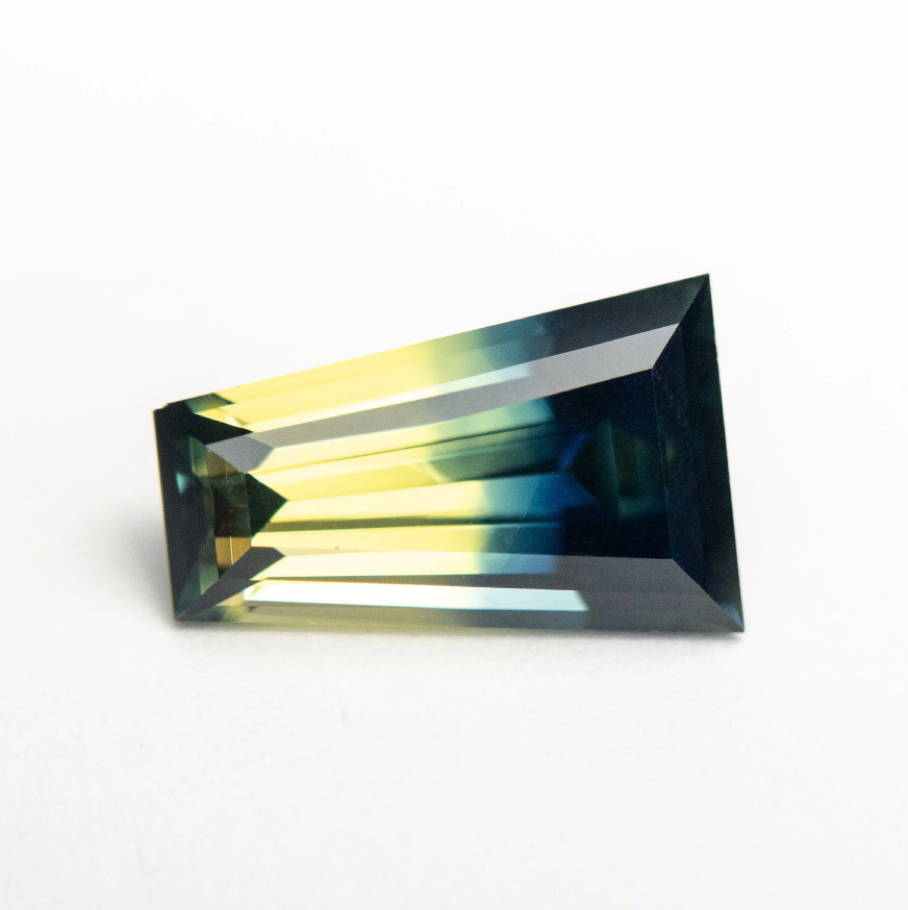 Tapered Baguette Australian Parti Sapphire (Sold - reach out to find something similar)
Where did you source your sapphires from? How do you ensure ethical sourcing?
We only work with vendors who are Responsible Jewelry Council certified (or working towards it). That means the company is audited by a third party to ensure they're adhering to the highest standards of ethical sourcing.
All our vendors are completely open about where all stones were sourced as well as cut. We only work with vendors we trust and who are fully transparent in their operations.
What's your favorite sapphire on the site? Favorite color of sapphire?
My favorite is this amazing Tapered Baguette Australian Parti Sapphire – the colors in it are unbelievable, it's truly a work of art. I kind of want to keep it for myself!  
In general, I love bi color and parti sapphires – the gradient is so attractive and I love that no two are exactly alike. I found some new sapphires that will be going up on the GB site soon that I'm super excited about – even a teal sapphire with a vibrant orange going through it! Watch for those!
How do you choose sapphires? Tips for gem shoppers to narrow it down?
If you're shopping online, ask to see the stone(s) in both natural light and indoor light – every stone can vary so dramatically in different lighting conditions. Make sure you love it in every light.
Ask for macro images as well as videos so you can see the quality of the stone from every angle. Also, it's important to buy from someone you trust, that will help you through the process of purchasing a gem, explain all the possibilities for that stone, and answer any of your questions.
After that, buy what speaks to you! I grew up in the jewelry industry and of course I respect the GIA and gemstone statistics, but from the beginning, my dad taught me to look at the stone first and stats later. You are the one wearing it and you should love it. Gemstones and diamonds are fantastical and they're meant to be chosen with your intuition and personal taste.
For more about sapphires, read our in-depth blog! 
---
---
Shop Sapphires at Gem Breakfast