Whether you're shopping for yourself, planning a surprise proposal, designing custom, or shopping alongside your fiancé for the perfect ring, we have all the ring sizing secrets to make this process as effortless and fun as can be! Keep reading for all the rize sizing deets and cheats!
---
Finding the perfect fit for yourself
A flawlessly fit ring will slide over your knuckle easily, but still fit snug enough to stay put and not spin around. You should have to wiggle the ring slightly to pull it off.
DO: Order a ring sizer online. Ours ships free and has ½ sizes to get your perfect fit from home. Measure at room temperature a couple times during the day to get a flawless fit.
DO: Stop by a jeweler and get sized by a professional. This is your best bet for the most accurate size. Do this as your first stop and wait to have lunch until afterwards, as your fingers can swell after meals or a big session of retail therapy.
DO: go up ¼ to ½ size if you're choosing a wide band ring (5mm and larger).
DON'T: Measure your hands after dinner (or drinks) at a restaurant – they'll be swollen from all the salt and cocktails and the size won't be accurate. Wait a day or two until your fingers return to normal!
DON'T: pull out the tape measure right after a bath or a cryotherapy session! Your fingers swell and shrink when hot or cold.
---
FOR STACKING RINGS
If you plan on stacking to the sky, there's a few things to keep in mind:
If you're stacking thinner bands (less than 2 mm wide), you can order your true size and can likely stack up to 3 thin bands without them being too snug.
Once you get to about 5mm or more in your total stack, you'll want to go up about half a size on the top rings.
If you aren't sure or need some stacking suggestions, send us a message anytime and we'll set you up with the perfect size for every ring in your dream stack.
---
FINDING her ring size secretly
This might seem like a seriously daunting task but try to keep it light! This can be fun and the surprise on her face when you pull it off perfectly will be well worth the effort. Keep reading for all our tips and tricks.
DO: Measure a ring she already wears on her left ring finger.
How to (3 options):
Pick up a flexible tape measure and measure the inside circumference of her ring (in mm). Then you can convert that measurementto her ring size online (or let us know the mm measurement and we can do the work for you!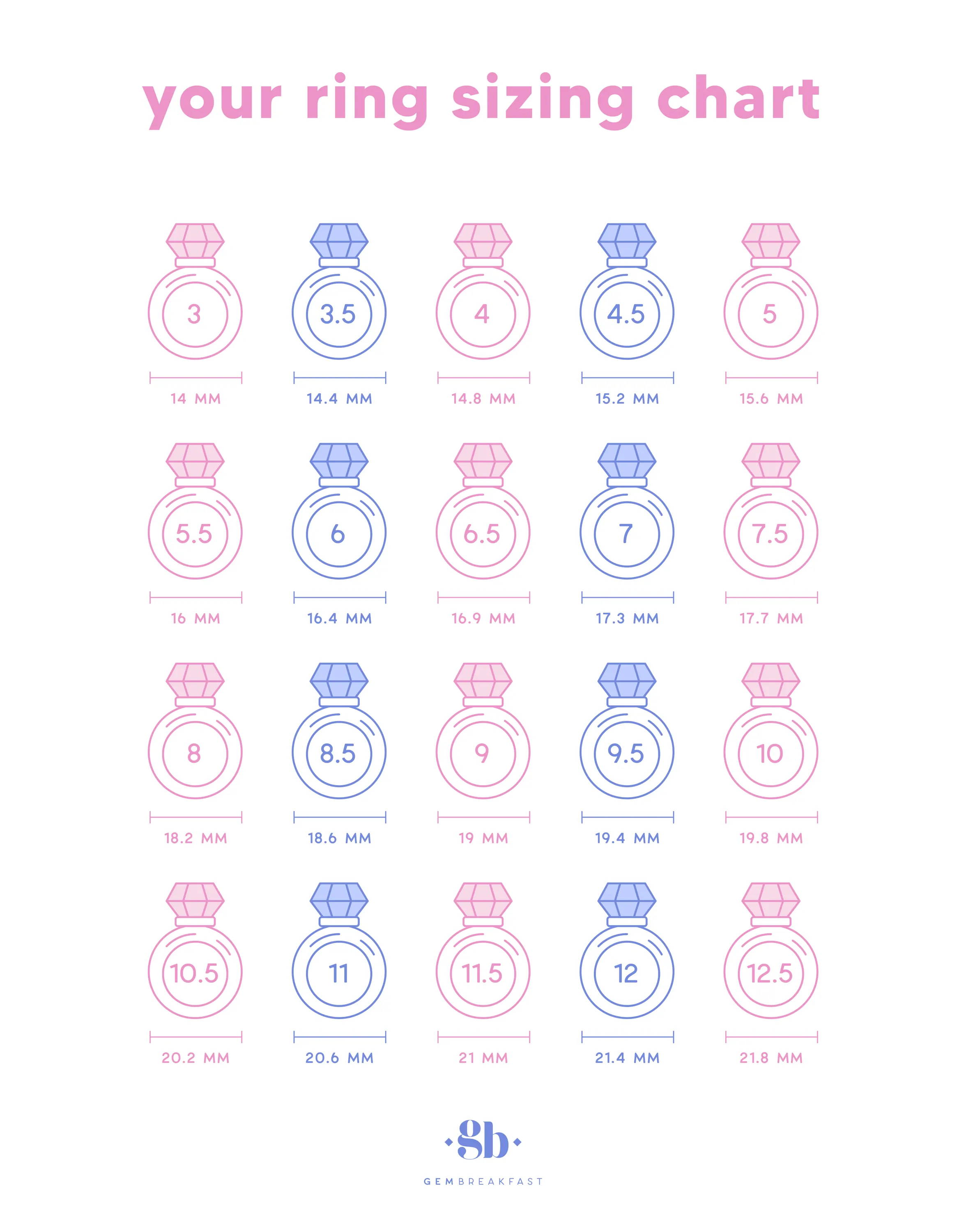 Press the ring into a bar of soap and bring it to a jeweler. They can usually tell the size from those markings.
If you only have seconds to measure the ring because she almost never takes it off, slip it onto your finger and make a pen mark exactly where it fits you. Then, head to a jeweler and have them size that part of your finger.
DO:Ask the ladies in her life for help. They might know her ring finger size off-hand or they can 'randomly' suggest getting their ring sizes together while shopping! Hint: give this job to her good actor friend and NOT the one who can't keep secrets.
DO: Show us a picture where we can see her hands + tell us her shoe size, height, weight, and whether she's left or right handed, and we can guess her ring size for you!
DO: pick a ring that can be easily resized (most rings can be - confirm this with your jeweler). That way, it's no big deal if you're off by a bit.
Pro-tip: lean towards a larger size – that proposal will be much more magical if she can slide the ring on her finger and not get stuck at the knuckle!
DON'T:assume her right-hand rings will fit on her left hand. Sizes vary between hands and usually the fingers on the dominant hand are slightly larger.
DON'T:take a wild guess on size. Try all the tips above and if you're still stuck and want to keep your proposal a secret, send us a message for help!
---
FINDING her ring size if she's in on it
Just because she knows you need her ring size, doesn't mean you have to give up any of the surprise factor! Just tell her mysteriously you need her size "just in case, for the future". She'll love it, we promise and she'll still have no idea about the when, the where, or the design of the ring if you don't want her to!
If she's fully involved in the design and choosing of the ring, life is even easier! Get the perfect size together and enjoy the process from start to finish - whatever feels right for you as a couple!
DO: Get sized by an in-person jeweler. This is by far the most reliable measurement - they'll know exactly how a ring should fit and can recommend the perfect size. Most jewelers will size you for free whether you're buying from them or not. The easiest way: stop by a mall jeweler while you're perusing the shops together.
DO: PURCHASE A RING SIZER ONLINE
For ring sizing at home, we recommend ordering an adjustable ring sizer online (ours ships free). You can find out your partner's size to within a half of a size - no in person visit needed. If they're between two sizes, go with the larger one.
---
If you're still not sure on sizing or anything jewelry-related, we're here to help! Send us a message anytime and we can guide you through any part of the ring shopping process!
---