Searching for a chic, minimalistic engagement ring or treat-yourself ring that's anything but boring? That's what we do best at Gem Breakfast. Keep scrolling for all the effortlessly classic yet uniquely delectable designs that you'll never tire of.
In the list, you'll find a few of our signature styles customized with showstopping stones and bespoke details, plus many completely custom designs created to reflect their wearer's special sauce.
---
1. Emerald Cut Sapphire Ring With Trillion Diamond Side Stones
Sapphires are the new classic – and a teal sapphire my friends, is an incredibly chic choice. If you love an art-deco architectural vibe, opt for an emerald cut with its endless stacks of symmetrical facets. Pair your deliciously candy-colored gem with white trillion diamond sides for contrast, plus double claw prongs for extra interest.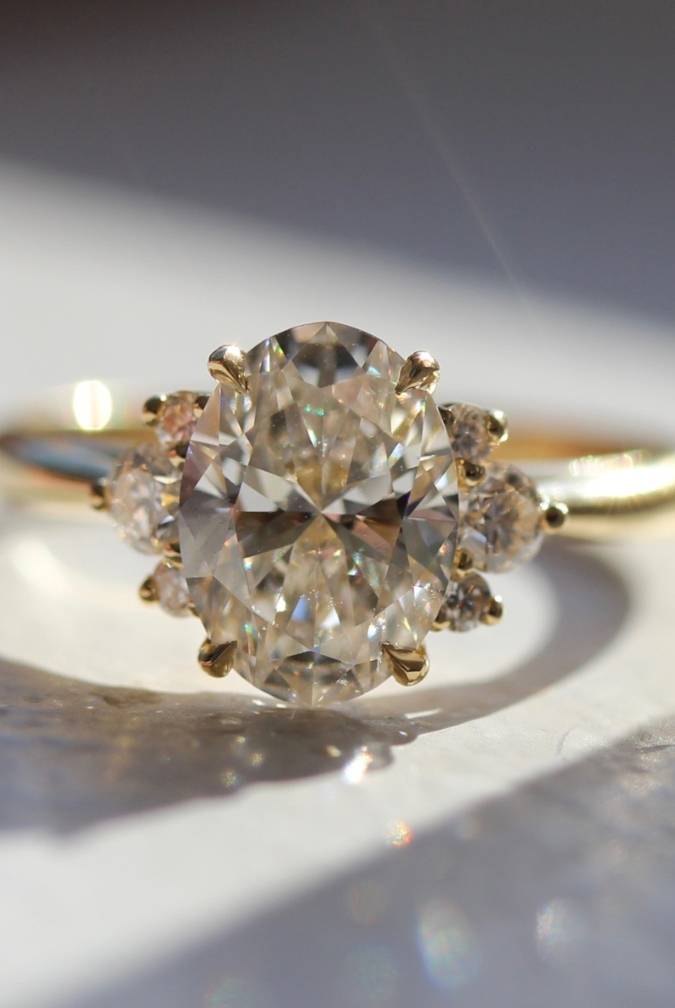 2. Oval Diamond Mirella With Diamond Half Halo
If you love an oval cut diamond, but want more extravagance plus extra finger coverage, our Mirella setting may be for you. With an oval-shaped center stone and a half halo of varying diamond shapes, it's the best of all worlds – size, intricacy, and a diamond-centered setting that sparkles shamelessly.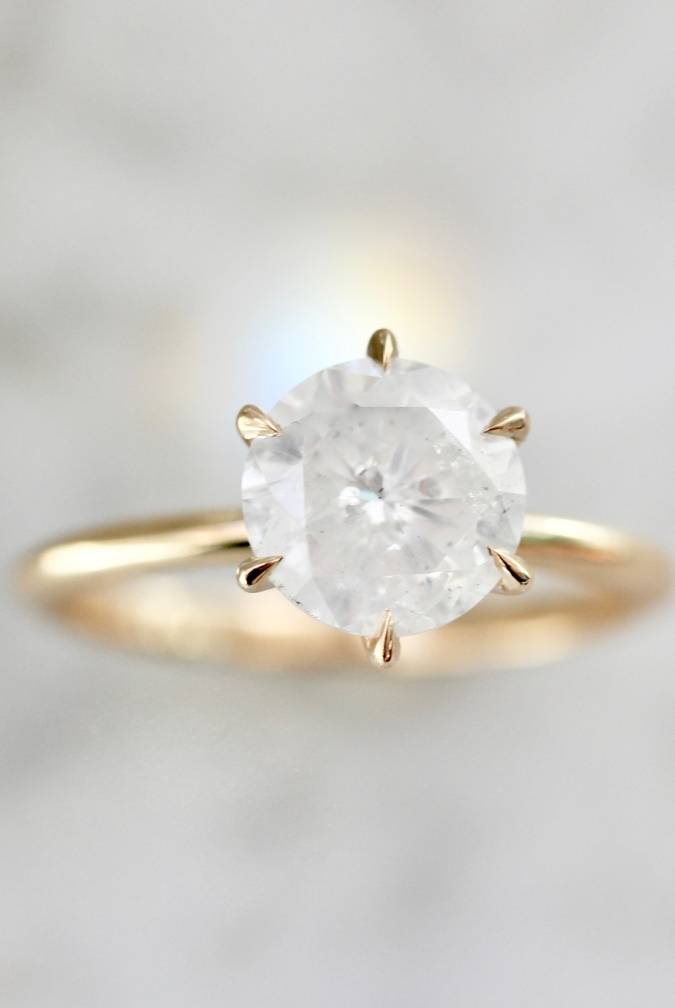 3. Opalescent Round Diamond Solitaire in Six Prong Setting
The tried and true round solitaire made one-of-a-kind with a dreamy, ethereal opalescent salty diamond – the unicorn of diamonds. The addition of 6 sharp claw prongs makes the stone look rounder and lets it shine its brightest with an extra layer of sass.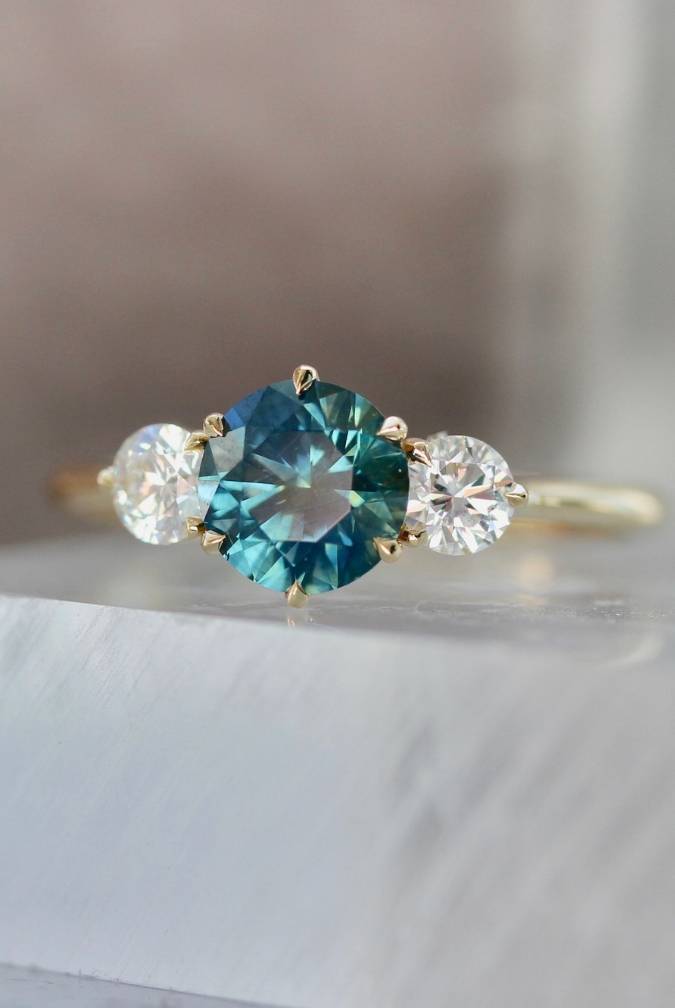 4. Round Brilliant Sapphire and Diamond Three Stone Ring
So, you love a classic three-stone design but want to stray from the diamond story. Befriend the juiciest of teal sapphires and pair with blindingly bright white diamond side stones. Add 6 claw prongs for a subtle statement that points towards those oceanic depths.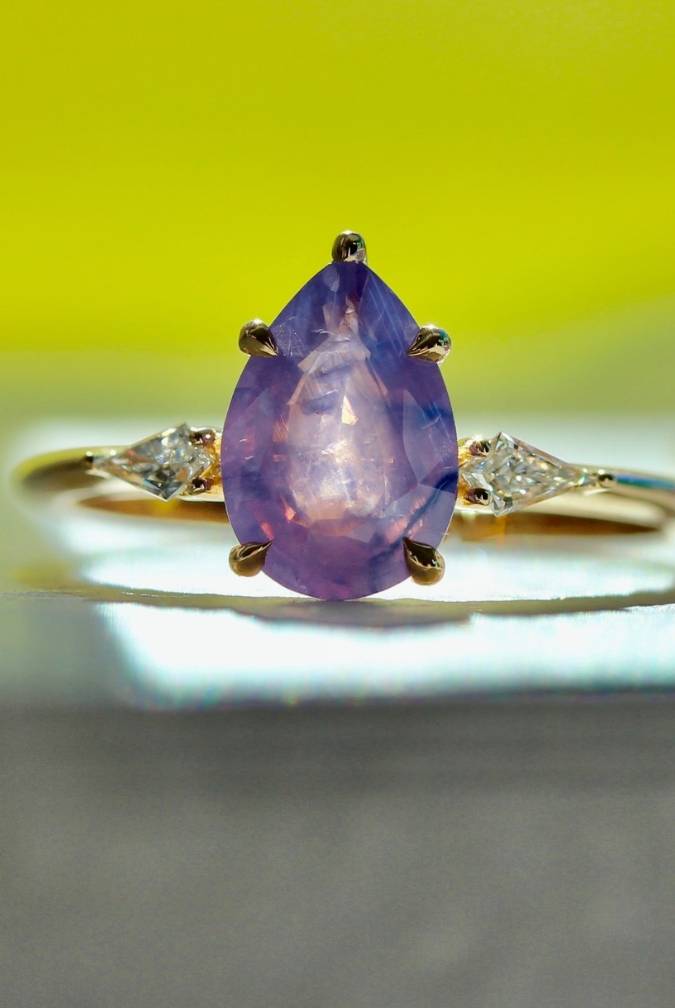 5. Purple Opalescent Sapphire Ring With Kite Diamond Sides
Oh, how our heart beats faster for an opalescent sapphire – the stone that's capturing everyone's attention atm. If you love the iridescence of an opal, but want a harder, more durable stone you can wear every day, say hello to opalescent sapphires. A stone like this will turn all the heads and spur constant conversations with its irresistible color and iridescent glimmer. We paired this sizeable pear with white kite diamond sides for an extra touch of elegance.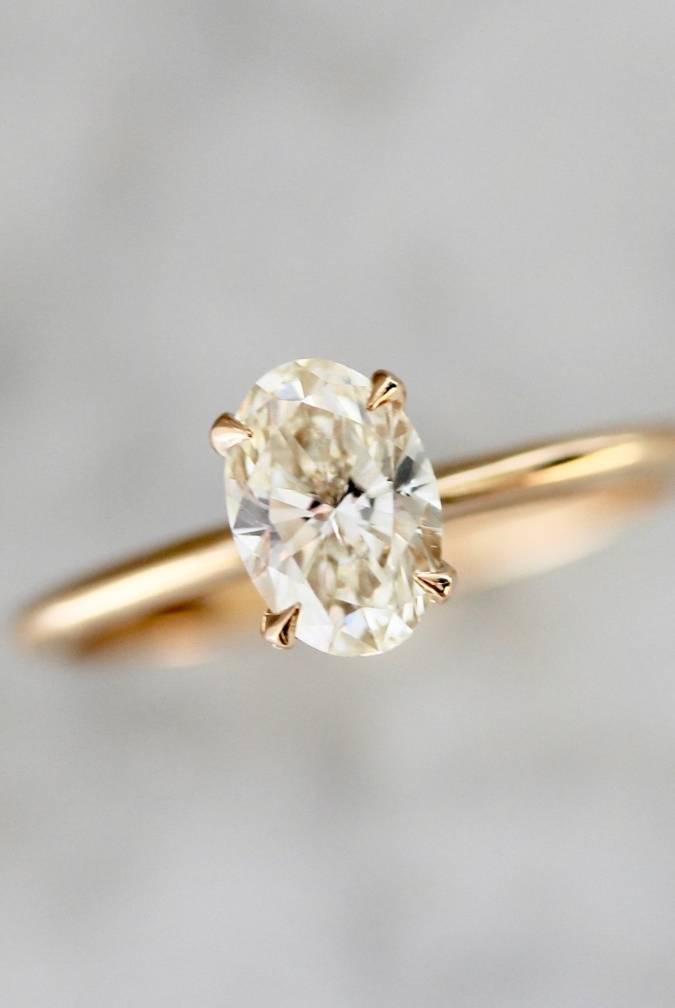 6. Oval Cut Champagne Diamond Ring in Peach Gold
Champagne is the new clear – you heard it here first. If you love the classic outline of a round diamond, but want a touch more uniqueness – an oval cut diamond is your answer. We kept it minimal with our signature Stella setting and added some sharp baby claw prongs to top it all off. The warm, golden hue of a champagne diamond pairs perfectly with our exclusive Peach Gold, a house-made blend of rose gold and yellow gold that flatters every skin tone.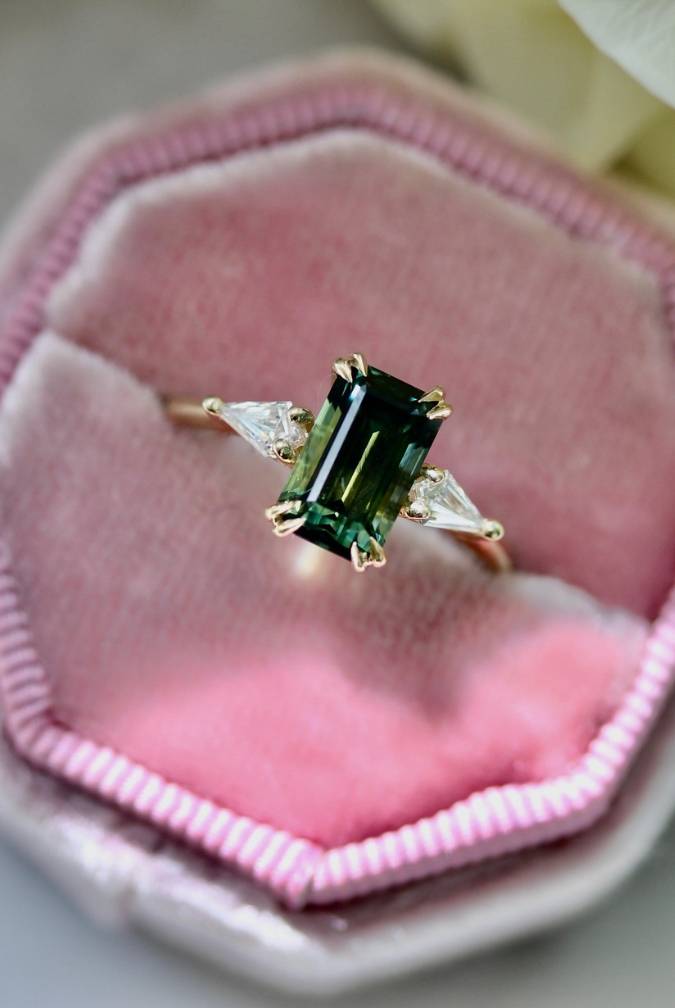 7. Emerald Cut Teal Sapphire Ring With Kite Diamond Sides
Make it emerald cut, but take it to the highest heights with an elongated outline. This ring is dramatic yet perfectly classic with the combination of a delicious teal emerald cut sapphire and sparkling white kite diamond side stones. We added double claw prongs for more presence and extra detail. If great Gatsby happened today, it would look like this ring.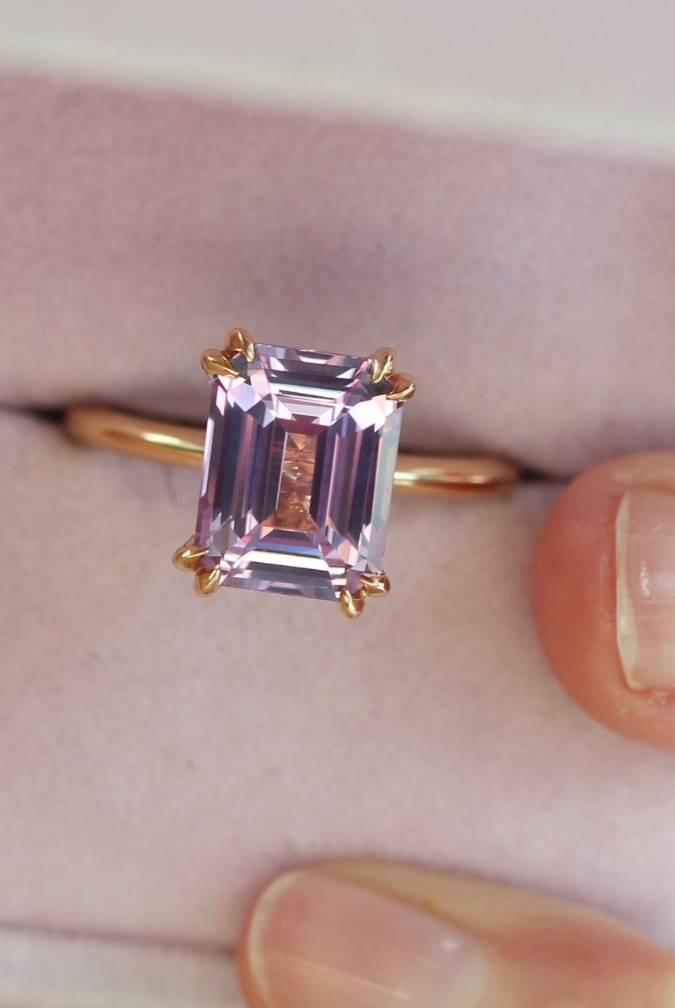 8. Emerald Cut Pink Sapphire Ring With Double Claw Prongs
If you're ready to get away from the diamond vibe altogether (and if you love pink like us), say hello to a pink sapphire. This unbelievable 5-carat pink emerald cut sapphire is geometric, juicy, romantic, and edgy all at the same time. Set in our minimal Stella setting and exclusive Peach Gold, we added double claws prongs for added oomph to an already jaw-dropping stone.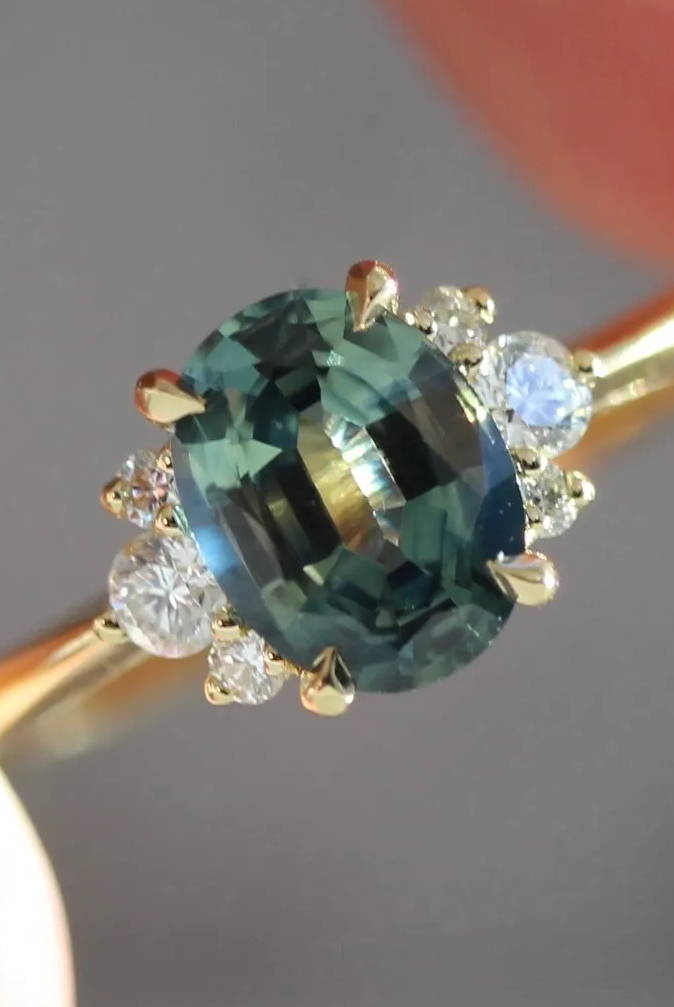 9. Oval Cut Teal Sapphire Ring With Diamond Half Halo
Meet our Mirella half halo setting. This design lets your center stone (in this case, an indulgent teal sapphire) shine with a mostly minimal setting save for an added white diamond frame. Sapphires are the new classic, and teal blends together that timeless Princess Diana blue with regal emerald green for a hue we can't refuse.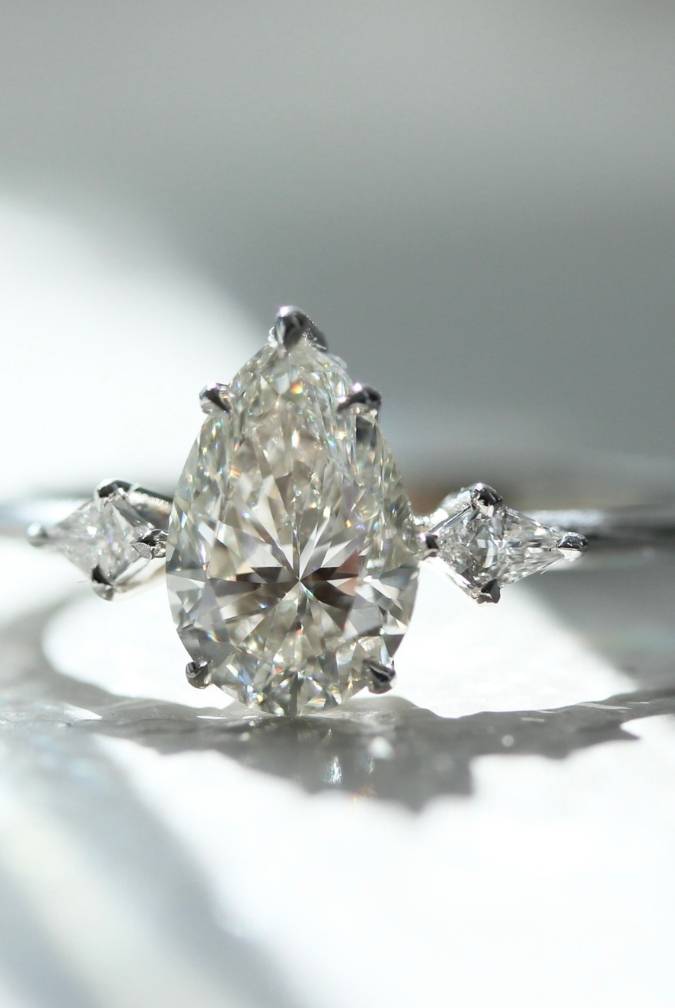 10. Pear Shaped Diamond Ring With Kite Diamond Side Stones
So, you've found the scintillating, sparkly pear shaped diamonds of your dreams. How to make her shine the brightest? Set her in a perfectly minimalistic setting with the most delicate white gold band and frame with the ultimate cool-girl kite diamonds sides. Voila – a forever in-style design that stands out from the rest.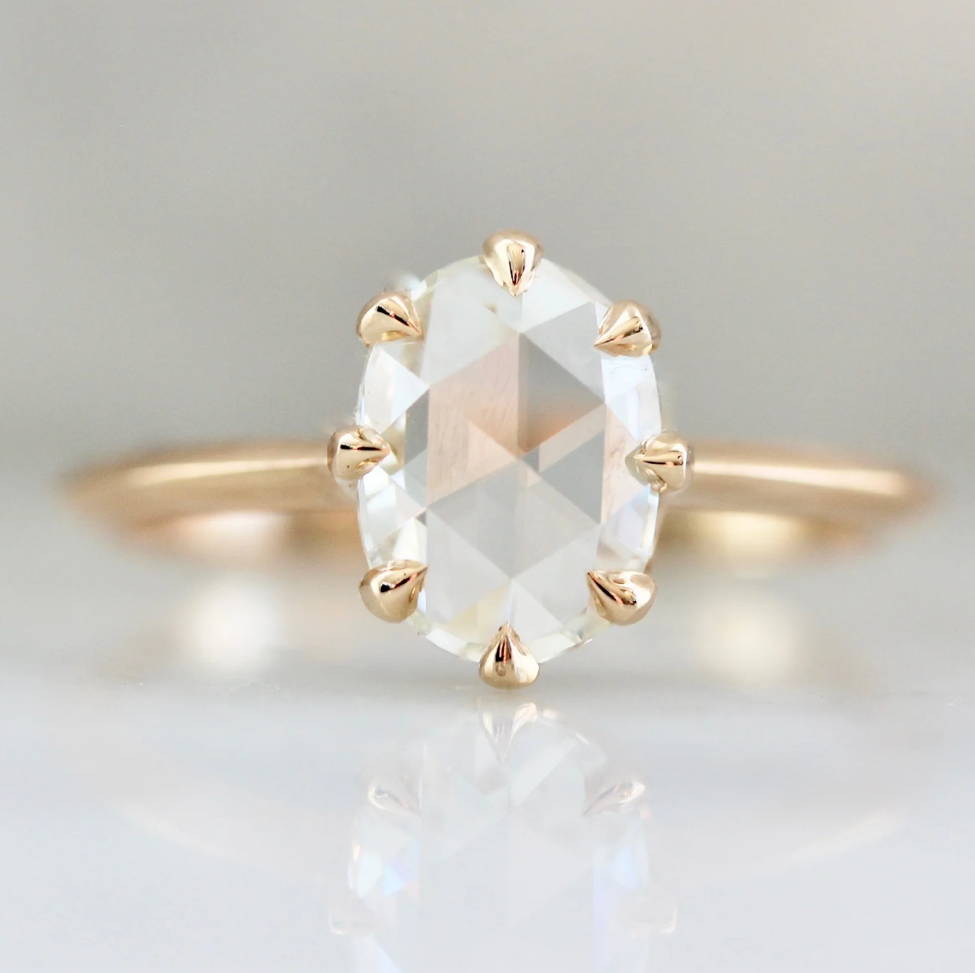 11. Oval Rose Cut Diamond Ring in Peach Gold With 8 Claw Prongs
If you're wondering how this diamond is so plump and juicy, this my friends, is a rose cut diamond. Rose cuts were made to sparkle seductively under candlelight, and like the name suggests, that domed top is giving sprawling rose petal energy. If you love the simplicity of a solitaire but want that elevated, antique energy, reach for a rose cut. Add 8 glistening claw prongs for extra flair.
Rose cuts look significantly bigger for their carat weight, so for a solitaire that's striking and sizeable, start seeing diamonds through rose cut glasses!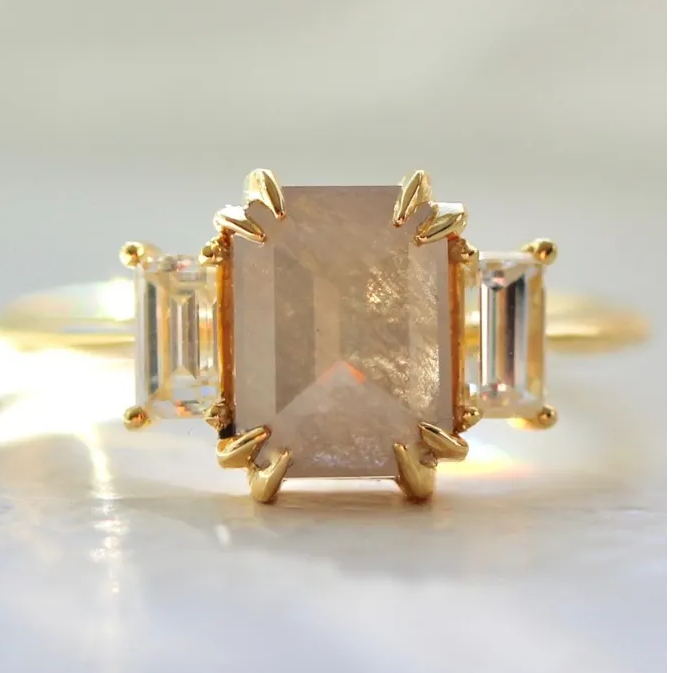 12. Opalescent Emerald Rose Cut Diamond Ring

Behold the rose cut in an emerald shape this time. It has all the clean lines and delicious geometric energy of a traditional emerald cut, but with even more presence thanks to its domed top and bold facet pattern.
This rose cut diamond is also opalescent – the most satisfying combination that the world definitely needed. We finished it off with super chic double claw prongs, our signature minimalist peach gold band, and bright white baguette diamonds to further spotlight that racy rose cut.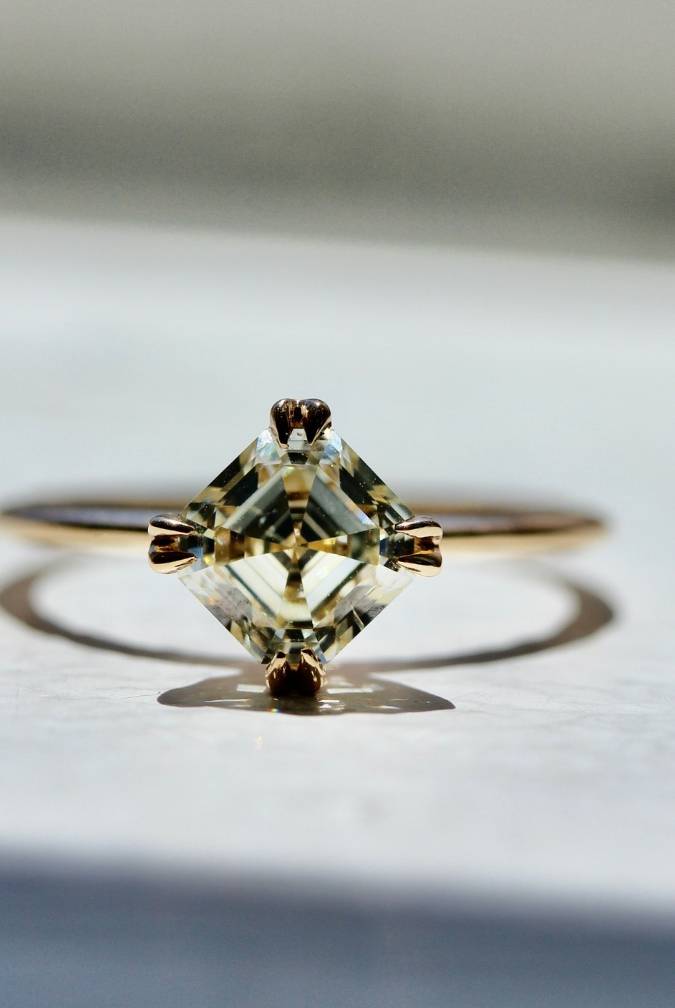 13. Rotated Asscher Cut Diamond Ring With Double Claw Prongs
The Asscher shaped diamond, with its infinite stacks of mirrored facets is hypnotic all on its own – it needs no distractions. We set this one in our signature minimalist Stella setting, rotated it 90 degrees, and added double claw prongs to enhance that angular, art-deco energy. Sometimes simplicity = perfection.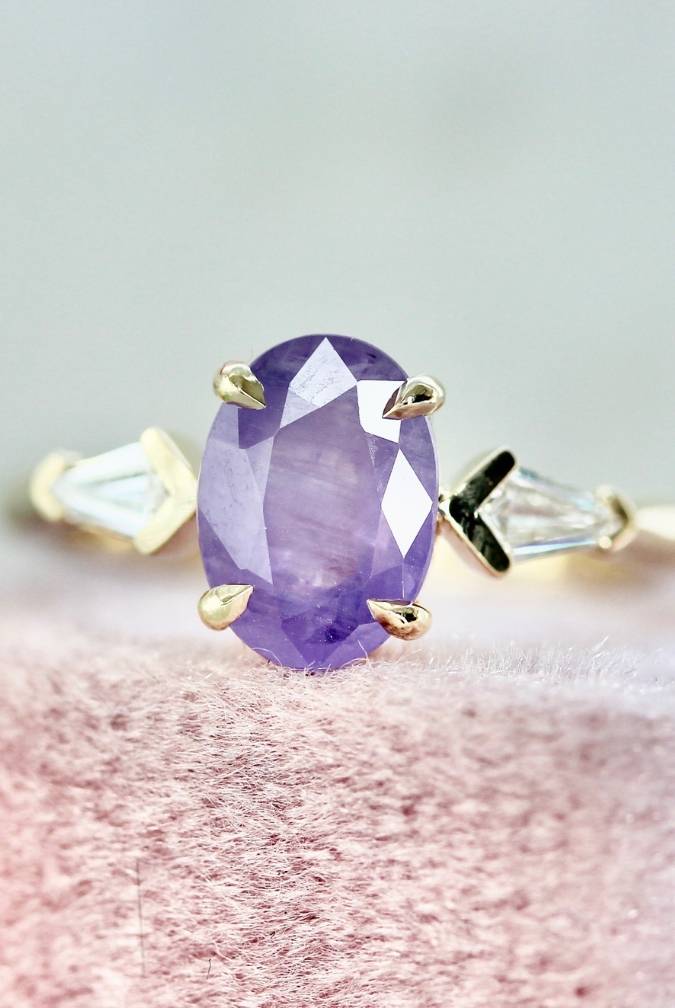 14. Purple Opalescent Oval Cut Sapphire Ring

This ring features an incredible oval purple opalescent sapphire with silky white striations throughout and doses of darker purple for the most irresistible dimension. To contrast and highlight this unicorn stone, we added white kite shaped diamonds with sleek bezel caps and finished with our signature thin gold band.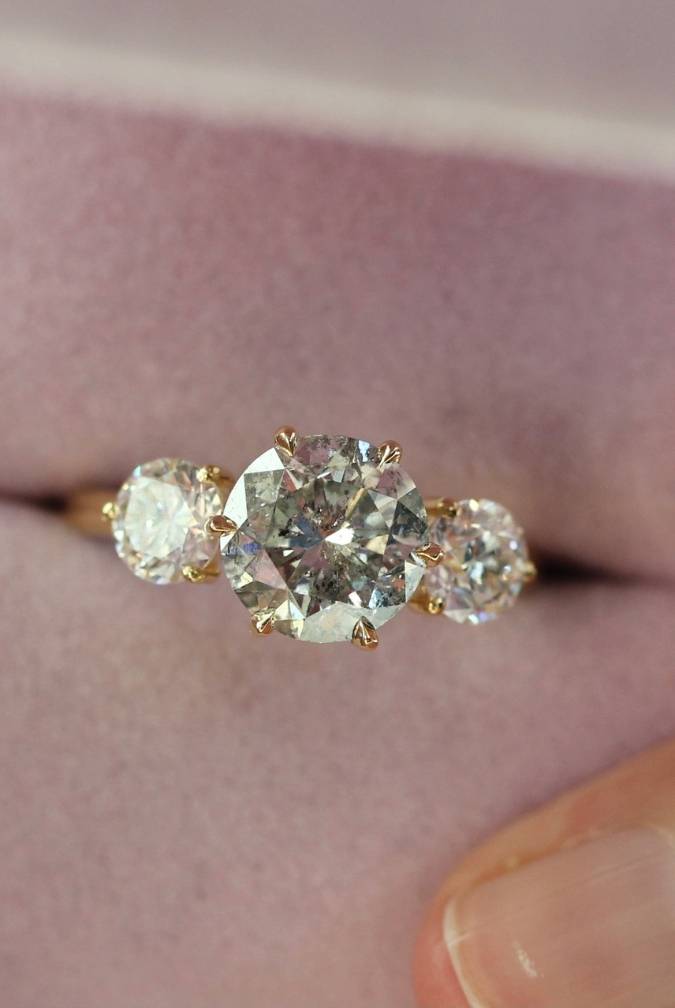 15. Salt and Pepper Diamond Three Stone Ring With White Diamond Side Stones
If you're a spicy soul that loves the alternativ and unique, you may find your forever love in a salt and pepper diamond. These cosmic stones hold an entirely galaxy of mesmerizing inclusions that tell that stone's unique journey on this planet. Surround your salt and pepper with six prongs for added interest and high-quality white diamond sides for a delicious contrast.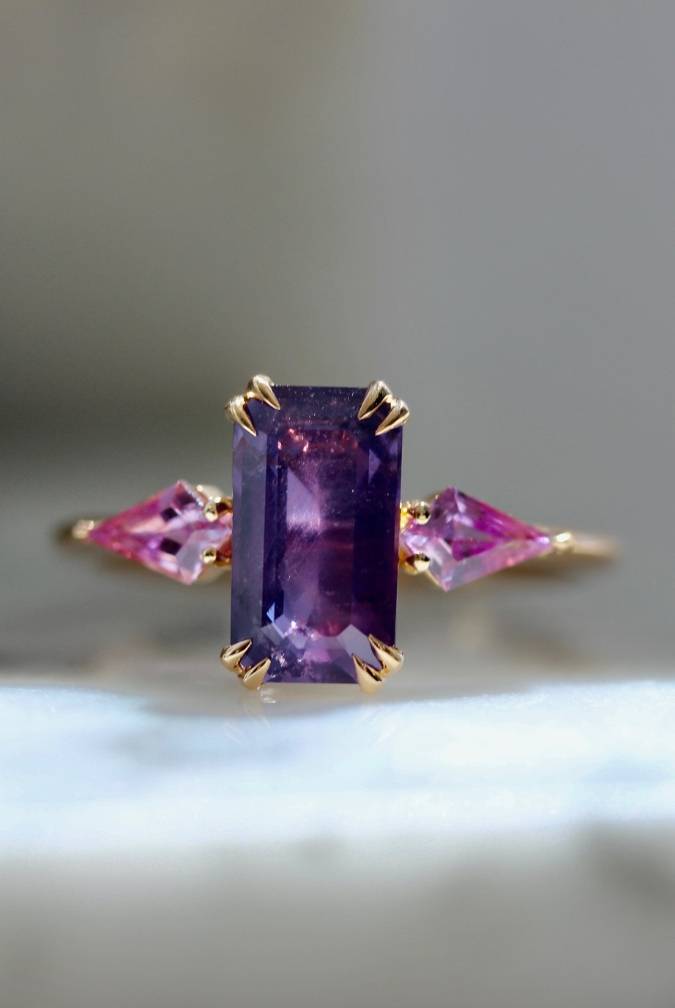 16. Purple Emerald Cut Moyo Sapphire Ring With Double Claw Prongs and Pink Kite Side Stones
If you love to color outside the lines and wear what speaks to your soul, this ring is for you. The combination of a deep purple emerald cut sapphire with hot pink kite side stones screams distinctiveness – a person who's unapologetically true to themselves (and clearly has amazing taste). Double claw prongs tie this incredibly unique, yet perfectly refined design together.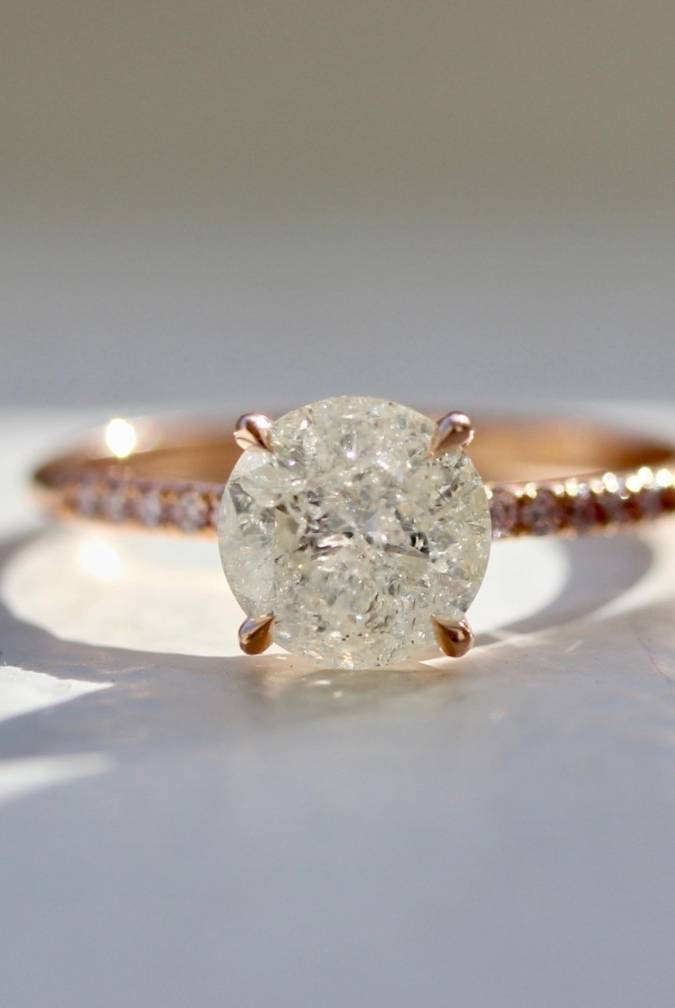 17. Salt and Pepper Diamond Ring With Pink Diamond Pave Band
How to create a one-of-a-kind, unexpected design that still feels classic? Pair an icy salt and pepper diamond (with the lightest dusting of pepper) with a luxe pink diamond pave band and crisp claw prongs, then and finish it in rose gold for extra romance and warmth. Simple, yet stunning.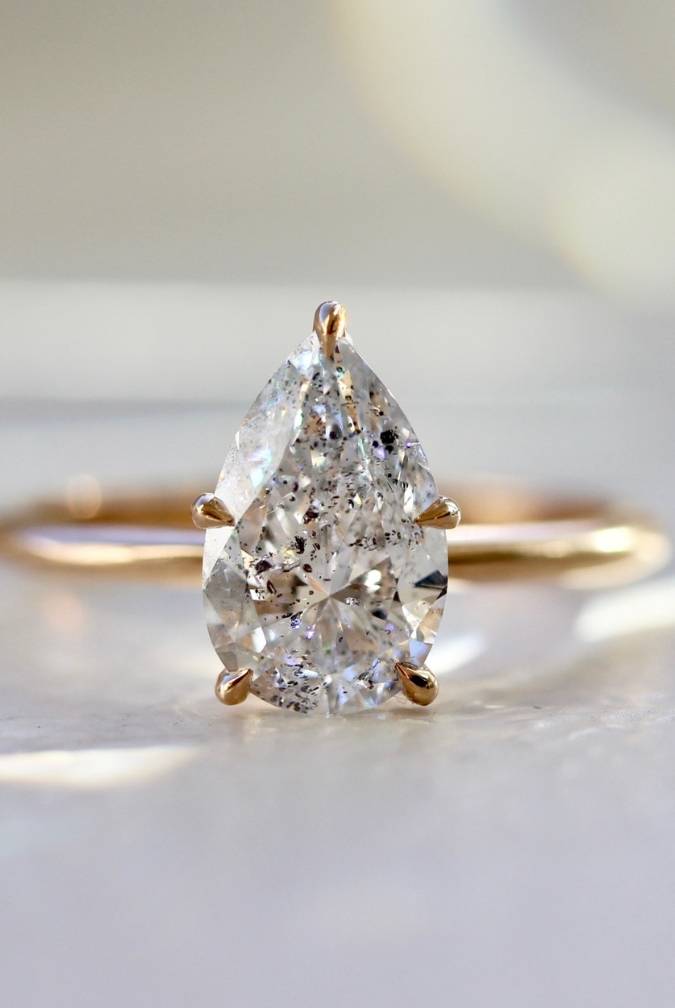 18. Pear Shaped Salt and Pepper Diamond Ring in Peach Gold
One of our favorite shapes, a pear-shaped diamond is forever timeless yet very now. To take the distinctiveness factor up even further, opt for a mesmerizing salt and pepper Dalmatian diamond. A stone like this makes enough of a statement, so our minimalist Stella setting makes perfect sense.
19. Oval Cut Icy Diamond Ring With Pear Diamond Sides
So, you love an oval diamond solitaire but want something a little bit extra and unexpected. Start with an delectable icy diamond and pair with bright white pear diamond sides for contrast, extra finger coverage, and a setting that steals the show. It's still fits the minimal bill, but with delightfully original details.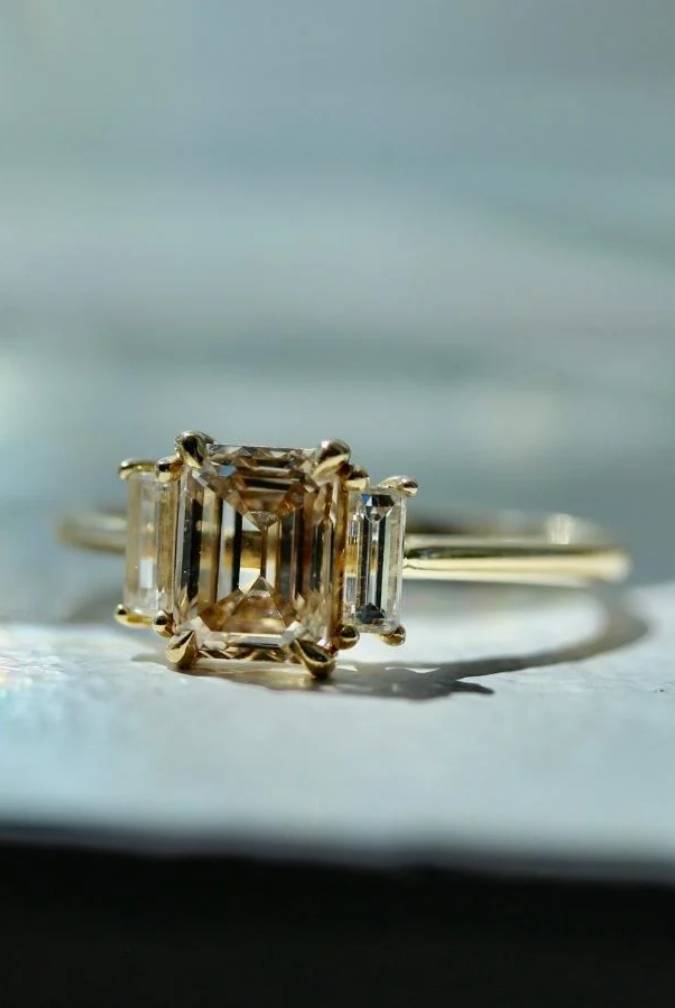 20. Emerald Cut Champagne Diamond Ring
If you love warm, golden tones, consider a deep champagne stone that feels like rich, dark honey. We paired this emerald cut champagne diamond with bright white baguette diamonds for an irresistible contrast that accentuates the cognac hue while adding a touch of light.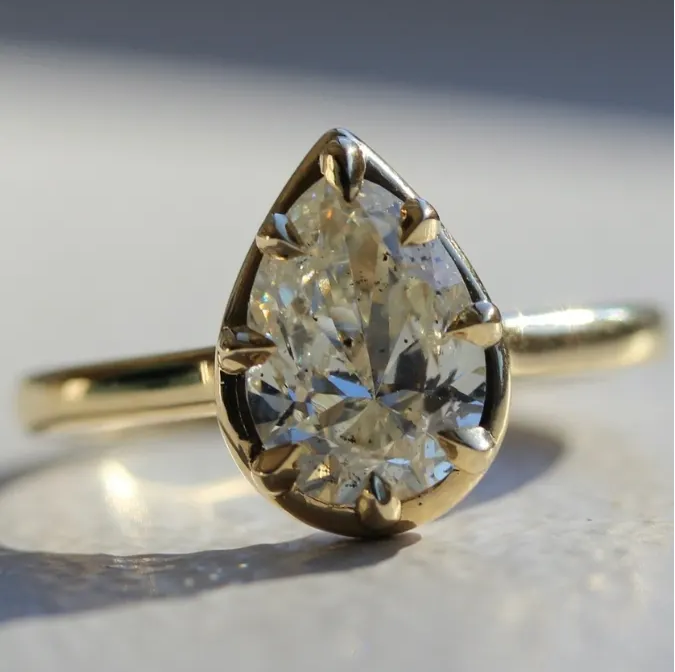 21. Pear Shaped Diamond Ring in A Collet Setting
How to add edge to a chic pear diamond solitaire? Opt for an eye-catching salt and pepper diamond with unending depth and detail and finish with a statement-making collet setting. Sometimes the smallest details make the biggest impact.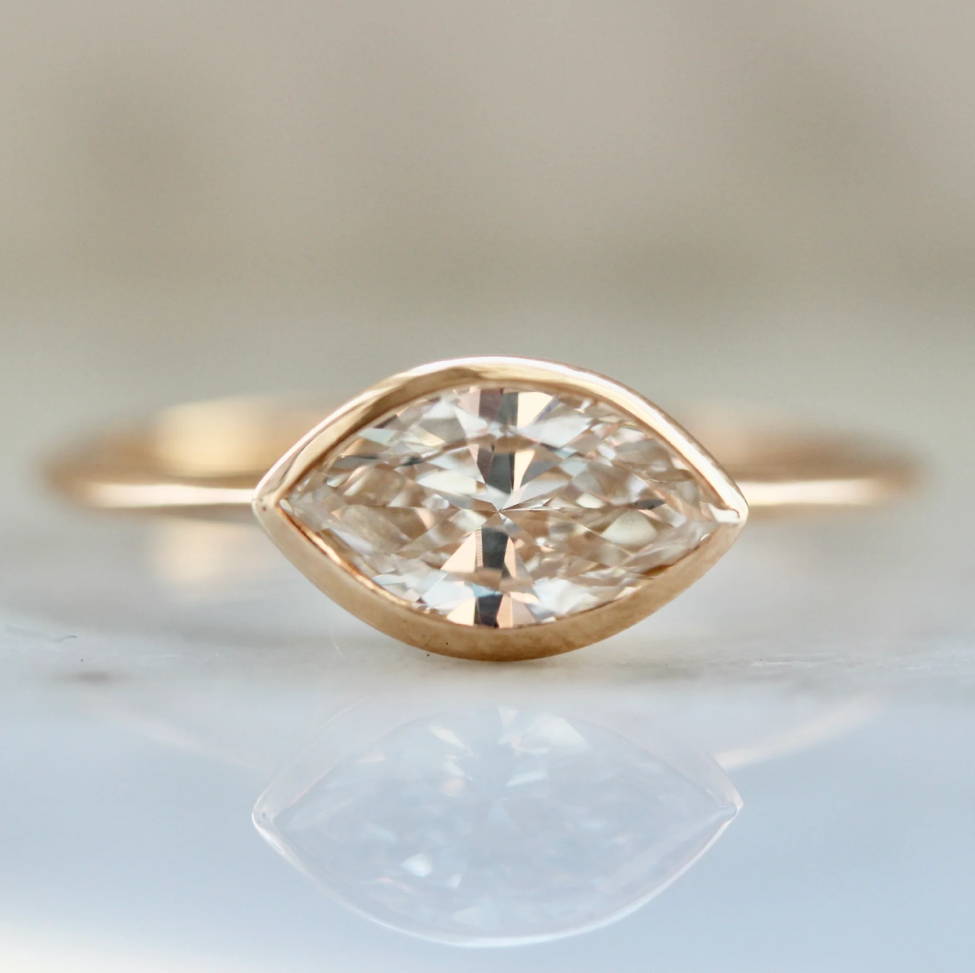 22. Bezel Set Marquise Diamond Ring
Turn the Solitaire on its side and set it east-west. This can be done with any elongated stone - in this case, the marquise is making its mark in a sleek peach gold bezel setting with an ultra-thin band. It's giving evil eye vibes in all the right ways.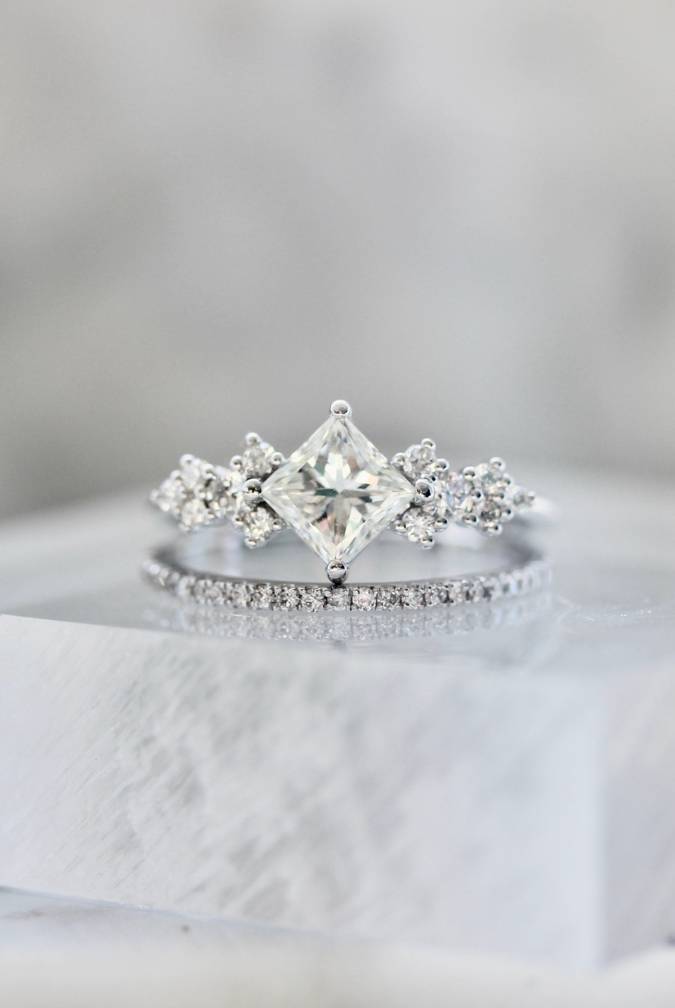 23. Princess Cut Diamond Ring in White Gold
Recipe for a timeless, yet fantastical design you can't look away from: take one classically stunning princess cut diamond, twist it to the side, and surround it with a garden of sparkling white diamonds. Set in bright white gold and your wintery, ice queen fantasy is complete.
24. Marquise Diamond Ring With Diamond Band
For the woman who wants to stand apart from the rest, say hello to the marquise cut - a finger-elongating, showstopping shape we're frankly obsessed with. For extra detail and distinctiveness, we added spaced out round diamonds along the ultra-thin band.
---
INSPIRED TO CREATE YOUR OWN CUSTOM RING? LET'S CHAT